Breaking News
For the latest breaking news, see below. We'll share breaking news stories as we have them so you're kept up to date at all times.
Updated 3 weeks, 4 days ago
All Montanans eligible for COVID-19 vaccine on April 1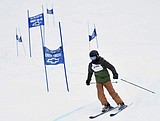 Updated 1 year, 1 month ago
The Special Olympics winter games set to be held next week at Whitefish Mountain Resort have been canceled due to concerns around the coronavirus.
---