Bad weather forces cancellation of annual fireworks over Whitefish Lake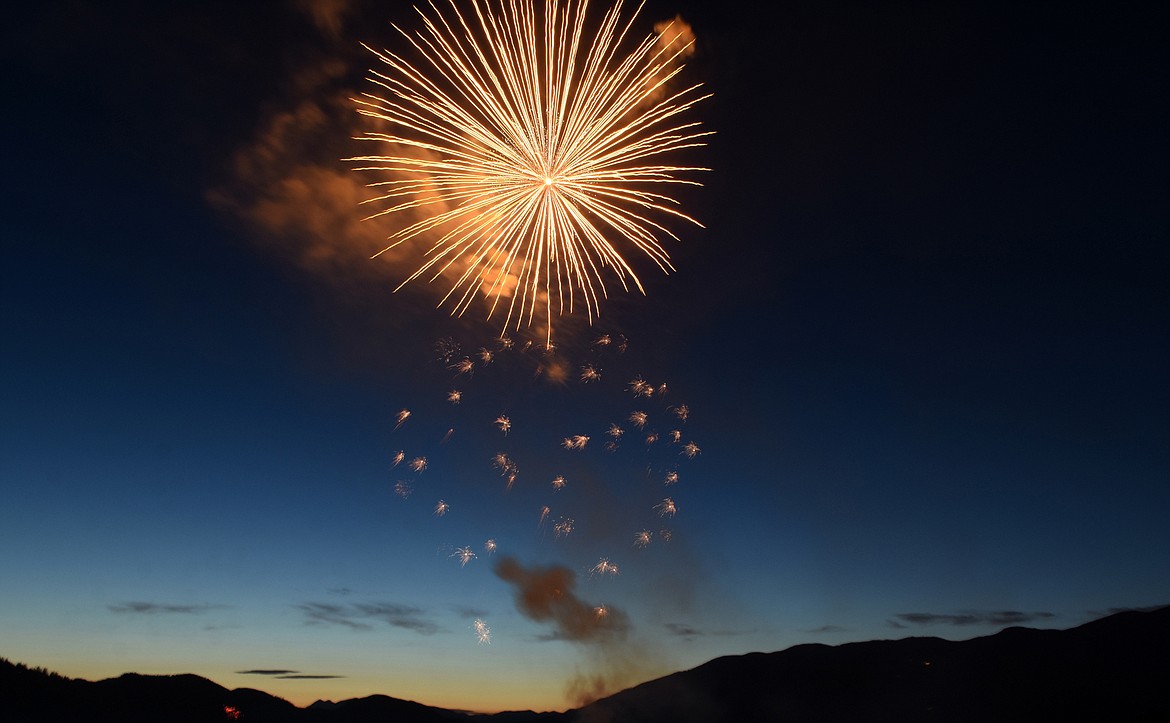 The Whitefish Chamber of Commerce's annual Fourth of July fireworks show over Whitefish Lake. (Heidi Desch file photo/Whitefish Pilot)
A bout of bad weather including wind, rain and lightning on Tuesday night forced the cancellation of the annual fireworks display at City Beach that is part of the Whitefish Chamber of Commerce's Fourth of July Celebration. The show will not be rescheduled.
"We apologize to the thousands of diehard folks who braved the elements to come out for the show," said Chamber Executive Director Kevin Gartland. "Like them, we were extremely disappointed to have to cancel the display, but we had no other choice."
A summer storm front began rolling-in over Whitefish Lake at about 8:45 p.m. Tuesday, accompanied by high winds, lightning strikes and rain.
According to the Chamber, within five minutes, crews preparing for the 10:30 p.m. fireworks show were dealing with swells estimated at 3 to 4 feet, sending waves crashing over the fireworks barge and nearly capsizing the crew's launch boat.
The boat was able to make it safely to shore, where the crew rode out the storm until 10 p.m., when the decision was made to cancel.
"At that point the wind had calmed down," Gartland said, "but it was still raining and the Weather Service was reporting a continuing chance of lightning in the area until midnight."
In addition, the rain and waves had thoroughly waterlogged the fireworks cannons and shells, making it impossible to actually "fire" the show.
The Chamber posted news of the cancellation on it's Facebook page Tuesday night, and folks already at City Beach were informed of the cancellation by park rangers and local police officers, making the announcement from loudspeakers on their cruisers.
Despite the disappointment of having to cancel the show, Gartland expressed the Chamber's thanks to those who helped manage the night's rapidly-changing situation, including the City Parks staff, Whitefish Transportation, members of the Whitefish Police Department and Flathead County Sheriff's Office, and the crews from Big Sky Fireworks and Whitefish Marine.
Recent Headlines
---