Weddings & Engagements
Congratulations! Celebrate with us! Read below for the latest engagement announcements and wedding announcements!
Updated 2 months, 2 weeks ago
Koestlers celebrate 70th anniversary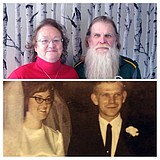 Updated 7 months, 2 weeks ago
Larry William and Helen Rosetta Netzel (Carpenter) of Marion, Montana are celebrating their 50th wedding anniversary on April 25.
Updated 1 year, 12 months ago
Jessica McNeil and Steven Fairchild were engaged Oct. 26 at Whitefish City Beach.
---