Netzel anniversary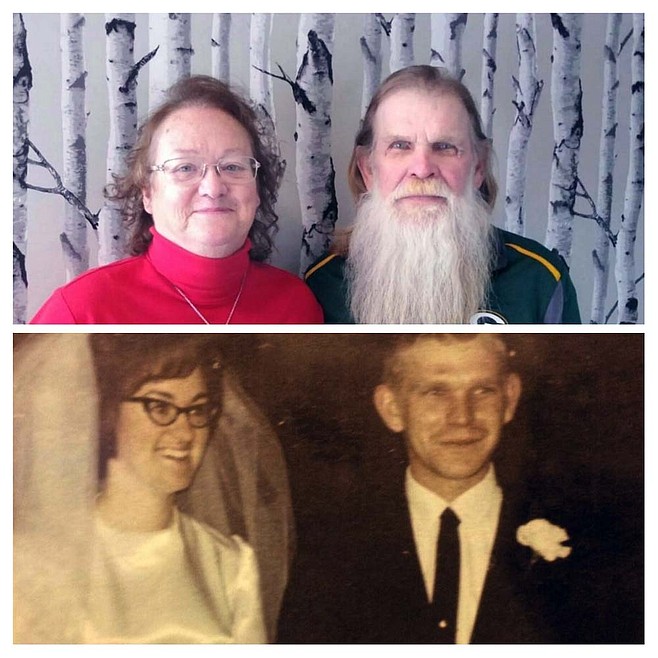 Larry William and Helen Rosetta Netzel (Carpenter) of Marion, Montana are celebrating their 50th wedding anniversary on April 25.
They were united in marriage on April 25, 1970 at the Trinity Lutheran Church in Kalispell, Montana. Larry was born in Clintonville, Wisconsin, and Helen in Kalispell, Montana. Their adventure began when they were introduced to each other by Helen's brother-in-law Marlow.
They didn't know what life had in store for them, but it's been an amazing 50 years full of their three daughters Christine (Jessie), Debbie (Stephan), and Amanda (Jim), three granddaughters Kelsey (Jay), Alexis, and Fayth, five grandsons Alex, Jacob, Drew, Ethan, and Wyatt, two great-granddaughters Bonnie and Arya, and two great-grandsons Xavier and Rowan.
Larry worked at the Columbia Falls Aluminum Plant from 1970 until he retired when the plant stopped operating. Helen owned and operated her own professional cleaning company. They resided for over 30 years in Whitefish, Montana, where they raised their children.
Larry took great pride in being a volunteer fireman in Whitefish for many years. They are both active members of the Eagles, have enjoyed motorcycle adventures, golfing all around the state of Montana and beyond, time share traveling with their children and their families, vacationing at their second home in Wittenberg, Wisconsin, and dabbling in farm life with their chickens and horses.
Recent Headlines
---