Koestlers celebrate 70th anniversary
|
September 16, 2020 1:00 AM
Mable and Marlin Koestler were married Sept. 15, 1950 at Christ Lutheran Church in Whitefish.
Their children wish a happy anniversary to their parents who vowed to be a team forever 70 years ago. 
They met in Whitefish in 1949 while Marlin was a brakeman on the Great Northern and Mable was a clerk in the local dime store. After they married Marlin went to basic training in Kansas while Mable went to Bonners Ferry to live with her parents. After Marlin's discharge from the Army they moved to Shelby and then to Whitefish calling it home until this day.
Their three daughters Ronda, Cindy (Ray) and Lory (David), their grandchildren Kendra and Alisa and great-grandson Urijah, join together in wishing them all the love and happiness they have given us all these years.
Thank you from all of your family for your love and support. We love you both so much!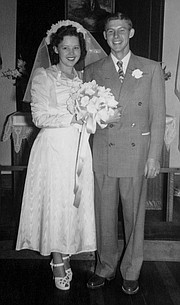 Recent Headlines
---