Shooting at apartments in Whitefish leaves one dead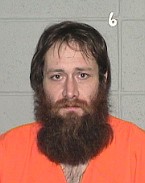 Steven Justin Hedrick. (Photo courtesy the Flathead County Sheriff's Office)
|
January 24, 2023 12:00 PM
A 32-year-old man is behind bars after he allegedly shot and killed another man Tuesday morning at a U.S. 93 South apartment complex in Whitefish.
Steven Justin Hedrick is being held in the Flathead County Detention Center on a pending deliberate homicide warrant. Whitefish Police officers detained him after responding to multiple 911 calls reporting a single gunshot at Local Monthly Lodging Apartments about 1:30 a.m., according to a department press release.
Arriving officers found an adult man who appeared to have died after suffering a single gunshot wound. Investigators identified Hedrick as the alleged shooter after inspecting the scene, speaking with witnesses and checking surveillance footage, officials said.
Authorities said they are withholding the identity of the victim pending notification of next of kin.
The investigation is ongoing.
Recent Headlines
---