Montana Highway Patrol trooper injured in Lincoln County chase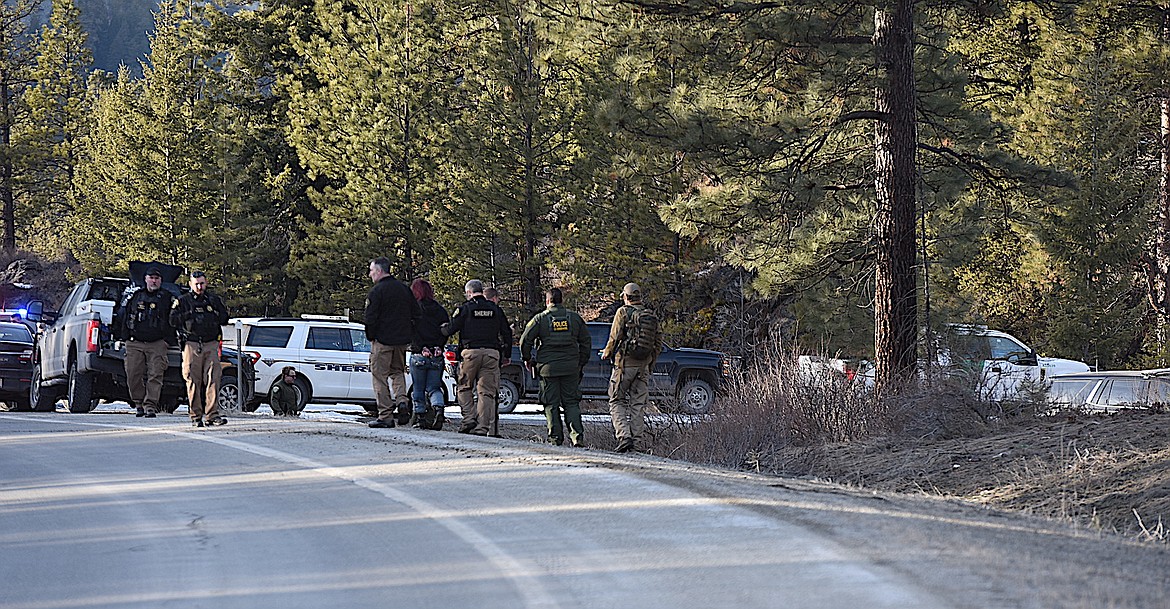 A woman, fourth from left, is led from the scene of a law enforcement chase on Montana 37 that saw a Montana Highway Patrol trooper being struck by the suspect vehicle. The woman was handcuffed and placed in a patrol vehicle by a Lincoln County Sheriff's Office deputy. (Scott Shindledecker/The Western News)
by
SCOTT SHINDLEDECKER
Hagadone News Network
|
February 17, 2023 10:00 AM
A Montana Highway Patrol trooper is in stable condition at a Kalispell hospital after being run over by a vehicle during a police chase Thursday afternoon in northern Lincoln County.
According to information from Highway Patrol and the Lincoln County Sheriff's Office, local deputies became involved in a vehicle pursuit of a man with several outstanding felony warrants.
The chase began about 2:36 p.m., officials said, and ended about 10 miles southwest of Eureka off Montana 37 in the Camp Creek Road area, roughly 1.5 miles north of Lake Koocanusa Bridge.
The injured trooper was airlifted to Logan Health in Kalispell.
Authorities took everybody in the suspect vehicle into custody following the pursuit's end. Just before 5 p.m., a red-haired woman wearing blue pants and a dark-colored jacket was led, handcuffed, out of the woods by a county deputy and placed in a patrol vehicle.
Other law enforcement officers used a drone to record possible evidence at the scene.
Officials have not yet identified the suspects or the wounded trooper.
The identities of the suspects as well as the trooper have not been released yet.
U.S. Sen. Steve Daines offered support for the officer in an email Thursday evening.
"Terrible news," he wrote. "Praying for a speedy and full recovery for the Montana Highway Patrol trooper who was injured this afternoon while serving their community."
He was joined by state Attorney General Austin Knudsen and Col. Steve Lavin of the Highway Patrol. Both encouraged Montanans to pray for injured trooper.
"Please join me in praying for our Montana Highway Patrol trooper who was seriously injured while apprehending suspects fleeing law enforcement today," Knudsen said in a statement. "I'm thankful for our Montana law enforcement officers who put on their uniform every day not knowing what dangers they may face."
Lavin said the incident struck home.
"Our hearts go out to our MHP trooper and all law enforcement involved in today's vehicle pursuit. This is a harsh reminder of the dangers we face in our jobs as law enforcement officers," Lavin said. "I have no doubt the citizens of our great state will join with me in prayer for our trooper, the MHP family and all law enforcement in this trying time."
The Montana Department of Justice's Division of Criminal Investigation is leading the investigation. The Lincoln County Sheriff's Office and Montana Highway Patrol will be assisting.
Lincoln County Sheriff Darren Short said more information will be released soon.
Officers from the U.S. Border Patrol and Montana Fish, Wildlife and Parks also assisted in the incident.
Recent Headlines
---