Bill ending city's affordable housing program headed to governor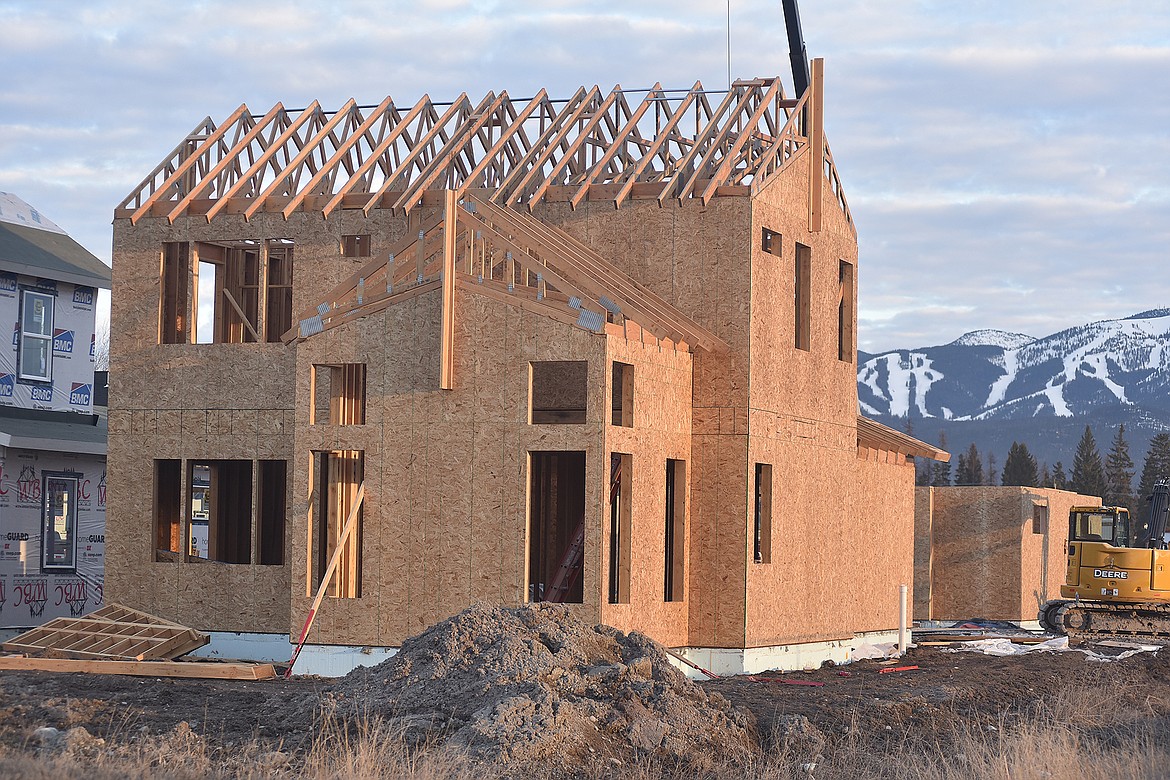 A house under construction in the Trailview subdivision, which was approved prior to the implementation of Whitefish's Legacy Homes Program. All of the homes in the subdivision are deed restricted as affordable and will not be impacted by House Bill 259. (Heidi Desch/Whitefish Pilot)
by
HEIDI DESCH
Whitefish Pilot
|
March 31, 2021 1:00 AM
A bill that ends Whitefish's affordable housing program is likely headed to the governor's desk after the Montana Senate on Thursday approved it.
On a vote of 30-20, the Senate passed House Bill 259 on its second reading. The bill effectively prohibits inclusionary zoning in the state, which is at the center of the city's Legacy Homes Program.
Under the bill, introduced by Republican Rep. Sue Vinton of Billings, local governments would no longer be able to dedicate property for housing for specific income levels or at specified sale prices effectively eliminating the use of inclusionary zoning as a tool for creating affordable housing.
Whitefish officials have maintained that the bill, if signed into law, would have a detrimental impact here because Whitefish's Legacy Homes Program would no longer be able to operate. Adopted in 2019, the city's program uses inclusionary zoning by requiring that 20% of most new housing units be deed-restricted as permanently affordable or that developers pay a fee in lieu of providing units.
Mayor John Muhlfeld previously asked a senate committee to vote down the bill noting that Whitefish's housing program was created at the behest of local businesses owners because of a lack of workers.
"As the affordability gap has grown we've seen our teachers, nurses, firefighters, short order cooks, waiters and waitresses, and retail workers seek alternative housing options outside of Whitefish because they simply can not afford homes in town," he said. "Today based upon our housing needs assessment over 54% of the Whitefish workforce incommutes from surrounding communities."
Whitefish City Councilors have also spoken out against the bill saying the state Legislature is taking away local control of the issue.
On Thursday in the Senate, several senators spoke about keeping control of the issue in the hands of local communities by voting against the bill.
Democrat Sen. Ellie Boldman of Missoula read from the Montana Republican platform noting that it says it includes returning authority to local governments.
"This bill is meant to specifically undo what a local government, Whitefish, has done," she said.
"The No. 1 issue in my community is housing," she added. "The teachers can't afford to buy a home in their own school district and the firefighters can't afford to buy a house in Bozeman or Missoula or Whitefish. Housing is a crisis in Montana and this is coming to your communities."
Republican Sen. Greg Hertz of Polson, seeming to respond to Boldman's comments, said the lack of affordable housing is simply about a lack of supply.
"I believe in local control, but when they infringe upon property rights then we have to stop them," he said.
Democrat Sen. Chris Pope of Bozeman asked his fellow senators to vote in against the bill noting that his city is about 6,000 homes short of what it needs for housing. Bozeman is the only other city in Montana with an inclusionary zoning program and Pope said it's beginning to create housing.
"The program is beginning to work," he said. "It's not perfect, but it's working. This is an issue for our community to solve and this bill is not solving anything."
Republican Sen. Keith Regier of Kalipsell said property taxes are "sky high" causing an increase in housing prices and yet nothing is being done to solve that problem.
"We should deal with that and making government more efficient before we go after builders," he said.
Republican Sen. Carl Glimm, of Kila, spoke in favor of the bill saying that studies have shown that inclusionary zoning doesn't work. He said that inclusionary zoning only increases the price of housing by shifting the extra cost of constructing an affordable home to market rate homes.
"There are other ways we can help with affordable housing that doesn't take away property rights," he said.

Building and real estate associations have spoken in favor of the bill claiming that measures like inclusionary zoning are actually hampering the construction of affordable housing and unfairly place the burden of affordable housing on builders.
While representatives from some cities around the state oppose the bill saying that it would end one of the few tools local communities have to ensure the construction of affordable housing.
The bill is likely now headed to the governor's desk for final approval.
---