Bill threatens Whitefish's affordable housing program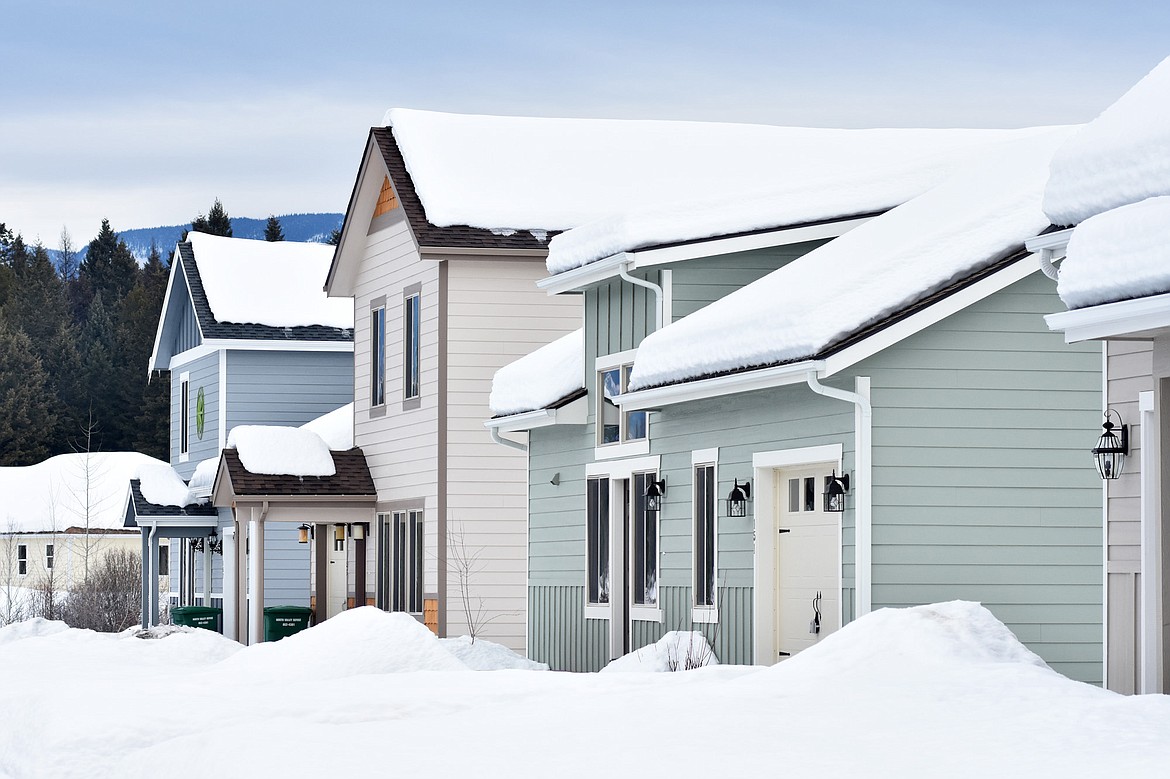 Houses along Granite Drive in Whitefish. (Heidi Desch/Whitefish Pilot file)
by
HEIDI DESCH
Whitefish Pilot
|
January 29, 2021 10:00 AM
A bill introduced before the state Legislature could mean an end to Whitefish's program designed to create affordable workforce housing for the town.
Whitefish's Legacy Homes Program adopted in 2019 requires that 20% of new housing units be deed-restricted as permanently affordable or pay a fee in lieu of providing units under what's termed inclusionary zoning.
Under House Bill 259, the use of inclusionary zoning would be prohibited and thus would end the Whitefish program. The bill would take away the ability of local governments to dedicate property for housing for specific income levels or at specified sale prices.
The bill was set to go before the house's local government committee for a hearing on Tuesday, Feb. 2 afternoon.
Whitefish City Manager Dana Smith said the bill is likely to pass with a Republican controlled Legislature and that would have a detrimental impact on Whitefish. Whitefish has been working with lobbyists from Bozeman and Missoula in hopes of pushing for amendments to the bill that would still allow cities the opportunity to use inclusionary zoning, she notes.
"Inclusionary zoning isn't right for every community and it's not one-size fits all, but it is one of the only tools to address affordable housing by requiring deed restricted affordable housing in perpetuity," she said. "Our community knows what we need and they know that if we don't have housing for workers there won't be anyone working in businesses here."
"Local control is better because it keeps the decisions closer to the people who are being affected," she added.
The bill was introduced by Republican Rep. Sue Vinton of Billings. Vinton did not return a call seeking comment.
As a compromise, Smith said, the city has suggested exceptions made for programs like Whitefish's with a cap on the percentage of affordable housing at a lower number than the current 20% or allow cities with a large gap between wages and housing costs to use inclusionary zoning. But if the allowed percentage were too low and the city receives a fee payment instead of housing that won't generate the funds necessary to provide housing, Smith notes.
"If it's only 5% then the money would just sit in the city coffers and it would take years before we could build up enough money so that we could do anything about this," she said.
If the Legacy Homes Program goes away, Smith said the city would likely revert to its voluntary inclusionary housing program that offered developers incentives for providing affordable housing as part of projects such as planned unit developments.
Mayor John Muhlfeld said he plans to testify against the bill when it goes before the local government committee, and during a recent city housing committee meeting urged others to do so as well.
"They need to realize that Whitefish is unique and why the one size fits all approach doesn't fit all of Montana," he said. "It's important to target for them why this is so important to all of us."
Bozeman is the only other city in Montana that has an inclusionary zoning program. However, that program provides that when a land is subdivided for 10 homes or more then 10% of the homes can be set for lower-income owners or 30% can be set aside for people with moderate incomes.

Prior to implementation of the Legacy Homes Program, Whitefish had a voluntary inclusionary zoning program, but that produced very few units. Through a more than year long process the city worked to create the program including holding public meetings and reaching out to builders for input on the program.
In the first year of the Legacy Homes Program only one project gained approval with the requirement that it provide a fee in lieu of providing 10 affordable units.
City officials have said that the program needs to be in place for a longer period of time before it can be expected to provide units, and since the program's annual report was released there have been some projects approved that include housing units.
The Legacy Homes Program came as a result of the city's 2017 Strategic Housing Plan that identified inclusionary zoning as a tool to build affordable housing by requiring a certain percentage of homes to be deed restricted for long-term affordability. Projects are deed-restricted and targeted toward a particular Area Median Income depending on whether it is a rental unit or for ownership.
A 2016 housing needs assessment found that Whitefish needed to add almost 1,000 new units of housing by the end of 2020 to keep up with demand. The city is planning to do an update of the assessment.
For more information on the bill, visit https://tinyurl.com/y2vxem2t
---