Leaders speak against bill that would end affordable housing program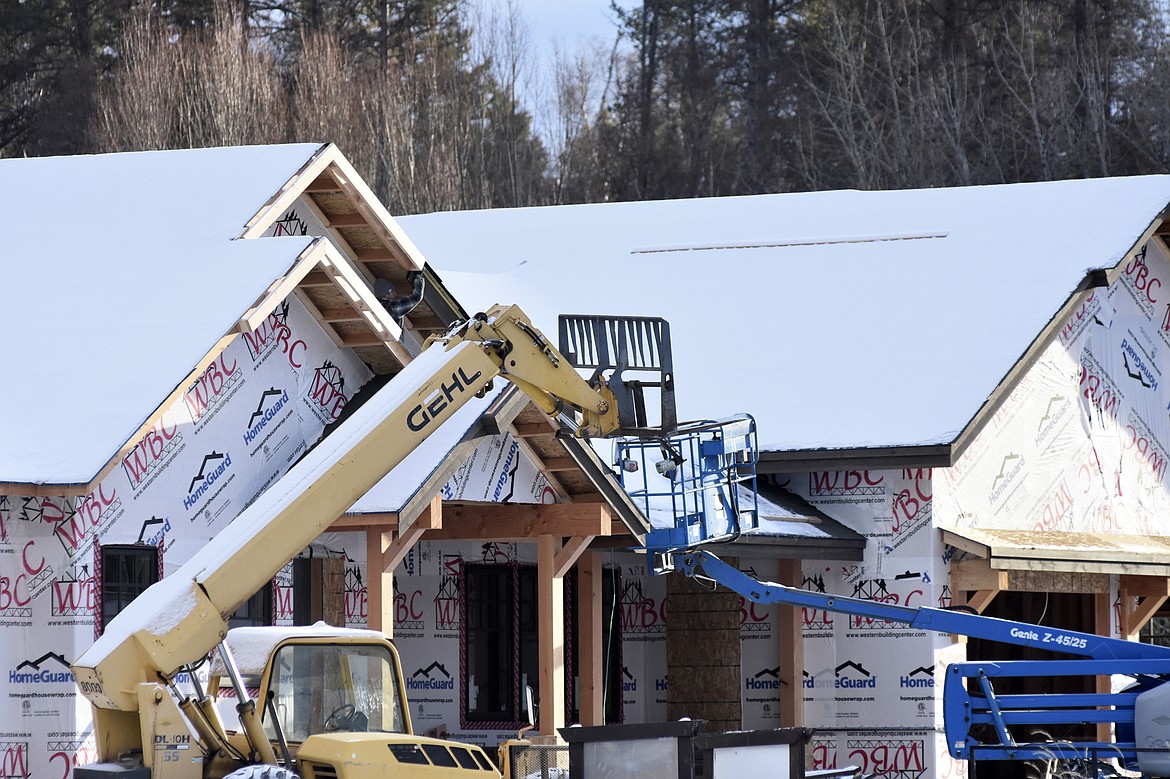 Homes under construction in Whitefish. (Pilot file photo)
by
HEIDI DESCH
Whitefish Pilot
|
March 17, 2021 1:00 AM
Mayor John Muhlfeld and several Whitefish community members implored state legislators on Friday to vote against a bill that would end the tool at the center of the city's affordable housing program.
Saying he's personally watched the affordable housing gap grow in Whitefish, Muhlfeld noted the two-bedroom home he purchased in Whitefish in 1999 at $68,000 today would sell for about $400,000.
"As the affordability gap has grown we've seen our teachers, nurses, firefighters, short order cooks, waiters and waitresses, and retail workers seek alternative housing options outside of Whitefish because they simply can not afford homes in town," he said. "Today based upon our housing needs assessment over 54% of the Whitefish workforce incommutes from surrounding communities."
Muhlfeld joined more than 15 people from around the state speaking in opposition to House Bill 259 in a hearing before the Senate local government committee.
Under the bill, introduced by Republican Rep. Sue Vinton of Billings, local governments would no longer be able to dedicate property for housing for specific income levels or at specified sale prices effectively eliminating the use of inclusionary zoning as a tool for creating affordable housing.
Whitefish officials say the bill, if passed, would have a detrimental impact here because Whitefish's Legacy Homes Program would no longer be able to operate. Adopted in 2019, the city's program uses inclusionary zoning by requiring that 20% of most new housing units be deed-restricted as permanently affordable or that developers pay a fee in lieu of providing units.
Muhlfeld pointed out that if the bill is passed then Whitefish would likely return to its voluntary affordable housing program that only produced about six units over a 10-year period and the thousands of dollars that were invested in the public-private partnership that created the city's housing program would be lost.
Whitefish's housing program, he told lawmakers, was initiated by the Whitefish Chamber of Commerce and the business community, and came out of decisions made at the local level.
"In 2016 when many businesses were closing on certain days or trimming hours of operation because of a lack of workers, the chamber approached the city about doing something," he said. "The workforce was dwindling because of the lack of housing for local workers."
Kevin Gartland, executive director of the Whitefish Chamber, too told the committee that it was the business community that asked for the city's help in putting together a plan to address the most "critical obstacle for not only maintaining, but growing our economy" because of a shortage of workers as a result of a lack of affordable housing.
"We oppose this attempt to take local control away from Montana communities," he said. "We have a critical workforce shortage not only in jobs in the tourism industry sector, but also throughout all segments of our economy. Our employers struggle to fill essential worker openings year round."
The House approved the bill in February by a roughly 30-vote margin.
Rep. Sue Vinton, who introduced the bill and owns a construction company, told the committee that cities and towns are passing the entire cost of affordable housing onto developers through inclusionary zoning.
"We see the impacts of rising affordable housing in our communities," she said. "Some cities and towns are not recognizing or ignoring the rising costs that are affecting housing. Those are primarily lumber, labor, lots and laws."
The law wouldn't prohibit cities from providing developers incentives for creating affordable housing, she noted.
Bozeman is the only other Montana city that has an inclusionary zoning program.
Building and real estate associations have spoken in favor of the bill claiming that measures like inclusionary zoning are actually hampering the construction of affordable housing and unfairly place the burden of affordable housing on builders.
Jesse Walthers, executive director of the Flathead Building Association, said the association supports affordable housing, but not through inclusionary zoning because it unfairly targets builders and developers.
"We feel inclusionary zoning is an ineffective and unreasonable tool," she said. "It does not result in more affordable housing and it puts an unfair financial burden on one type of business, it discourages development and it drives up the overall cost of development."
Adam Hertz, realtor from Missoula and former City Councilor, said inclusionary zoning is a tax on market rate housing in order to subsidize low-income housing. Hertz serves on the Montana Board of Housing, though he said he was not representing that board with his comments.
"It's not a functional or sustainable model for housing affordability," he said. "At a time when we're facing a housing inventory shortage, inclusionary zoning is creating a disincentive for developers and builders to supply more housing. Being forced to increase prices on market rate housing inorder to subsidize a component of new housing or make a payment in lieu is simply shifting the cost of subsidized housing onto middle income home buyers and renters."
While representatives from cities around the state oppose the bill saying that it would end one of the few tools local communities have to ensure the construction of affordable housing. Those speaking against the bill on Friday included representatives from Missoula, Bozeman and Billings.
SK Rossi, representing the City of Missoula, said Missoula is working on a number of avenues to address affordable housing and is worried about losing inclusionary zoning as one of those tools.
"The building of affordable housing is not happening, housing is going up, but it's not affordable housing — it's not something students or middle income folks can afford," she said. "We're trying to figure out how to build more affordable housing in Missoula. I hate to be this blunt about it, but we're looking for ways to build more affordable housing or figure out ways to house our homeless. Our housing situation is dire."
Bozeman Deputy Mayor Terry Cunningham said local elected officials have few tools to address the statewide housing crisis and asked lawmakers not to take away another tool.
"We are finally getting traction with (inclusionary zoning) and now is not the time to pull the rug from under 50 hardworking Montanans, middle class families who would otherwise be occupying these homes," Cunningham said.
The committee did not vote on the bill.
---