Whitefish prohibits guests for lodging facilities, vacation rentals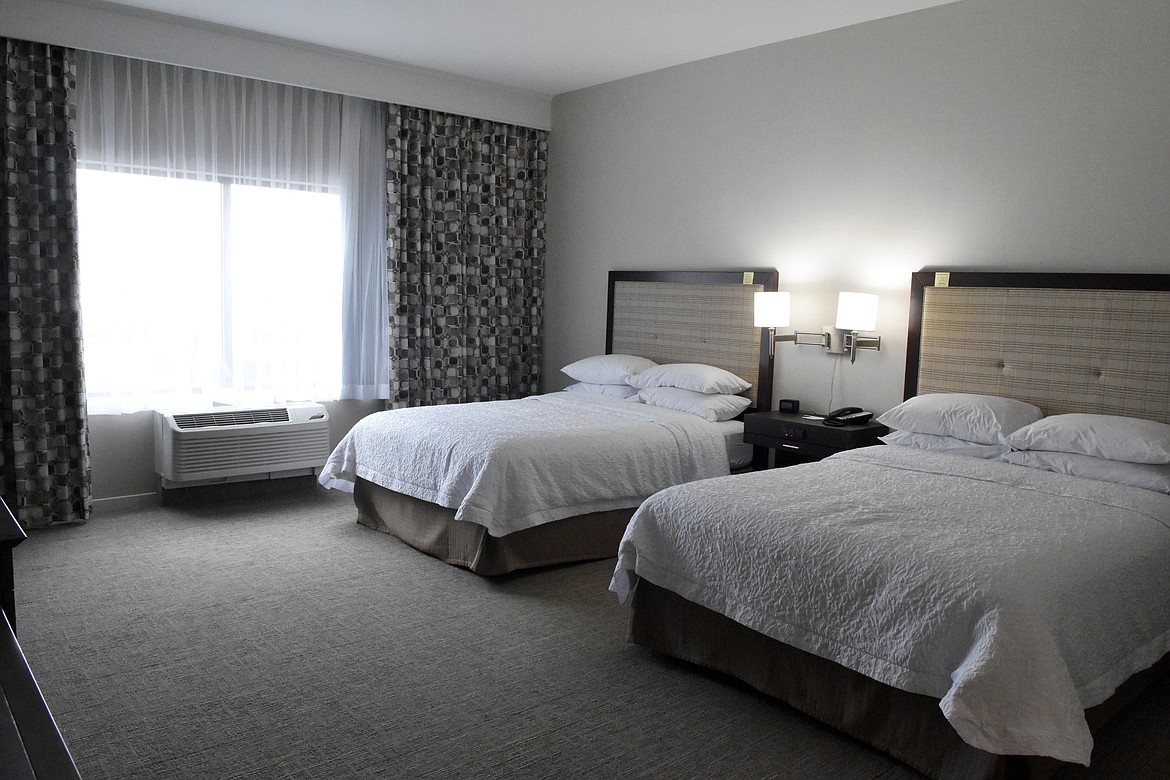 A guest room inside a hotel room. (Pilot file photo)
by
HEIDI DESCH
Whitefish Pilot
|
April 5, 2020 11:06 AM
Whitefish on Sunday became the first city in Montana to prohibit guests from staying at lodging facilities and vacation rentals in response to the COVID-19 pandemic.
City Council, during a special electronic meeting, voted unanimously to pass an emergency ordinance that prohibits reservations and walk-ins except for in certain cases in an effort to curb the spread of the virus. The ordinance goes into effect immediately.

Councilor Melissa Hartman said the ordinance is about protecting the health and safety of everyone in the community and not about keeping people out of Whitefish.
"We're passing this to protect our health-care workers and not over burden our infrastructure," Hartman said. "The flavor of this feels to some like a build the wall mentality to keep people out, but everyone wants to stay safe and healthy."
The ordinance prohibits stays at lodging facilities except for "essential purposes including government, health care, law enforcement, domestic violence victims, personnel responding to the COVID-19 emergency, essential workers as defined by federal and state guidance, family members of those seeking medical treatment, and those individuals that have a medical recommendation to quarantine outside their home."
Mayor John Muhlfeld said many Whitefish lodging facilities have already voluntarily restricted guests and the ordinance fits with governor's request issued on March 30 that anyone entering the state self-quarantine for 14 days.
"We take the responsibility of protecting the health and safety of our citizens seriously," Muhlfeld said. "I understand the sacrifices that many of our businesses are making to do this."
"I hope we can get back to the normal way of life in Whitefish soon," he added.
Council heard comments from dozens of Whitefish citizens and business owners who said they supported the measure.
The ordinance is effective through April 30, but may be extended by the City Manager. The ordinance does not require those already staying at lodging facilities to leave.
Violation of the ordinance may result in the revocation of the business license issued by the city for the facility.
City Attorney Angela Jacobs said Whitefish is the first city in the state to approve a prohibition on lodging stays, and she was unaware of any counties that have implemented such an ordinance.
"It was brought to our attention that people from areas with high rates of COVID-19 are coming to shelter in small mountain towns like ours," Jacobs said. "This prohibits them taking reservations for non-essential purposes, walk-ins and canceling any existing reservations."
"Enforcement is going to tough," Jacobs added. "We hope that people follow this — it's going to be largely self-policing."
The city plans to send out letters to the roughly 175 lodging facilities and vacation rentals in Whitefish explaining the ordinance.
Councilor Steve Qunell also requested city staff create an objective check list to provide to lodging facilities to determine if a guest meets the exceptions for staying here.
"It's a tricky situation," Qunell said. "We're essentially leaving it up to the front desk people to figure out if someone fits into the [essential purpose] category."
During public comment, Rhonda Fitzgerald, owner of the Garden Wall Inn, said she supported the measure noting that Whitefish has the most short-term rentals of any city in the state.
"I'm concerned about the potential for small, rural places to become overrun from people from more infected areas," she said. "There's a trend of people who can work remotely coming to rural areas and the host communities are becoming the victims of that."
"There's no point in staying home to stop the spread of this if you leave your back door open," she added.
Whitefish on March 19 declared a state of emergency for the city related to COVID-19.
Montana Gov. Steve Bullock on March 26 issued a stay-at-home order except for essential activities such as visiting the grocery store and pharmacy. The order is set to expire on April 10, but on Friday Bullock said that would likely be extended.
The total number of confirmed COVID-19 cases in the state as of Sunday morning was 265 with more than 6,000 tests completed. Flathead County has 24 confirmed cases.
For more information related to COVID-19, visit COVID19.mt.gov
Fore more information on the city's response, visit https://tinyurl.com/uzwkphg
---