Marie Elodia Terrazas Vasquez, 89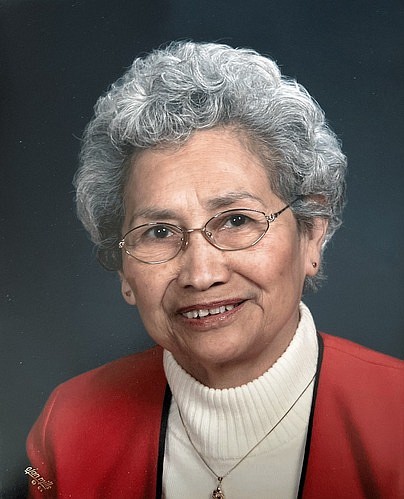 Marie Elodia Terrazas Vasquez
|
September 20, 2023 12:00 AM
Marie Elodia Terrazas Vasquez, 89, received her heavenly wings on July 7, 2023 while under the amazing care of the wonderful staff at Immanuel Lutheran Home.
Marie was born July 20, 1933, in San Antonio, Texas, the daughter of Medardo Terrazas and Alberta (Yanez) Terrazas. Marie met her future husband Cipriano (Cip) Vasquez while living in Rotan, Texas. They eloped on August 4, 1951. They moved to Montana in 1954 with their children, Carmen and George. While farming in Hamilton they had another daughter, Adelina (Addie). The family adopted their son, Don in 1967.

Marie's life was all about family. As a stay-at-home Mom she was always there for her children and their many friends, her entire family, neighbors, and her church family. She made sure no one ever went hungry at her home. Even when all three high schoolers would bring home one or two friends for lunch – she just made more soup and sandwiches. And of course, her tortillas and tamales were renowned!
Marie and Cip enjoyed traveling and no matter where their travels took them, Cip always found a favorite spot to fish and Marie had her cast iron skillet and cornmeal on hand to fry them up. Many a traveler enjoyed meals with them as once again, Marie had to make sure everyone was fed. She was a talented seamstress and made clothes for her children and grandchildren and nieces and nephews. She sewed many, many, dolls for so many. A three-foot Annie doll and wardrobe for her grand-daughter Michelle who has since passed this down to her daughter Olivia. She was an amazing quilter. Whenever a new baby was born to the family, they always received a quilt from Marie. Marie crocheted the most beautiful tablecloths, doilies, table runners and even Barbie clothes. She was so talented! She was a beloved wife, mother, grandmother, great-grandmother, godmother, aunt, and a great friend to many.
Marie was a member of St. Charles Catholic Church in Whitefish and was always there at the Parish Hall for any Church event. She gave her time whenever needed at the Church and was always there to pour a cup of coffee for everyone and say hello.
She was preceded in death by her husband of 53 years, Cip in 2004; Father Medardo in 1936, Mother Alberta in 2005, sister Andrea in 1972, sister Modesta in 2014.
She is survived by daughter Carmen Finch (Tom Forler) of Yakima, Washington; son George of Whitefish, daughter Adelina (Roy Testa) of Whitefish and son Donald of Kalispell; her sister Mary (Bill) Cheevers of Coeur d'Alene, Idaho, brother Joe (Tammy) Terrazas of Baker, Idaho, sister Nettie (Alfredo) Gamez of Phoenix, Arizona, brother Pedro Vasquez of Eureka, sister Janie Fountain of Houston, Texas, brother Ramon Vasquez of Kalispell; her grandchildren, Dena (Vince) Byrne of Texas, Gregory (Teri) Finch of Washington, Michelle Brown (Cody Lay) of Chandler, Arizona, Rhiannon (Kurtis) Samuell of Columbia Falls, Patrick Vasquez of Great Falls, Jessica Testa-Hewitt of Kalispell; great-grandchildren Sydney, Gregory and Madeline Byrne, Jude (Sabine) Samuell, Ridley Samuell; Taren and Kiera Horner; and Jessica, Elizabeth, Ryan, Peyton, Connor and Olivia Lay. She is also survived by numerous nieces and nephews, and godchildren, all who loved her dearly.
Mass of Christian burial will be Wednesday, Sept. 20, 2023, at 12:15 p.m. and will be conducted at St. Charles Catholic Church, 230 Baker Avenue, Whitefish. A luncheon will immediately follow the service. Internment services for the family to follow at Glacier Memorial Park in Kalispell.

Memorial contributions are suggested to a charity of your choice. Funeral arrangements have been entrusted to Darlington Cremation and Burial Service, Kalispell.
Recent Headlines
---