Whitefish boys blank Bigfork, Libby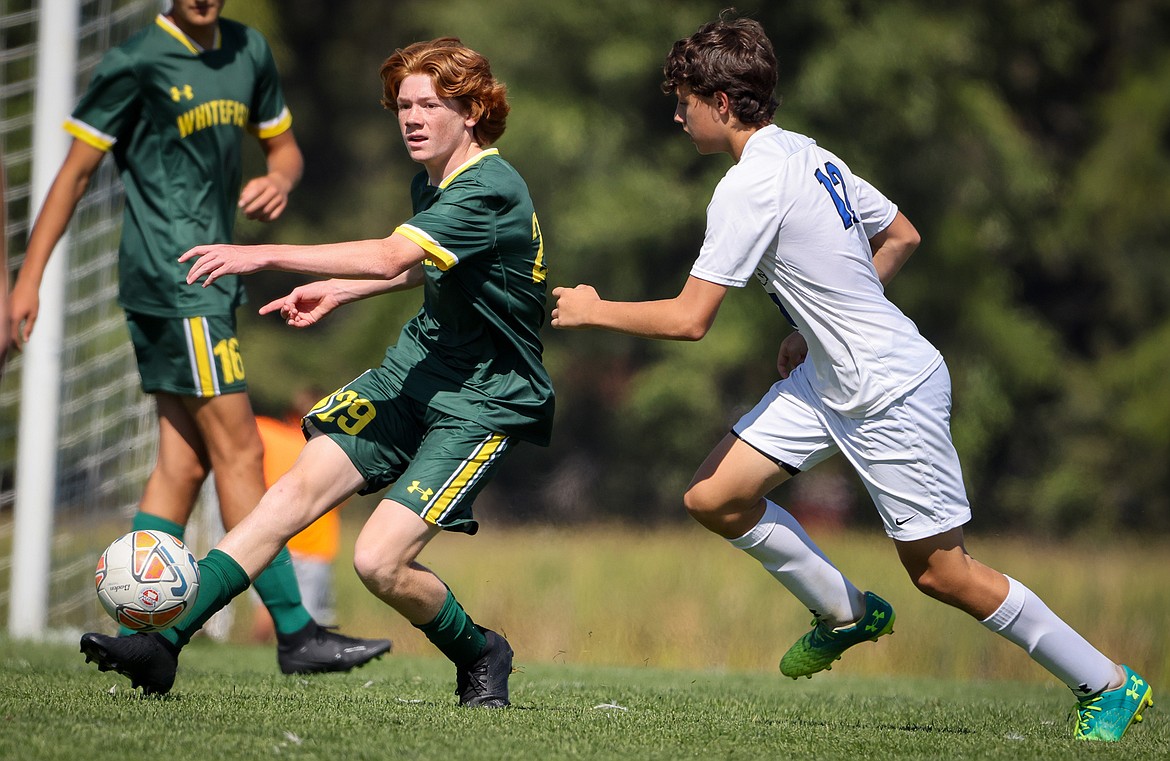 Whitefish's Harry Trufant pushes the ball up against Bigfork in the Bulldogs' 4-0 win Saturday. (Jeremy Weber/Bigfork Eagle)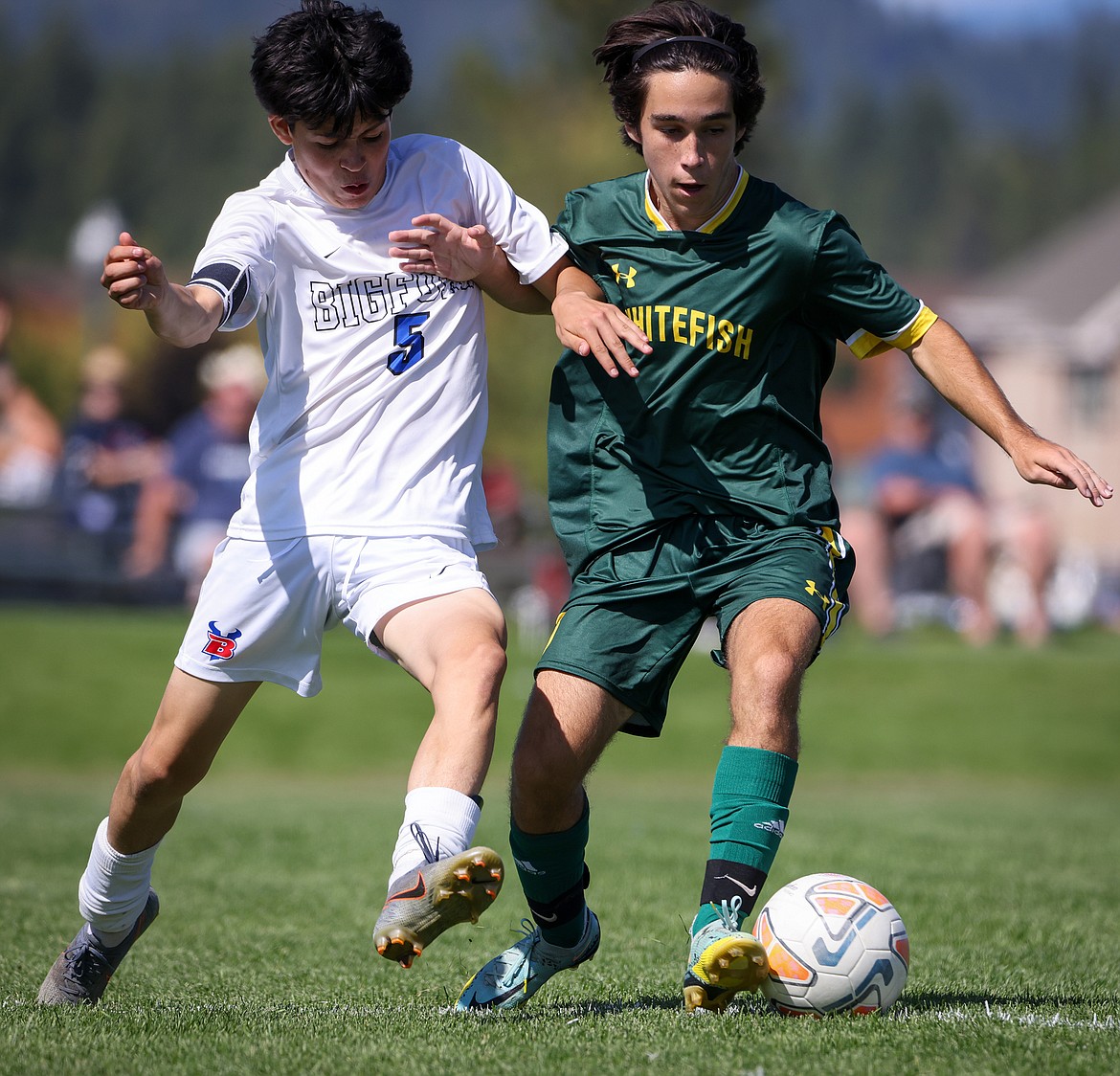 Whitefish's Ryder Elliot keeps the ball away from Bigfork's Leo Diaz during the Bulldog's 4-0 win against the Vikings Saturday. (Jeremy Weber/Bigfork Eagle)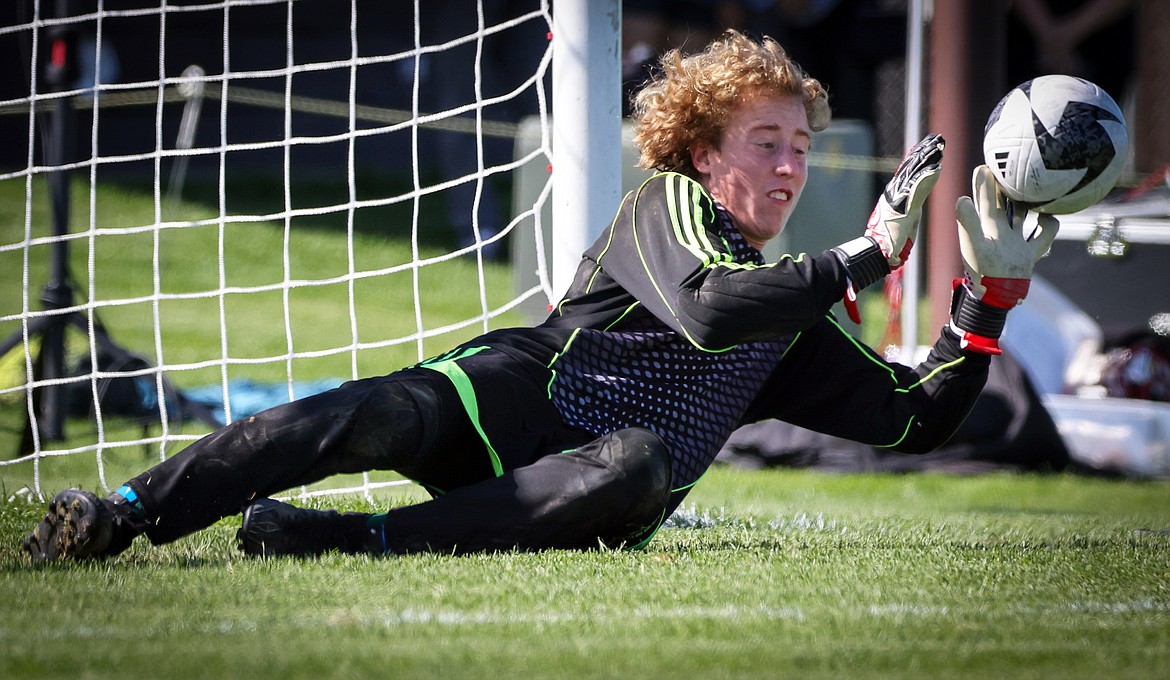 Whitefish keeper Bjorn Bungener makes a save of a Bigfork shot in the Bulldogs' 4-0 win over the Vikings Saturday. (Jeremy Weber/Bigfork Eagle)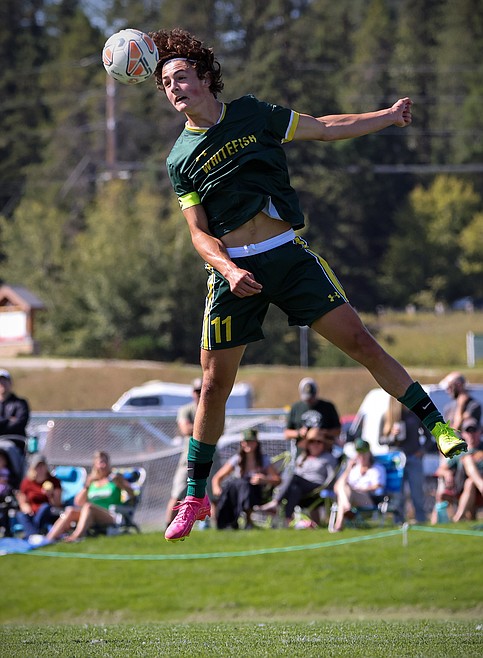 Whitefish forward Collin Lyman heads the ball during the Bulldogs' 4-0 over Bigfork Saturday. (Jeremy Weber/Bigfork Eagle)
Whitefish midfielder Wyatt Carlson heads the ball during the Bulldogs' 4-0 over Bigfork Saturday. (Jeremy Weber/Bigfork Eagle)
Previous
Next
by
BRANDON HANSEN For the Pilot
|
September 13, 2023 12:00 AM
The Bulldogs powered back Bigfork 4-0 in Northwest A soccer action on Saturday to move to 5-0 on the season. Four Whitefish players scored in the win, as the Bulldogs had 17 shots and seven corner kicks.
"We're playing a lot of guys trying to build the consistency," Whitefish Head Coach John Lacey said. "We haven't had our best performance yet but are building for it. There have been a few periods where we really have started to move the ball around well."

Kyler Jonson scored in the 16th minute on an assist from Townsend Reed. Elijah Adams-Griffin got a Jonson pass and scored in the 21st minute.
Justis Artebury notched a goal in the 38th minute, followed by Charlie Hyatt finding Ryder Elliot, who scored in the 77th minute.
So far this season, Whitefish has not given up a goal to their opponent.
"The first thing we want to do is keep the ball," Lacey said. "The defensive effort has been great in trying to possess and limit the opponent's opportunities. We have also had great performances from all of our goalkeepers."
Whitefish Saws Through Libby
Whitefish notched a 7-0 victory over Northwestern A foe Libby in Northwestern A victory on Thursday, Sept. 7 in Whitefish. Seven Bulldog players scored as Whitefish finished with 16 shots and five corners.
"It's still early, and our season is going to be defined by October," Lacey said. "We are working on getting everybody up to speed. So far, we have kept teams at zero, but we're not there yet regarding how we want to play. We're looking forward to more and working at it."
Scoring commenced in the second minute as Collin Lyman found the back of the net thanks to a Preston McPherson assist. Ryder Elliot then scored on a McPherson assist in the 12th minute.
Before halftime McPherson and Kylelr Johnson scored the next two goals. After the break, Alliot scored his second goal of the game in the 54th minute off a Jackson Dorvall assist.
Elliot scored in the 54th minute. Logan Bingham notched a goal on a Dovall assist in the 63rd minute. Jackson Dorvall got an assist on both of those goals.
Tristan Irwin wrapped up Whitefish's scoring in the 77th minute. He was assisted by Griffin Gunlikson.
This week will be a good test for Whitefish as they played at Columbia Falls on Tuesday and will host Polson on Thursday at 5 p.m.
"It's exciting because with Columbia Falls and us, it has been outstanding soccer these past few years," Lacey said. "We both have had really good, strong teams, which is fun for our players and fans. It will certainly be our biggest test. Columbia Falls will force us to solve problems that other teams we have faced haven't put upon us."
Polson will also be a challenge when they come into town.
"They were another playoff team last year, so this week will be a good barometer on where we will be and what we need to work on," Lacey said.
At Whitefish
WHITEFISH 4, BIGFORK 0
Bigfork - 0 - 0 - 0
Whitefish - 3 - 1 - 4
SCORING SUMMARY
WF — Kyler Jonson (Townsend Reed) 16:00
WF — Elijah Adams-Griffin (Jonson) 21:00
WF — Justis Arterbury 38:00
WF — Ryder Elliott (Charlie Hyatt) 77:00
GAME STATS
Shots — Bigfork 3, WF 17. Goalie saves — Bigfork 13 (C. Carlson), WF 3, (Bjorn Bungener, Charlie Dow). Corner kicks — Bigfork 0, WF 7. Fouls — Bigfork 11, WF 14. Cards — Bigfork 1, WF 3.
At Whitefish
WHITEFISH 7, LIBBY 0
Whitefish - 4 - 3 - 7
Libby - 0 - 0 - 0
SCORING SUMMARY

WF 2d minute, Collin Lyman goal, Preston McPherson assist
WF 12th, Ryder Elliott goal, McPherson assist
WF 27th, McPherson goal
WF 35th, Kyler Johnson goal
WF 54th, Elliott goal, Jackson Dorvall assist
WF 63rd, Logan Bingham goal, Dorvall assist
WF 77th, Tristan Irwin goal, Griffin Gunlikson assist
GAME STATS
Shots, WF 16, Libby 4
Corners, WF 5, Libby 2
Saves, WF 4 (C. Dow, E. Bourque, B. Bungener), Libby x (J. Canizares, A. Thomas)
Fouls, WF 11, Libby 6
Recent Headlines
---