Lady Bulldogs ground Valkyries, 5-1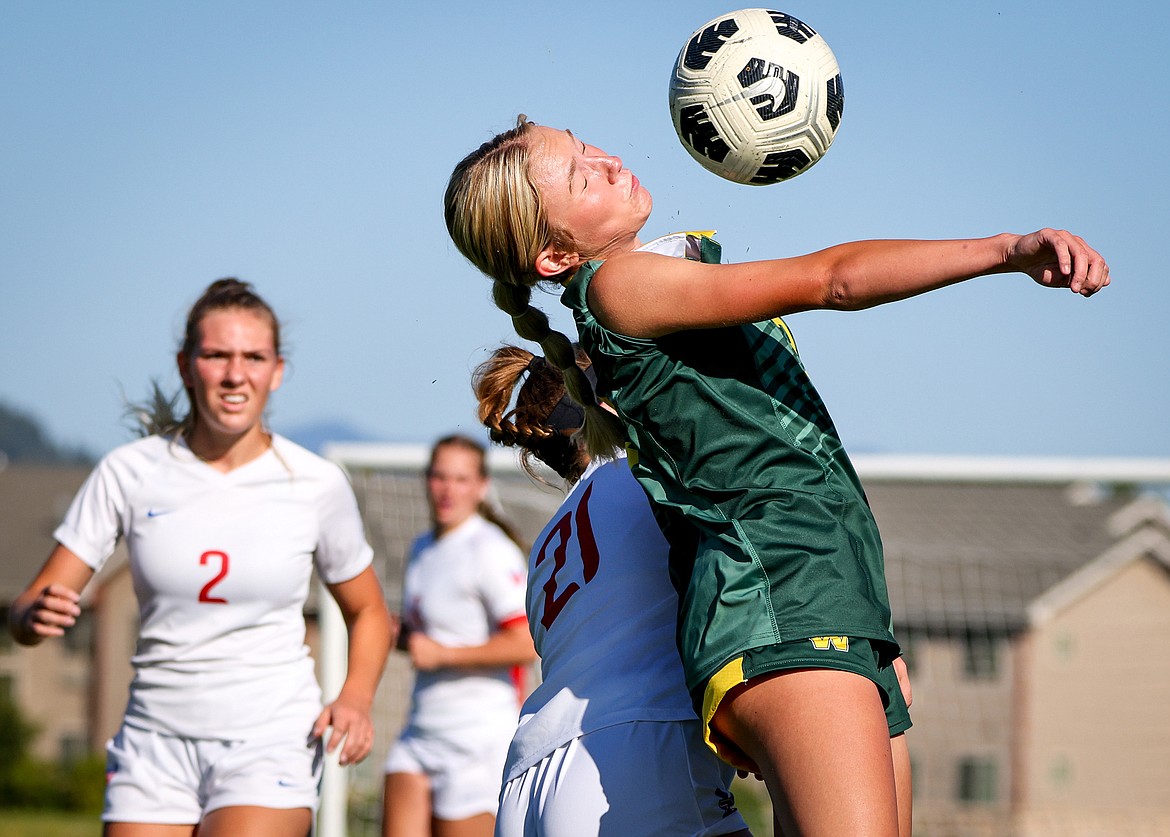 Whitefish's Madi Gordon knocks the ball down during action in the Lady Bulldogs' 5-1 win over Bigfork Saturday.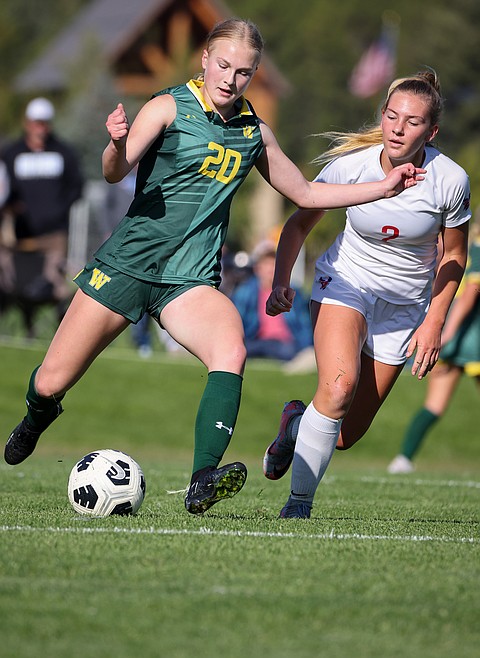 Whitefish's Isabelle Cooke lines up a pass during the Lady Bulldogs' 5-1 over Bigfork Saturday. (Jeremy Weber/Bigfork Eagle)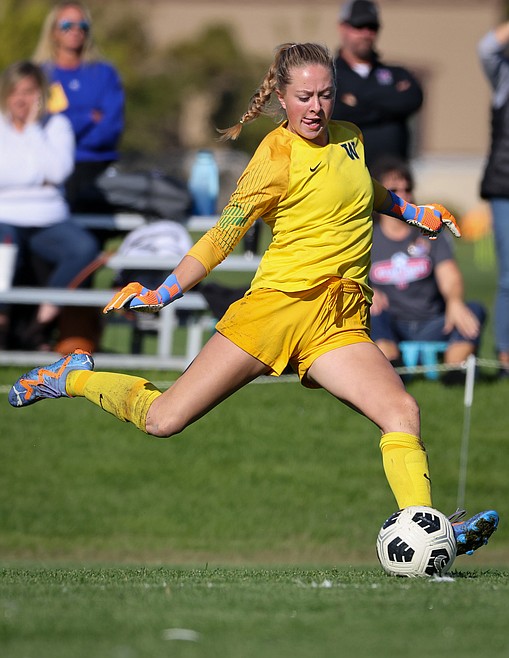 Whitefish keeper Norah Schmidt clears the ball during the Lady Bulldogs' 5-1 win over Bigfork Saturday.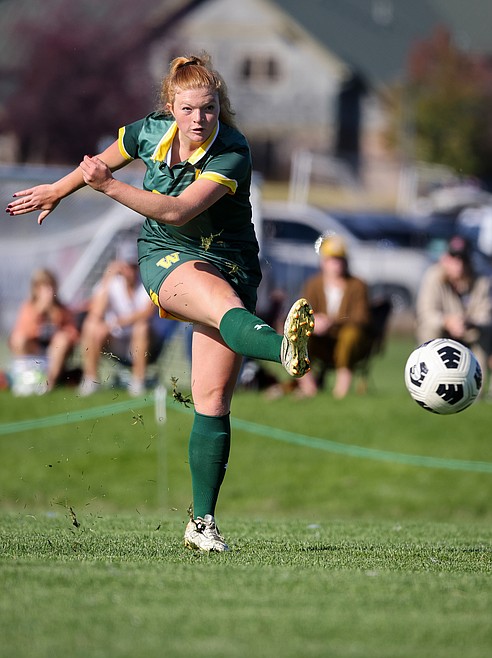 Whitefish's Charlotte Wallace takes a free kick in the Lady Bulldogs' 5-1 win over Bigfork Saturday.
Previous
Next
by
BRANDON HANSEN For the Pilot
|
September 13, 2023 12:00 AM
Playing in their first Northwestern A Conference match against Bigfork since the Valkyries moved from Class B to A, Whitefish got a hat trick from Delaney Smith in a 5-1 victory on Saturday, September 9.
"We were playing against a team with serious goalscoring capability," Whitefish Head Coach Roland Benedict said. "They have some all-star players from last season and scored four goals against Columbia Falls. We were able to keep their chances to a minimum."
Benedict added the team did a good job of playing team defense and handling things in the midfield so the backline doesn't have to play isolated defense. Rather, the defensive line is able to win bad passes and take away forward touches.
Whitefish led 2-0 after the first half and scored three more in the victory.
Smith scored in the 16th minute on a Madison Gordon pass, followed by an Olivia Genovese goal on another Gordon assist in the 29th minute.
After the break, Whitefish scored in the 47th minute via Smith's second goal. Charlize Ullrich found the back of the net two minutes later on a Taylor Dorvall pass. In the 63rd minute, Smith completed the hat trick thanks to an assist from Taylor Dorvall.
"Our attack group has been lethal and has shown we have a lot of different ways we can hurt teams. They have been exceptional," Benedict said. "Our midfielders too, Madison Gordon, Anna Guzman, and Truth Baxter have done a great job filling those roles after two all-state players graduated."
Benedict added that Gordon was dominant against Bigfork, shutting down the Valkyries in that area of the field and protecting Whitefish's back line.
Whitefish had 17 shots on goal and three corner kicks, while Norah Schmidt had six goalie saves.
"Norah Schmidt made an exceptional save in that game that saved us from a goal," Benedict said. "She did more than making saves by dictating the pace and flow of the game from her position. She showed she is a top goalkeeper in the state."
At Whitefish
WHITEFISH 5, BIGFORK 1
Bigfork - 0 - 1 - 1
Whitefish - 2 - 3 - 5
SCORING SUMMARY
WF — Delaney Smith (Madison Gordon) 16:00
WF — Olivia Genovese (Gordon) 29:00
WF — Smith 47:00
WF — Charlize Ullrich (Taylor Dorvall) 49:00
WF — Smith (Isabelle Cooke) 63:00
B — Callie Gembala 76:00
GAME STATS
Shots — Bigfork 11, WF 17. Goalie saves — Bigfork 10 (Irelynd Vigil), WF 6 (Norah Schmidt). Corner kicks — Bigfork 3, WF 3.
Whitefish Blanks Libby
Five first-half goals showcased Whitefish's danger as a soccer team as the Lady Bulldogs posted a 9-0 victory over Libby in Northwestern A on Thursday, September 7. Olivia Genovese scored four goals in the game, while Sadie Olson scored two.
The Lady Bulldogs scored early, as Genovese took a Isabelle Cooke pass to score four minutes in. Sadie Olson scored five minutes later on another Cooke pass. Charlize Ullrich then notched a goal in the 11th minute on a Cooke assist.
Genovese then scored in the 32nd, 38th and 57th minute. Olson notched her second goal on a Macie Schmidt assist in the 70th minute, and Taylor Dorvall scored in the 73rd minute.
Cooke book ended Whitefish's scoring on a Delaney Smith assist. Whitefish had 25 shots and five corner kicks.
Benedict said his players look at each game as a success in how they played, not the scoreboard result. They want to compete the right way and continue to improve so they can peak during the postseason.
"When you get to the playoffs, really any team can beat any other team on a given day," Benedict said.
However, next week will be a big challenge for the Lady Bulldogs as scheduling has them facing their local rival Columbia Falls on Tuesday, then Polson at home on Thursday at 3 p.m.
"Ideally, you want 72-96 hours after a match to recoup so you can play at the same level again," Benedict said. "This ten-day stretch, though, has been a game every two days, and our reserve team also has a busy schedule, and we won't be able to use them."
Still, the Columbia Falls is a huge matchup since both programs have been successful in the past, and Benedict feels like this game will have a lot riding on it in terms of titles and playoff seeding.
"We are getting prepped for that, getting our minds right, and we will get after it," Benedict said.
Polson is something of an unknown for the Lady Bulldogs. Benedict added by Thursday, the team will have to manage physical and mental fatigue due to the school.
"We're just going to need to be prepared and spend Wednesday as a recovery day," Benedict said.
At Libby
WHITEFISH 9, LIBBY 0
Whitefish - 5 - 4 - 9
Libby - 0 - 0 - 0
SCORING SUMMARY
WF — Olivia Genovese (Isabelle Cooke) 4:00
WF — Sadie Olson (Cooke) 9:00
WF — Charlize Ullrich (Olson) 11:00
WF — Genovese (Cooke) 32:00
WF — Genovese 38:00
WF — Genovese (Cooke) 57:00
WF — Olson (Macie Schmidt) 70:00
WF — Taylor Dorvall (Olson) 73:00
WF — Cooke (Delaney Smith)
GAME STATS
Shots — Libby 1, Whitefish 25. Goalie saves — Libby 13 (Maura Mesenbrink), Whitefish 1(Norah Schmidt). Corner kicks — Libby 0, Whitefish 5.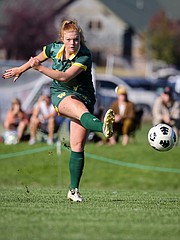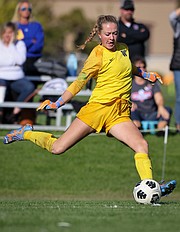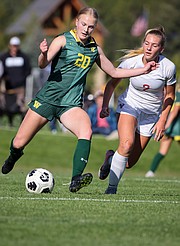 Recent Headlines
---