Kevin Arthur Duff, 55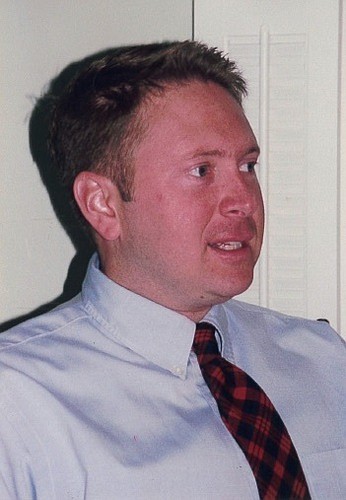 |
September 13, 2023 12:00 AM
Kevin Arthur Duff, 55, passed away in Kalispell on Aug. 22, 2023, with his loved ones at his side. He will be sorely missed.
Kevin loved life and his life was filled with many adventures. His entertaining stories delighted family and friends, young and old. He is now in the arms of Jesus, joining loved ones gone before him. Years of pain are over now.
To know Kevin was to have known a true friend. He cared deeply for his fraternal brothers and family. After high school (Go Bulldogs) he went on to earn a bachelor of science degree at Arizona State University that led to a career in wound management sales and made lifelong friends. He remained a Sun Devil fan!
Missing Montana, Kevin returned to try a stint working in his family business and started back riding horses which he learned to love as a young boy from his dad. Kevin loved trail riding and accomplished team roping on his favorite horse, Elvis. He was successful in winning regional competitions and participated in a national rodeo as well.
He also enjoyed participating in the Whitefish Winter Carnival skijoring events and the Winter Carnival parade, successfully roping a Yeti! A cattle roundup with John Wagner on an Eastern Montana ranch and participating in a bison roundup brought more stories and good memories.
Realizing he wanted more education, Kevin went back to earn his juris doctor degree at the UM (Go Griz!) and went on to have a successful law practice, here he made more lifelong friends. Kevin loved to travel. A trip to Scotland with his friend, John Wagner, brought so much joy. He could entertain with his perfect Scottish accent that would bring laughter to all.

Kevin had many interests in the outdoors such as swimming (being a member of his Fraternity ASU synchronized swim team), water skiing at Whitefish Lake, bicycling, snow skiing on Big Mountain, trail running, (an Xterra competition he was proud to finish) to name a few.
Golfing occupied a lot of his summer free time, years ago, and he had a great time driving around WLGC on his Batcart. Kevin played baseball which took him to Maryland to participate in a Babe Ruth World Championship. High school football was fun for him and he loved the comradery. Basketball too gave him great fun and he especially prided himself in free-throw shooting. He also loved fishing, whether he rode into a lake on his horse, went with his Gramps, or floated down a river in his drift boat.
He was also a successful big game hunter. He started his joy of duck hunting with his gramps at a young age. At age 40 he bought his beloved purebred labrador, Whisky Twist. Together they enjoyed walking the woods, successfully harvesting and retrieving those birds. Kevin loved to dance the jitterbug and the two-step.
His favorite professional sports teams were the Dallas Cowboys,the Warriors, San Francisco 49ers, which he and his Mom enjoyed attending a game in San Francisco together. He also adored being entertained by his beloved sister, Amanda and her singing and also recalled her sometimes bossy ways with him! Kevin had a special love for his niece, Azlyn, and was so supportive of her educational endeavors. "She's a great one" he would always say.
Kevin was fond of nicknames, of which he had a few: "Slick," "Butch,""Duffer," "Cliffhanger," "Batman" (Jeff, his faithful partner "Robin") and later, The "Cyclone Cowboy" which leaves a story untold. Kevin spent many last days writing his life's stories, looking at his treasured memories in pictures, watching his favorite sports games on TV, and reading every day.
Kevin was preceded in death by loved ones; maternal grandparents, Kenneth and Laura Lytle; paternal grandparents, Roy and Norma Duff; uncle Philip Rygg; godmother, Barbara Olson; and his beloved labrador.
Kevin is survived by his mother, Judy Campbell and her husband Larry Campbell; step-brothers, Brett Campbell and his family, and Jason Campbell and his family; his father, Dale Duff and his wife Diane; and half-sister, Sara Petersen; his sister, Amanda Caldwell and husband Mike and niece, Azlyn Caldwell; and a half sister, Becky Moulton and her husband Dennis and family.

Kevin grew up with loving aunts, uncles and cousins who also survive him. Charlene Rygg, Jeff Weyh and his children James and Cora; Becky Rygg; Anthony Mead and their children Mace and Wynn; John Rygg and Adam Noble; Mark and Lynne Duff; Scott Duff; Shelby Geyer and husband Greg and their children Grace and Gavin; Sean Duff and his wife Kyla. Kevin is also survived by his godfather, Dennis Olson and Don Olson; beloved relatives in Australia; many extended relatives and friends.
Sincere thanks to all friends and family that shared a bit of your life with him. May Kevin's memory bring smiles and love to you all. Memorial donations in Kevin Duff's name may be made to the Flathead Valley Community College Foundation General Scholarship Fund at 777 Grandview Dr., Kalispell, MT 59901 or www.FVCC.edu.

A memorial service for Kevin was Sept. 9, 2023 at the United Methodist Church in Whitefish.
Recent Headlines
---