Colorado artist provides glimpse into delicate paint method
|
September 13, 2023 12:00 AM
Colorado artist Brian T. Keller uses delicate paint known as egg tempera to create illusions that capture light and a sense of place to invite the viewer into his paintings.
Keller is visiting Cawdrey Gallery in Whitefish offering up his insights into the fascinating work of painting with egg tempera. A reception and demonstration by the artist is Friday, Sept. 15 from 5-8 p.m. On Saturday, Sept. 16 Keller will be at the gallery from 10 a.m. to 4 p.m. to answer questions about his work and visit with art aficionados.

"I create realistic paintings because I believe in the power of illusion. Each finished piece of my ultra-realistic art is a composite of numerous places and experiences, things I have touched, felt and observed that have affected me and my view of the world in which we live. The principal concept behind my pieces is to invite the viewer in to participate in my vision, and take part in the illusions I create," he says.
Keller received his bachelor's degree from Bowling Green State University, Ohio, in 1971. He received his Master of Arts in 1975. Keller's early accomplishments included works in graphic design and illustrations, but he was unsatisfied with the constraints of these careers. In 1980 he left commercial art to dedicate his energies to fine art.
In the mid-80s Keller encountered Taos, Santa Fe, and the great desert southwest. The clean, dry air, and clear light of the southwest were a major influence on his understanding of light in his works. Today, this influence is evident as warm colorful glows, reflected light, and deep shadows that dominate his paintings.
In 1991 Keller began work in egg tempera. Tempera paint dries almost immediately and does not blend or smear. This precise paint is ideally suited to his work. The clarity of this paint allows him to capture the fine detail and bright highlights that complete these illusions. Egg tempera also enjoys the distinction of being the oldest known paint medium, thanks to its availability, durability and binding properties.

First used over 2,000 years ago in Egypt and traditionally painted onto a sturdy poplar panel primed with white gesso, the egg yolk suffuses the powdered pigment with a warm "glow." Famous works in egg tempera include "The Birth of Venus" by Botticelli and "Madonna and Child" by Duccio di Buoninsegna. "The Last Supper" by da Vinci was a failed experiment of combining oil and egg tempera onto dry ground chalk, instead of the wet plaster of a fresco, and it began degrading almost immediately and must be constantly restored.

When properly applied to a hard gessoed surface, it has advantages over oil, like better colorfastness when exposed to light and more transparency, lending itself to the ethereal scenes desired by churches in the Medieval ages. Michelangelo's career spanned and encapsulated the decline of popularity of egg tempera in favor of oil paints, with famous unfinished works like "Manchester Madonna" highlighting the changing trends. In the 20th century, Andrew Wyeth used the medium to stunning effect with his tonalist depictions of white-washed buildings and Thomas Hart Benton to capture mid-century Americana.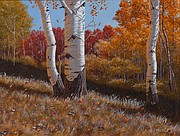 Recent Headlines
---