Whitefish's Swift Creek Cafe looks to push beyond familiar diner food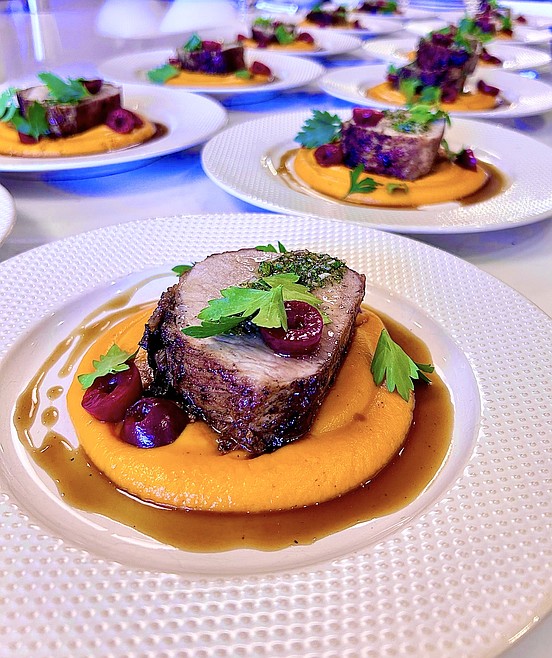 Swift Creek Cafe's roasted pork tenderloin with sweet potato purée, along with pickled Flathead cherries, pork and lovage demi. (Courtesy photo)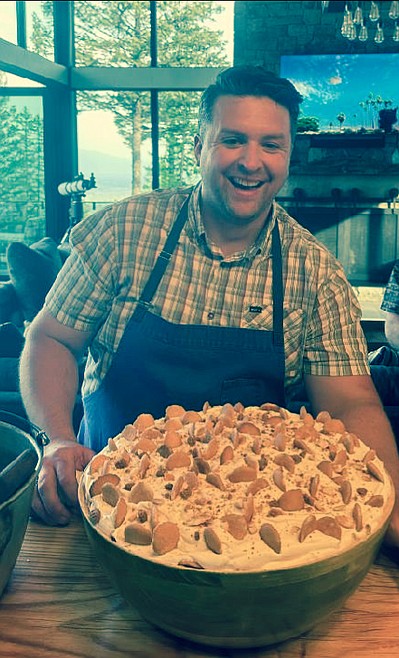 Chef Christian Moreno, along with his father, purchased Swift Creek Cafe in downtown Whitefish. (Courtesy photo)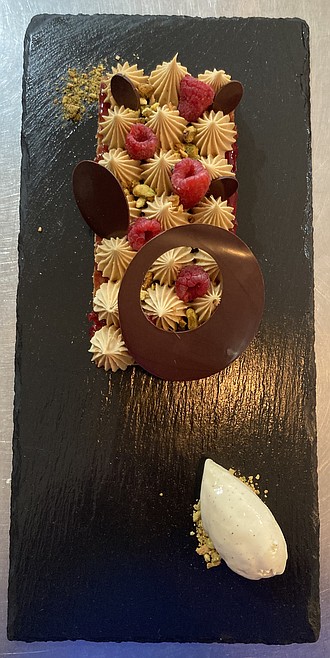 The gluten-free pistachio Pain de genes with raspberries and Valrhona dulcey and Lake Missoula Tea Company Earl Grey de la crème whipped ganache by Swift Creek Cafe. (Courtesy photo)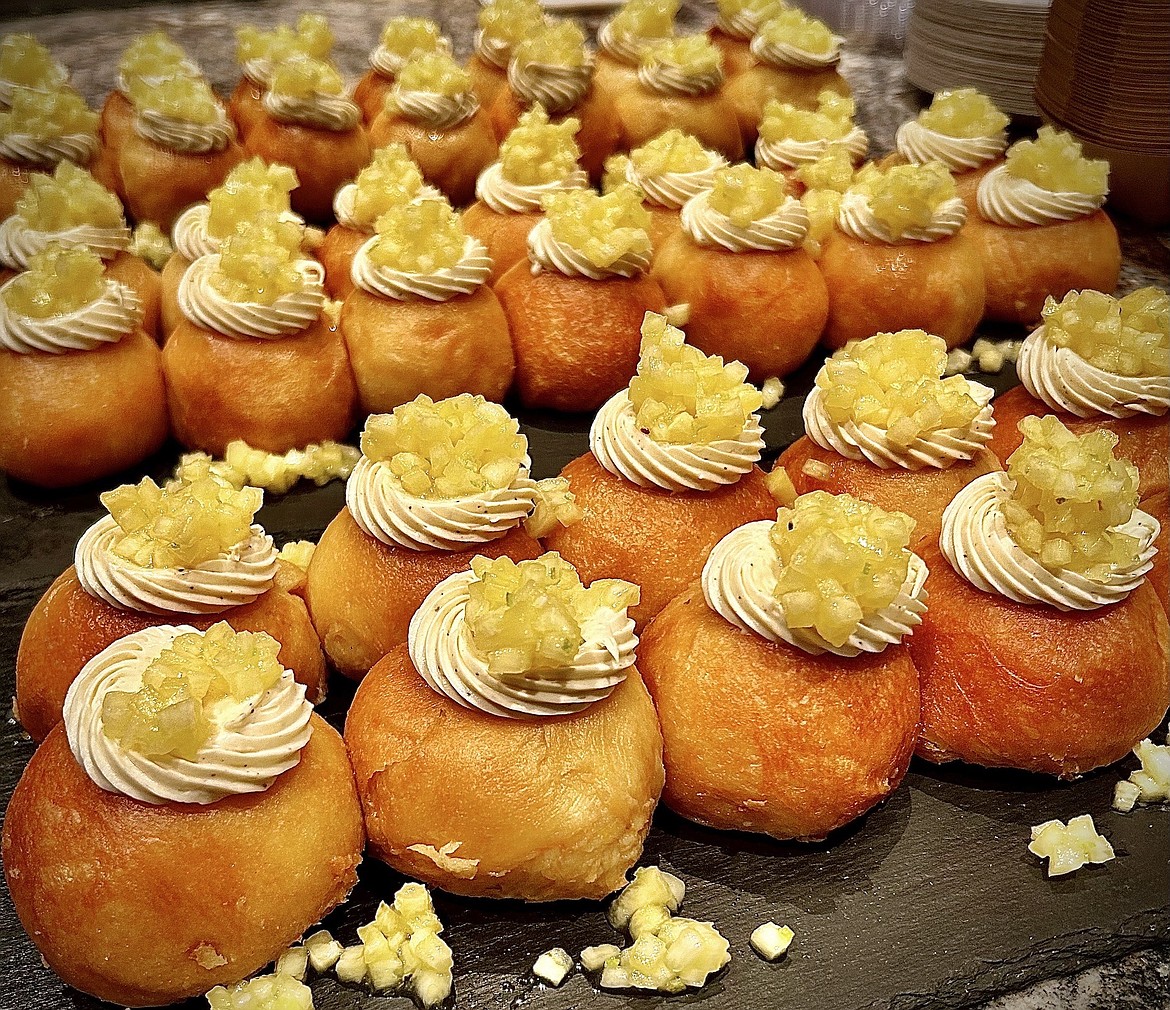 The rum baba exotique from Swift Creek Cafe. (Courtesy photo)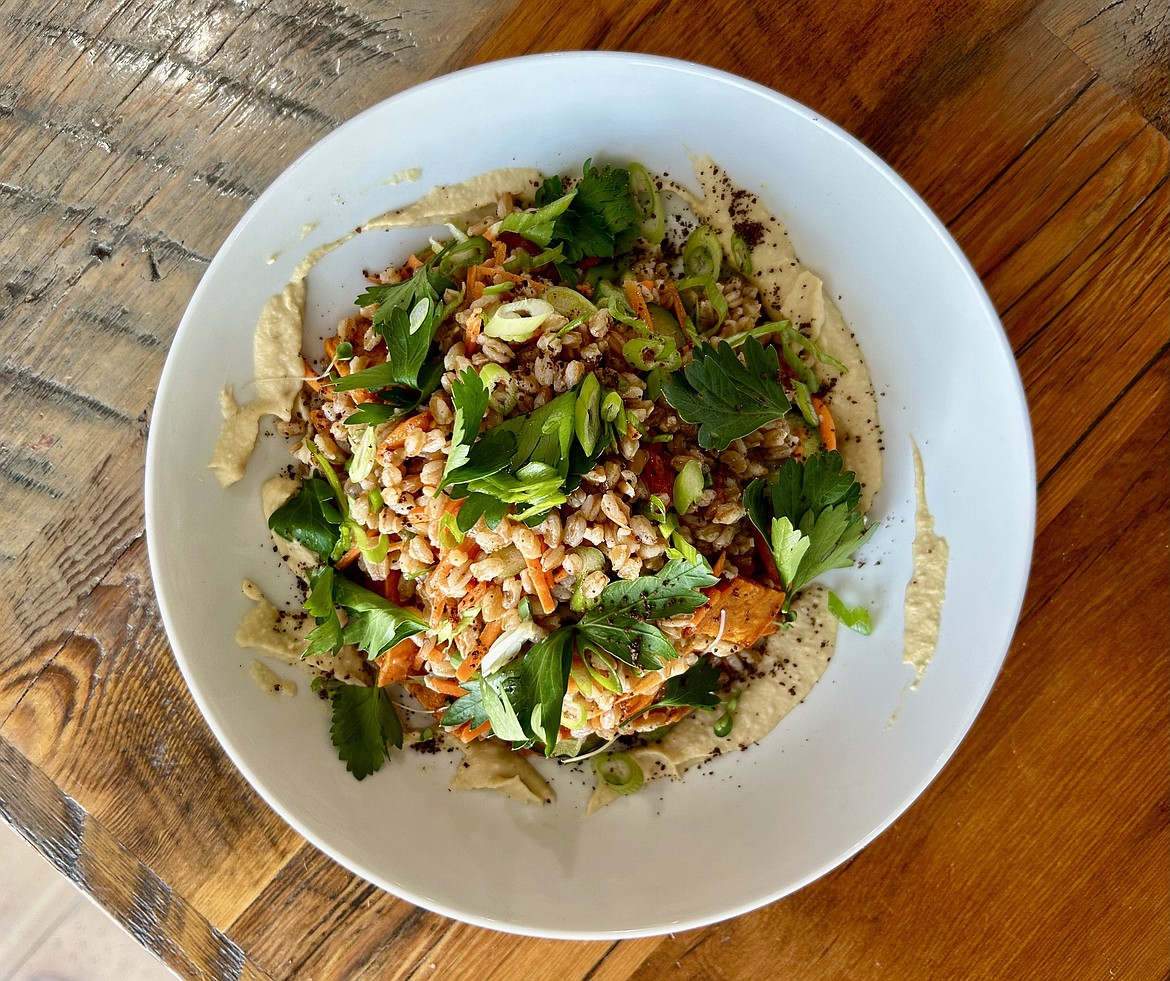 Swift Creek Cafe's farro grain bowl. (Courtesy photo)
Previous
Next
by
SUMMER ZALESKY Daily Inter Lake
|
September 6, 2023 12:00 AM
From serving in the United States Marines to working as a substitute teacher, Christian Moreno finally found his true calling as a pastry and savory chef.
Though Moreno had already been working in the food industry for 10 years, he received his degree from Johnson Wales in Denver to receive a collegiate background in pastry.
"Texas is where I first started working in kitchens and then through a connection that I had, I went to work for a chef in the Florida Keys. He was a concept chef for that restaurant and he was big into really fresh seafood," said Moreno.
In 2018, Moreno bought the already-established Swift Creek Cafe in downtown Whitefish with his father, Guillermo Moreno. The Morenos family connections with Finca Don Bosco, allow the cafe to import authentic Panamanian coffee directly to Whitefish.
"Since I was about 3, I grew up going to my grandparents' coffee farm in the summers," explained Moreno. "[Finca Don Bosco] is actually a preferred seller to Peet's Coffee which is based in California. We're one of Peet's trademark sustainability farms and they have three across the world that they go visit and put a lot of money into developing sustainability practices."
Located in the Talamanca mountain range between Costa Rica and Panama, the coffee is primarily harvested by an indigenous people known as the Guaymí. Peet's Coffee then buys 90% of the farm's coffee, and the remaining A grade coffee is sold domestically, according to Moreno.
Along with the coffee, the breakfast and lunch cafe aims to give customers a taste of the familiar while still encouraging them to branch out from traditional diner-style breakfasts. While pancakes and eggs are staples on the menu, some more unique offerings include their salmon benny and Turkish eggs.
"We put lovage, which is an herb, on the Turkish eggs and the grilled romaine. Think of it like the leaves of celery but stronger and more fragrant. It's really delicious," said Moreno. "We get that from White Star Organic Farms and our microgreens are from Gecko Mountain Farm. We try to get local produce when it makes sense."
Other dishes include pina colada buttermilk pancakes made with vanilla rum roasted pineapple, coconut cream, and mint, and the French omelet, made with asparagus, manchego, fine herbs, and hollandaise sauce.
"This is a really intimate transaction where you're giving somebody something that they are going to put into themselves," said Moreno. "People have likes and dislikes and my role as a cook is to get people comfortable with the things that they're used to, and then having such a rapport with them that I get their trust so I can expand them into new things."
Moreno says he hopes Swift Creek Cafe will find a balance when it comes to maintaining the culture of Whitefish while still bringing in new ideas.
"Nobody is really talking about the middle ground where you can sustain the feel of the town and still have those things that make this place special, but then you can have add-ons." Moreno continued, "It's wonderful that you can get some really good products here. Why shouldn't we want to eat better food?"
Swift Creek Cafe is open Wednesday through Monday from 8 a.m. to 2 p.m. The cafe is located at 307 Second St East in Whitefish and can be reached by phone at 406-862-9136.
Reporter Summer Zalesky may be reached at szalesky@dailyinterlake.com.
Recent Headlines
---