McLaughlin continues baseball career at Oregon college
by
JULIE ENGLER
Whitefish Pilot
|
September 6, 2023 12:00 AM
After playing baseball since he was a child, it seemed Mack McLaughlin was playing his final season last spring. Fortunately, a last-minute call to play in a summer tournament led to McLaughlin finding a way to continue his baseball career.
"I played for the Twins sophomore year and I took a break from it junior year and then I found out that our school was having a high school team so I played for my senior year and had a great time," McLaughlin said. "Then Ray called me about the second week of summer and I played a tournament with him and just had a lot of fun and was doing what I loved."
When Badrock Baseball Coach Ray Queen needed another player for a tournament in Lewistown last summer, he wasn't totally prepared for the quality of player he'd found when he called Mack McLaughlin.
"Mack impressed the heck out of me. I liked his energy, I liked how he moved. Everything about him was fun to watch," Queen said. "He was making diving plays, he even pitched a complete game against Havre."
McGlaughlin went 3 for 4 at the plate to lead the offense for Badrock and it was in the second game of the double-header that he pitched a complete game. What makes that feat even more impressive is that he thinks of himself as a second baseman or an outfielder, primarily.
"I don't really pitch that much but I actually pitched pretty well in that game," he said. "It was pretty fun."
McLaughlin's gritty play on the field spurred Queen to introduce the young player to coach Jeremiah Robbins at Umpqua Community College in Roseberg, Oregon, a town about the same size as Kalispell.
"We went down there about the second week of July and I did a little workout with the team and the coaches said they would like me to come to their school," McLaughlin said "It's a really cool campus."
The 17-year-old McLaughlin said he will be completing his general studies on the way to earning a business degree.
The Montana High School Association's addition of baseball as a spring sport this year was a welcome development for players across the valley.
"It was definitely a big deal because when we were younger, like 10-12, we always had a super good all-star team," McLaughlin said. "So it was super exciting that we could all come together and play on one team for the Bulldogs."
McLaughlin's love of the game wasn't evident immediately. He played T-ball when he was 5 years old but didn't like it. His parents put him in football but after a problem with concussions, he began to play baseball with the Whitefish All-Stars.
"That's when I started to love it, when I was 6 or 8." he recalled. "There were leagues you could play in that I always participated in. I never played school ball until I was a senior."
While baseball was clearly his passion, he enjoyed other sports throughout his high school years.
"I played basketball my freshman year and it kinda takes away from your ski time, so I didn't really like it," he said. "But I always go to the court with my friends and we play a lot of basketball."
He played Bulldog football during his junior and senior years and has been skiing since his family moved to Whitefish eight years ago. He also skateboards and recently tried snowboarding.
While thoughts of playing major league baseball cross his mind, McLaughlin has more realistic short-term plans.
"Obviously, that's the big goal but I think the thing that I'm working toward right now is to play these two years and see if I could transfer to a D1 school or a D2 school to play baseball," he said. "I would like to go to Oregon but any school that's willing to take me I'd be ecstatic with."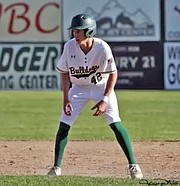 Recent Headlines
---