Cross-country team posts top times at competitive meet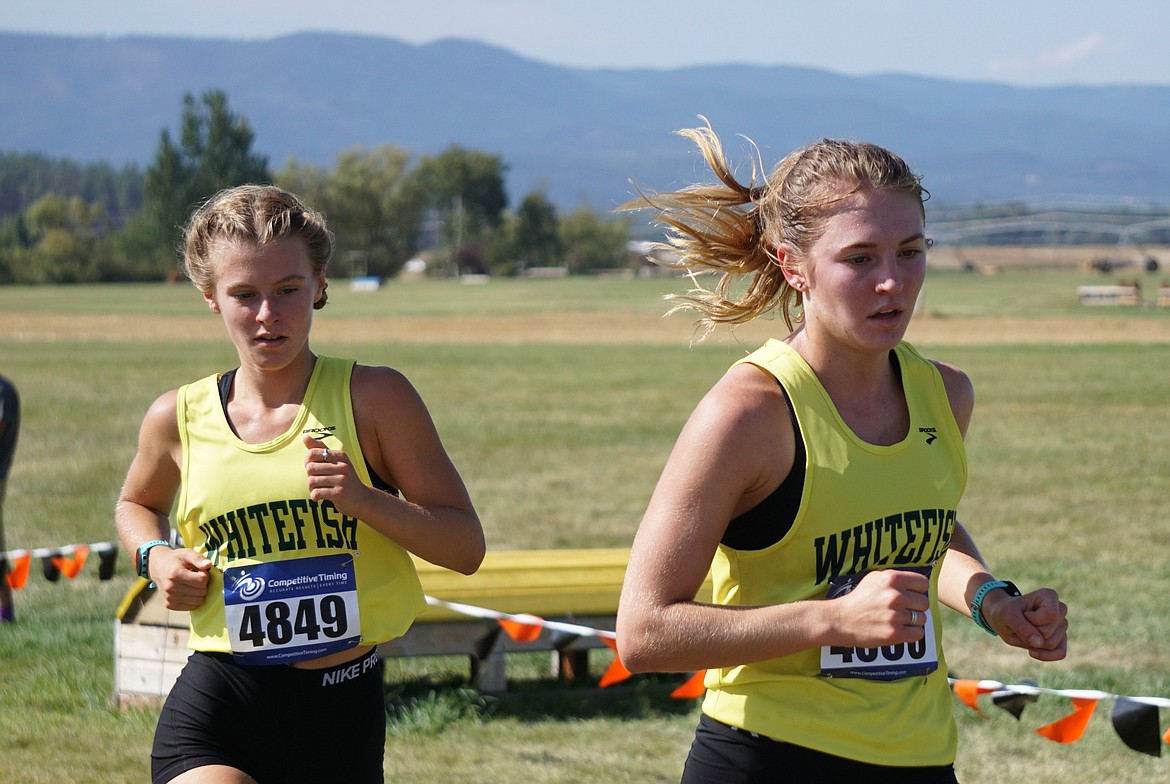 Bulldog Seniors Morgan Grube (left) and Maeve Ingelfinger vie for position early in the race at Rebecca Farms on Friday. (Photo provided)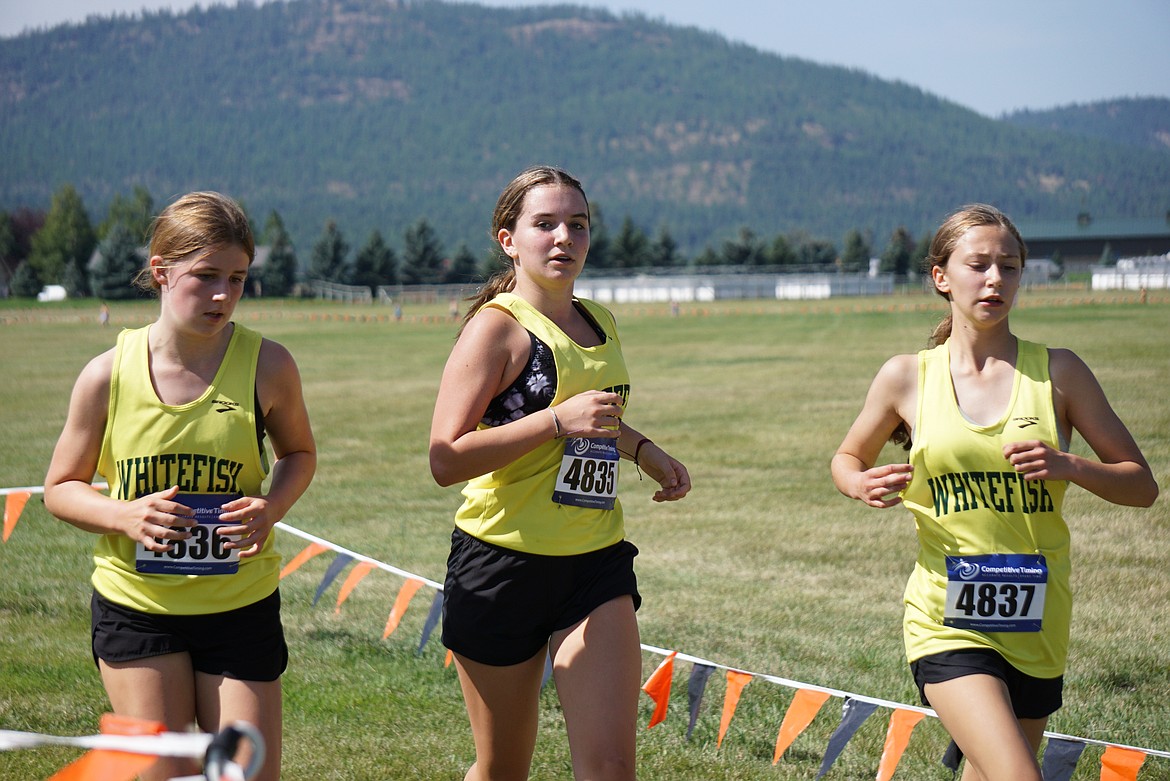 The Whitefish Freshmen trio of Sierra Gibb (left), Sophie Douglas (center) and Grace Inabnit (right) continue to impress, easily taking three of the top five positions at the Flathead Invite 'Frosh' race on Friday. (Photo provided)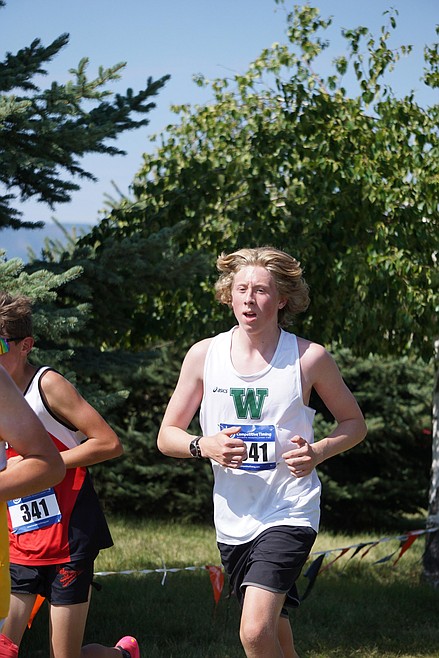 Bulldog Sophomore Koru Larimore competes at Rebecca Farms on Friday. (Photo provided)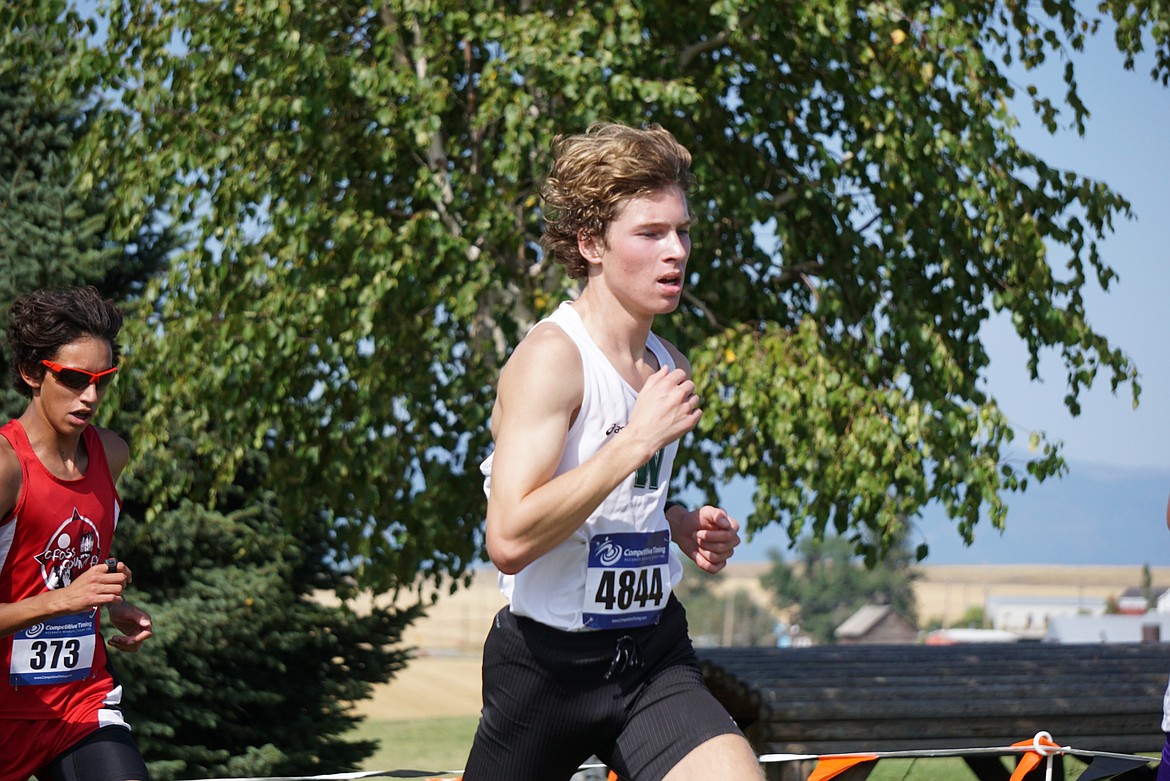 Whitefish competitor Ethan Amick (11) finishes the Flathead Invite with a time of 17:08.06 on Friday. (Photo provided)
Previous
Next
by
JULIE ENGLER
Whitefish Pilot
|
September 6, 2023 12:00 AM
It was a great day of racing under partly cloudy skies at the Flathead Invite at Rebecca Farm in Kalispell last Friday, as the Bulldog cross-country team competed in three different races: freshmen only, junior varsity and varsity.
Whitefish coach Richard Menicke said the race was "crazy competitive" because most AA schools were present. They came to race and to check out the course that will host the state championship later in October.
Once again, the Whitefish freshmen girls had a tremendous outing.
Norah Attard from Hellgate won the freshmen girls race just four seconds ahead of Helena's Ellie Coburn, who was a mere four seconds ahead of Whitefish runners Sophie Douglas, Sierra Gibb and Grace Inabnit. The three Bulldogs finished within 10åç seconds of one another.
"Our fabulous freshmen girls had another great race in the freshmen-only competition, led by Sophie Douglas and Sierra Gibb this week," Menicke said. "Those two plus Grace were in the top 10 and Eva Thomas was 15th."
The fastest in the girls varsity race was Kylee Neil from Bozeman with a time of 18:54.22. Tanae Baker from Glasgow was second and Claire Rutherford of Gallatin finished in third place.
Bulldogs Maeve Ingelfinger and Morgan Grube finished in 15th and 25th place, respectively, in the varsity race. Charlotte Wallace joined the girls varsity team as the number three, and ran her first race in nearly two years. Menicke called her a gamer and said she will help the girls team considerably.
"Maeve and Morgan had great races against a stack field dominated by AA powerhouses Bozeman, Hellgate and Flathead/Glacier and they held their own," Menicke said.
Although the girls' times were a little slower than last week, the coach sees the performance as an improvement, based on the way the girls raced and the level of competition.
The top runner in the varsity boys race was Nathan Neil from Bozeman who ran a blistering 14:50.31 to win. Ryan Harrington and John Spinti, both from Great Falls finished in second and third.
Bulldogs Mason Genovese, Ethan Amick and Simon Douglas finished within a minute of one another. Douglas shaved 20 seconds off his time from last week and Coach said he is looking more comfortable on the course.
"The boys were led by Mason, Ethan and Simon who all raced very well in a very tough field," Menicke said. "Kudos to Ethan for being right there with Mason. Their tight packing in finishing is great for our team score."
The Bulldogs had a few more athletes eligible for this race and the coach anticipates the team to be almost at full strength for the next race. They are looking forward to having Deneb Linton eligible to join the varsity team.
The Bulldogs race next at the Cut Bank Time Trials on Friday, Sept. 8.

Results:
Junior varsity boys team: Sentinel 66, Helena 93, Hellgate 186
Junior varsity girls team: Helena 83, Hellgate 99, Glacier 175
Varsity girls team: Bozeman 67, Gallatin 88, Hellgate 109
Varsity boys team: Bozeman 46, Great Falls 63, Helena 93
Whitefish varsity girls: 15. Maeve Ingelfinger 20:12.43, 25 Morgan Grube 21:00.98, 57. Charlotte Wallace 22:22.20
Whitefish varsity boys: 31. Mason Genovese 17:01.94, 35. Ethan Amick 17:08.06, 75. Simon Douglas 18:07.95, 123. Azure Stolte 19:36.84,
Whitefish freshmen girls: 3. Sophie Douglas 23:29.09, 4. Sierra Gibb 23:29.64, 4. Grace Inabnit 23:38.16, 14. Eva Thomas 26:42.6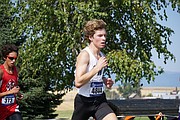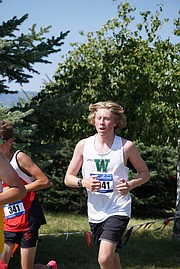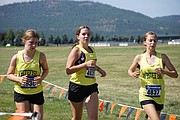 Recent Headlines
---