Glacier Park visitor spending boon to economy of gateway communities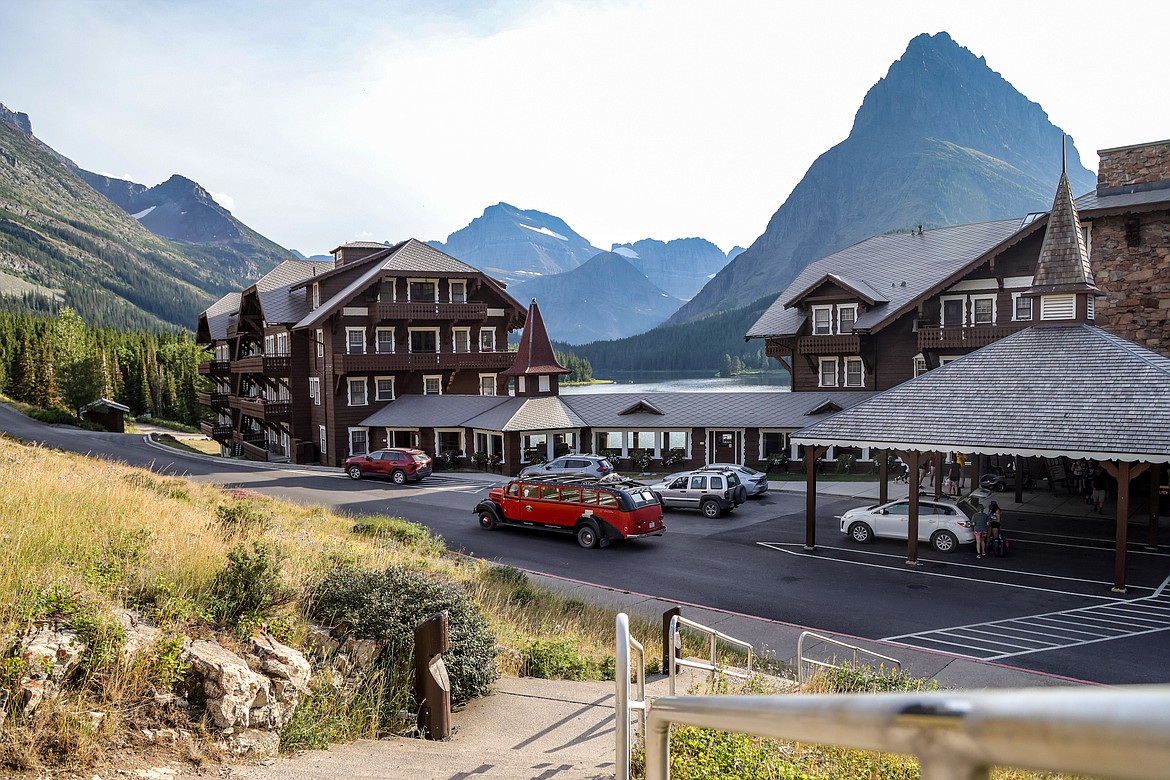 An iconic red bus leaves Many Glaicer Hotel in Glacier National Park. (JP Edge/Hungry Horse News)
by
TAYLOR INMAN
Daily Inter Lake
|
September 6, 2023 12:00 AM
A National Park Service report shows approximately 2.9 million visitors to Glacier National Park spent an estimated $368 million in nearby communities.
The peer-reviewed visitor spending analysis conducted by economists at the National Park Service said that spending supported nearly 6,000 jobs in the local area and had a cumulative benefit to the local economy of $548 million.
Discover Kalispell Executive Director Diane Medler said visitation to the park is critical for many businesses who gear their operations to accommodate the rush of tourists. This is especially true for communities nearest the park's entrance like West Glacier and Hungry Horse, but is still the case for businesses in the valley as well.
"When you come further out into the valley, that peak time for park visitation is certainly very important for a variety of businesses to make a good amount of their annual revenue. But in the towns, like Kalispell, Whitefish, Columbia Falls — our economies are more diversified and not solely reliant on the park," Medler said.
When tourists are in town every type of business can benefit. Medler said outside of the obvious businesses visitors utilize, like restaurants and lodging, they might also need to get their car repaired or get their cell phone replaced.
"I don't believe there's a single business in our area that isn't touched in one way shape or form," Whitefish Chamber of Commerce Executive Director Kevin Gartland said. "From your grocery stores or gas stations, your banks, your tire shops, and the body shop over at Don K."
Gartland said the park is the No. 1 economic driver in the area. While the ski hills bring visitors in the wintertime, Glacier Park drives the tourism economy in the summer.
The entire region saw a huge increase in visitation after the start of the Covid-19 pandemic in 2020, and the Daily Inter Lake reported in May that local experts expected that trend to continue to slow down. But, in a bustling diner or grocery store, businesses are still feeling the rush.
"Well, it's degrees of craziness, right? Is it just crazy or is it absolutely nuts? I'd say it's been crazy … In terms of the peak summer trade, we hear the same things that you're hearing, that business is a bit slower than it has been. But it's still awfully, awfully good," Gartland said.
Canyon Foods In Hungry Horse had a summer for the books, according to Office Manager and Supervisor Annette Horn. Because in addition to the normal tourist boom, the store is servicing nearby fire camps, opening a little earlier for crews to stop by for a hot breakfast before heading off to fight fires in the Hungry Horse Reservoir.
Staffing has been a challenge in the past, but she said they've brought in six foreign exchange students to work this summer.
"They come in the first of June and leave in mid-September. But the staff that is here has been here anywhere from three to 16 years, so we do have summer help that comes in and work and then they go their merry way back to Florida or wherever they are from to get away from the winter," Horn said.
During 2020 when pandemic travel restrictions were in place, many businesses who rely on J-1 workers from other countries struggled to find enough seasonal help. Those restrictions are no longer in place and have eased a staffing squeeze for some.
Though there were times when a couple of extra people would have helped, Horn said. As one of the last grocery stores on the way toward Glacier National Park, the last few years have been a whirlwind for Canyon Foods.
"More people are getting out and more people are being adventurous," Horn said. "It's been really good, we could have used two more registers at one point or another throughout June, July and August."
Glacier Superintendent Dave Roemer said the park inspires people from all over the world to come visit.
"Tourism to Glacier is a beneficial and sustainable component of our community and local economy, supporting more than 5,000 jobs and $548 million in revenue to communities within 60 miles of the park," Roemer said in a release.
Gartland said the area is "extremely lucky" to have Glacier National Park at our doorstep.
"I have spent a good number of years working in ski areas where they would have died to have an attraction like that in their community or close by to their community in the summer," Gartland said.
The peer-reviewed visitor spending analysis was conducted by economists at the National Park Service. The report shows $23.9 billion of direct spending by nearly 312 million park visitors in communities within 60 miles of a national park. This spending supported 378,400 jobs nationally; 314,600 of those jobs are found in these gateway communities.
The cumulative benefit to the U.S. economy was $50.3 billion.
Reporter Taylor Inman can be reached at 406-758-4433 or by emailing tinman@dailyinterlake.com.
Recent Headlines
---