Whitefish girls advance to host Columbia Falls in soccer championship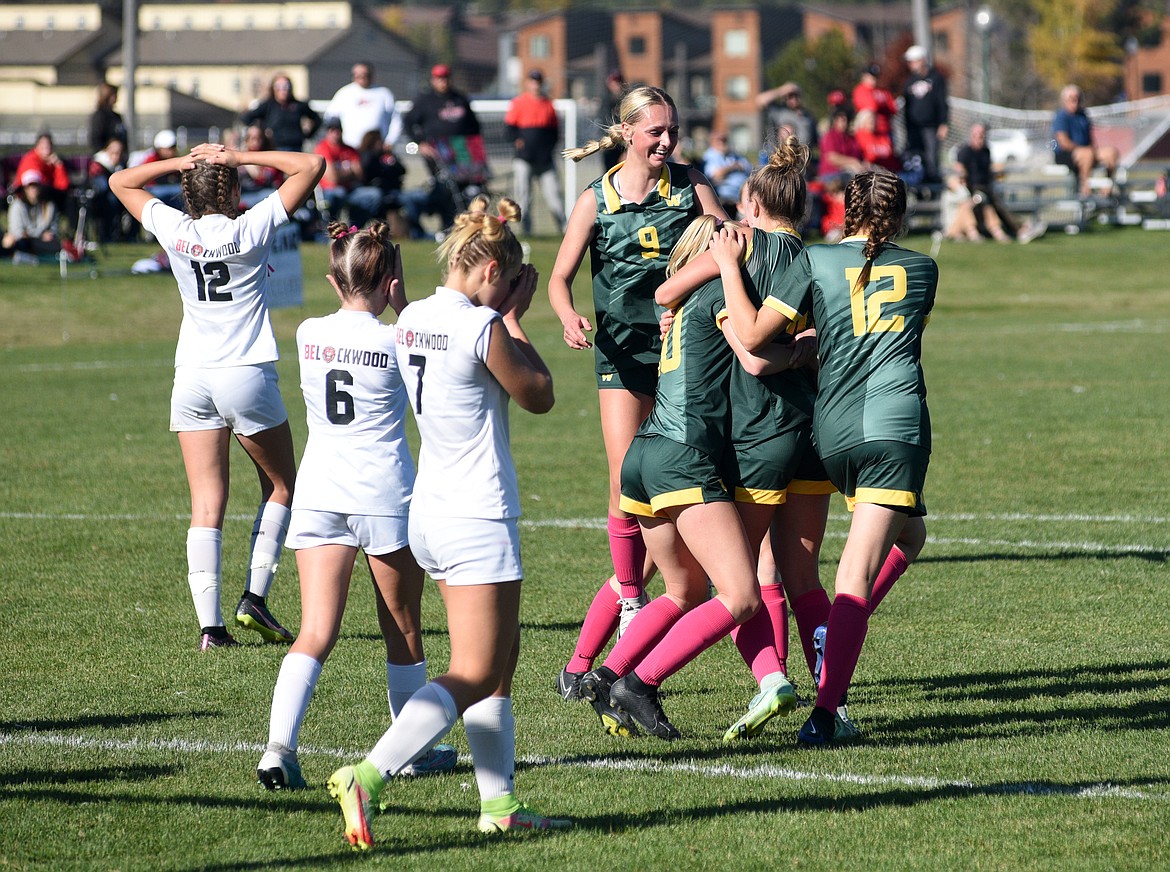 Whitefish teammates swarm senior Olivia Genovese after her goal against Lockwood in the second half of the State A semifinal match at Whitefish on Saturday, Oct. 21. (Matt Baldwin/Whitefish Pilot)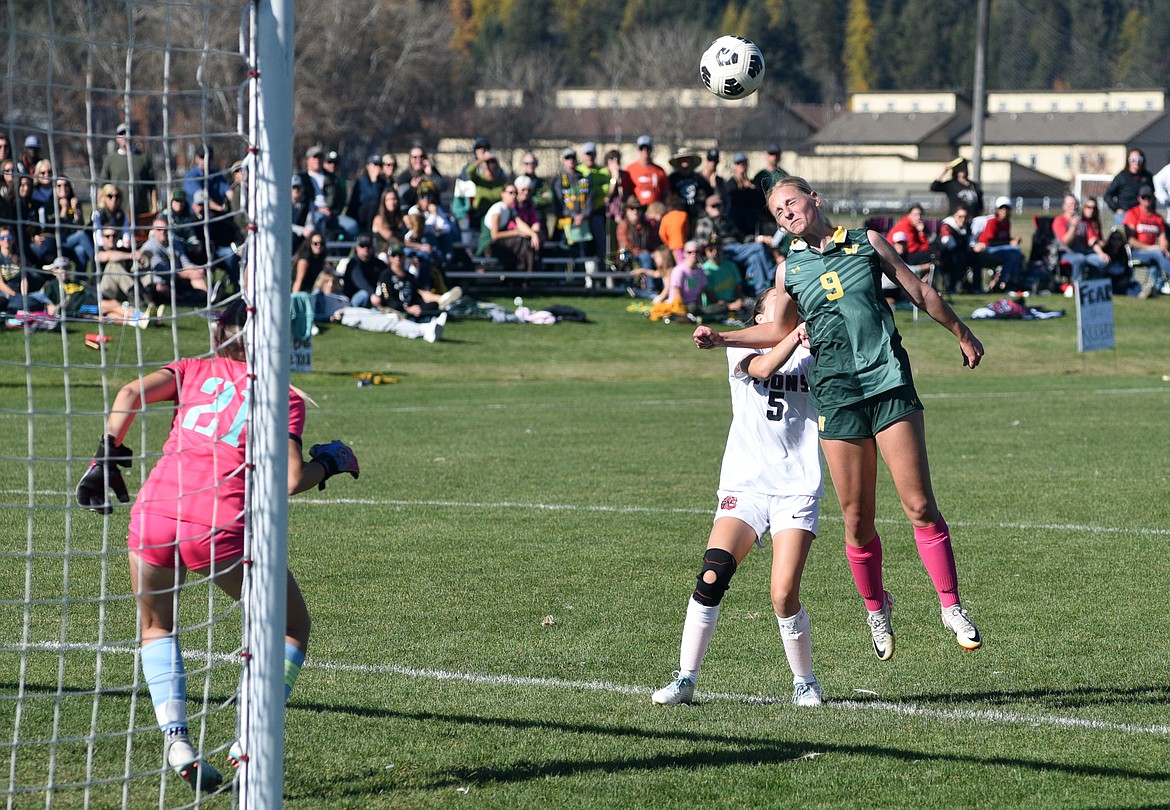 Whitefish junior Delaney Smith soars for a header against Lockwood in the State A semifinal match at Whitefish on Saturday, Oct. 21. (Matt Baldwin/Whitefish Pilot)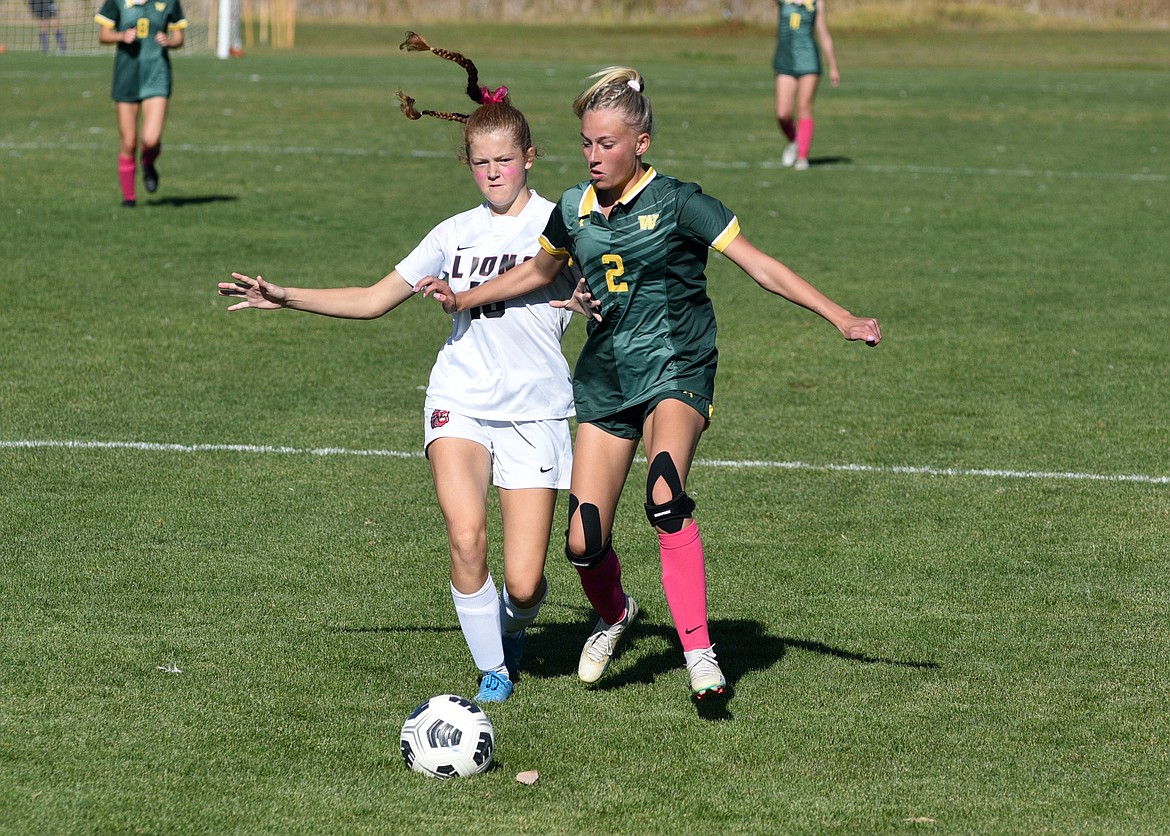 Whitefish junior Brynn Morse goes to the net against Lockwood in the State A semifinal match at Whitefish on Saturday, Oct. 21. (Matt Baldwin/Whitefish Pilot)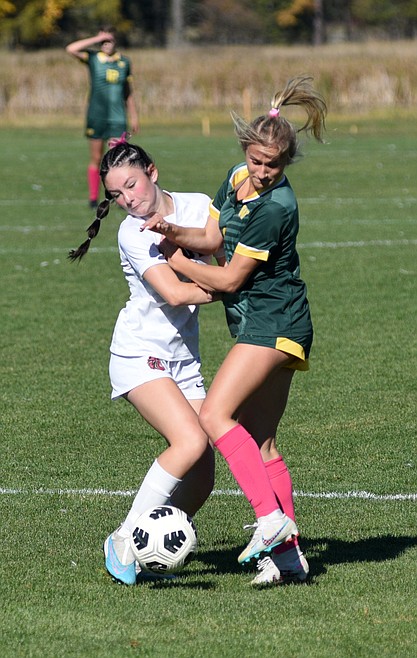 Whitefish junior Sadie Olson battles for position against Lockwood in the State A semifinal match at Whitefish on Saturday, Oct. 21. (Matt Baldwin/Whitefish Pilot)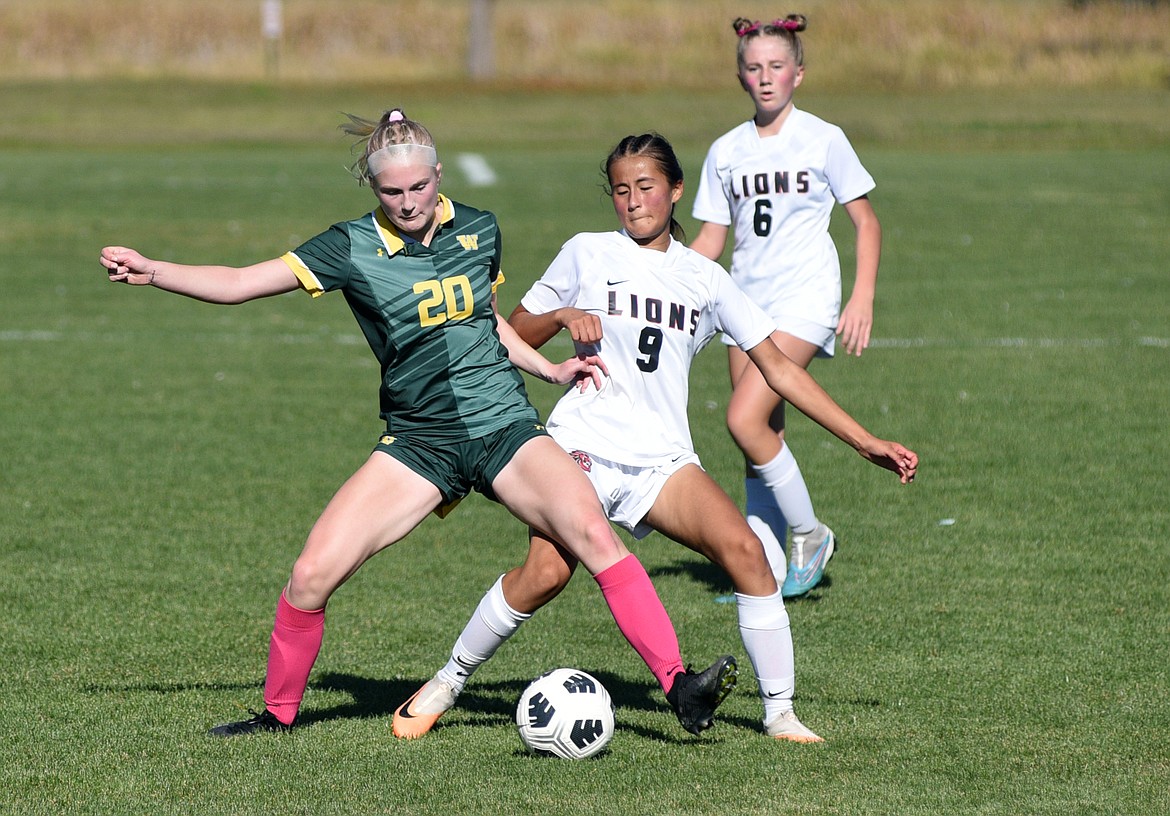 Whitefish senior Isabelle Cooke battles for position against Lockwood in the State A semifinal match at Whitefish on Saturday, Oct. 21. (Matt Baldwin/Whitefish Pilot)
Previous
Next
Whitefish scored three goals in the first half and held the state's leading scorer in check to advance to the Class A state soccer championship match for the third time in four years on Saturday, Oct. 21. The Lady Bulldogs won 5-2 against Lockwood, doing what they do best: playing their soccer style and being aggressive on offense.
The challenge was in freshman Meadow Mahlmeister, who scored 31 goals this season, giving Lockwood plenty of teeth heading into their semifinal battle against Whitefish.
"Going into it, we knew they'd work really hard off the wall and they did," Whitefish girls coach Roland Benedict told the Daily Inter Lake. "And they have a better goalkeeper than Billings. Kennady Krebs is fantastic and they have the leading goal scorer in the state, and so for us, those are the key components. Win the physical battle and try to mitigate chances for Meadow Mahlmeister. We believe we can score on anyone and we did. She (Mahlmeister) had lots of opportunities but did not score in the game."
Delaney Smith assisted Isabelle Cooke in a goal to put Whitefish on the board first in the fifth minute. Lockwood would tie the game up 13 minutes later on an Ella Krugler goal on a corner kick assist by Mahlmeister.
After 25 minutes of scoreless play in the first half, Whitefish had another breakthrough as Charlize Illrich scored in the 33rd minute, and Sadie Olson scored in the 37th minute to pull ahead 3-1.
Lockwood threatened four minutes into the second half with a Taysia Walters score, and the game remained a tight 3-2 until three minutes before stoppage time as Whitefish's Olson assisted Olivia Genovese to score and pull ahead by two goals. Smith would find the back of the net two minutes later on a pass from Anna Guzman, which made the game result more than inevitable.
Whitefish peppered shots at Krebs more than Lockwood, with the Lady Bulldogs leading shots 25-10 and had an edge in corner kicks 14-8. When Lockwood did send a ball toward's Whitefish's net, goalkeeper Norah Schmidt posted eight saves.
The Lady Bulldogs (12-2) will be going for their first Class A title since 2006 but played in the 2020 and 2022 championship games. Awaiting them in this year's championship game is rival Columbia Falls, who downed Bigfork to advance to the chipper.
"Happy to be in the final," Benedict said. "We talk about that every year. The goal of the season is to give yourself a chance to win a state title and it's never guaranteed. Last year we played well enough to win that game and didn't. You gotta give yourself a chance to be in that game. "And then from there, it's one week of a season that matters and we're gonna start preparing next week."
At Whitefish
WHITEFISH 5, LOCKWOOD 2
Lockwood - 1 - 1 - 2
Whitefish - 3 - 2 - 5
SCORING SUMMARY
WF — Isabelle Cooke (Delaney Smith) 5:00
L — Ella Krugler (Meadow Mahlmeister) 18:00
WF — Charlize Ullrich 33:00
WF — Sadie Olson 37:00
L — Taysia Walters 44:00
WF — Olivia Genovese (Olson) 77:00
WF — Smith (Anna Guzman) 79:00
GAME STATS
Shots — Lockwood 10, WF 24. Goalie saves — Lockwood 14, WF 8 (Norah Schmidt). Corner kicks — Lockwood 3, WF 8.
Recent Headlines
---