Gulick slings 5 TDs as Bulldogs punch ticket to playoffs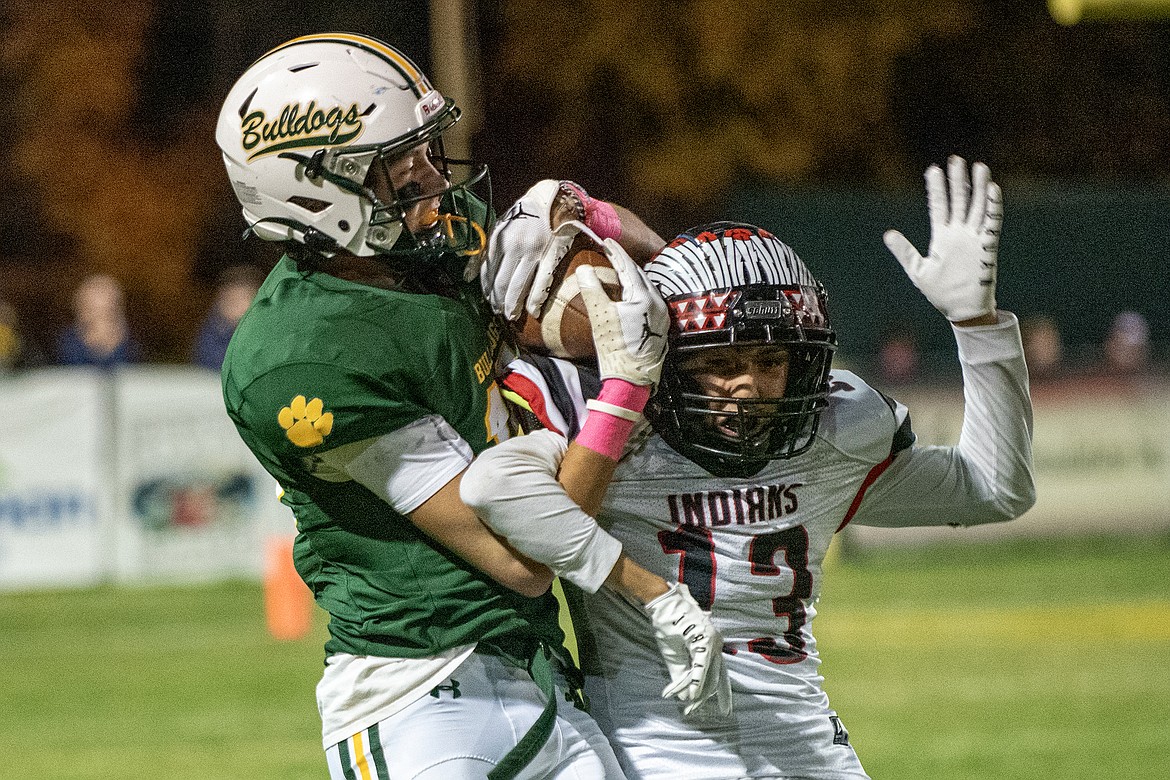 Whitefish's Mason Kelch makes a catch against Browning on Friday, Oct. 20 in Whitefish. (Avery Howe/Hungry Horse News)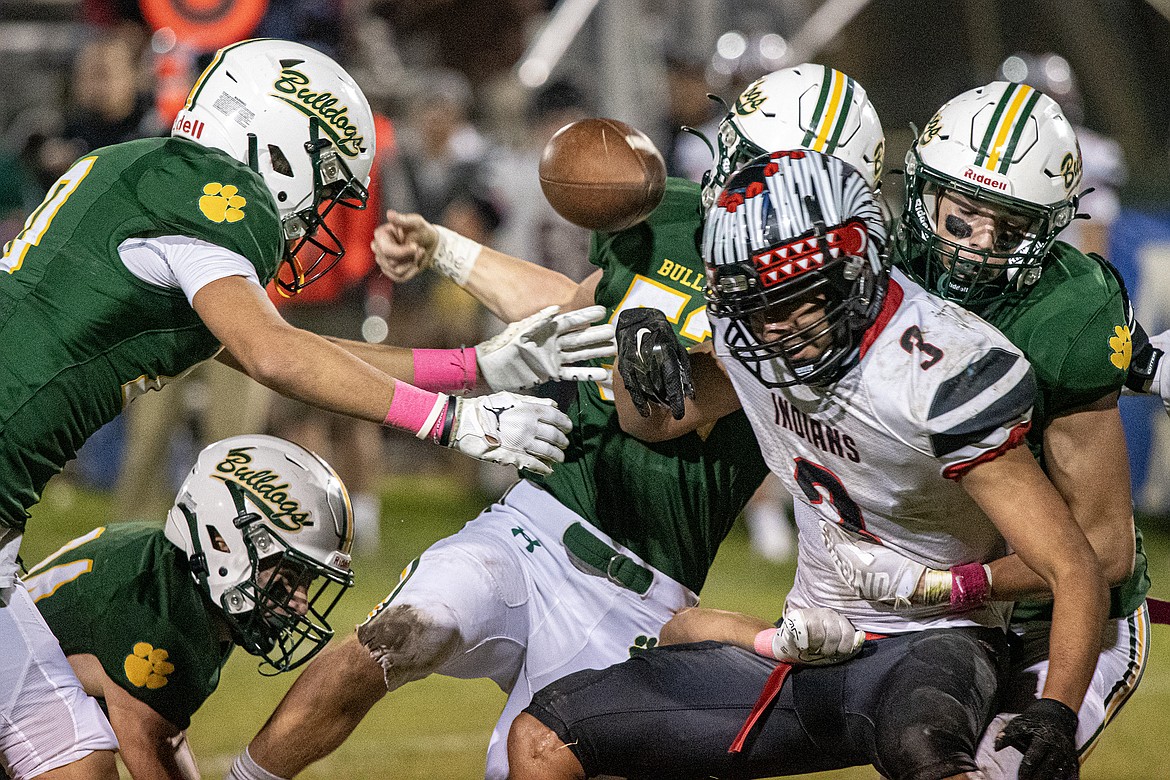 The Bulldogs take down Browning's Tommy Running Rabbit in their Senior Night Game on Friday, Oct. 20. (Avery Howe/Hungry Horse News)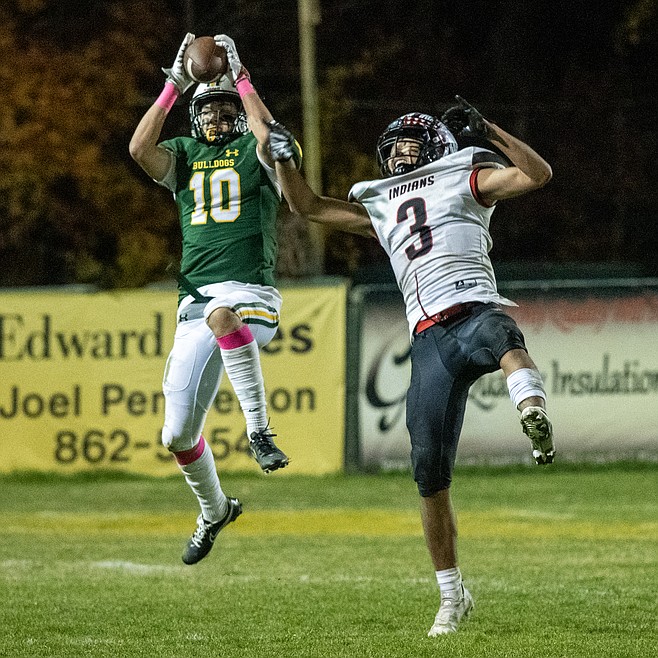 Bulldog Mason Kelch jumps to intercept Indian Tommy Running Rabbit's catch during Senior Night on Friday, Oct. 20. (Avery Howe/Hungry Horse News)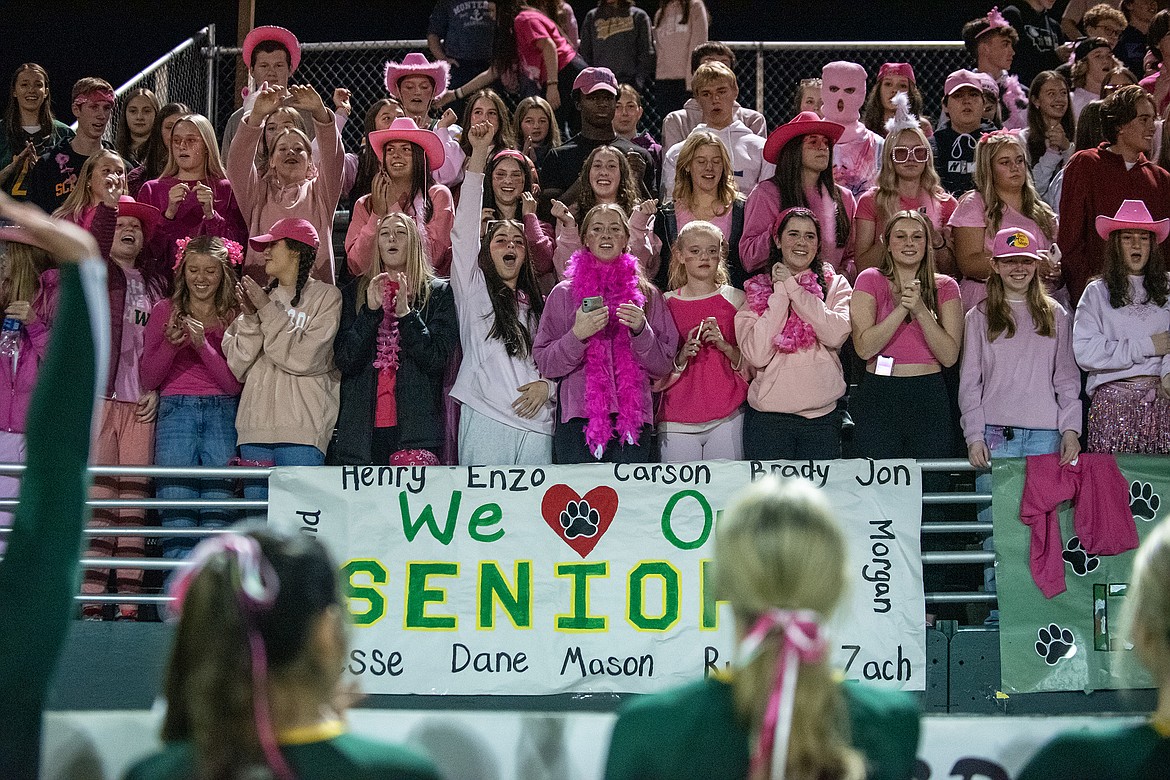 The Whitefish crowd cheers on their seniors at the Dawg Pound on Friday, Oct. 20. (Avery Howe/Hungry Horse News)

The Whitefish Bulldog seniors walk the field after their home game against Browning on Friday, Oct. 20. (Avery Howe/Hungry Horse News)
Previous
Next
Whitefish punched its ticket to the Class A football playoffs with high-flying antics as the Bulldogs downed Browning 50-14 for senior night on Friday, Oct. 20.
"Our offense was really efficient on Friday," Whitefish Head Coach Brett Bollweg said. "It was fun to see them execute the way that we know we can."
Quarterback Carson Gulick threw five touchdown passes in the victory and finished with 315 yards passing.
"Carson Gulick did a great job of managing the game and made great decisions," Bollweg said. "It was his best game of the year."

The performance helped Whitefish clinch the No. 5 Western A seed in the playoffs. Had they lost the game, the season would have not continued.
"Our hope as coaches is to always stress the importance of every moment," Bollweg said. "So, was there extra pressure? Probably not, but our guys certainly knew that it was a playoff game. We win, or we are done."
Whitefish's reward is a short drive to Columbia Falls on Friday, September 27, at 7 p.m. to face the fourth-seeded Wildcats.
"It feels great to get to this point," Bollweg said. "It is definitely a privilege and one that we are looking forward to. Our guys have really battled to be able to earn a playoff spot, and I'm really happy for them, but we know we want more than just to get here."

Whitefish had previously defeated Columbia Falls 20-14 in overtime this season.
"We have been preaching the idea of getting one more week together," Bollweg said. "Yes, it's a rivalry game, which will make it a really fun atmosphere, but in the end, our ultimate goal is to keep going."
Against Browning, Whitefish took the 14-8 lead in the first quarter on a Gulick two-yard touchdown run and a 22-yard scoring pass to Carson Krack. Browning notched a touchdown pass of their own to keep the game tight.
Then things got out of hand as the Bulldogs scored 29 points in the second quarter.
Gulick threw touchdown passes of 13 and 15 yards to Dane Hunt and Mason Kelch. Whitefish then recorded a safety, and Gulick threw another touchdown pass, this time to Morgan Kyle for 26 yards.
Browning found the endzone again on a 10-yard pass to make it 29-14, but Gulick capped off the first half with his fifth scoring strike - a nine-yard pass that ended up being Hunt's second touchdown reception of the game.
Brady Howke ran the ball in from ten yards in for the second half's lone score of the game.
Whitefish finished the game with 316 yards passing as Gulick went 19-for-24, and the team had 57 yards rushing on the ground. Hunt had six receptions for 74 yards, while Luke Dalen had three catches for 74 yards. Kelch had three catches for 64 yards. In all, Gulick threw to seven different receivers.
Raymond Zonich was Whitefish's leading rusher, carrying the ball four times for 35 yards.
"Our players continue to work hard each day; there hasn't been a drop-off," Bollweg said. "The momentum gearing up for games like this has been great, and we are really excited to be where we are."
At Whitefish
WHITEFISH 50, BROWNING 14
Browning 8 6 0 0 - 14
Whitefish 14 29 7 0 - 50
SCORING SUMMARY
W — Carson Gulick 2 run (Ryder Barinowski kick)
W — Carson Krack 22 pass from Gulick (Barinowski kick)
B — Maurice Redhorn III 27 pass from Payton Grant (2 pt PAT good)
W — Dane Hunt 13 pass from Gulick (Barinowski kick)
W — Mason Kelch 15 pass from Gulick (Barinowski kick)
W — Safety
W — Morgan Kyle 26 pass from Gulick (Barinowski kick)
B — Ashton Granados 10 pass from Grant (pass failed)
W — Hunt 9 yd pass from Gulick (Barinowski kick)
W — Brady Howke 10 run (Barinowski kick)
GAME STATS
Passing: Whitefish (Gulick- 19/24- 316, Zonich- 1/2- 5 yd)
Rushing: Whitefish (Zonich 4-35, Howke 3-21, Gulick 7-13)
Receiving: Whitefish (Hunt 6-74, Dalen 3-74, Kelch 3-64, Krack 4-62, Kyle 2-36, Moses 1-5, Zetooney 1-5)
Recent Headlines
---