Whitefish boys reach soccer semifinals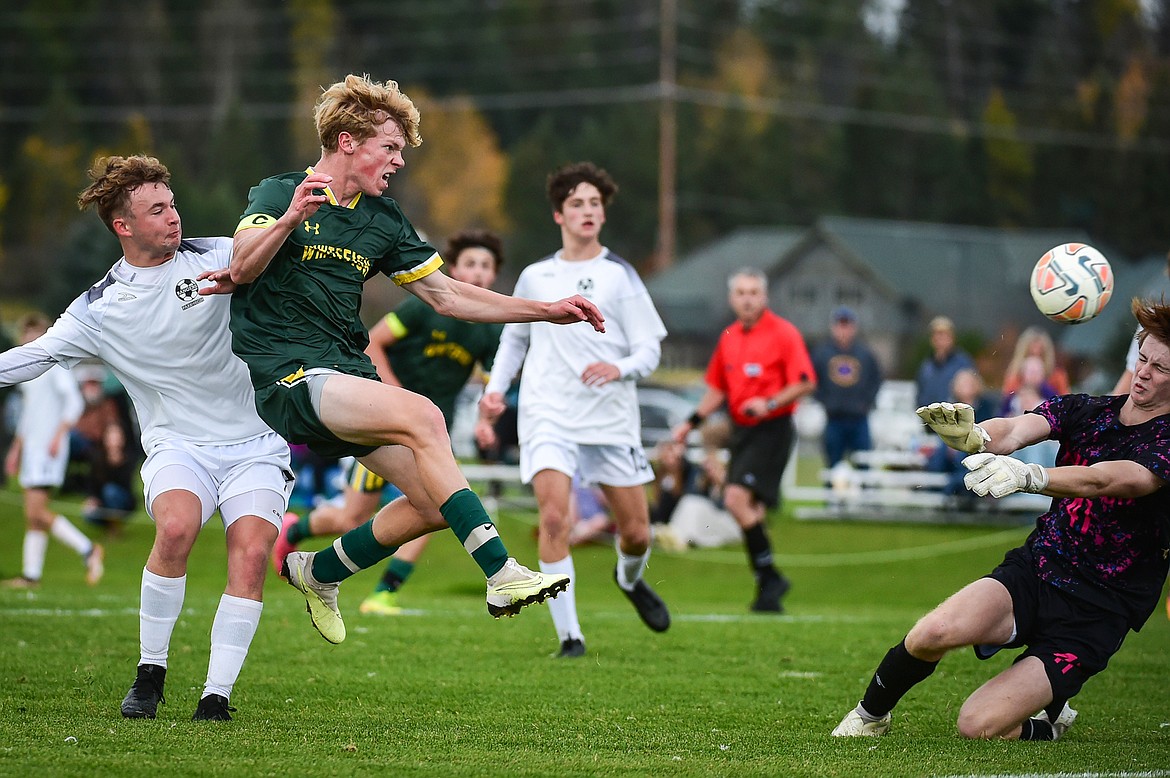 Whitefish's Jackson Dorvall (10) has his shot deflected wide of the goal by Livingston keeper Isaac Winfrey (41) in the first half at Smith Fields on Saturday, Oct. 14. (Casey Kreider/Daily Inter Lake)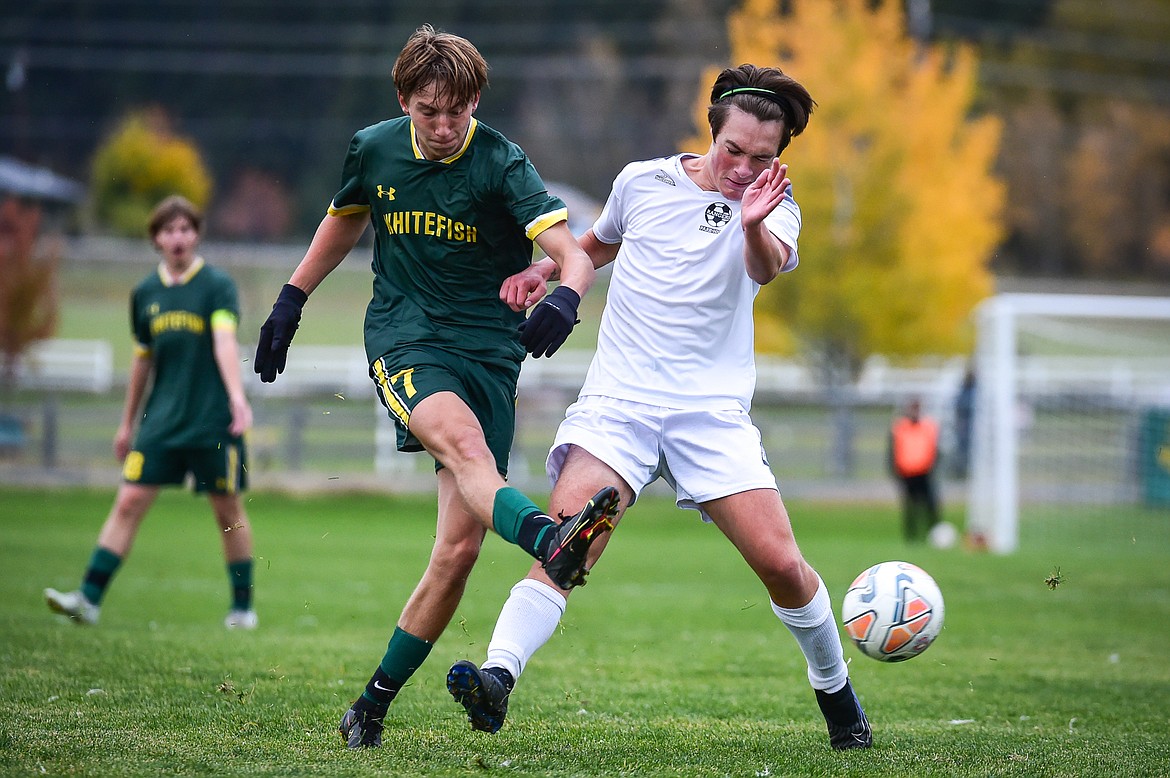 Whitefish's Elijah Adams-Griffin (7) sends a pass into the box with Livingston's Ethan Mathias (4) defending in the first half at Smith Fields on Saturday, Oct. 14. (Casey Kreider/Daily Inter Lake)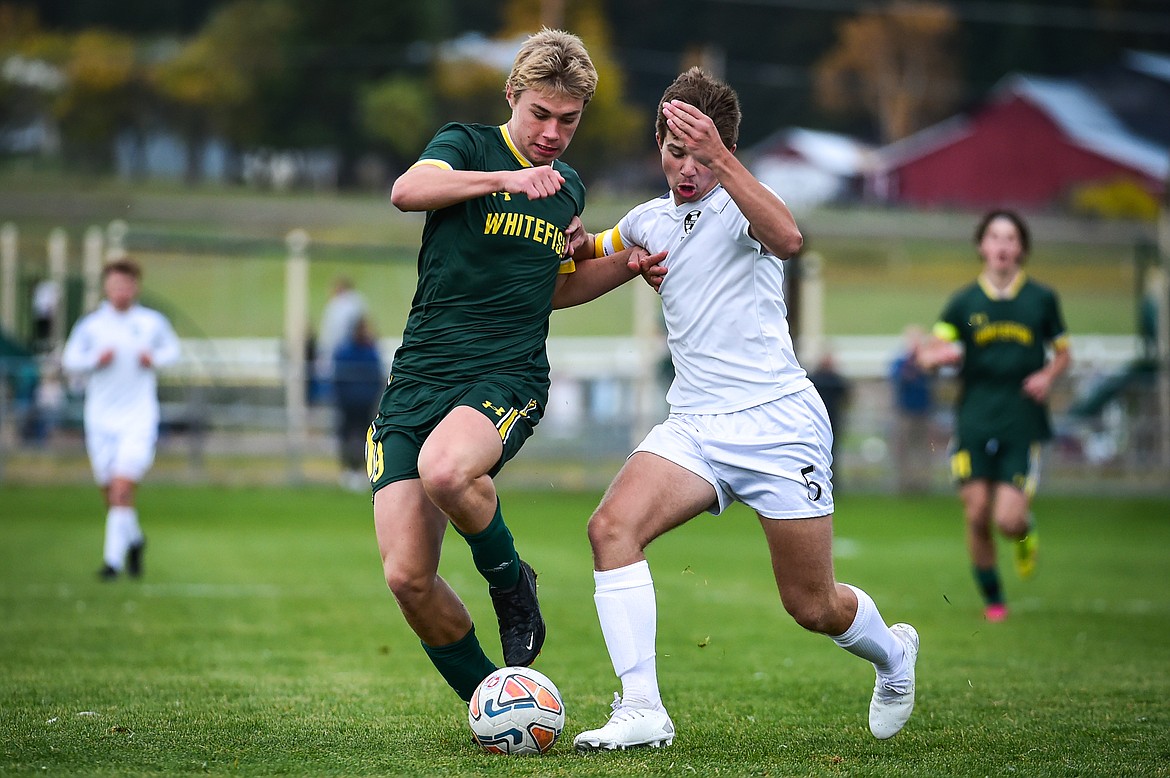 Whitefish's Preston McPherson (9) battles for possession with Livingston's Bridger Braham (5) in the first half at Smith Fields on Saturday, Oct. 14. (Casey Kreider/Daily Inter Lake)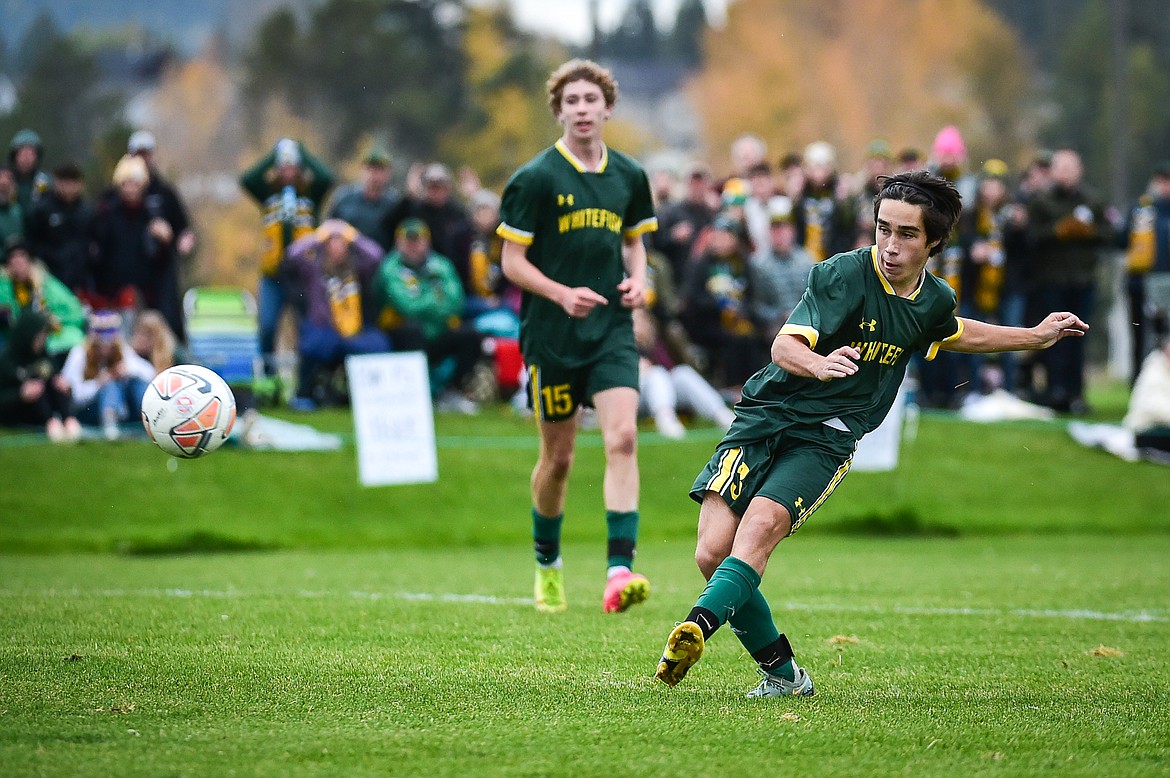 Whitefish's Ryder Elliott (3) scores a goal to break a 0-0 tie in the second half against Livingston at Smith Fields on Saturday, Oct. 14. (Casey Kreider/Daily Inter Lake)
Previous
Next
October is what the undefeated Whitefish boys soccer team prepares for each soccer season, and their first-round matchup against Livingston (Park) on Saturday, Oct. 14 proved to be a battle.
"It was a matter of keeping at it and keep playing the way we wanted to play," Whitefish Head Coach John Lacey said. "We hit posts and had a lot of good chances in the first half, and it just took a little longer."
The game was tied 0-0 after one half of play. With stoppage time looming, Ryder Elliott scored for the Bulldogs in the 72nd minute, as Preston McPherson assisted. Kyler Jonson provided the insurance goal, scoring in the 78th minute.
"Park is a good team and well coached, and they wanted to play soccer," Lacey said. "Our experience kind of shined, but they made some adaptions to play us, and that may have limited their opportunities a little, but anytime you can hold us until the last 10 minutes, they've done things right."
Whitefish had 13 shots, while Livingston had three. The Bulldogs also had nine corner kicks.
Park had downed Whitefish last year in the state semifinals 1-0 in Livingston, so the win this year gave the Bulldogs some payback.
Playoff soccer means anything can happen since the level of the opponent is so strong. Lacey said this game is an example of every match going to 80 minutes.
"You can't ever take a minute off in the postseason, and there is a degree of game management that demands you handle having a substantial lead, smaller lead, being tied or from behind," Lacey said. "So we do spend some time preparing for games that look like this."
After a regular season where the Bulldogs would play multiple games in a week, Whitefish will have a week to prepare for Lone Peak on Saturday at 10 a.m. It will be the final home game for 11 seniors. According to Lacey, it's a matter of moderating training intensity, looking at some film, and getting everyone rested up for the next matchup.
"Playing at home is fantastic; our boys are able to spend the night in their own bed and not have to ride a bus," Lacey said. "It makes it easier on our fans who don't have to go anywhere, and Smith Fields is a great place to play. We also get to share it with the girls' team, which is playing great. It really is a highlight for Whitefish High School and Whitefish."
While the way brackets rotate each year means Whitefish will not get another home game as they advance, each win means one step closer to the ultimate goal.

At Whitefish
WHITEFISH 2, LIVINGSTON 0
Livingston - 0 - 0 - 0
Whitefish - 0 - 2- 2
SCORING SUMMARY
WF - 72nd minute, Ryder Elliott goal, Preston McPherson assist
WF - 78th, Kyler Jonson goal
GAME STATS
Shots: WF 13, Liv 3; Corners WF 9, Liv 0; Saves WF 3 (Ethan Bourque), Liv 11 (Isaac Winfrey)
Fouls WF 9, Liv 13, Cards Liv 1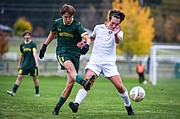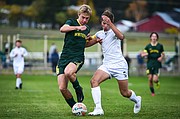 Recent Headlines
---