Lady Bulldogs pay back Billings Central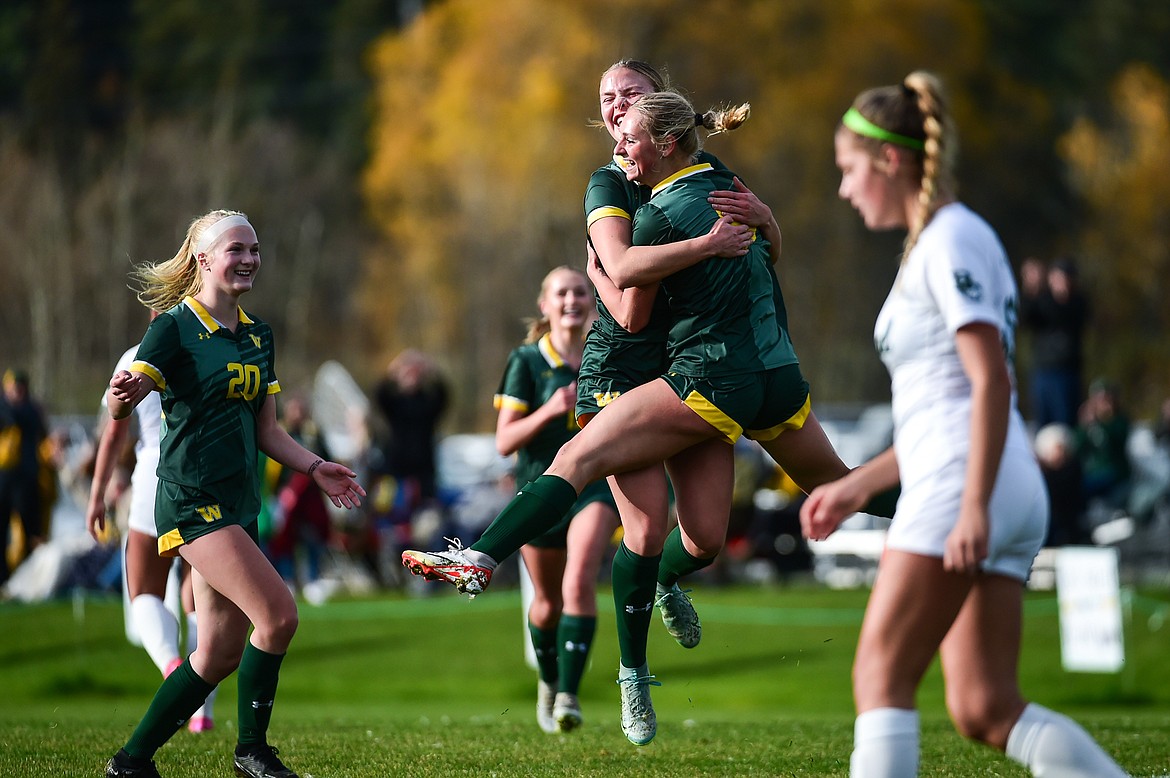 Whitefish's Olivia Genovese (10) and Delaney Smith (9) celebrate after Smith's goal in the first half against Billings Central at Smith Fields on Saturday, Oct. 14. (Casey Kreider/Daily Inter Lake)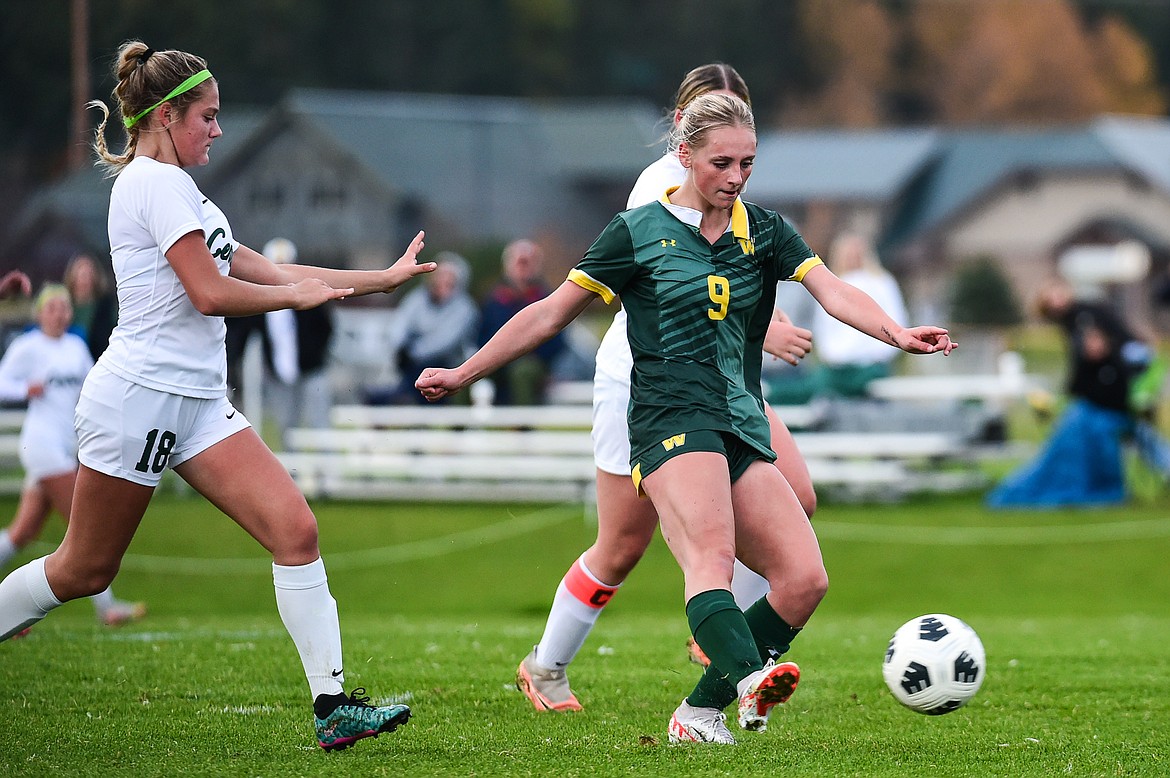 Whitefish's Delaney Smith (9) scores a goal in the first half against Billings Central at Smith Fields on Saturday, Oct. 14. (Casey Kreider/Daily Inter Lake)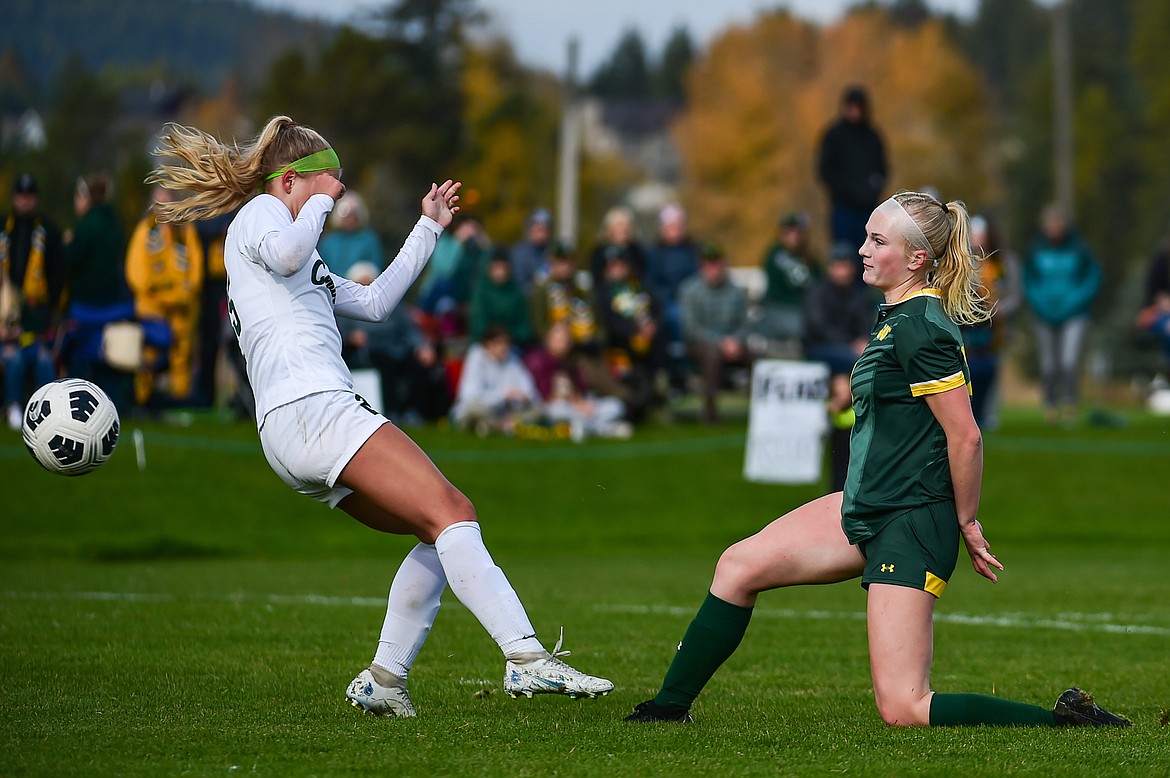 Whitefish's Isabelle Cooke (20) shoots in the second half against Billings Central at Smith Fields on Saturday, Oct. 14. (Casey Kreider/Daily Inter Lake)
Whitefish's Madison Gordon (3) kicks a free kick in the first half against Billings Central at Smith Fields on Saturday, Oct. 14. (Casey Kreider/Daily Inter Lake)
Previous
Next
Hosting their first-round playoff game. Whitefish left little to chance, defeating Billings Central on Saturday, Oct. 10 on the Lady Bulldogs' home field. The win avenged losing to Billings Central in last year's Class A Championship match and advanced Whitefish to the state semifinals yet again.
"They have inflicted a lot of pain on our program in the past, so it might be something we would normally have a big mental block with," Whitefish Head Coach Roland Benedict said.
Whitefish had 20 shots and got their first goal in the 18th minute as Delaney Smith found the back of the net thanks to an assist from Olivia Genovese. Ten minutes later, Smith scored again, this time unassisted.
"Two goals early was pivotal and got us the confidence and security that we could score against them," Benedict said. "We dictated the game. They have some strong, fast girls up top that are able to cause problems, but we as a team are able to build things out and take risks."
Benedict said he didn't think Billings Central got a shot inside the 18-yard box all game, while Whitefish had a few chances that could have put them up even more in the contest.
Up 2-0 at halftime and most of the second half, Genovese scored two goals of her own. The first occurred in the 78th minute, thanks to an assist from Smith. One minute later, Genovese scored unassisted.
"It was the first time this season they haven't scored, and it was their second biggest loss of the year," Benedict said. "It shows us and the state we're defensively sound and firing off on all cylinders."
Whitefish had 20 shots compared to Billings Central's ten. Whitefish and Billings Central both had five corner kick opportunities as well. Benedict had praise for midfielders Anna Guzman, Truth Baxter, and Madison Gordon, who helped dictate and control the game, while protecting the backline for the Lady Bulldogs.
"We knew Billings Central's threats, and our midfielders mitigated entry for them attacking," Benedict said. "They're young and new in those positions, but they continue to strengthen and are peaking at the right time. Gordon is kind of the leader of the group, and she has really stepped up huge for us."
In the semifinals, Whitefish will face Lockwood on Saturday at 12 p.m. at Smith Field in Whitefish.
"It's great to have these home games, a lot of schools don't get to experience playoff games, yet alone both boys and girls teams together in back-to-back games," Benedict said. "The teams are really close, so the community and the players cheer each team on over the two games."
At Whitefish
WHITEFISH 4, BILLINGS CENTER 0
Bill Cen - 0 - 0 - 0
Whitefish - 2-2 - 4
SCORING SUMMARY
W: 18th min- Smith assisted by Genovese
W: 28th min- Smith unassisted
W: 78th min- Genovese assisted by Smith
W: 79th min- Genovese unassisted
GAME STATS
Shots: Whitefish 20, Buildings Central 10. Corners: Whitefish 5, Billings Central 5. Whitefish had four cards compared to Billings Central 9.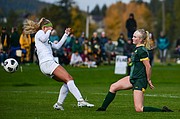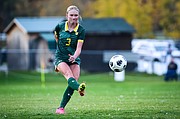 Recent Headlines
---