Laurel Grady, 59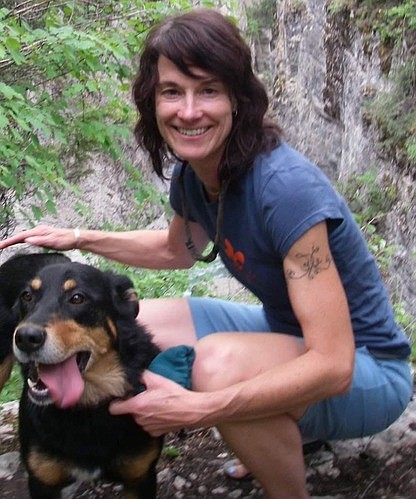 |
November 15, 2023 11:00 PM
Laurel Diane Grady, 59, of Whitefish, passed away at Logan Health on Oct. 31, 2023, Halloween evening, a holiday that she loved. With her brother and a good friend by her side and her house open for treats and fun, she took her last breath and joined the fun, finally released from the insidious cancer that invaded her body over the past years.
Shel was born to Judith B. Grady and Robert J. Grady on May 10, 1964 in Klamath Falls, Oregon, joining her brother Dave. After a short stint at Kingsley Field Air Force Base housing, the family moved to Northern California in the heydays of the 60's. She attended schools in Stockton and Redding before the big move to Whitefish in 1981 where she attended Whitefish High School her Senior year and graduated with the class of 1982.
Her college years were spent in Missoula at the University of Montana and later at the University of Minnesota, graduating in English in 1988 while working at a few Minneapolis eateries. She moved back to Whitefish in 1989 and continued working in the food business and on the Big Mountain while perfecting her powder turns.
Never one to rest for long, she made her way to Seattle in the 90's at the urging of some good friends where she worked and played for several years, including jobs at the very cool Five Spot, a trendy import trading company, and for a ski lift design and installation firm.
But Montana called her back again, and this time she was focused on a career in physical therapy. She moved to Missoula and gained admission to the PT program, later graduating with a master's degree in May of 2001. She then returned to Whitefish and worked with a few local therapists before working with Scott Ruta at Whitefish Physical Therapy and staffing the lead PT position at North Valley Hospital, which was her final job.
She was very engaged in her job at the hospital and became a leader and advocate for the staff and patients she met there. She took pride in helping many patients improve their condition so they left more whole than when they arrived. She developed close-knit and supportive relationships with many of her co-workers, who became some of her best friends. The friends she met through work, school, community, sports, and a shared love of the outdoors, she kept very dear to her throughout the years. They gave her the endless support and love she needed.
Sports, travel, and the outdoors were a big part of Laurel's life and relaxation. She was always ready to try different adventures when she wasn't watching and cheering for her favorite San Francisco team, (Niners, Giants, and Warriors) or winning the football pools at the BierStube and around town.
Skiing on the mountain or backcountry was always a passion of hers. She was fast and good, the only "waiting" she did was in the lift line for her family or friends to catch up. Throughout the years, Laurel regularly hiked, fished, rafted, and ran, completing the 28k Rut Mountain Run at Big Sky in 2016. Always looking for new challenges, she enjoyed surfing, skydiving, wake surfing, and paragliding at various times in her life.
Her numerous travel itineraries included several trips to Mexico, South America, and Europe, where she attended classes in the wine region of Beaune, France during college. Her brother Dave tricked her into doing big miles biking in France, Italy, and Austria in 1989. In 2003, she went to Ecuador on a medical mission with her father, Bob, a very special trip for both of them. A trip to Ireland in 2016 was also a memorable highlight for her family.
She was preceded in death by her mother, Judy in 2013. 
She is survived and loved by her father, Bob; brother, Dave (Linda); nieces, Madison and Cassidy; her aunt, Joanne Bury; and her uncles, Mike (Lou), Randy, and Steve Kioukis (Linda).
Her family and friends would like to thank the palliative care physicians and the amazing staff nurses at Logan health who took such great care of her and made her as comfortable as possible during her final days. Laurel's friends, and there are so many of you, were so engaged and supportive and we know it made a big difference with her comfort and care.
In lieu of flowers, a donation can be made in her memory to Whitefish Legacy Partners where it will be applied to a memorial bench along the Whitefish Trail, a place where friends and family can go to visit, remember, and reflect. 
A celebration of Laurel's life will take place from 2 p.m. - 5 p.m. on Saturday, Nov. 18, at the Bierstube on Big Mountain.
Keep Laurel in your heart and cherish your time with her.
Recent Headlines
---