Glacier drops reservations at Two Medicine, St. Mary entrances for 2024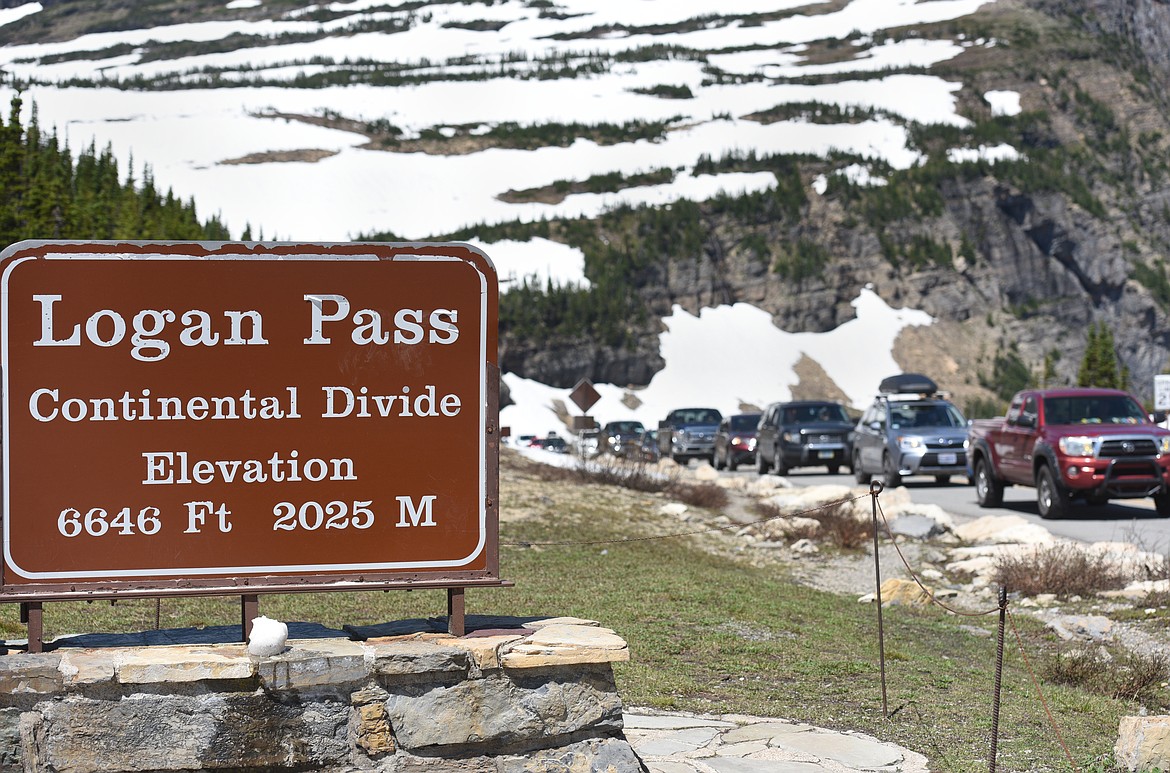 A long line of cars crawl up the Going-to-the-Sun Road near the Logan Pass Visitor Center parking lot on Wednesday. (Aaric Bryan/Daily Inter Lake)
by
TAYLOR INMAN
Daily Inter Lake
|
November 15, 2023 1:00 PM
Glacier National Park's 2024 reservation system will look different compared to previous years, with vehicle reservations no longer required for the Two Medicine and St. Mary entrances in the park.
Tickets for Glacier's west entrance of the Going-to-the-Sun Road will be valid for one day instead of three, a change from previous seasons. Park officials in a press release Thursday noted that data from 2023 indicates only 2% of three-day reservations were used for all three days. By changing to a one-day reservation, consistent with other park areas, officials said a greater number of reservations can be made available.    
Another change for the west side includes visitor access to Apgar Village without a vehicle reservation. This includes Apgar Visitor Center, where shuttles taking hikers to and from locations along the Going-to-the-Sun road can be accessed.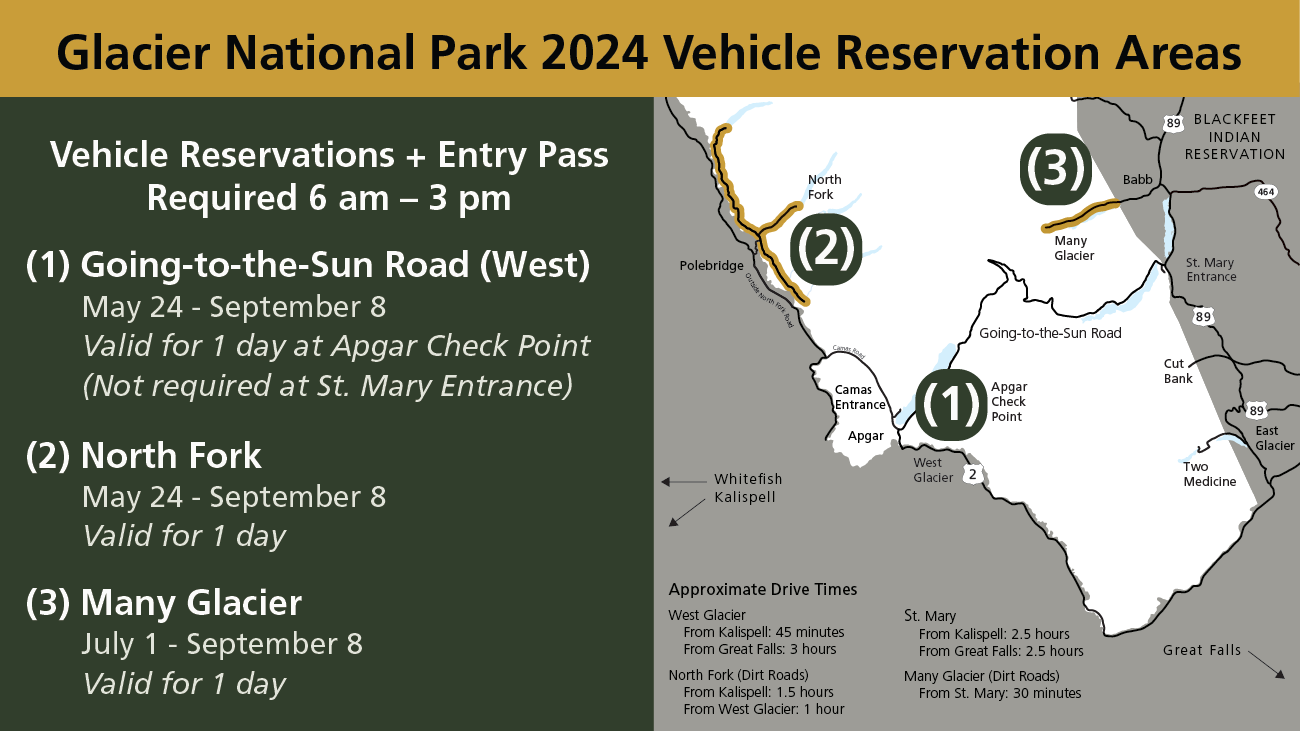 Glacier National Park spokesperson Gina Icenoggle told the Inter Lake that details of the Apgar filter station are still being worked out.  
Lodging, camping (including front country developed campgrounds and backcountry camping permits), transportation or commercial activity reservations originating in Apgar will no longer provide access beyond the Apgar filter check point. 
The vehicle reservation systems for the west entrance, as well as the North Fork entrance, will run from May 24 until Sept. 8, starting at 6 a.m. and ending at 3 p.m. daily. 
There are no changes regarding North Fork reservations in 2024. 
Park officials did away with vehicle reservations for the Two Medicine and the St. Mary entrances of the park. In previous years, filter stations for ticketing on Going-to-the-Sun Road were at the east entrance near the St. Mary Visitor Center, and more recently, Rising Sun.
In the press release, Glacier National Park Superintendent Dave Roemer said the park in 2024 will be testing reservations proactively in areas where congestion is likely. 
"And we will take a wait-and-see approach at other locations and manage adaptively if needed," Roemer said in the release. "In all locations, our goal is to learn how effective these systems are at improving visitor experiences and protecting park resources."    
There will be no changes to vehicle reservations at the popular Many Glacier entrance in the northeast portion of the park. Those tickets will be required beginning July 1 through Sept. 8, and runs from 6 a.m. to 3 p.m. 
Next year will mark the fourth year of the park's vehicle reservation system. Park officials said the 2024 approach reflects feedback from Tribes, the public, partners and stakeholders, particularly regarding access to Apgar Village and Two Medicine. 
A public comment period regarding vehicle reservations was held this fall, with open houses in St. Mary and Columbia Falls. Park officials said a total of 1,408 comments were received for their 2024 Visitor Use Management Strategies. 
VEHICLE RESERVATIONS cost $2 and can be booked through recreation.gov. Vehicle reservations are not required for tribal members, pursuant to the American Indian Religious Freedom Act of 1978. 
The reservations will be available through two booking windows. A portion will be available 120 days or approximately four months in advance on a rolling basis, starting on Jan. 25, 2024 at 8 a.m. Mountain Time. 
New for next season, the remaining vehicle reservations will be available for next-day entry starting on May 23, 2024 at 7 p.m. Mountain Time.
A standard entrance pass is still required for any entry point into the park. These could include a $35 vehicle pass for Glacier National Park, which lasts seven days, a valid Interagency Annual/Lifetime Pass or a Glacier National Park Annual Pass. 
In the release, park officials remind visitors that a vehicle reservation does not include an entrance pass, and the park entrance pass does not serve as a vehicle reservation. Like previous years, visitors with lodging, camping, transportation or commercial activity reservations within the specified reservation areas can use proof of their reservation for entry in lieu of a Recreation.gov reservation to gain access to the portion of the park for which they have a reservation.  

As in past years, entry will be temporarily restricted in areas of the park that become too congested for visitor safety and resource protection. Parking at Logan Pass, Apgar Village and other areas may be unavailable, officials warned.
Visitors are encouraged to take advantage of free shuttles for hiker access to Logan Pass, although waits for shuttles may be long depending on the time and location. 
Visitors are encouraged to plan their visit outside of peak hour, 10 a.m. to 2 p.m. The park's website, nps.gov/glac, can be checked for updates and additional information.  
Reporter Taylor Inman can be reached at 406-758-4433 or by emailing tinman@dailyinterlake.com.
Recent Headlines
---