Whitefish Theatre Co. stages dramatic comedy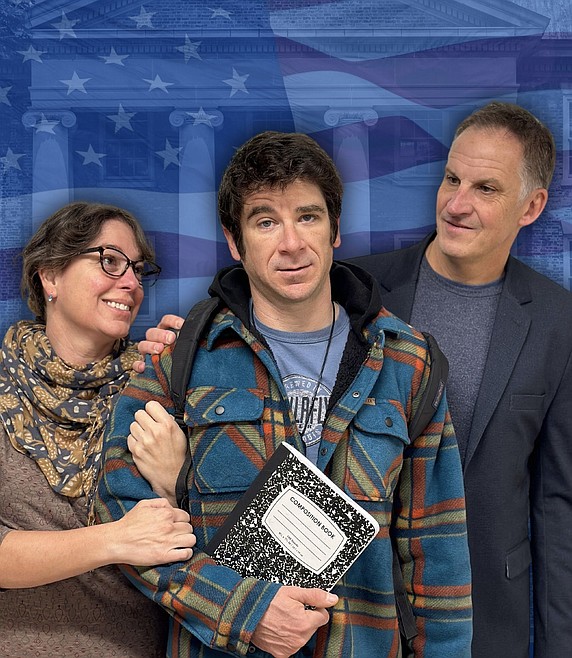 Whitefish Theatre Co. presents "Admissions" starring Wendy McFadden, Matt Strool and Andrew Matulionis. (Photo courtesy of Whitefish Theatre Co.)
|
November 8, 2023 12:00 AM
The Whitefish Theatre Co. presents the Black Curtain theatre production "Admissions" by Josh Harmon on Nov. 11-12. 
This dramatic comedy, called "astonishing and daring" by the New York Times, has performances on both nights at 7:30 p.m. at the O'Shaughnessy Center in Whitefish. 
Bill and Sherri Rosen-Mason are the white, progressive-and-proud headmaster and dean of admissions at Hillcrest, a New Hampshire boarding school. Over the last 15 years, they have worked to diversify the school's mostly white population, largely succeeding in bringing a stodgy institution into the 21st century. But when their high-achieving son Charlie's Ivy League dreams are jeopardized, the family's reaction blasts open a deep rift between their public values and private decisions, ultimately destroying friendships and bringing families to a breaking point. Winner of the 2018 Drama Desk and Outer Critics Circle Awards for Best Play, "Admissions" is a sharp-witted, devastating, and shockingly blunt look at privilege, power, and the perils of hypocrisy. 
"'Admissions' is fun and challenging ride," says stalwart WTC director Nancy Nei. "It is a timely piece of theater given the recent Hollywood scandals involving wealthy parents paying millions to get their children into prestigious colleges, 'legacy' admissions to Ivy Leagues and of course the recent abolition by the Supreme Court of affirmative action."
Cast members include Gail Cleaveland as Roberta, Val Trina as Ginny, Wendy McFadden as Sherri, Andrew Matulionis as Bill, and Matt Strool as Charlie. 
"Directing this upcoming Black Curtain production has been a pleasure and as well as a challenge for me and this talented cast of actors," Nei said. "'Admissions' is character-driven and, as such, has demanded a lot of discussion around the motivations of its smart, dynamic and flawed characters."
" Viewers are reminded that as a Black Curtain production, there will be minimal staging, set and props and actors will be reading from a script. This production contains some adult language and themes
Tickets are $12 for adults and $10 for students for all shows. Tickets can be purchased at the Box Office at 1 Central Avenue in Whitefish or by calling 862-5371. Box Office Hours are 11 a.m. to 3 p.m. Monday through Friday and one hour before a performance. Individual tickets can also be purchased online at www.whitefishtheatreco.org. This season's Black Curtain Series is generously sponsored by Masterpiece One Carpet, Bet and Doug Wise, and John and Marianne Evenhuis.
Recent Headlines
---