Whitefish earns spots at state volleyball tournament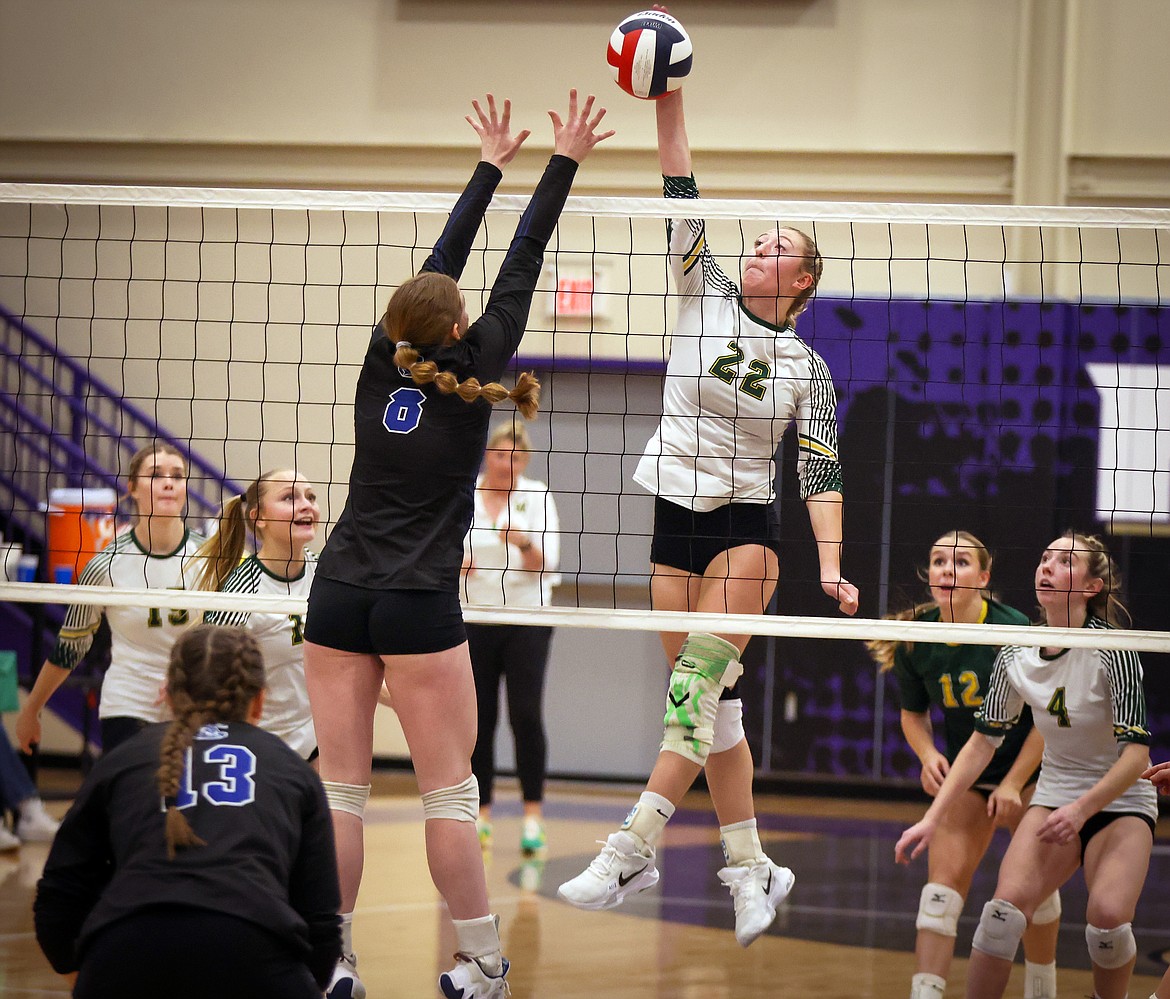 Brooke Zetooney soars above the net to make a play against Corvallis blocker Meredith Buhler during action at the Western A Divisional Volleyball Tournament in Polson Thursday. (Jeremy Weber/Bigfork Eagle)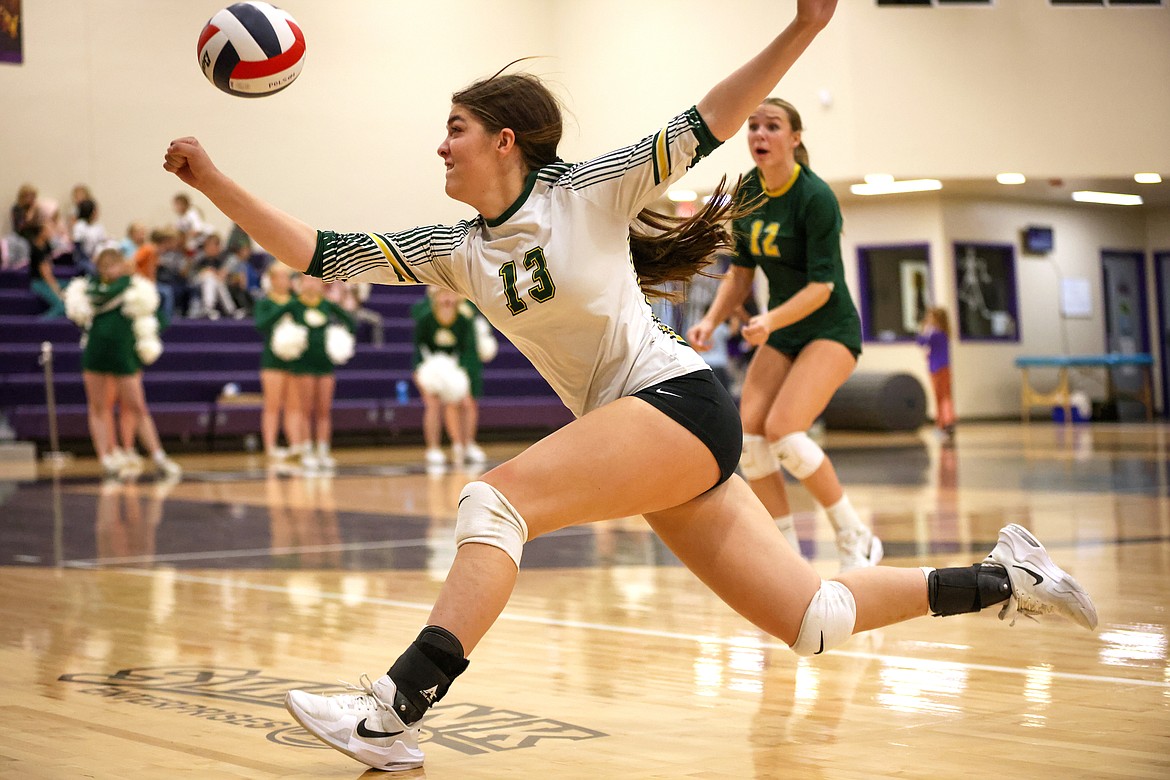 Nayvee Miller makes a lunging dig for Whitefish during action at the Western A Divisional Volleyball Tournament in Polson Thursday. (Jeremy Weber/Bigfork Eagle)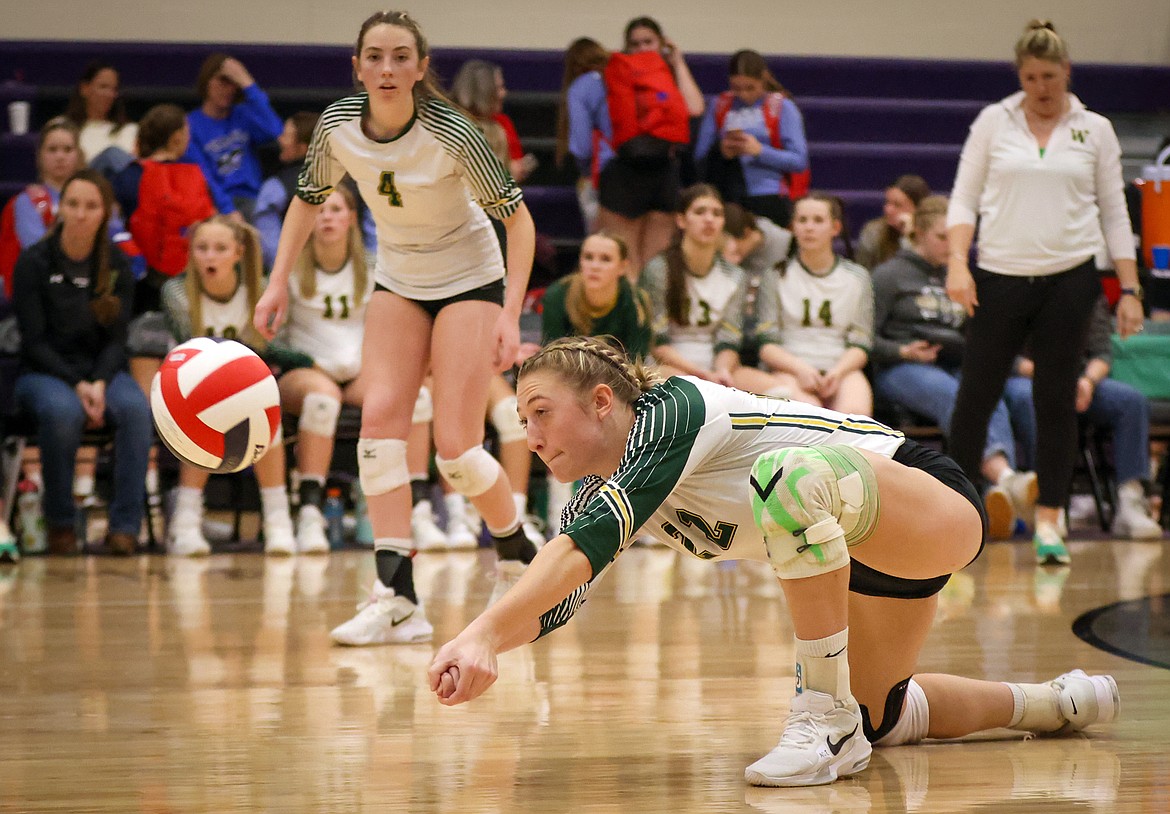 Brooke Zetooney makes a diving play on the ball during action at the Western A Divisional Volleyball Tournament in Polson Thursday. (Jeremy Weber/Bigfork Eagle)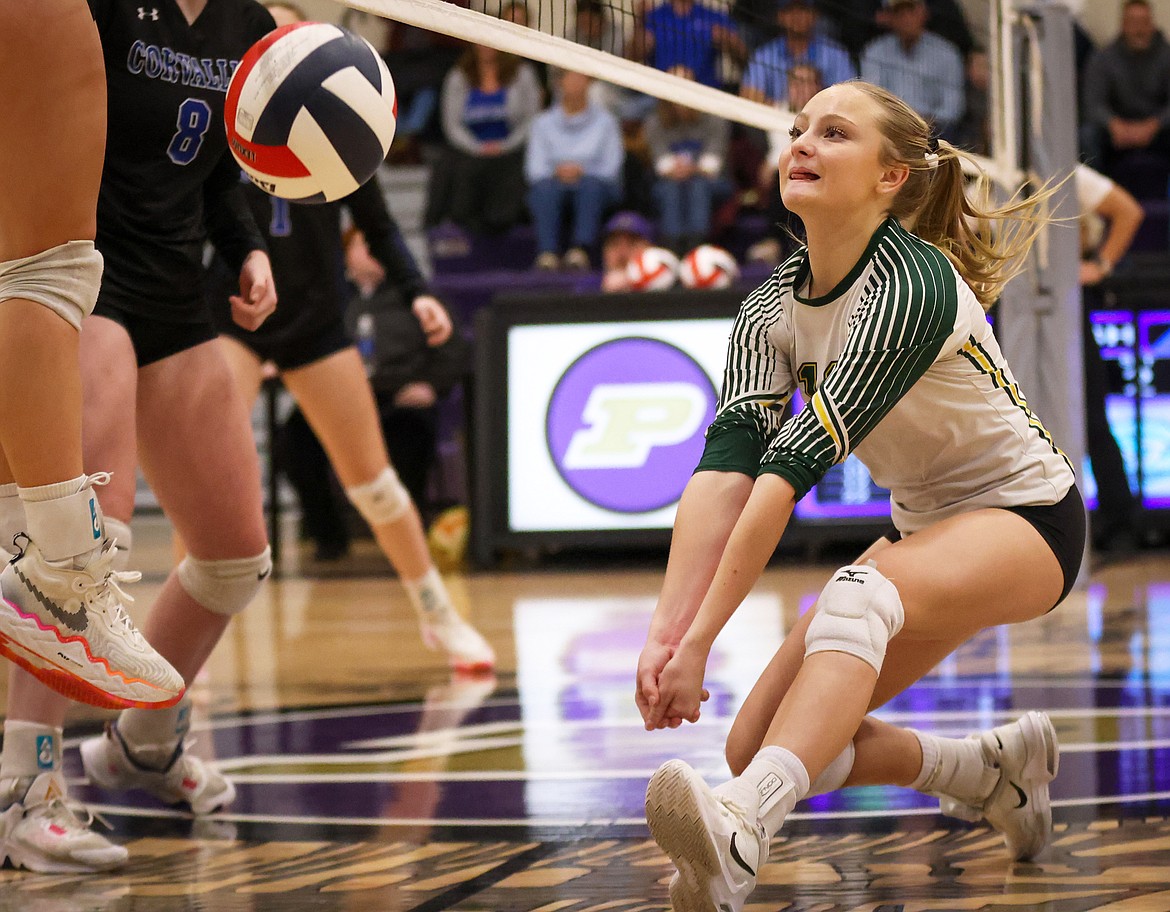 Kaydence Blackwell plays a ball off the net during action at the Western A Divisional Volleyball Tournament in Polson Thursday. (Jeremy Weber/Bigfork Eagle)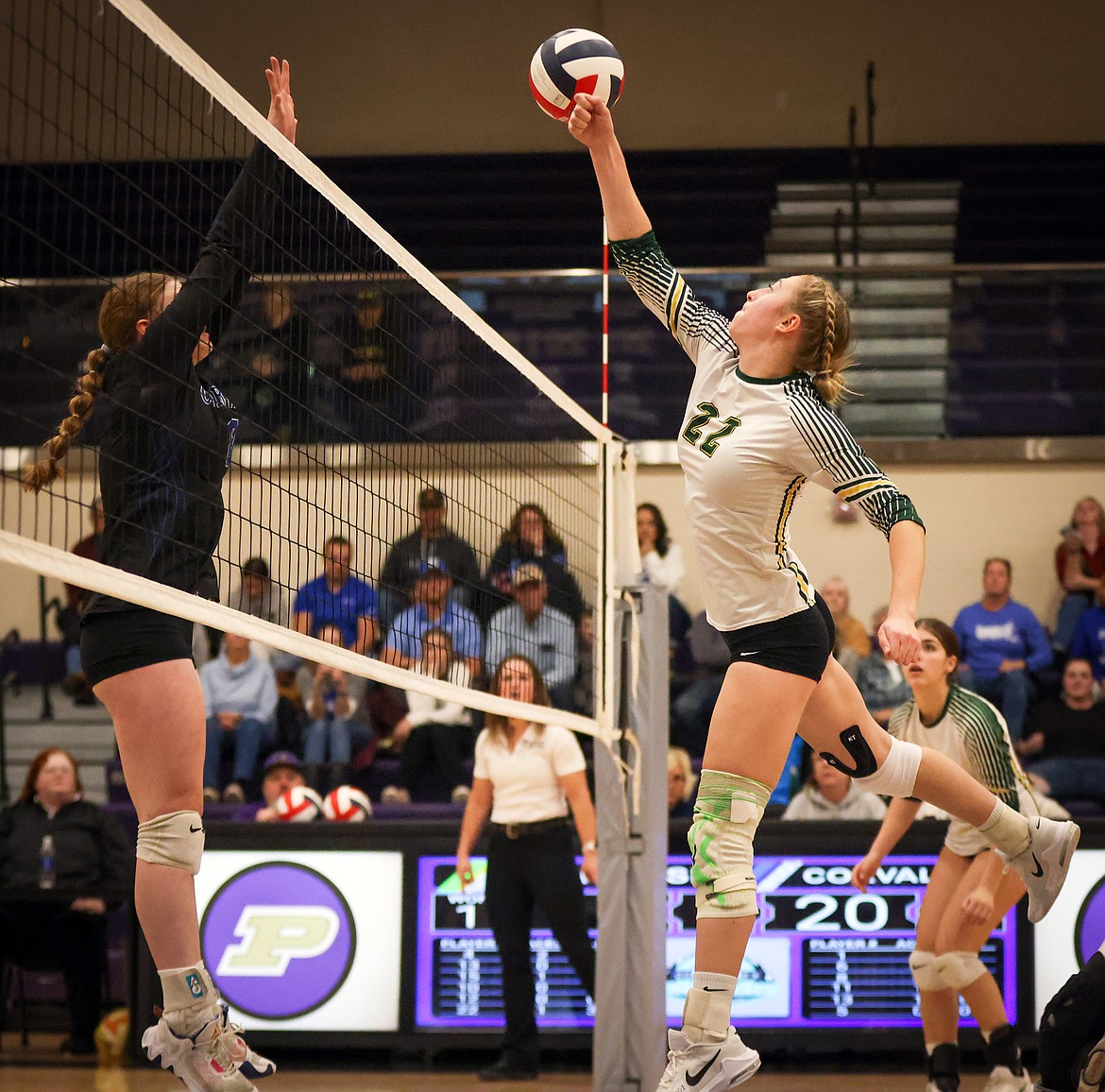 Brooke Zetooney soars above the net to make a play during action at the Western A Divisional Volleyball Tournament in Polson Thursday. (Jeremy Weber/Bigfork Eagle)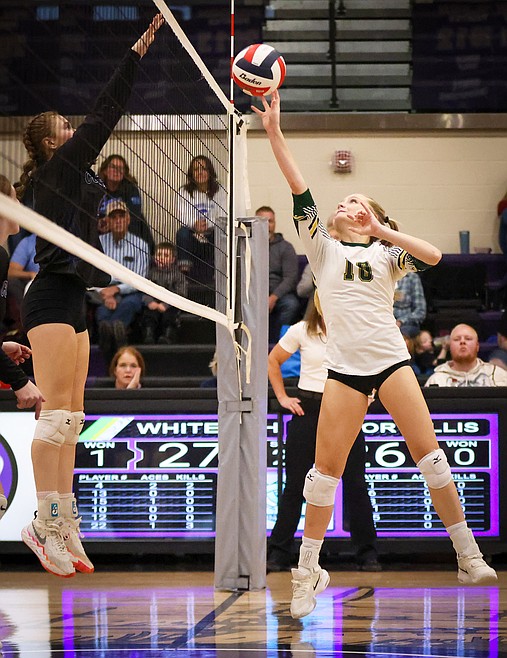 Kaydence Blackwell tips the ball at the net during action at the Western A Divisional Volleyball Tournament in Polson Thursday. (Jeremy Weber/Bigfork Eagle)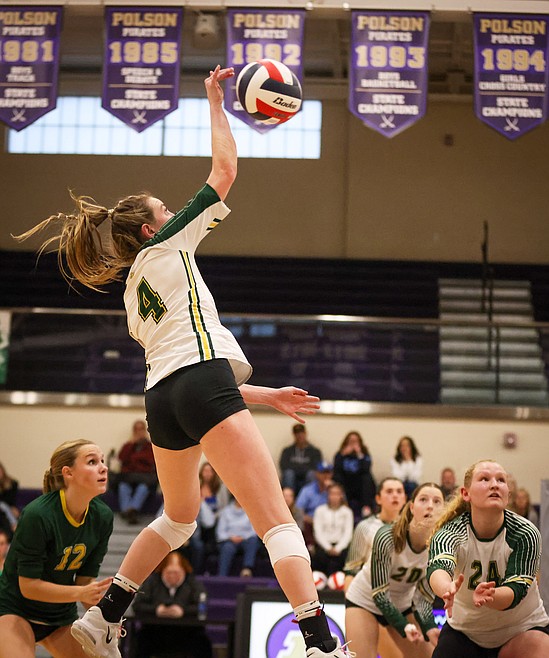 Myli Ridgeway flies high to make a play during action at the Western A Divisional Volleyball Tournament in Polson Thursday. (Jeremy Weber/Bigfork Eagle)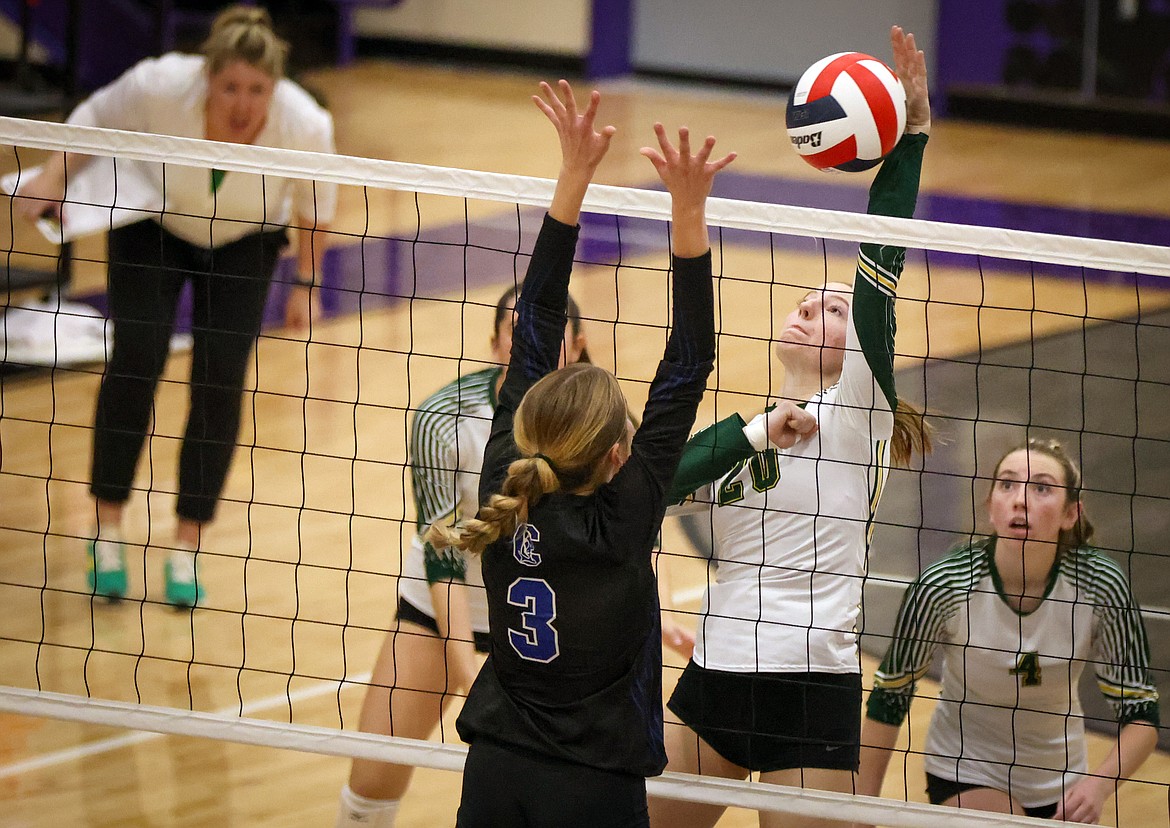 Hailey Ells rises above the net to spike the ball past Corvallis defender Laila Smart during action at the Western A Divisional Volleyball Tournament in Polson Thursday. (Jeremy Weber/Bigfork Eagle)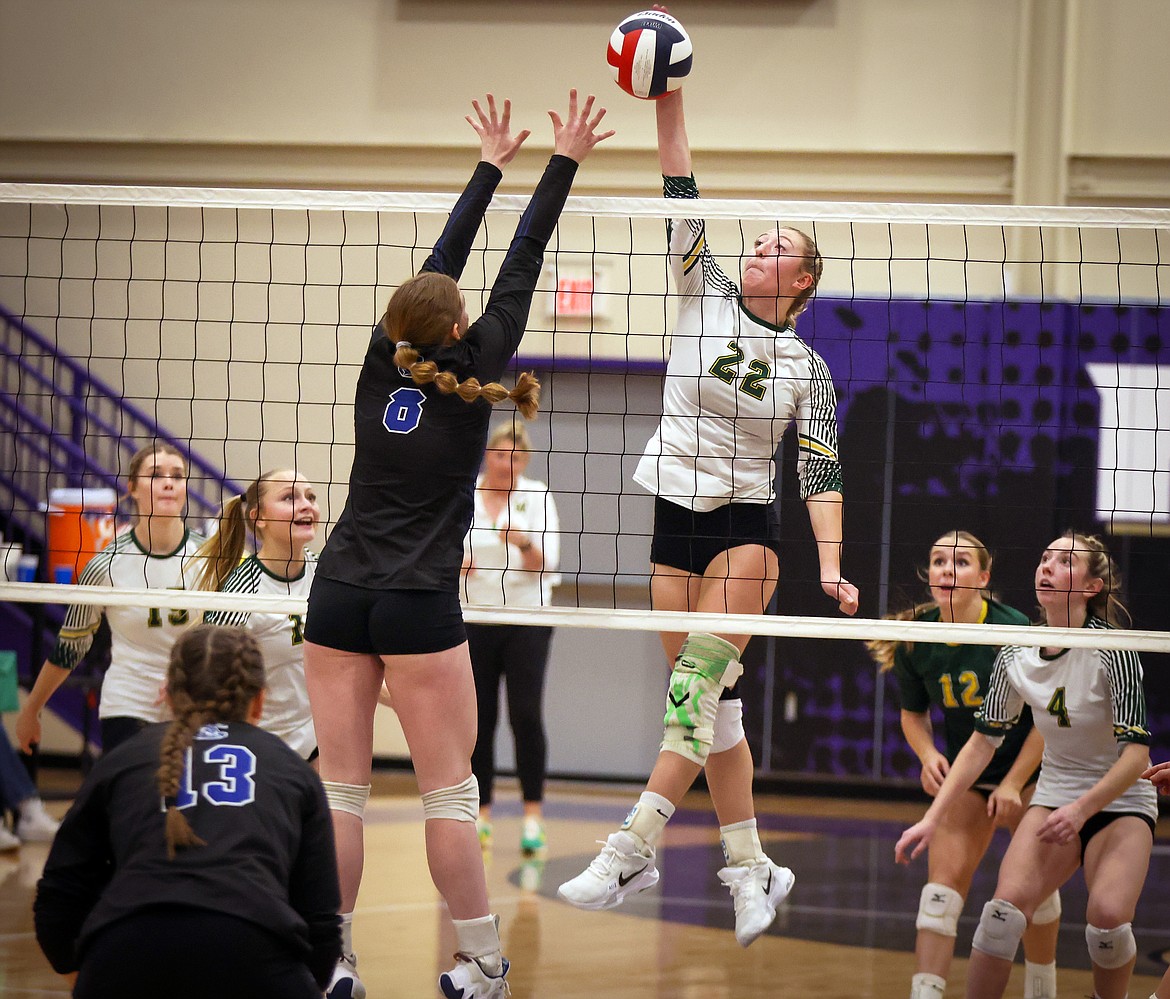 Brooke Zetooney soars above the net to make a play against Corvallis blocker Meredith Buhler during action at the Western A Divisional Volleyball Tournament in Polson Thursday. (Jeremy Weber/Bigfork Eagle)
Previous
Next
Whitefish will be taking a road trip to Bozeman after placing third at the Western A Divisional Tournament over the weekend.
The Lady Bulldogs won two matches at the tournament, punching their ticket to the Class A State Tournament this week.
"These girls were very excited on Thursday when they secured a spot at the state tournament. Their goal has been to make it to state all year. Friday and Saturday games, we fell short by just a few points each game," Whitefish Head Coach Addy Connelly said. 
"The girls are excited to make it to state. They have not had the opportunity to participate in the all-state tournament and are in for a memory of a lifetime. They are ready to go. Already talking about what they would like to focus on in practice to fine-tune a few things before Thursday."
 Against Corvallis on Thursday, Whitefish picked up a 25-11, 28-26, 21-25, 25-23 victory to open the divisional tournament. Ainsley Scott dished out 21 assists, while Kaydence Blackwell had 19. Leading the attack was Brooke Zetooney, who had 17 kills, while Myli Ridgeway had nine and Bailey Smith had eight. Zetooney had five aces, and Smith had three.
Hailey Ells added seven blocks, while Maggie Mercer had 21 digs, and Mylie Ridgeway had 15.
"Zetooney led our team in kills this tournament," Connelly said. "Scott continued to be a very consistent server all tournament long; Ridgeway and Mercer led the backcourt in digs and serve received. Ells really stepped into a new position while Smith came off an injury and was very strong for us. All the girls played well and as a team."
Against Dillon on the same day, Whitefish clinched a state berth with a 25-14, 18-25, 20-25, 25-18, 15-13. Zetooney had 11 kills, while Ridgeway had nine. Hailey Ells and Smith each had eight kills. Scott collected 20 assists, while Blackwell had 13.
Zetooney had three blocks, while Ridgeway had 11 digs, and Mercer had nine.
Against Frenchtown in the divisional semifinals, the Broncs picked up the 25-22, 25-20, 22-25, 25-15 victory over the Lady Bulldogs. Zetooney had 11 kills, and Bailey Smith had seven.
For assists, Blackwell led the team with 15, while Scott had 14. Mercer anchored the defense with 15 digs, and Scott had eight.
Hamilton then downed Whitefish 25-23, 19-25, 17-25, 25-23, 12-15, and the Lady Bulldogs finished third in bracket play behind 20 assists by Scott and 11 kills by Zetooney. Blackwell also had ten assists, while Ells had 11 kills as well.
Scott had 21 digs, while Ridgeway had 17, and Mercer and Blackwell had 15.
"These girls are ready physically; the back-to-back games tend to wear on players mentally, so staying mentally strong and physically healthy are keys," Connelly said. "We have been battling a pretty nasty cold program-wide, and we are starting to see players feeling better just in time for state."
Whitefish will open the tournament against Billings Central on Thursday, Nov. 9 at 4 p.m.
Recent Headlines
---