Lady Bulldogs claim Class A State Championship with 3-1 win over Columbia Falls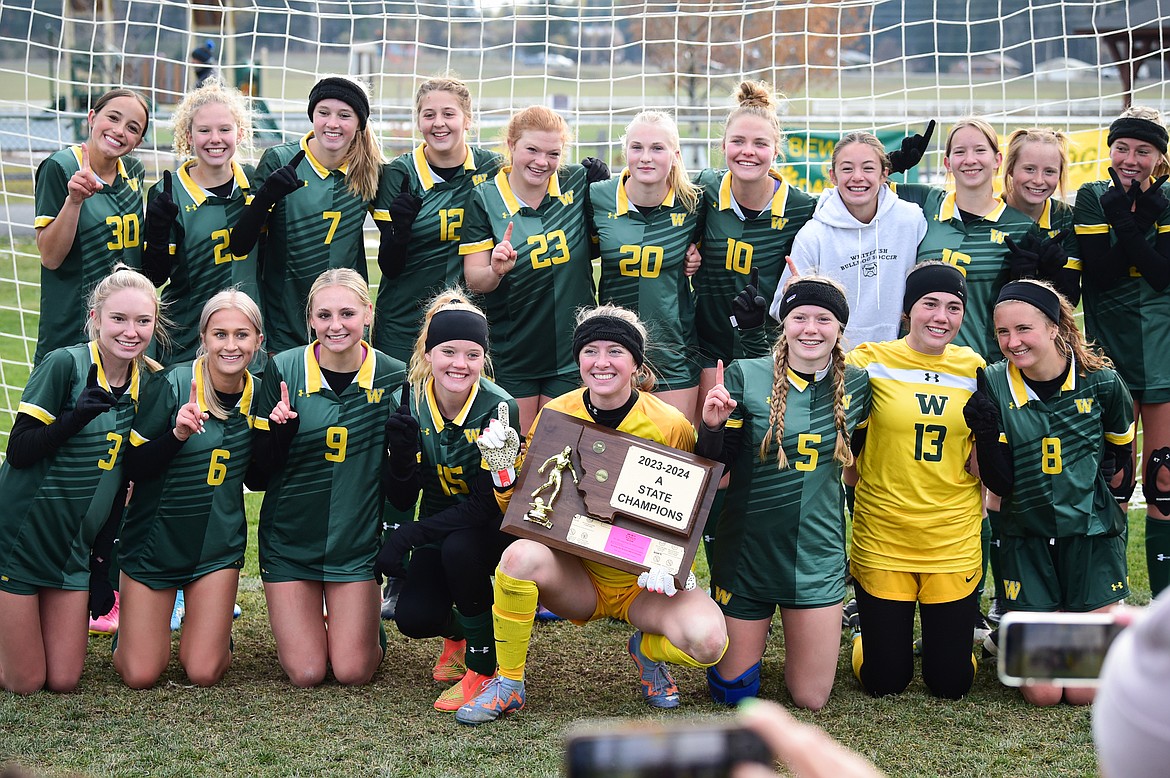 Whitefish girls soccer team with the 2023 Class A state championship trophy at Smith Fields on Saturday, Oct. 28. (Casey Kreider/Daily Inter Lake)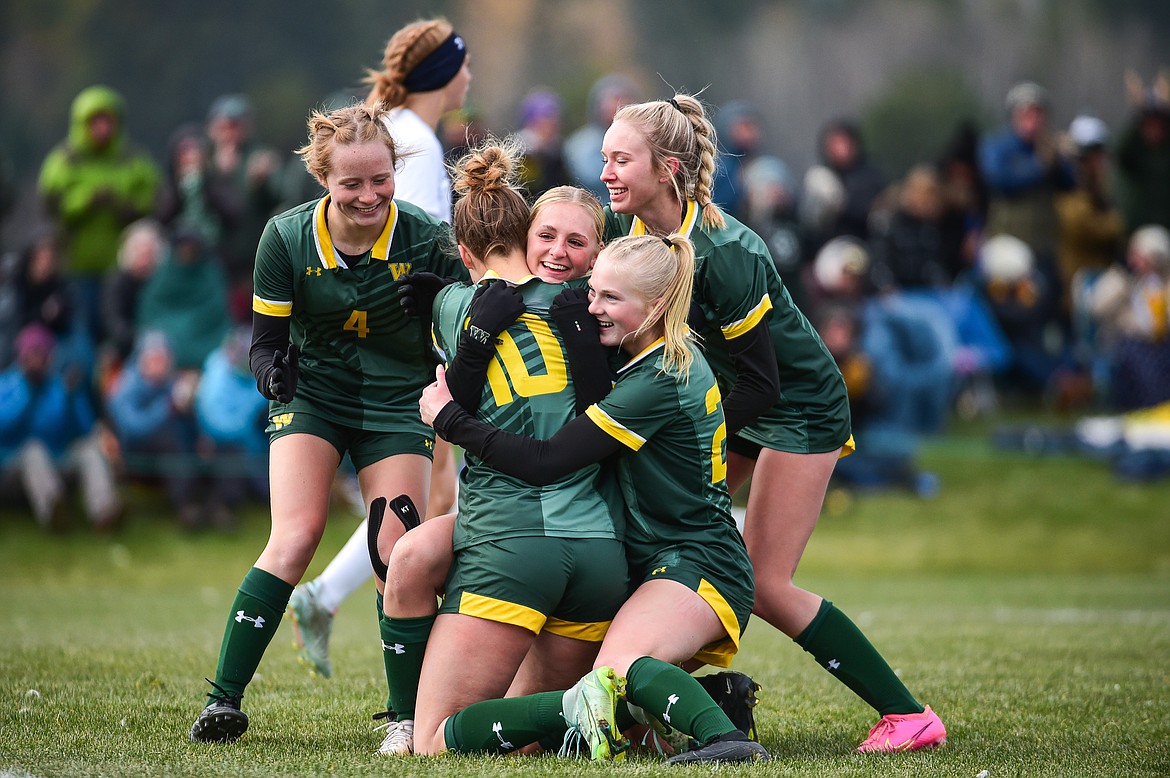 Whitefish's Georgia Morell (4), Olivia Genovese (10), Delaney Smith (9), Isabelle Cooke (20) and Macie Schmidt (7) celebrate after Smith's goal in the second half against Columbia Falls in the Class A state championship at Smith Fields on Saturday, Oct. 26. (Casey Kreider/Daily Inter Lake)
Casey Kreider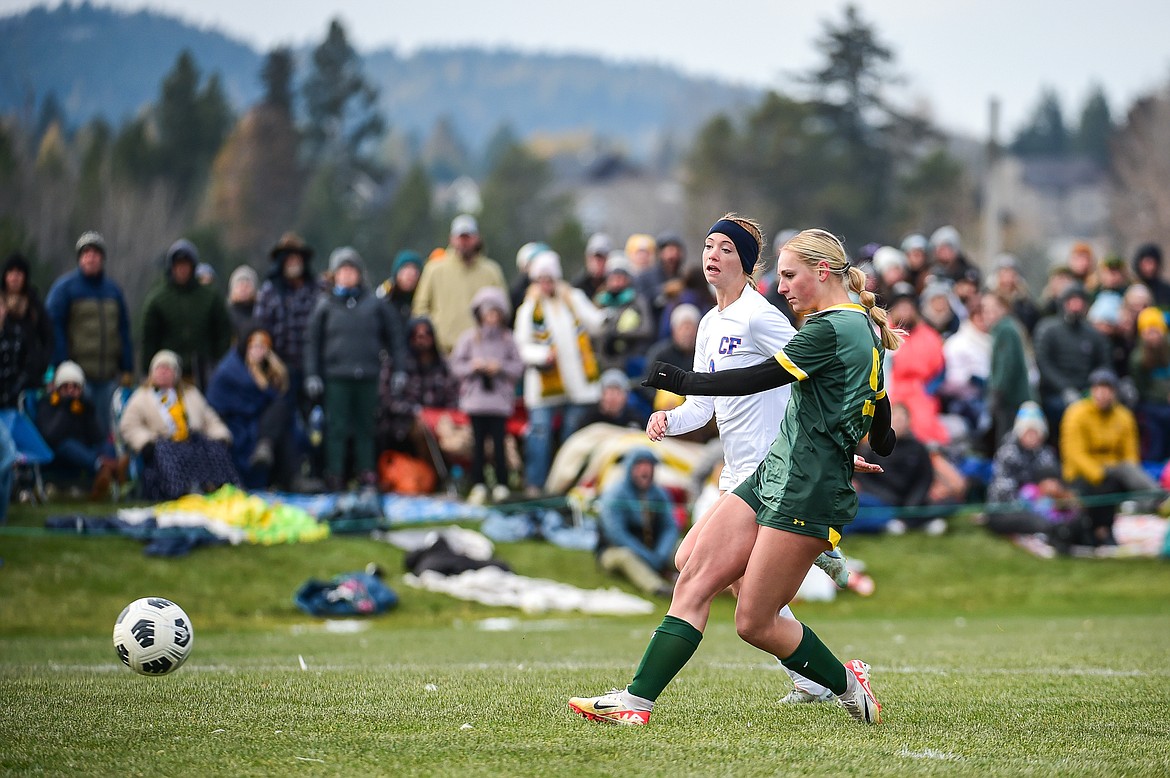 Whitefish's Delaney Smith (9) scores a goal in the second half against Columbia Falls in the Class A state championship at Smith Fields on Saturday, Oct. 26. (Casey Kreider/Daily Inter Lake)
Casey Kreider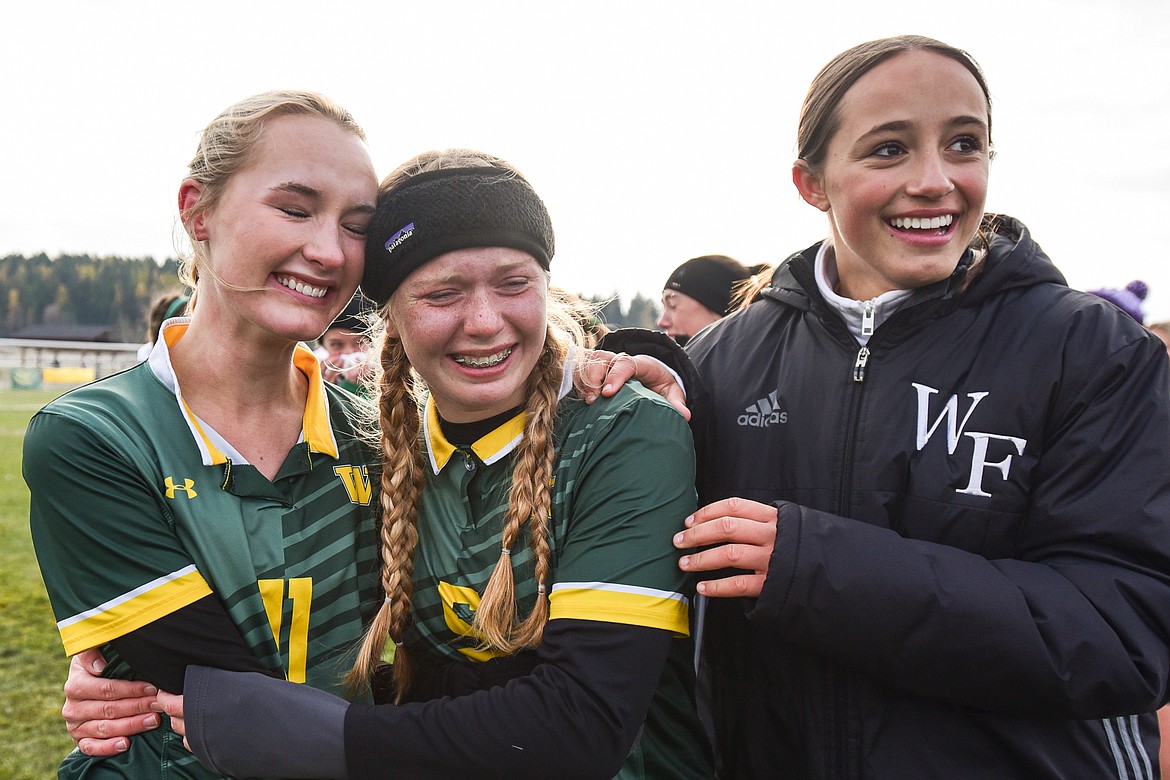 Whitefish players celebrate after their 3-1 victory over Columbia Falls in the Class A state championship at Smith Fields on Saturday, Oct. 28. (Casey Kreider/Daily Inter Lake)
Casey Kreider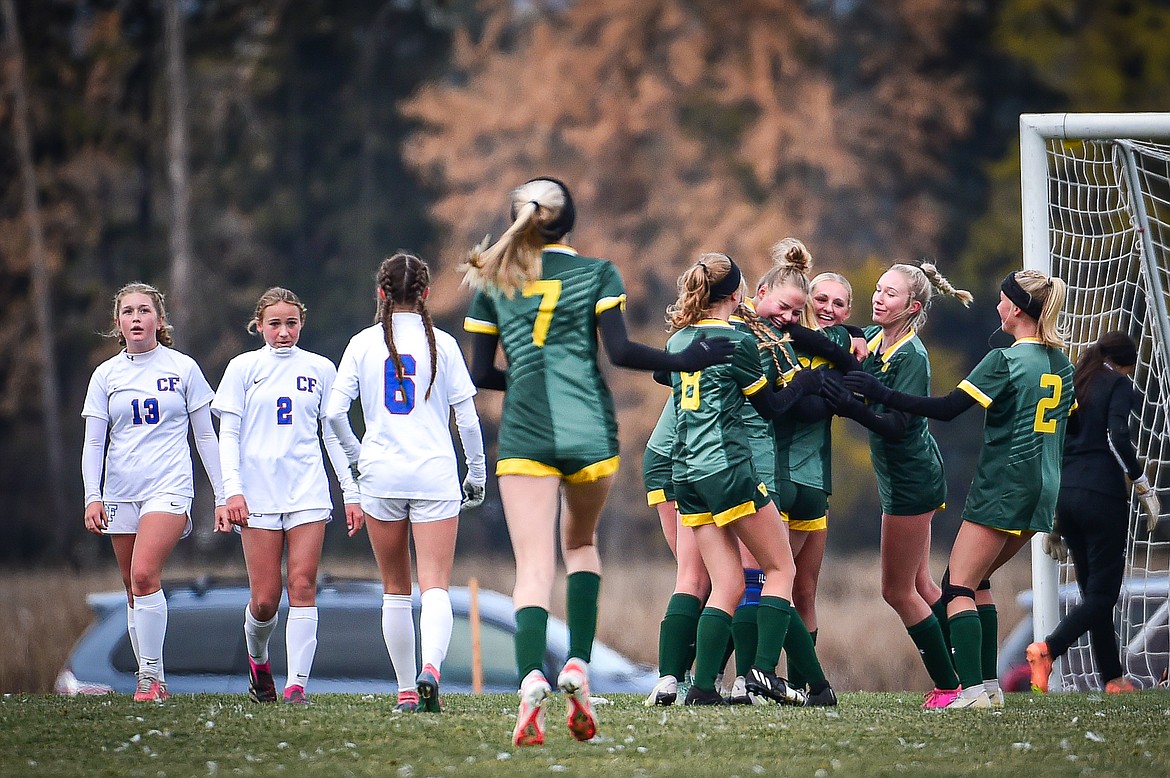 Whitefish celebrates after a goal in the first half against Columbia Falls in the Class A state championship at Smith Fields on Saturday, Oct. 26. (Casey Kreider/Daily Inter Lake)
Casey Kreider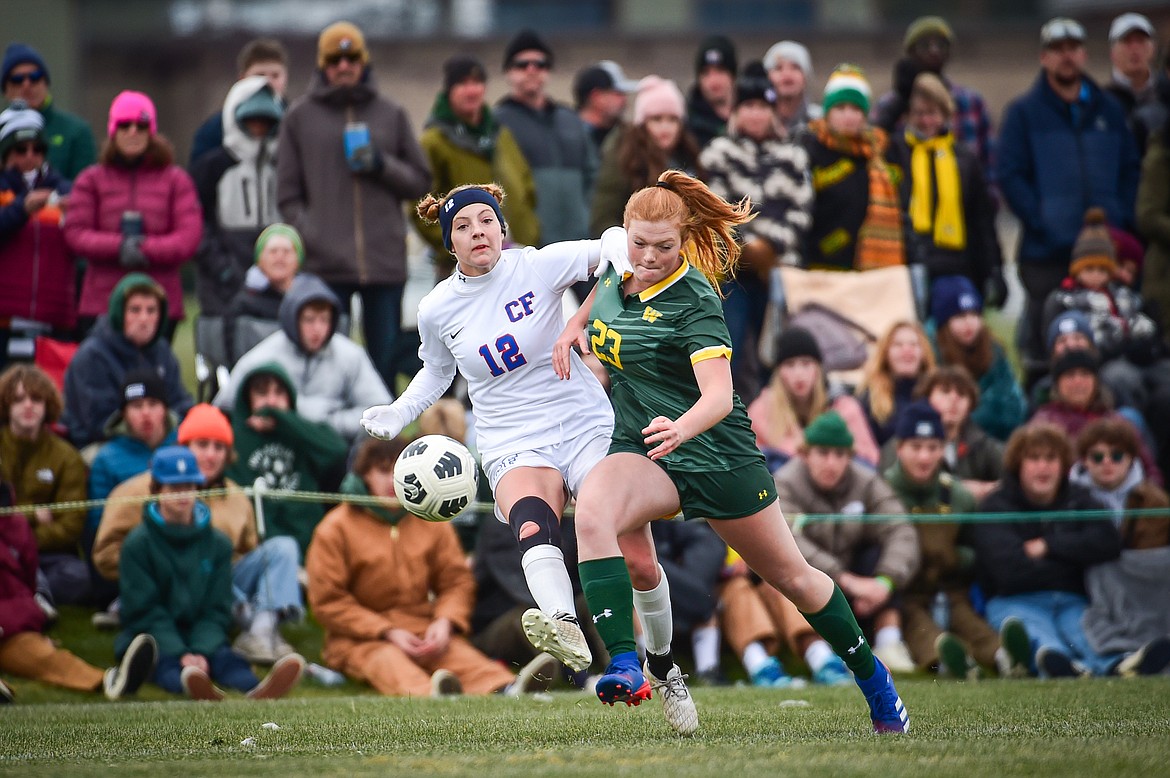 Columbia Falls Josie Harris (12) passes into the box defended by Whitefish's Charlotte Perkins (23) in the first half of the Class A state championship at Smith Fields on Saturday, Oct. 26. (Casey Kreider/Daily Inter Lake)
Casey Kreider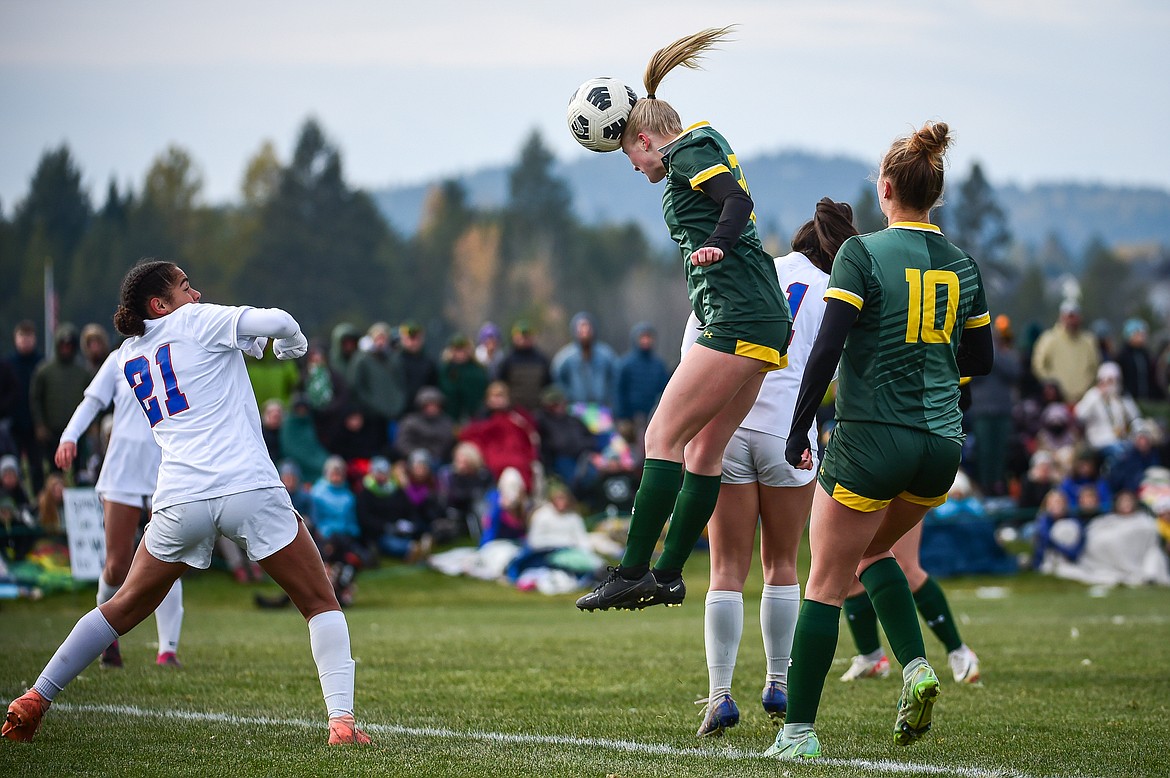 Whitefish's Isabelle Cooke (20) heads a ball on goal off a corner kick in the second half against Columbia Falls in the Class A state championship at Smith Fields on Saturday, Oct. 26. (Casey Kreider/Daily Inter Lake)
Casey Kreider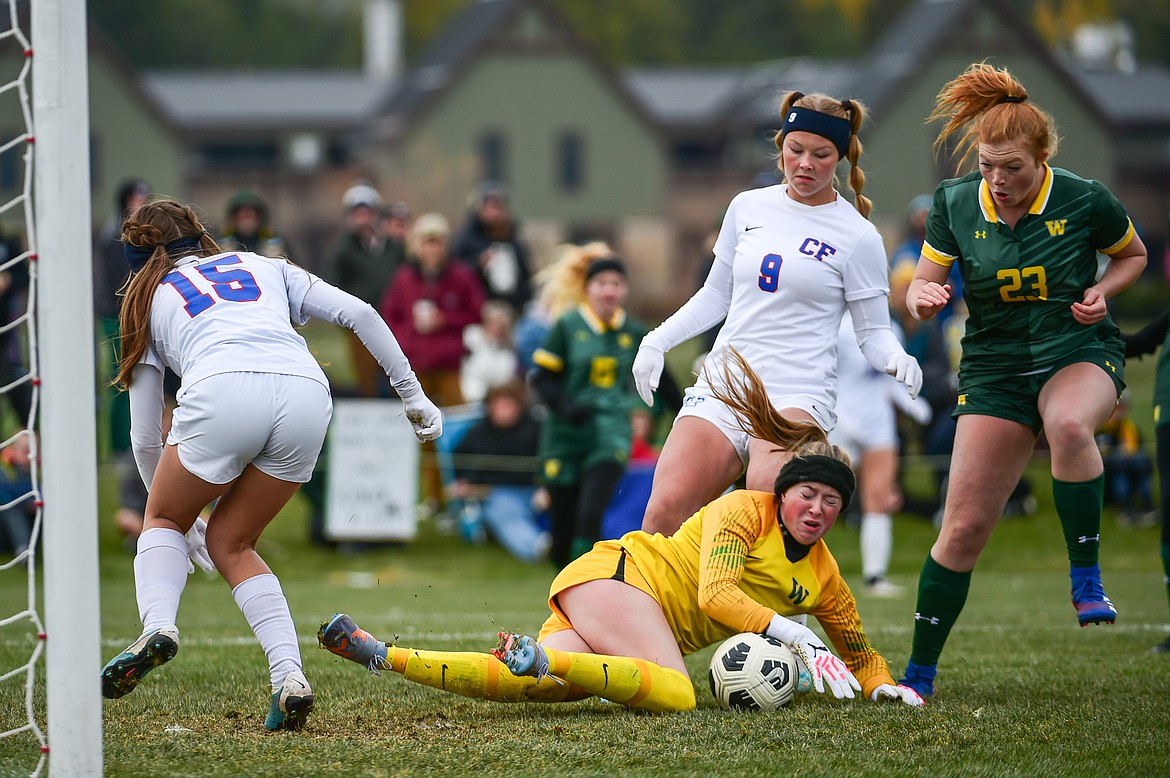 Whitefish goalkeeper Norah Schmidt (1) makes a save in the first half of the Class A state championship against Columbia Falls at Smith Fields on Saturday, Oct. 26. (Casey Kreider/Daily Inter Lake)
Casey Kreider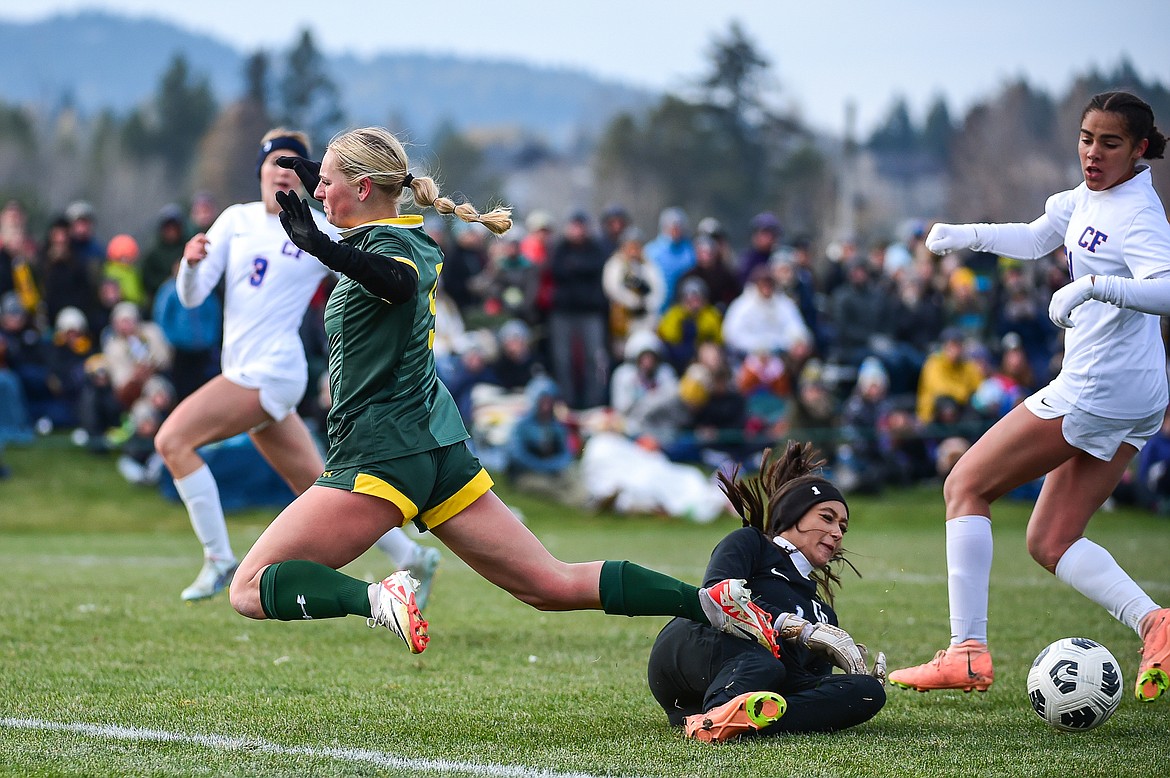 Columbia Falls goalkeeper Erica Burguiere (1) makes a save against Whitefish's Delaney Smith (9) in the second half of the Class A state championship at Smith Fields on Saturday, Oct. 26. (Casey Kreider/Daily Inter Lake)
Casey Kreider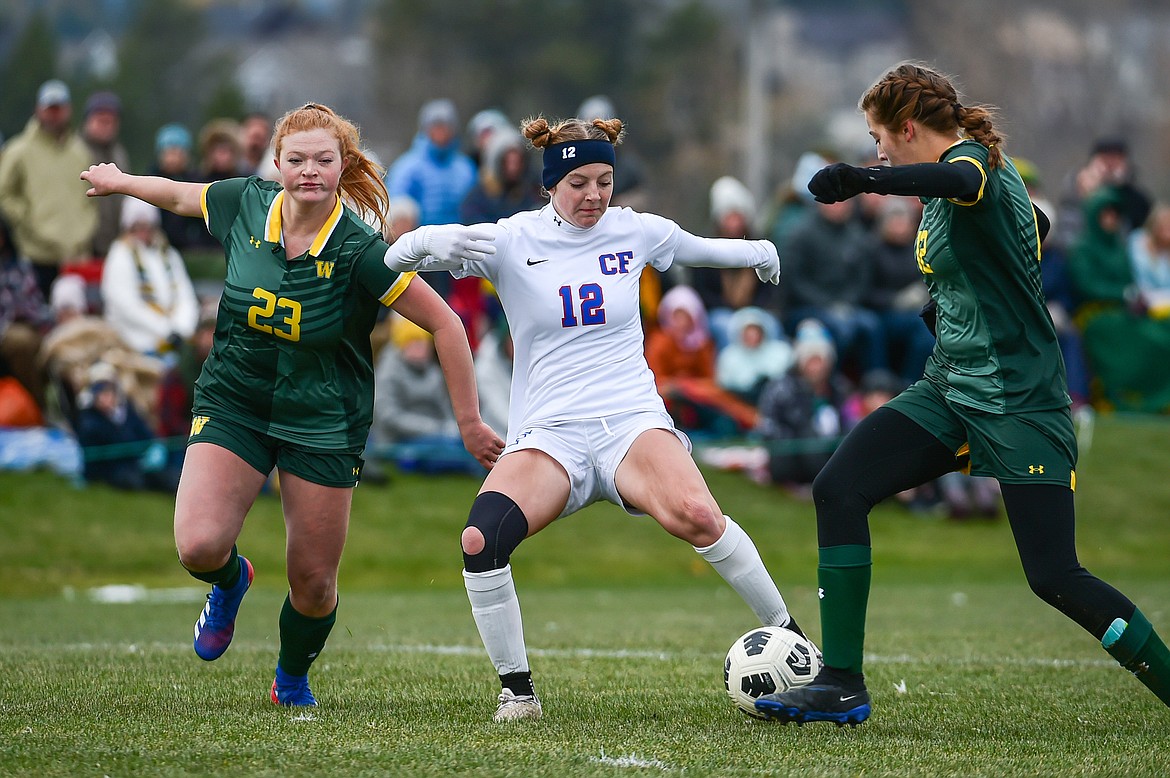 Columbia Falls Josie Harris (12) pushes the ball into the Whitefish zone in the first half of the Class A state championship at Smith Fields on Saturday, Oct. 26. (Casey Kreider/Daily Inter Lake)
Casey Kreider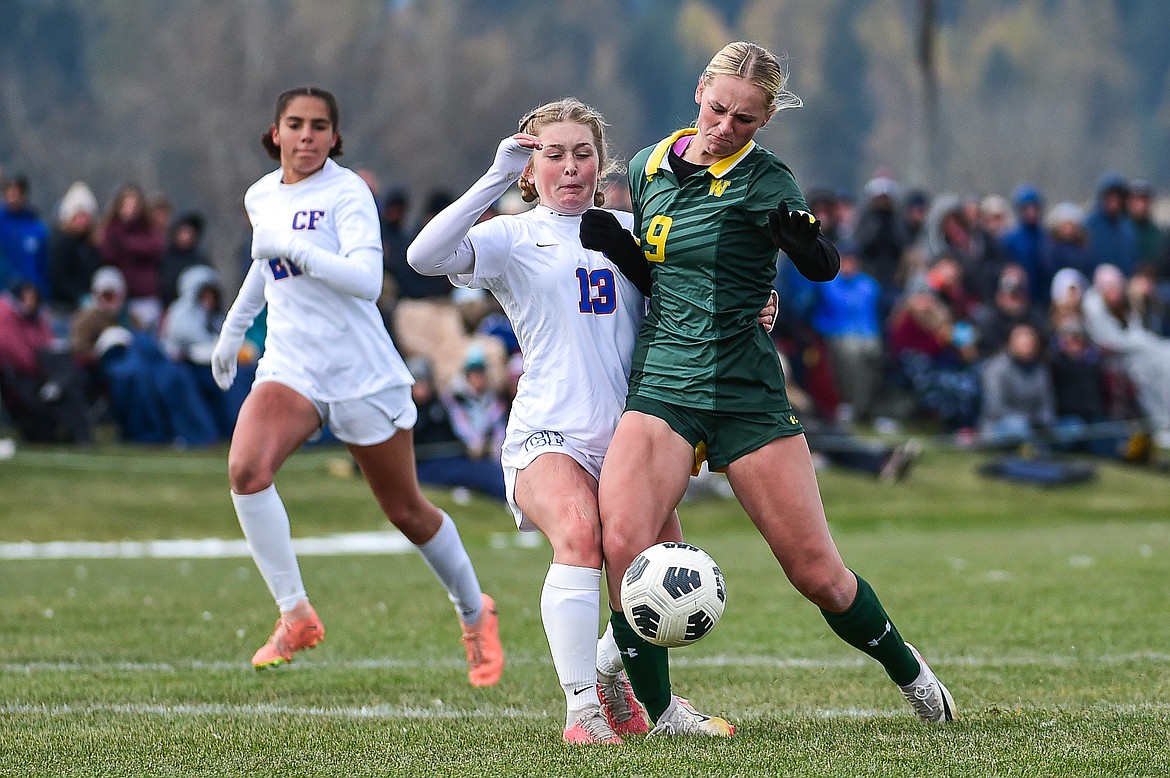 Columbia Falls' Alexa Friske (13) challenges Whitefish's Delaney Smith (9) in the second half of the Class A state championship at Smith Fields on Saturday, Oct. 26. (Casey Kreider/Daily Inter Lake)
Casey Kreider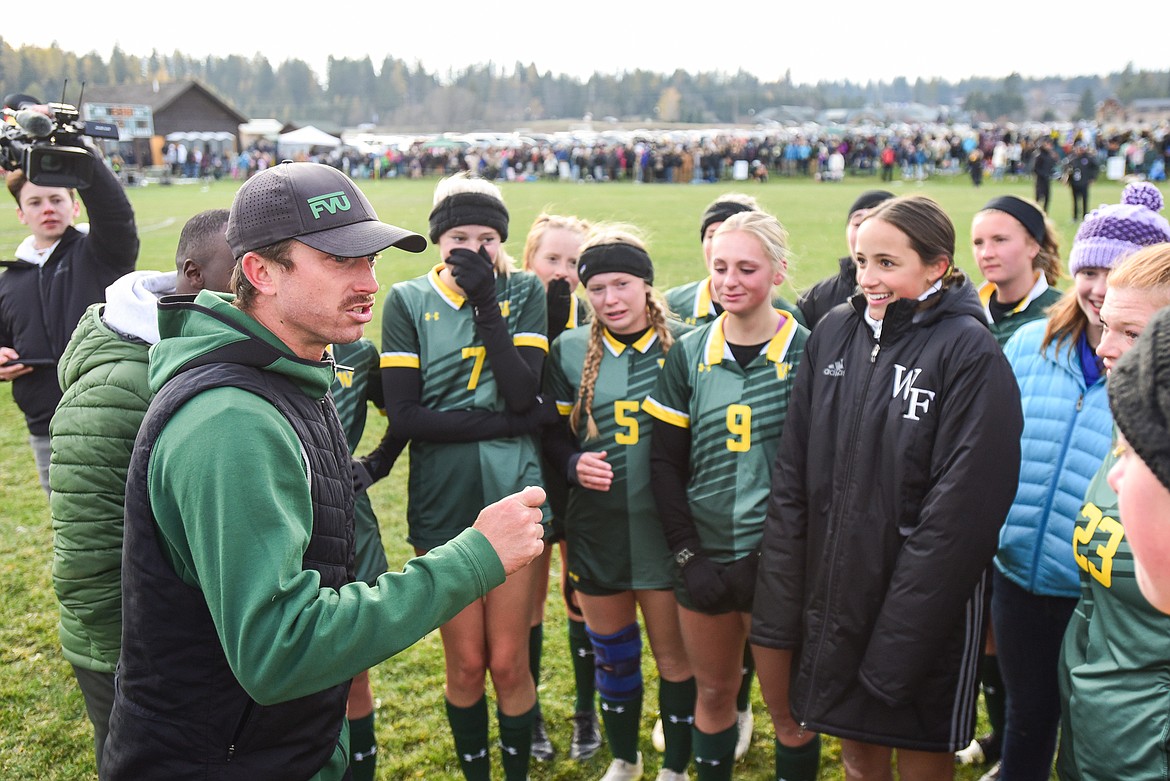 Whitefish head coach Roland Benedict speaks to the Lady Bulldogs after their 3-1 victory over Columbia Falls in the Class A state championship at Smith Fields on Saturday, Oct. 26. (Casey Kreider/Daily Inter Lake)
Casey Kreider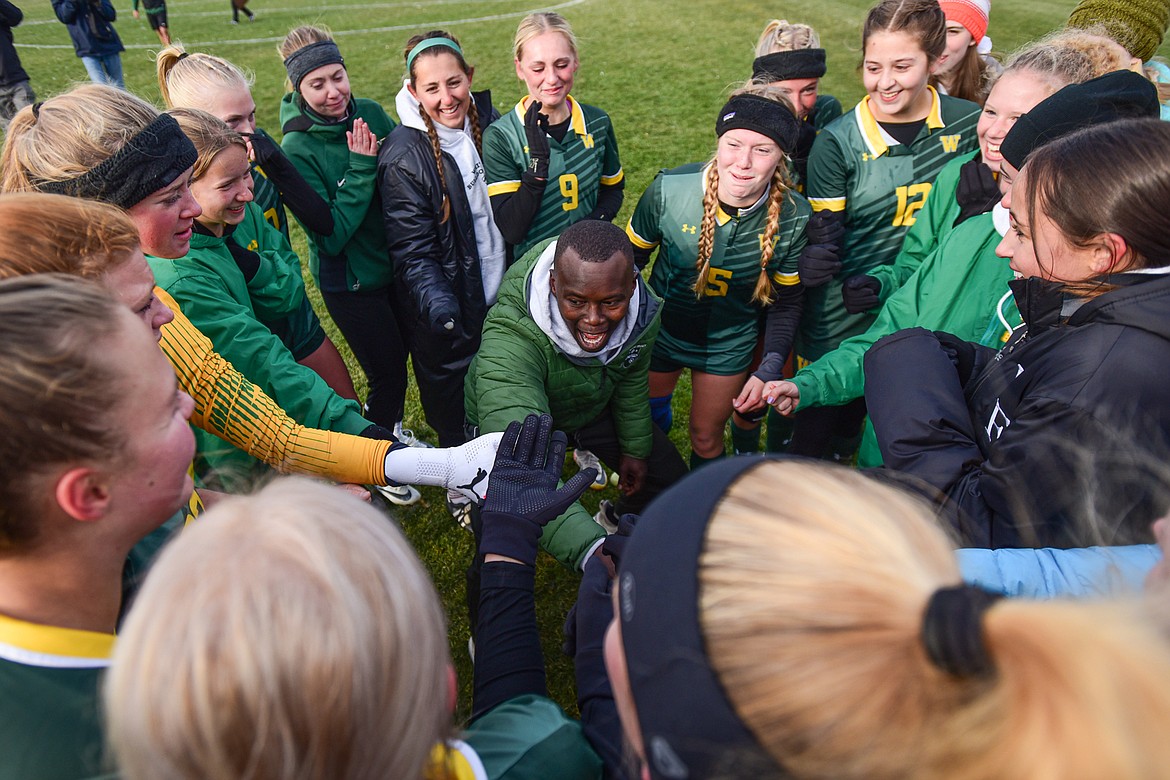 Whitefish assistant coach Victor Kimera celebrates with the team after their 3-1 victory over Columbia Falls in the Class A state championship at Smith Fields on Saturday, Oct. 28. (Casey Kreider/Daily Inter Lake)
Casey Kreider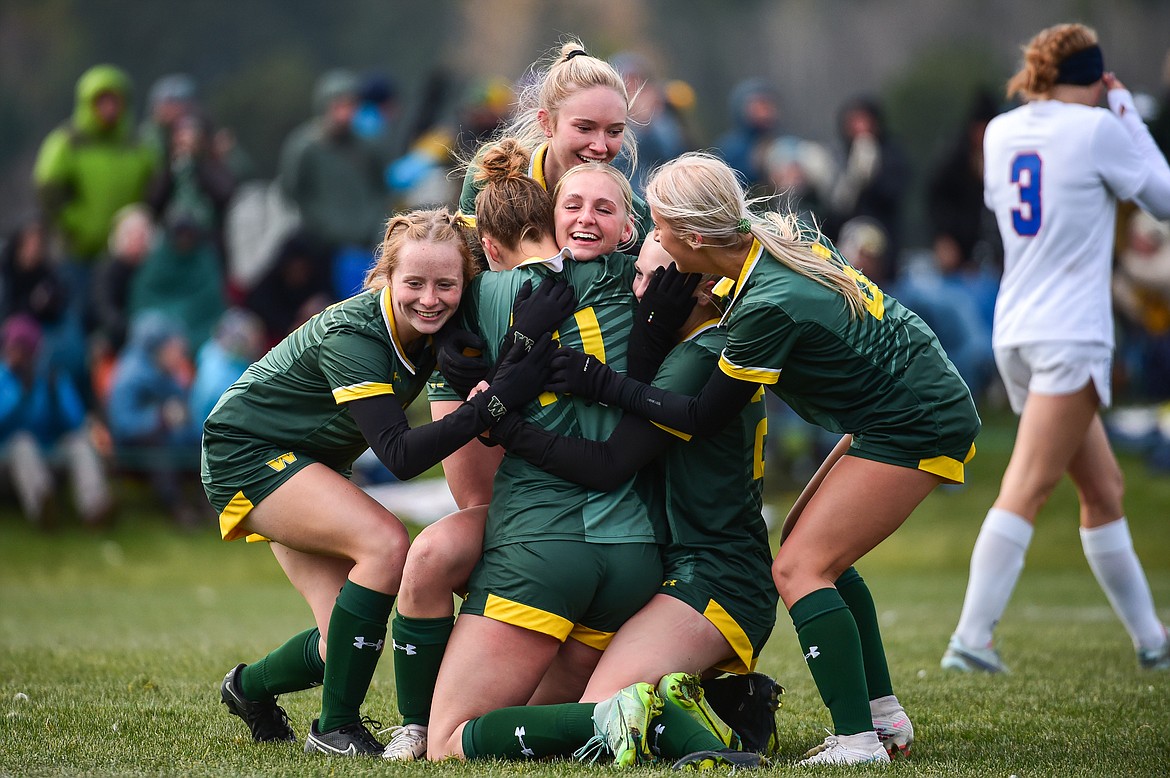 Whitefish's Georgia Morell (4), Olivia Genovese (10), Delaney Smith (9), Macie Schmidt (7) Isabelle Cooke (20) and Sadie Olson (6) celebrate after Smith's goal in the second half against Columbia Falls in the Class A state championship at Smith Fields on Saturday, Oct. 26. (Casey Kreider/Daily Inter Lake)
Casey Kreider
Previous
Next
Getting to the top of the mountain of Class A girls soccer can be quite a journey.

Whitefish knows better than most, as the Lady Bulldogs reached the state finals in 2022 and 2020, but fell short.
This time around, however, shots found their mark, and Whitefish won its first Class A girls soccer state championship in 17 years with a 3-1 victory over rival Columbia Falls on Saturday, Oct. 28 at Smith Fields.

"It felt like it was a titanium wall we were trying to get through," Whitefish Head Coach Roland Benedict told the Daily Inter Lake after the win. "It feels amazing. I don't even like to be the one doing the interviews. For me it's about the players. And honestly, since I've been the coach here, every single class we've had has laid the foundation for the team to play the way that they played today and be able to win this game."

It wasn't an easy game; in fact, it was a battle as Whitefish fended off early Columbia Falls attacks. Lady Bulldog goalkeeper Norah Schmidt was key, overcoming hitting her head on a goalpost but saving Columbia Falls shots from finding their way on the scoreboard.

Olivia Genovese took a Taylor Dorvall corner kick and put it in the back of the Wildkats' net in the 35th minute. Four minutes later, Isabelle Cook put Whitefish up 2-0 just before halftime.

"I told them when the momentum changes like that, it's something that happens when you are able to get a little bit of belief," Benedict said. "And we talked about the belief in knowing, and once you get the goal, it's like, we knew we could do it."

The momentum continued to build as Delaney Smith scored in the second half to give the Lady Bulldogs a 3-0 lead. While Columbia Falls would notch a late goal, the minutes ticked off the clock, and the Lady Bulldogs found themselves on top of the mountain.
After hoisting the trophy, students, family and fans stormed the pitch to celebrate with the championship team. About 2,000 people turned out to watch the title match, according to some estimates.

Whitefish finishes the season 13-2, and no doubt, the Lady Bulldogs will have the same lofty expectations next season as they begin to climb the mountain again.

At Whitefish
WHITEFISH 3, COLUMBIA FALLS 1
C-Falls - 0 - 1 - 1
Whitefish - 2 - 1 - 3

SCORING SUMMARY
W - Olivia Genovese (Taylor Dorvall), 35:00
W - Isabelle Cook, 39:00
W - Delaney Smith
C - Josie Harris
Recent Headlines
---