Whitefish edges Billings Central for 10th State A soccer title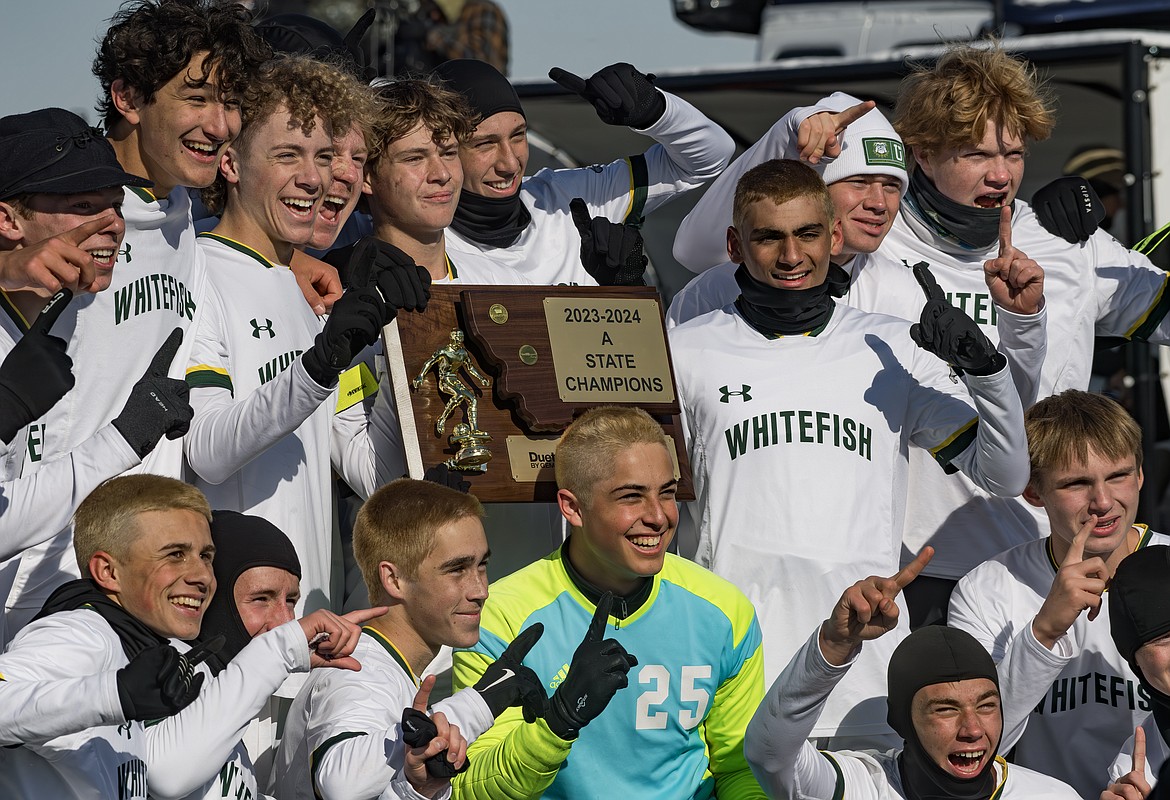 The Whitefish boys soccer team celebrates with the 2023 State A championship trophy after defeating Billings Central 1-0 on Saturday, Oct. 28 in Billings. (Amy Nelson/Billings Gazette)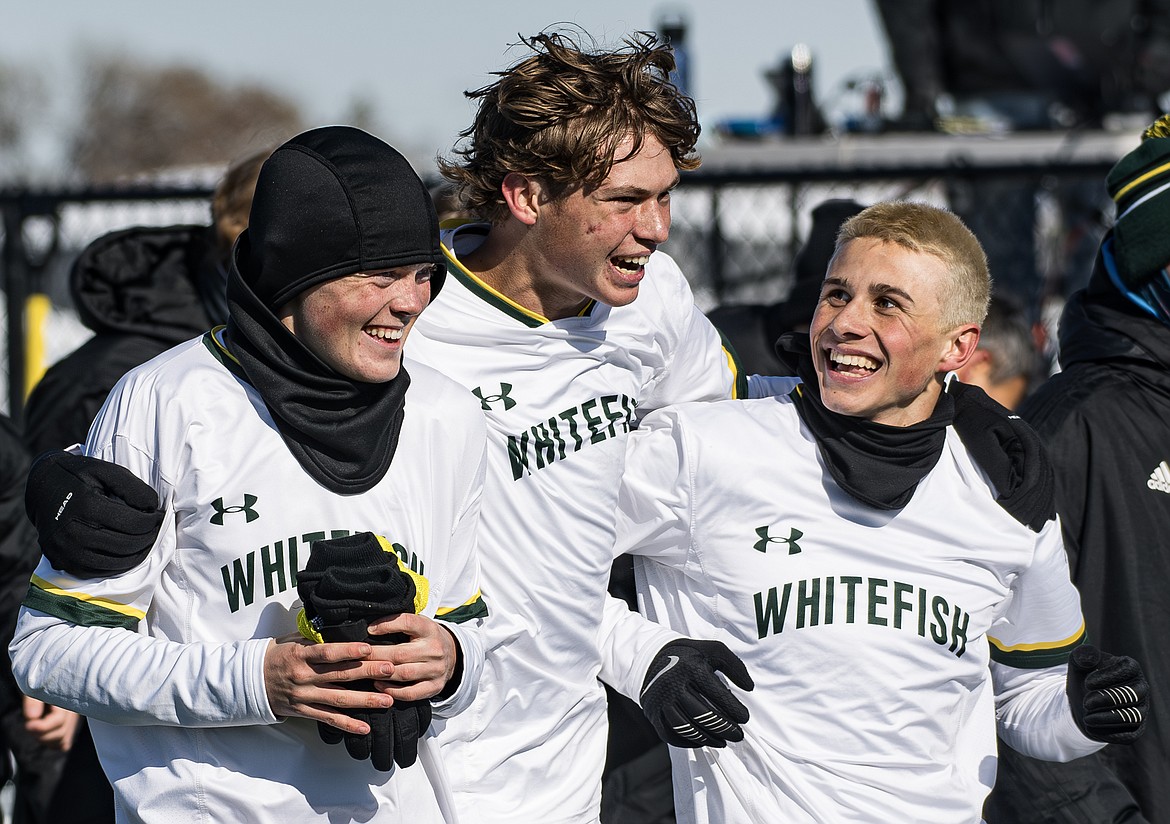 Whitefish's Griffin Gunlikson, Charlie Hyatt, and Logan Bingham celebrate after winning the 2023 Class A Boys Soccer Championship against Billings Central at Amend Park in Billings on Saturday, Oct. 28.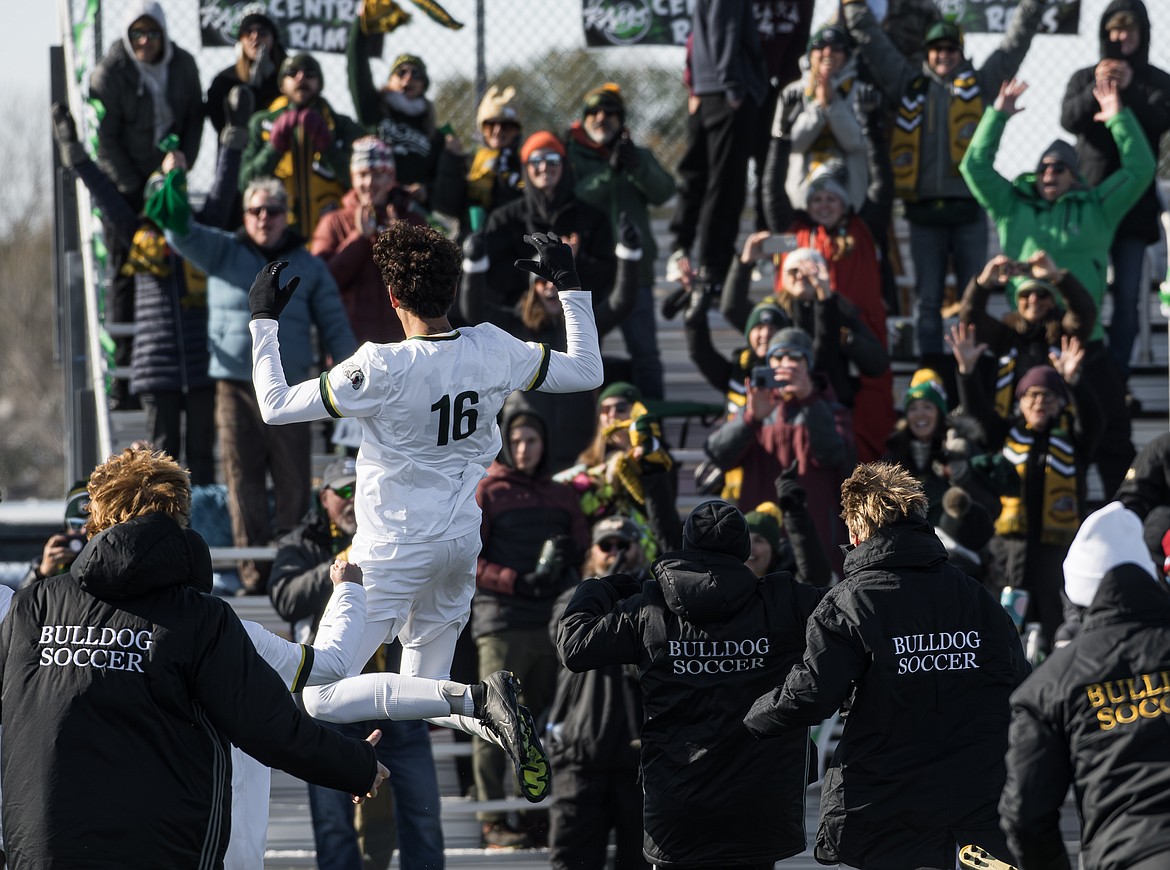 The Whitefish boys soccer team celebrates in front of the crowd after winning the 2023 Class A Boys Soccer Championship against Billings Central at Amend Park in Billings on Saturday, Oct. 28.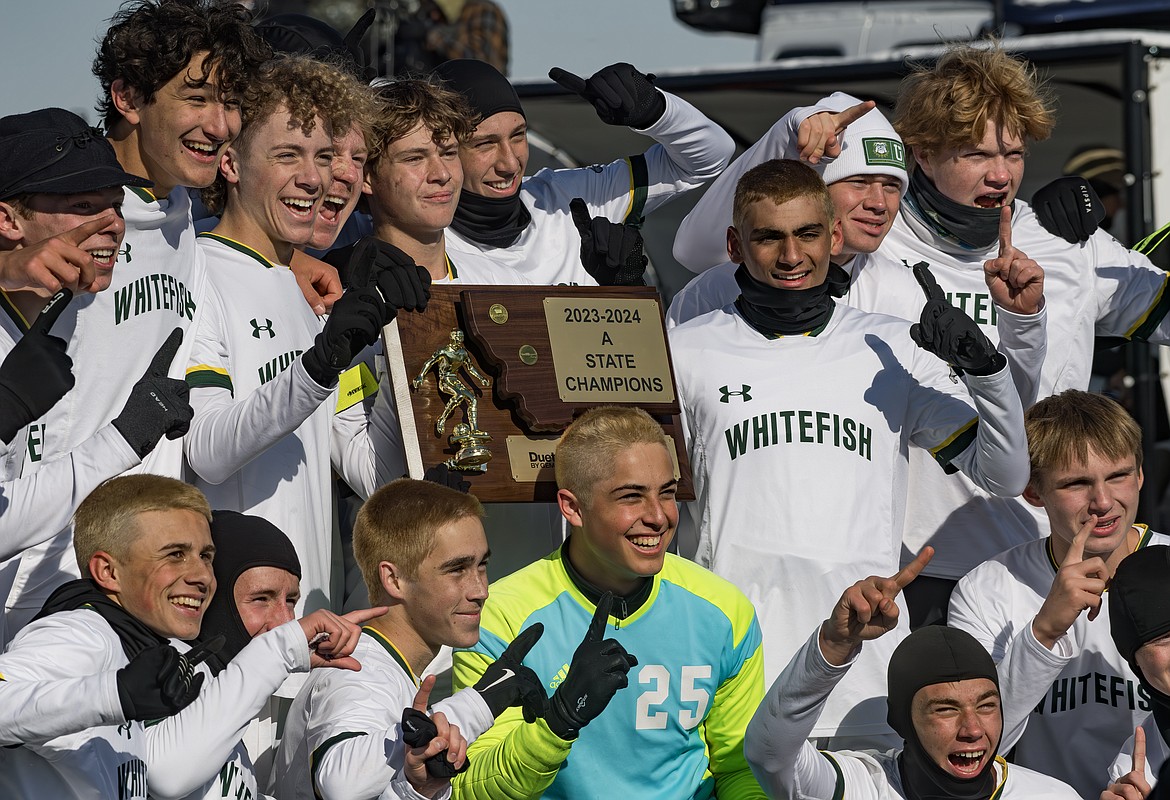 The Whitefish boys soccer team celebrates with the 2023 State A championship trophy after defeating Billings Central 1-0 on Saturday, Oct. 28 in Billings. (Amy Nelson/Billings Gazette)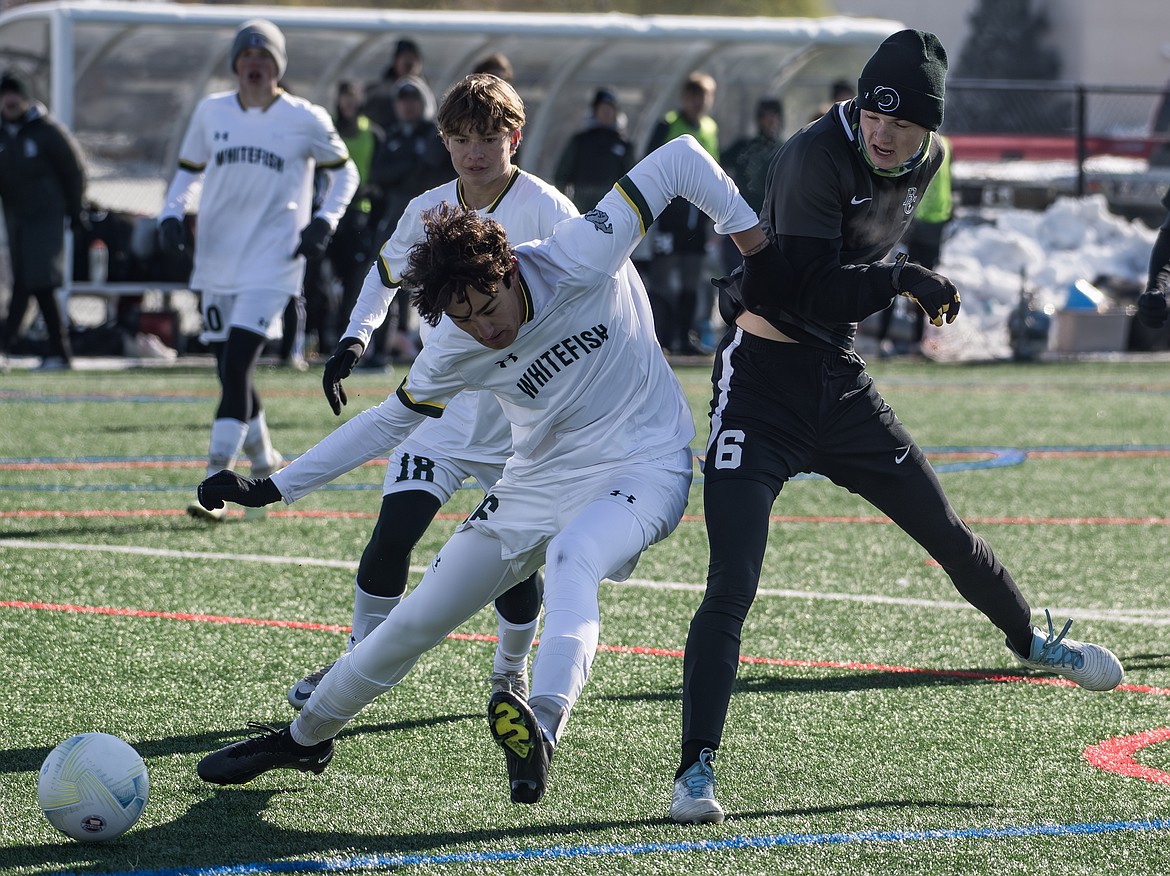 Billings Central's Russell Johnson attempts to block Whitefish's Adam Healy during the 2023 Class A Boys Soccer Championship at Amend Park in Billings on Saturday, Oct. 28.
Previous
Next
While one goal was the game-winner, there was a whole season of work that went into Whitefish's State A boys soccer championship victory on Saturday, Oct. 28.
In Billings, Preston McPherson's lone goal off an assist by goalkeeper Ethan Bourque was what it took for the Bulldogs' undefeated 15-0 season to end with the ultimate trophy.
By defeating Billings Central 1-0, Whitefish claimed its 10th state championship and fifth title in six years. The Bulldogs are now tied with the Billings Central girls for the most total titles in state history.
"The boys were obviously super excited," Whitefish Head Coach John Lacey said. "Every year, it is its own thing where we start fresh and hope to finish it at this stage. Our guys stand on the backs of those players that came before, and we hope to build a bigger foundation for the program. You could see it in their faces with how they battled in this game; they really wanted it."
With Whitefish and Billings Central both sporting incredibly difficult defenses to score against, it was expected to be a low-scoring battle. Both teams had allowed fewer than 10 goals on the season, and the Bulldogs were uncharacteristically outshot in the game 11-7.
"There was a period in the first half where we had to weather their pressure," Lacey said. "We had some early chances that were good, but Billings found their game, and they pinned us back. They had some set pieces and possessions down on our end, strung together a couple of corner kicks."
Lacey added that the Whitefish defenders worked hard to organize themselves against the Billings Central advance. He said that Adam Healy and Rye Duffey played an outstanding game - and season - in the center part of the field, winning balls when it was needed.
"We were able to get through that advance by Billings Central, and it was like we had new life," Lacey said. "We were able to talk at half about some changes and have the wind at our back going into the second half."
And then the chance Whitefish needed presented itself in the 63rd minute of the game.
Bourque punted the ball from his goalkeeper's location after a save, and the ball took a bounce off the turf. McPherson was able to get underneath the ball and corral it, getting a head start to run by himself under tremendous defensive pressure from Billings Central. The goalkeeper came out to stop him, and in the soccer scuffle at the top of the box, McPherson was able to get the shot off before the keeper could get to it and find the back of the net.
Typically, Whitefish likes to possess the ball deeper on the opposing side's half of the field and not go so direct with an attack, but the Bulldogs certainly weren't upset with the result.
"All the credit goes to Preston; he is a big, strong, fast guy and has worked hard for us on a lot of things," Lacey said.
Bourque, along with having the lone assist in the game, also had 11 saves. Billings Central also had more corner kicks, 6-1, than the Bulldogs.
It was a foul-filled game, with Whitefish having 16 fouls and Billings Central had 14 fouls. Four yellow cards were handed out in the game, two to each team. It was also cold.
"It was very cold, and I say that as a guy who had a jacket on," Lacey said. "These guys are in gloves and shorts, so obviously, it was a different feeling for them. The surface was excellent, the sun was shining, and the wind was minimal, so I don't think it affected the game. Both teams had also been preparing for it; we both had to shovel our fields to practice this week."
Whitefish now says goodbye to 11 seniors, who have seen three championships and got to put their own mark on this year's season. Lacey said there were a lot of excellent soccer players in this class and he will miss seeing them out on the field.
"You start this year wanting to get to this game," Lacey said. "Our program, in particular, wants to, and that's not idle talk; we have standards and build for them and maintain them. Our focus in August is on October. It's a really special accomplishment."
Lacey added while 20 boys were playing in the championship game, he was thinking about the 47 players who were a part of the program this year, saying each one of them had a hand in building this state title team.
With the Whitefish girls also winning a state title, Lacey said it's really special to be able to share this season.
"We share a whole lot of bus trips and soccer fields for practice, so to be able to both be champions is great for us; it's great for the whole community and the brothers and sisters who are in this soccer program together," Lacey said.
At Billings
WHITEFISH 1, BILLINGS CENTRAL 0
Whitefish - 0 - 1 - 1
Billings-C - 0 - 0 - 0
SCORING SUMMARY
WF — Preston McPherson (Ethan Bourque) 63:00
GAME STATS
Shots — WF 7, BC 11. Goalie saves — WF 11 (Ethan Bourque), BC 6 (Logan Hutzenbiler). Corner kicks — WF 1, BC 6. Fouls — WF 16, BC 14. Cards — WF 2, BC 2.
Recent Headlines
---