WHS senior Rya Hirsch's involvement in clubs affirms interest in science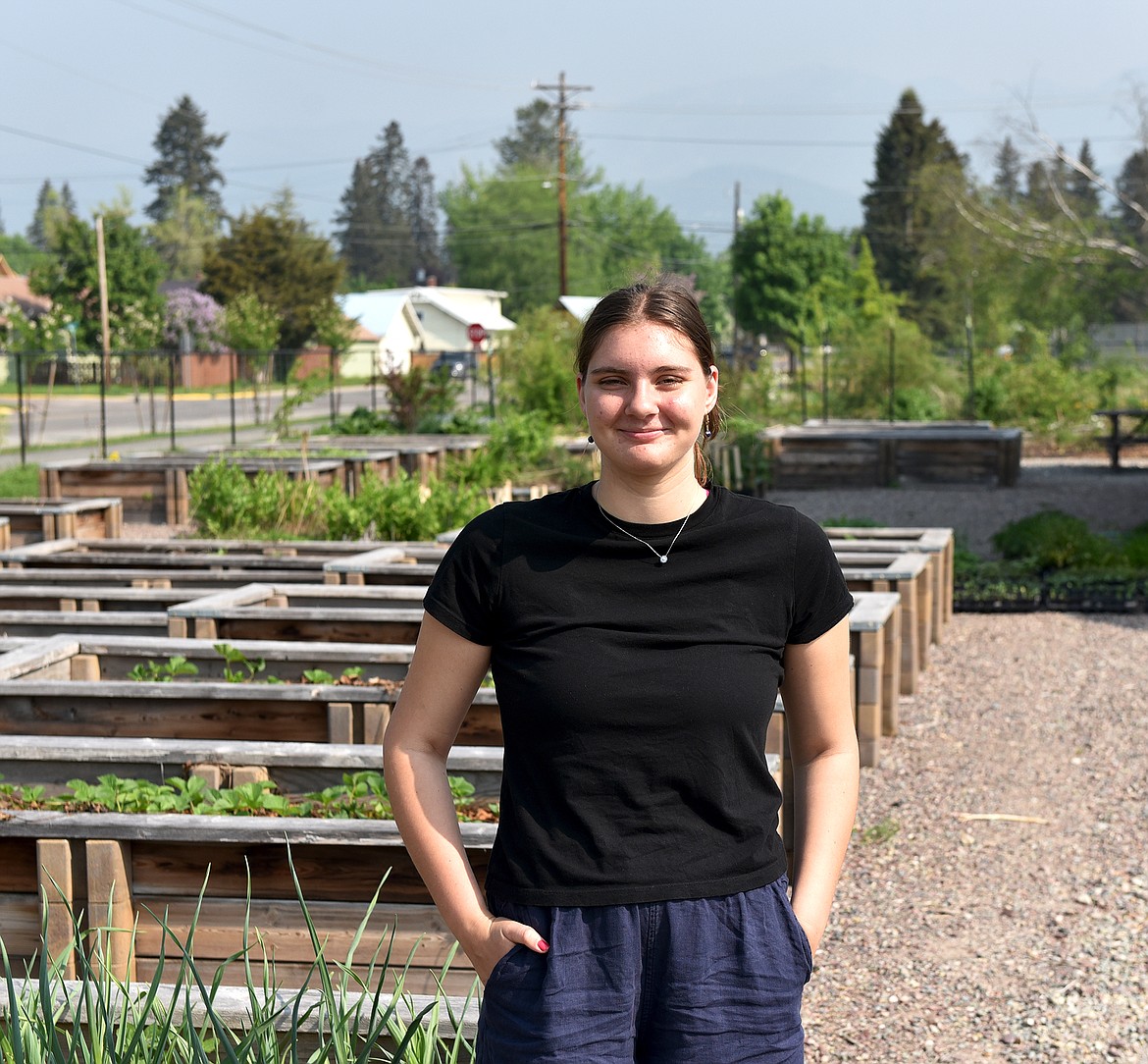 Rya Hirsch in the Whitefish High School garden last week. (Julie Engler/Whitefish Pilot)
by
JULIE ENGLER
Whitefish Pilot
|
May 31, 2023 1:00 AM
Whitefish High School senior Rya Hirsch remembers suturing cow tongues, using the da Vinci surgical robot and sitting in the rescue helicopter during a trip to Logan Health when she tagged along with the school's HOSA Club.
Many of the presentations that day were surgery-related and the experience reaffirmed her interest in surgery and in neuroscience.
Hirsch will graduate on Saturday with the Whitefish High School Class of 2023. Next year, she plans to attend Willamette University in Salem, Oregon, to study psychology with her eye on medical school. She's finding that leaving her hometown is bittersweet.
"I was always so excited to leave here because I'm just excited to see the rest of the world, but I'm also very, kinda sad," Hirsch said. "I really like living here. I like having so much open space around us and opportunities to do such cool things."
No one has taken advantage of more cool opportunities than Hirsch. When she was younger, she would go to farmers markets and reading events at the library because her mother got Rya, her two older brothers and older sister involved in community events.
Once in high school, Hirsch left few opportunities untried. She spent four years on the basketball and soccer teams, and participated in track, too. This semester, she is taking advantage of a few advanced placement classes: AP Environmental Science, AP Literature, AP Government and AP Calculus.
"I like to stay busy, I think," she said. "It's a lot easier to manage my time when I have little time."
For the past two years, Hirsch has been in the National Honor Society (NHS). She is currently the vice president of Character, one of the four pillars of NHS, and is organizing the senior breakfast.
This year, Hirsh, along with fellow senior, Avery Dunker, restarted the Leo Club, a youth organization associated with the Lions Club International, and the two serve as president and vice-president, respectively.
"I am also part of DECA (Distributive Education Clubs of America)," she said. "Basically, it's like business competitions and you do role-play scenarios or presentations for the business world."
Hirsch and her partner, Dunker, earned first place in the sports and entertainment operations research category and qualified for the national competition. The team also partnered with the Leo Club and earned third place for a community giving project, the holiday food drive at their school.
"I'm also in Freeflow, which is basically an outdoor environmental science/recreation club," Hirsch said, smiling. "I went on two of their big trips this year."
In the fall, the group went to the Oregon coast to study coastal ecology and observe the tidepools. More recently, they went on a week-long rafting trip.
"On spring break, we went down the Colorado River for a stretch and we were looking at macroinvertebrates and water quality and that kind of stuff," she said. "It was super fun. Most of it was flat water but there were a couple white water sections too."
Lest you think she is slacking, Hirsch is also involved with a freshman mentor program at the school.
"I just do a lot of stuff," she said, matter of factly. "When I do have time to relax, I'm the farthest from being productive. I think it balances out a little bit."
After speaking enthusiastically about her participation in sports and her involvement with clubs, her tone mellowed when she considered leaving for college next year. She said she is happy for the opportunities Whitefish High School provides.
"I'm just happy that our school allows for the flexibility to be creative and do your own things," she said. "We have the flexibility to make clubs tailored to our interests and do what we want to do. Like Freeflow. I don't know how many other schools get a club like that."
And just like that, her energetic voice returned when she recounted another Freeflow trip.
"We do awesome trips," she started. "We went up to Glacier and one of the raft companies let us stay in a chalet-style (cabin) and brought instructors in and we got to do a full wilderness first aid course."
The course lasted a day and a half, so the students stayed overnight.
"So, I'm technically WFA certified," she beamed. "Which I think is really cool and I think that's not a thing a lot of people can say they got from their school."
And not many people can say they got so much from, or gave so much to, their school. Hirsch will leave WHS next fall, but the mark she made will remain.
Recent Headlines
---