Recreational nonprofits collaborate for more inclusion on the trails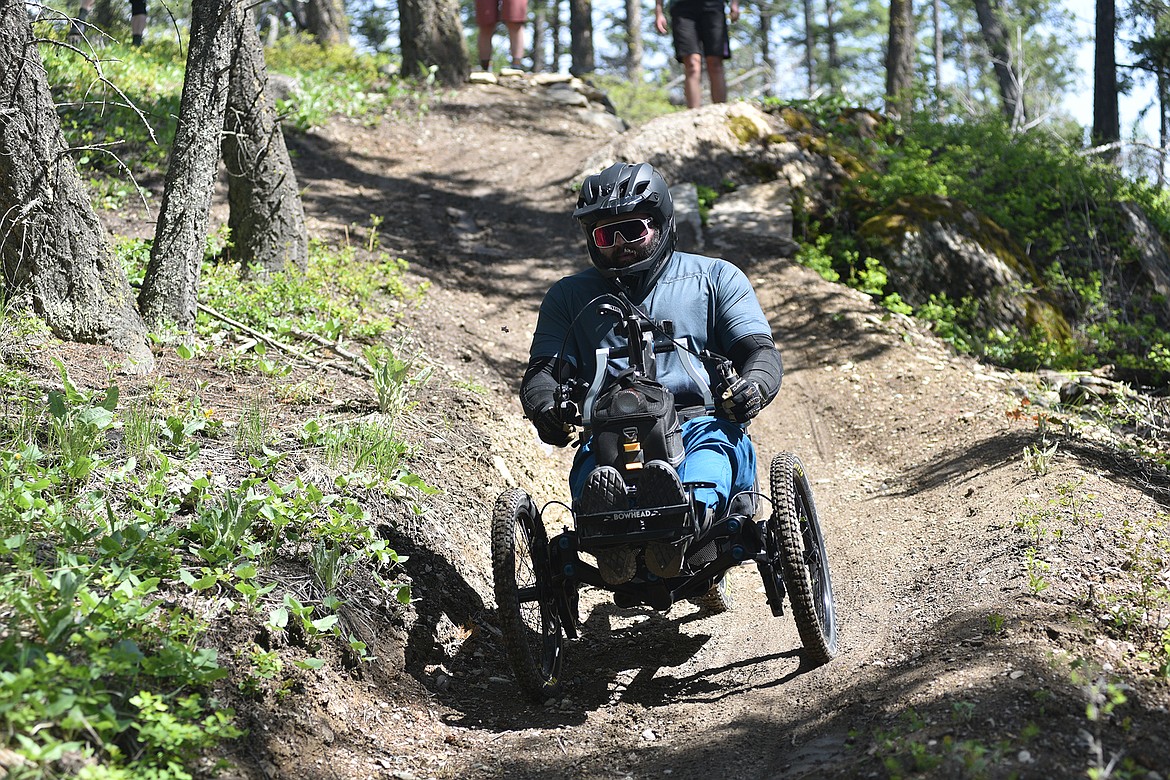 Adaptive athlete Austin Reese rides down a steep section of Otter Pop recently. (Julie Engler/Whitefish Pilot)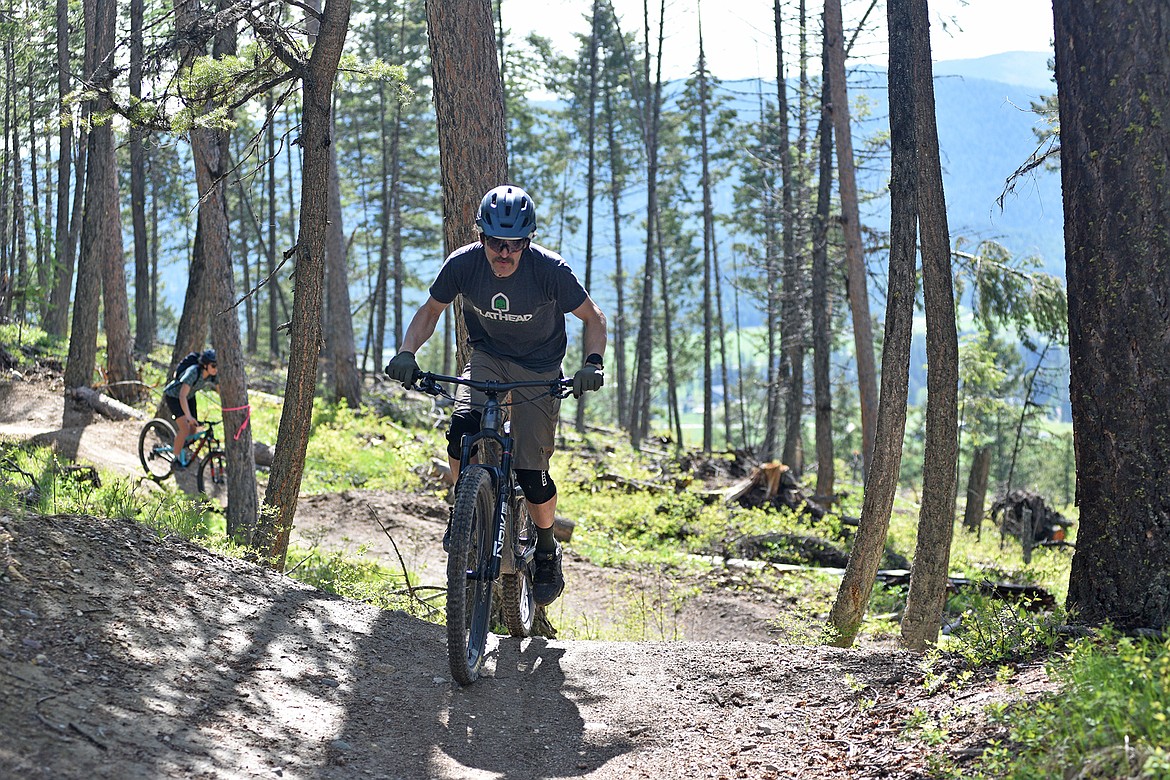 Ron Brandt, Executive Director of FAMB rides a two-wheeled bike down Otter Pop recently. (Julie Engler/Whitefish Pilot)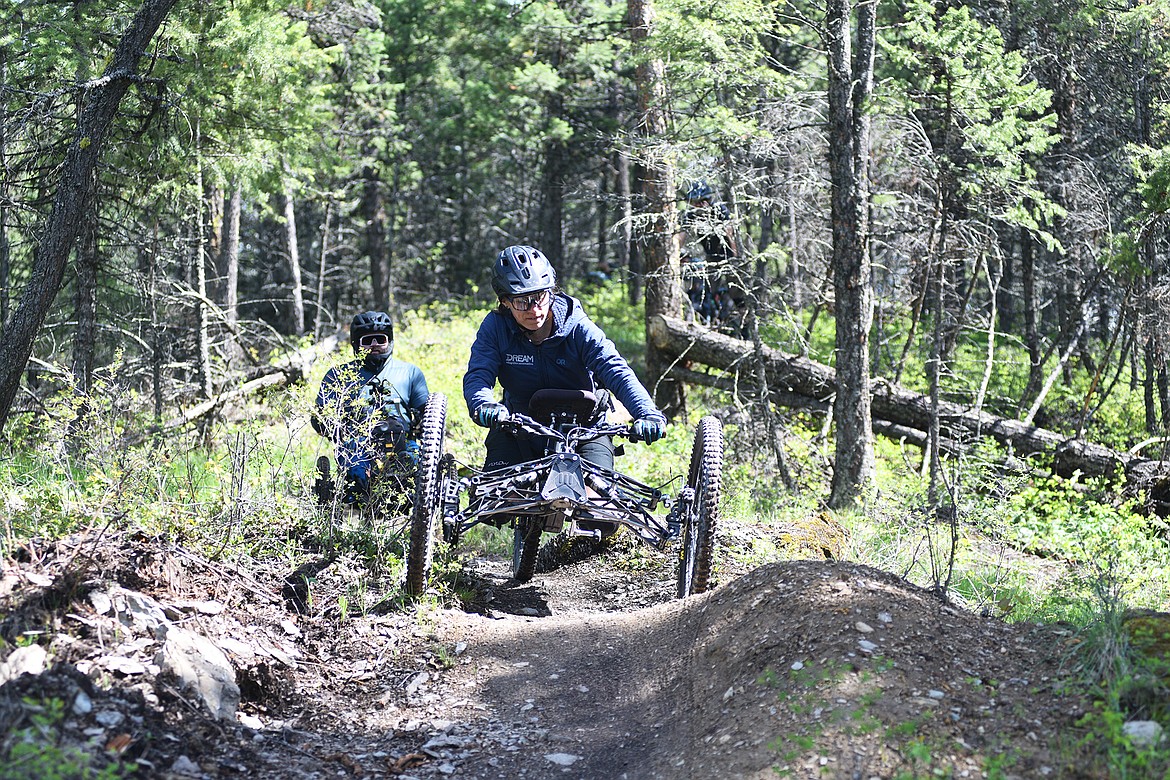 Julie Tickle, Executive Director of DREAM Adaptive Recreation rides Otter Pop, a trail on Spencer Mountain, last week. (Julie Engler/Whitefish Pilot)
Previous
Next
by
JULIE ENGLER
Whitefish Pilot
|
May 31, 2023 1:00 AM
Whitefish is among the top mountain biking towns in the country and a recent collaboration between two local nonprofit organizations is working to make trails in the area usable for more people.
For the first time, DREAM Adaptive Recreation and Flathead Area Mountain Bikers (FAMB) teamed up to make trails rideable for a wider range of the mountain biking community.
The two organizations are currently sharing their expertise to make the refreshed Otter Pop, one of the most popular trails on Spencer Mountain north of Whitefish, wide enough to handle three-wheeled bikes.
"It's exciting to do any of these projects but it's even more exciting when leaders of other organizations grasp onto what we're trying to do and you can tell it's in their heart," said DREAM Executive Director Julie Tickle of working with FAMB. "They are not just going through the motions."
Tickle said Otter Pop is one of the most popular mountain biking trails because it is flowy and most of the downhill sections are wide. She described the trail as "playful" and since it needed maintenance due to a recent timber sale, rebuilding to make it accessible made sense.
"DREAM has not asked us to make the trail easier. That is not the intention," said Ron Brandt, executive director of FAMB. "You can make the trail work for everyone and it doesn't negatively affect the experience for two-wheeled bikes."
He said most riders wouldn't notice the changes needed to allow for the wider, three-wheeled adaptive bikes. Otter Pop is still marked as blue with the challenges of an advanced trail.
Brandt, Tickle and others walked and rode the trail multiple times to find places that needed attention.
They found that it's really not that much extra work to make the trail more accessible, it just takes an understanding of what needs to be maintained. While a little bit of erosion may not be noticeable for a two-wheeled bike rider, that erosion might narrow the trail enough to end the ride for a three-wheeled bike rider.
Making Otter Pop accessible by making small changes spurred more ideas for Brandt.
"I've been very connected to trail building for over a decade but I've never thought of it with a bike with three or four wheels," Brandt said. "It has impacted my thoughts for when we develop new trails. I'm excited to have that new vision."
Brandt's new way of envisioning trail building involves what Tickle calls universal design principles — creating spaces and places that serve the broadest amount of people.
"Ron is a great guy and he gets it," Tickle said. "You can tell he just wants to get people out riding. His passion is biking, so the more people he and FAMB can get out biking, the better."
NOT LONG ago, it would be unusual to see anything but two-wheeled bikes on Montana's trails, but advances in technology have increased the number of riders on three-wheeled bikes.
"The technology is getting so much better," Tickle said. "More riders in our community are getting out more often and getting into the sport, so just like anyone else, the more you ride the better you get."
Broadly, the bikes are known as adaptive mountain bikes (aMTB) but the DREAM program calls them two-wheeled bikes or three-wheeled bikes and they have a fleet of seven. All but two are assisted by an electric motor (e-assist).
"These bikes are heavy and you're using your arms and a lot of people, even if you're using your legs, have some type of deficit," Tickle said. "The e-assist doesn't make it easier, it just makes it doable."
Austin Reese, a local adaptive athlete, rode Otter Pop with Tickle and Brandt on a test ride. The three riders used three different types of bikes: a handcycle, a prone handcycle and an upright two-wheeler.
Reese's bike is a three-wheeled handcycle called the RX made by Bowhed Bikes. He also owns the company's first model, the fully-electric Reach.
"Those guys (Bowhed Bikes) really changed the adaptive mountain bike scene. In my opinion, their bike is more maneuverable than most bikes that are out on the market currently," Reese said.
He described the first model as more of an electric motorcycle or electric trike. The RX, however, requires the rider to pedal and the e-assist is like that of a traditional e-bike.
"I'm using kinda the same muscle groups I use every day to get around in my daily life in my wheelchair," Reese said. "But it's nice to get your heart pumping a little bit. It's nice to be able to get to the top of a trail like Otter Pop and go down with your friends."
The RX's wheels have suspension and they also articulate at angles, like skis on edge, allowing Reese to move on his bike like a more typical two-wheeled bike rider.
"As a two-wheeled (rider) we can get bike/body separation," Tickle explained. "We can tip the bike into corners but keep our upper body in different positions to counter that. Now, the technology can offer three-wheeled bike riders that bike/body separation and articulation. Makes it all around better."
WHITEFISH HAS communities that are built around activities, whether it's trail-running, skiing or mountain biking. Technology and a fair bit of gumption are what make it possible for Reese and other adaptive athletes to experience a sense of community as well as the speed and thrills that so many area trails provide.
"It makes me feel more a part of the group and more a part of the community when you're doing the same thing," Reese said of mountain biking. "It might look a little bit different, but it's still completing the same activity of getting out and getting some exercise and having some fun going down the trails."
Reese's sport of choice was skydiving until he was injured on active duty with the U.S. Navy.
"I got hurt while I was parachuting and that was what I enjoyed doing and I got a lot of adrenaline from that," Reese said. "Ever since I got hurt, I was trying to find that same adrenaline fix, so to speak. I tried road cycling but it's not the same as going down a trail or skiing or something like that."
The mountains of Montana became home for Reese, his wife and two daughters after they realized they wanted to live where they could ski every day in the winter and bike in the summer. Recreating in the mountains has brought Reese the excitement he was missing.
"Part of it, to be honest, is the adrenaline," he said of mountain biking. "When I was getting up to some of those bigger drops… you have to be on your game."
Reese is appreciative of the work DREAM and FAMB are doing to make the trails more usable.
"It's awesome to get out there, to have DREAM here, continually pushing to do more activities and have more inclusion and now to see some other nonprofits (asking), 'What can we do to help to get more people involved?'" Reese said.
Making Otter Pop more inclusive was the first project DREAM and FAMB worked on together but it will not be the last. Three-wheeled mountain bike riders do not have many options for trail rides currently, but Tickle says there are other area trails that, with a little work, would be rideable for wider bikes.
"Every year it gets better due to these collaborations," she said. "I would say there are a lot of trails that are close and that's why it's so important for us to partner with groups like Flathead Mountain Bikers."
DREAM is excited to work with other organizations to open more trails to more riders which is a benefit to the entire mountain biking community.
"People with disabilities are people, first and foremost, and they have the same hopes, dreams, goals, desires to interact with the natural world," Tickle said. "The more people that can rally behind DREAM and rally behind people with disabilities in our community getting out there — like FAMB is doing — that's what it's all about."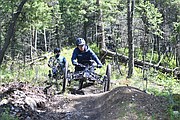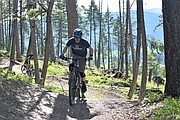 Recent Headlines
---