Community Foundation awards $50K for conservation of Owen-Sowerwine Natural Area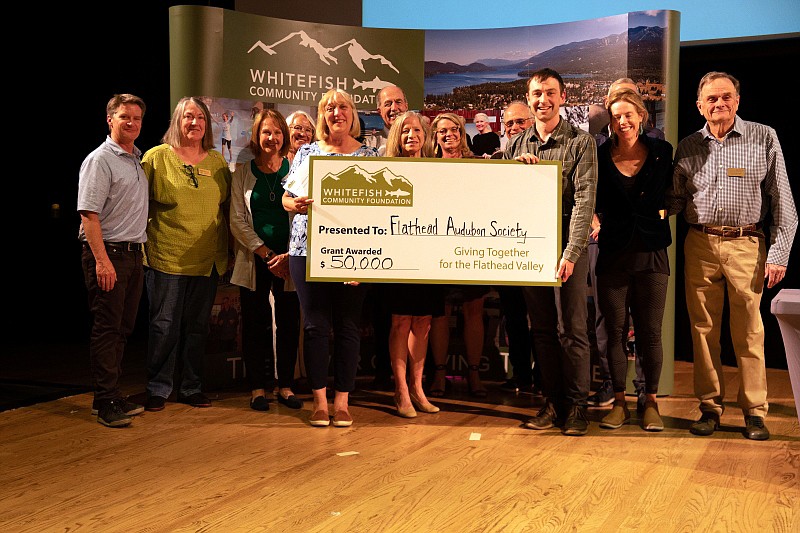 Whitefish Community Foundation awarded a $50,000 Major Community Project Grant to Flathead Audubon Society for the conservation of the Owen-Sowerwine natural area. Pictured, left to right, are Doug Reed, Carol Atkinson, Ardy Whisler, Linda Maetzold, Darcy Thomas, John Witt, Lucy Smith, Monica Pastor, Gordon Cross, Alan Davis, Caeli Quinn and John Collins. (Provided photo)
by
Whitefish Pilot
|
May 31, 2023 1:00 AM
Whitefish Community Foundation awarded a $50,000 Major Community Project Grant to Flathead Audubon Society for the conservation of the Owen-Sowerwine natural area.
Since 1992, Flathead Audubon Society has managed the 442-acre Owen Sowerwine natural area, a section of State of Montana school trust land east of Kalispell. Designated by Montana Audubon as an Important Bird Area, the land includes parts of the braided section of the Flathead and Stillwater rivers, wetlands, open grassy areas, wildlife habitat, and a wide array of native plants and birds.
In collaboration with Flathead Land Trust and other partnering organizations, Flathead Audubon Society is raising $775,000 to purchase a conservation easement from the Department of Natural Resources and Conservation to ensure the area's wildlife habitat stays intact while allowing for continued public access. Funds used to procure the easement will directly benefit Montana's public schools and universities.
"Having a protected wild place located adjacent to the city limits of Kalispell is a priceless permanent gift to our community, and a convenient, unparalleled educational opportunity for our local schoolchildren," Flathead Audubon Conservation Educator Denny Olsen said. "We at Flathead Audubon are enthralled and very grateful that Whitefish Community Foundation saw fit to join us in our vision."
Whitefish Community Foundation's Major Community Project Grant program is dedicated to helping nonprofit organizations complete capital projects that will have a significant and positive effect on communities in the Flathead Valley. The program was formed in 2010 and has awarded $784,000 to projects identified and selected by the foundation's board of directors.
To learn more about this project, visit.flatheadlandtrust.org/conserve-owen-sowerwine/. For more information about Whitefish Community Foundation, visit whitefishcommunityfoundation.org.
Recent Headlines
---