The Chiropractor, IV Element win Best Office/Clinic Atmosphere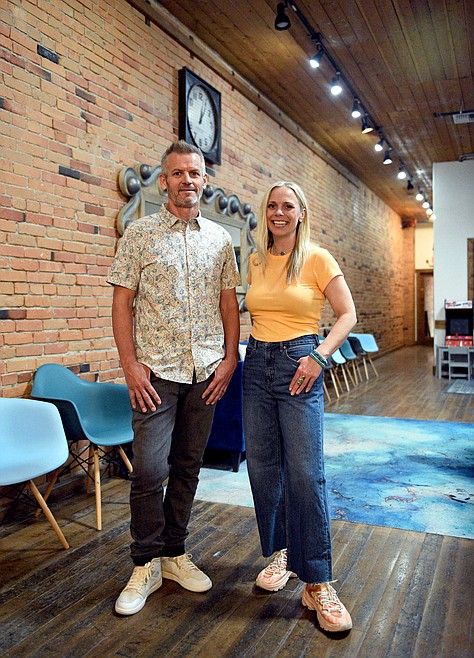 The Chiropractor and IV Element won Best Office/Clinic Atmosphere.
The Chiropractor and The IV Element not only share office space but also similar views to helping people achieve their highest potential and health.
The office, located above The Toggery on Central Avenue in Whitefish, has charming exposed brick walls, modern decor and an inviting feel. On one side is Dr. Janna Hibler, a naturopathic doctor who opened her business The IV Element about one year ago. The other side is Dr. Tim Dudley, The Chiropractor Whitefish, who has been in the space for about eight years now.
Though the practices offer different services, both provide people with a holistic approach to their improving their health. That's why it works so well that they share an office space.
"If we are able to give the body what it needs and support it then we don't have to live in fear, we can live with empowerment that our body is resilient…" Hibler said of helping people find their highest health. "Just surviving or being OK isn't enough, that's not living. It's being in perfect alignment or having the nutrients we need so we can laugh and connect with our family in the best way."
The Chiropractor and The IV Element together won Best Office/Clinic Atmosphere in the 2023 Best of Whitefish competition. Also, The Chiropractor won Best Chiropractor, and Hibbler with The IV Element won Best Alternative Health Practitioner.
Both expressed that they strive for their office to feel welcoming to all people and a place where people are excited to visit. They believe their staff, the way they run their businesses and the way people are treated is what makes the atmosphere so inviting.
"I like to have a place that is fun to come to, people feel welcome, that is accommodating to schedules — I just like to do it a little bit differently… And it's always great to work with great people," Dudley said.
Dudley has been a chiropractor for 23 years and loves what he does because he gets to help people heal and change their lives.
"I think when the body is balanced it can do virtually anything, so I think there's a lot of people walking around sick and tired, in pain, and I just want to be the solution," he said.
He believes that it is fascinating to tap into the body's potential and loves seeing how much change can happen in just three to four adjustments.
Hibler has practiced natural medicine for over 10 years. She believes in an approach that is comprehensive and root cause, meaning she investigates the root causes of the body being out of balance. She can provide individualized treatment plans that encompass botanical medicine, nutrition, IV therapy and functional medicine.
"This isn't a job for me, this is my passion and my purpose and why I feel like God has kept me here on this Earth," she said. "What I love is seeing patients come back to life or come into a life they never knew they could experience…"
Recent Headlines
---