WTC presents 'Suite Surrender': One hotel, two divas, countless laughs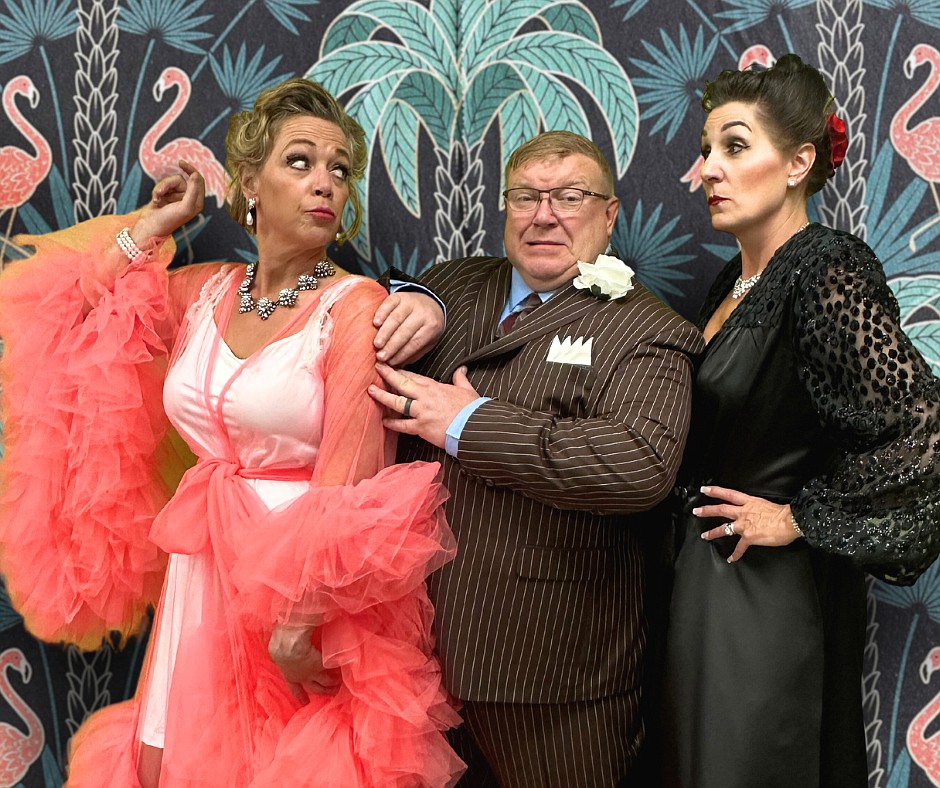 WTC presents "Suite Surrender" starring Kim Krueger, Todd Malo and Nicki Corne. (Photo courtesy of the Whitefish Theatre Company)
by
Whitefish Pilot
|
May 24, 2023 1:00 AM
The Whitefish Theatre Company will present the uproarious comedy "Suite Surrender" as their final show of the 2022-2023 season. A true love note to the classic farces of the past, "Suite Surrender" opens with a sneak preview night on June 1 at 7:30 p.m. at the O'Shaughnessy Center in Whitefish. Performances continue on June 2, 3, 8, 9, and 10 at 7:30 p.m. and on June 4 at 4:00 p.m.
It's 1942 and two of Hollywood's biggest divas have descended upon the luxurious Palm Beach Royale Hotel to perform at a USO benefit. Complication number one: the two ladies have a legendary ongoing feud that turns violent if they come near each other. Complication number two: the performers both wind up booked into the same Presidential Suite! Throw in a beleaguered general manager trying to keep the peace, two easily confused bellhops, a nose-rubbing society matron, and a gossip columnist looking for dirt, this play of mistaken identities, overblown egos, double entendres, and a lap dog named Mr. Boodles is a hilarious, laugh-out-loud romp.
"Anyone who is a fan of screwball comedies of the 1930s and 1940s will certainly find themselves right at home in the audience of 'Suite Surrender'," says Director Scarlett Schindler. "Kim Krueger and Nicki Corne' play dueling divas accidentally booked into the same hotel suite on the night of a big war benefit concert. Their handlers and the hotel staff, including a seemingly unflappable hotel manager and a snoopy newspaper reporter, scurry about wildly trying to keep the two stars out of each other's sights, lest someone get hurt — maybe even thrown off of a balcony!"
Adds Schindler, "It's a perfect, upbeat show to round out an exceptional season at WTC."
Schindler, who has been performing with WTC since 2005 and guest directing since 2012 has gathered an exquisite cast of players to bring this entertaining show to the stage. Kim Krueger plays Claudia McFadden, Nicki Corne' plays Athena Sinclair, Tristen Hollist plays Otis, Matt Strool plays Francis, Todd Malo plays Bernard S. Dunlap, Katie Nixon plays Dora Del Rio, Amy Galt plays Mrs. Everett P. Osgood, Hunter Cripe plays Mr. Pippit, and Laura Abernethy plays Murphy. Mr. Boodles is, of course, played by Mr. Boodles.
"The actors have met the show's physical demands with humor and gusto," Schindler said. "Working with such a talented and focused cast has been an absolute delight."
Tickets are $20 for adults, $18 for seniors and $10 for students with reserved seating. Tickets for the sneak preview performance on June 1 are sold only at the door and are $12 for adults and $10 for students. Tickets can be purchased at the Box Office at 1 Central Avenue in Whitefish or by calling 406-862-5371. Box Office Hours are 11 a.m. to 3 p.m. Monday through Friday and one hour before a performance. Individual tickets can also be purchased online at www.whitefishtheatreco.org. This show is sponsored by Masterpiece Carpet One and First Interstate Bank.
Recent Headlines
---