Whitefish Marathon competitors finish despite unseasonably hot weather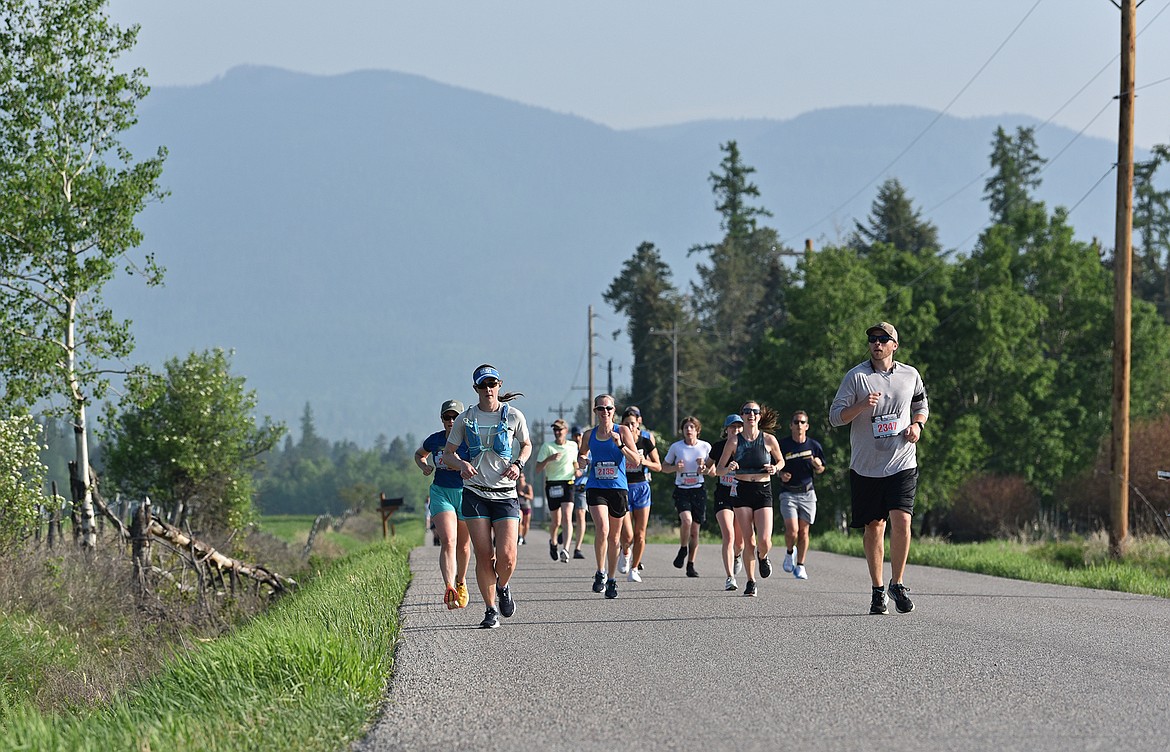 Runners make their way down Dillon Road early in the Whitefish Marathon races on Saturday. (Julie Engler/Whitefish Pilot)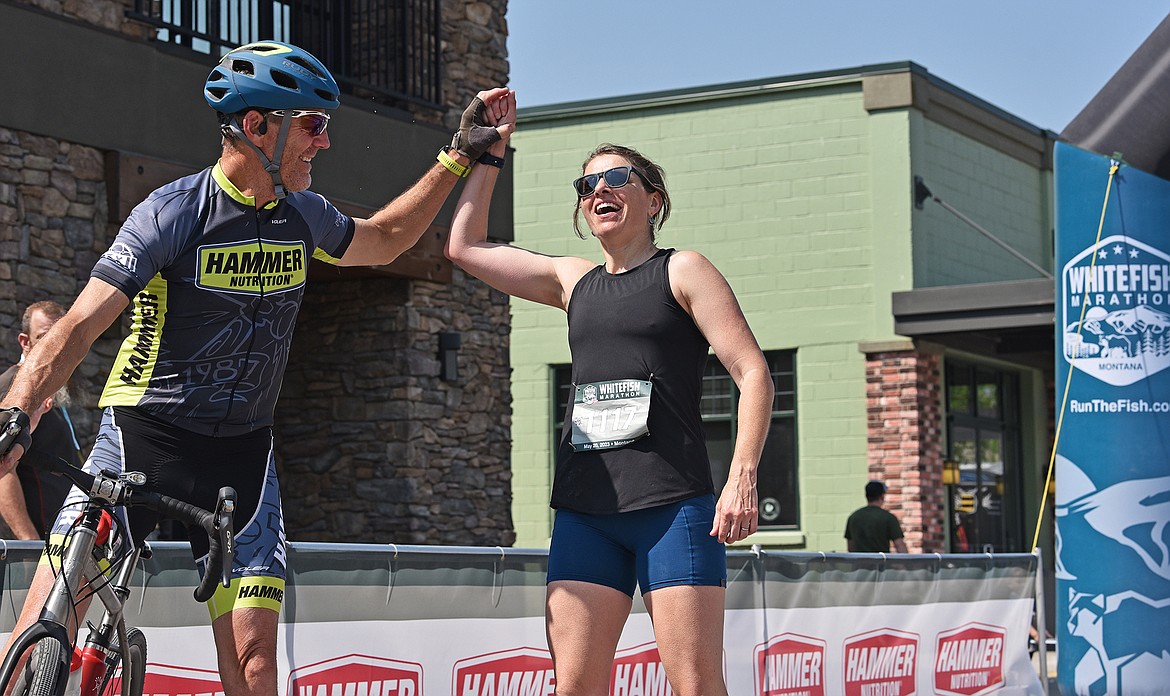 Elizabeth Paddock, the top female finisher in the Whitefish Marathon, gets a high five from a pacer at the finish line. (Julie Engler/Whitefish Pilot)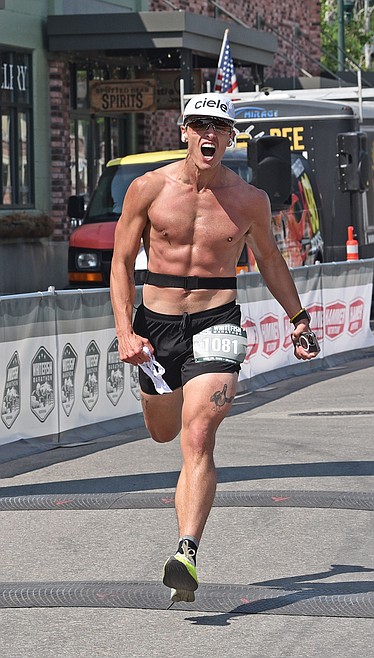 Nathan Peterson of Whitefish roars while crossing the finish line of the marathon. (Julie Engler/Whitefish Pilot)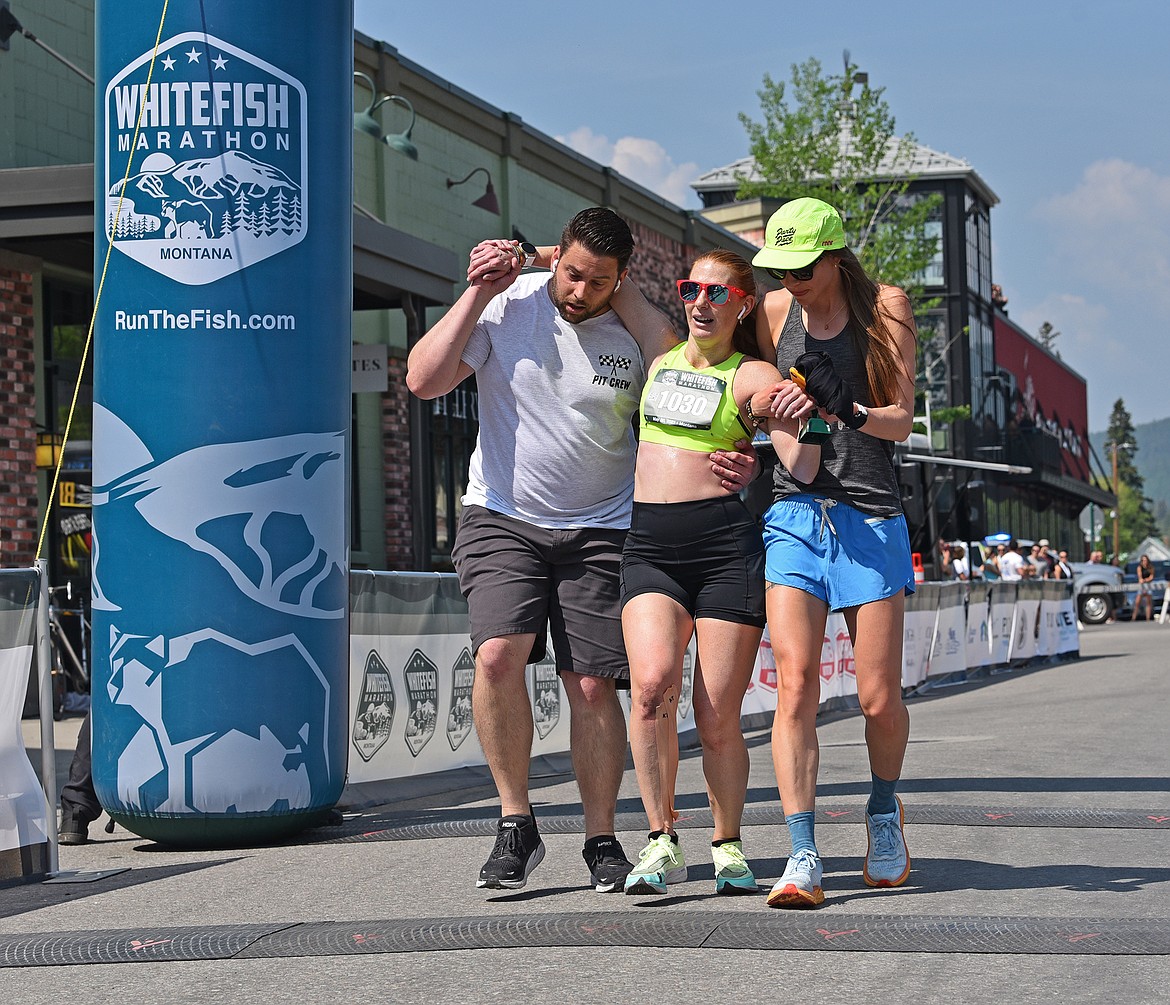 Robin Bewley gets a bit of help to cross the finish line as the second place woman in the Whitefish Marathon. (Julie Engler/Whitefish Pilot)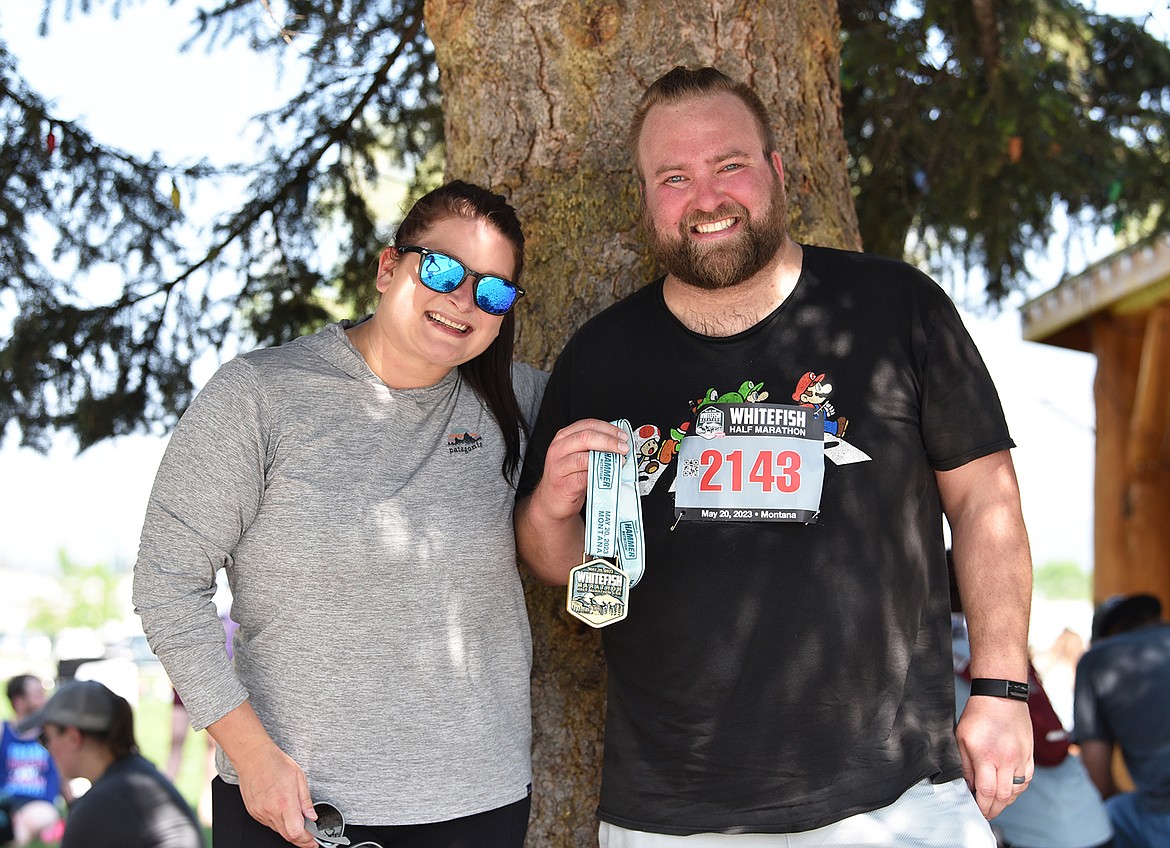 Finishers were all smiles in Depot Park after the Whitefsih Marathon on Saturday. (Julie Engler/Whitefish Pilot)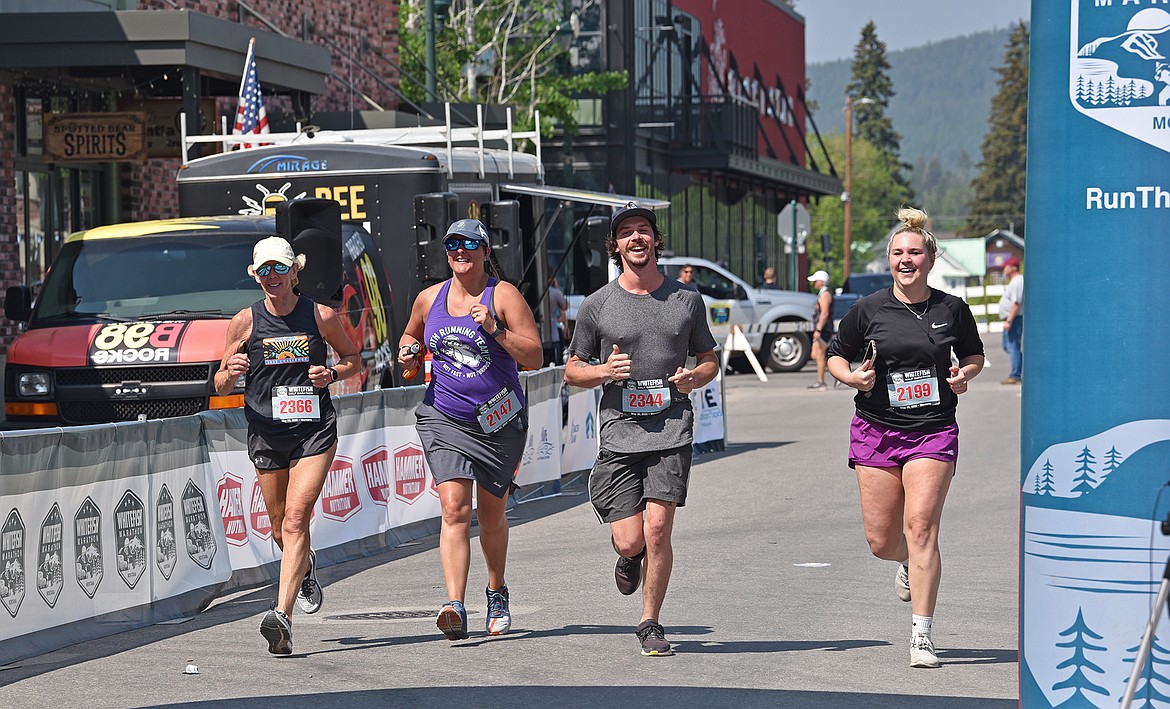 Four happy runners cross the finish line together after running the half marathon at Saturday's races in Whitefish. (Julie Engler/Whitefish Pilot)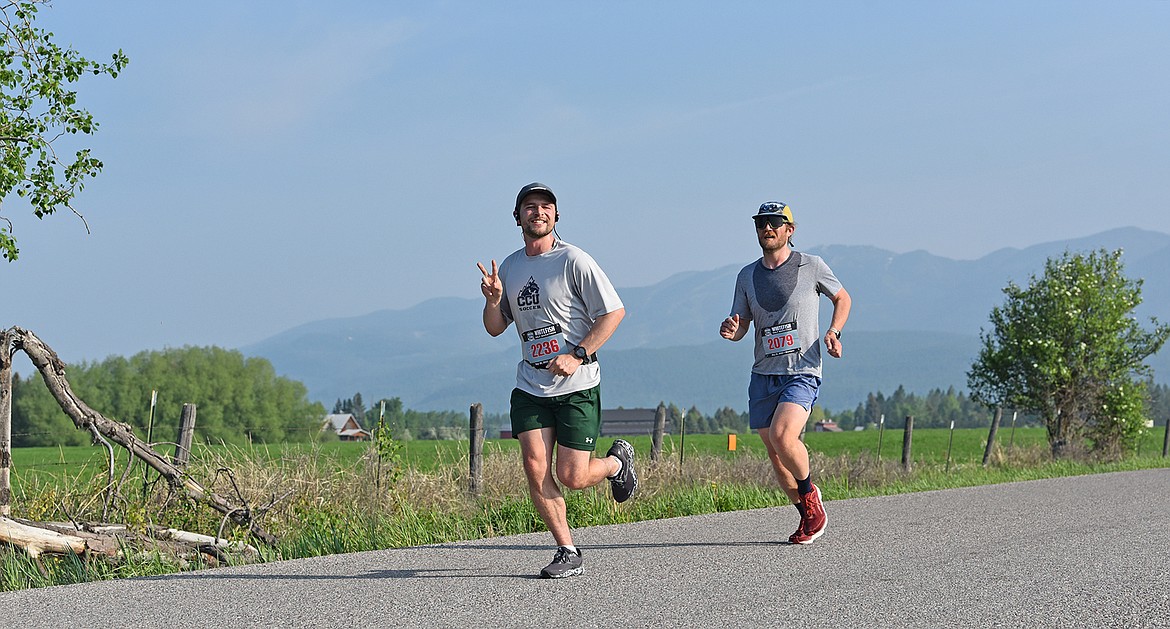 Runners Joe Wilkes and Todd Davidson finish the fourth mile of the half marathon on Saturday. (Julie Engler/Whitefish Pilot)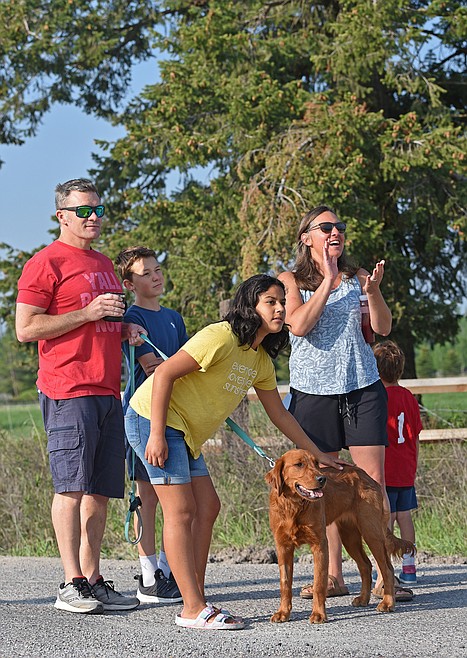 A group of spectators at the corner of Monegan Road and Dillon Road cheer for the runners at the Whitefish Marathon. (Julie Engler/Whitefish Pilot)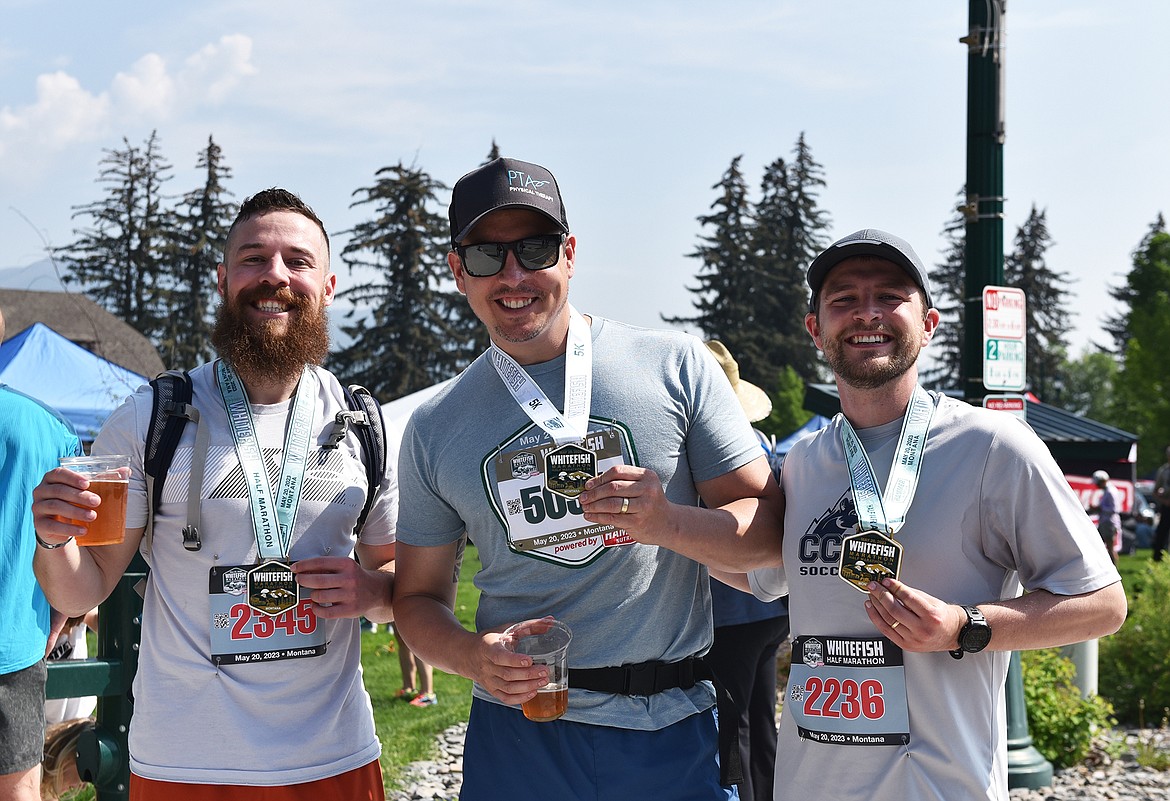 Three race finishers celebrate with their medals and a couple beers at the Whitefish Marathon. (Julie Engler/Whitefish Pilot)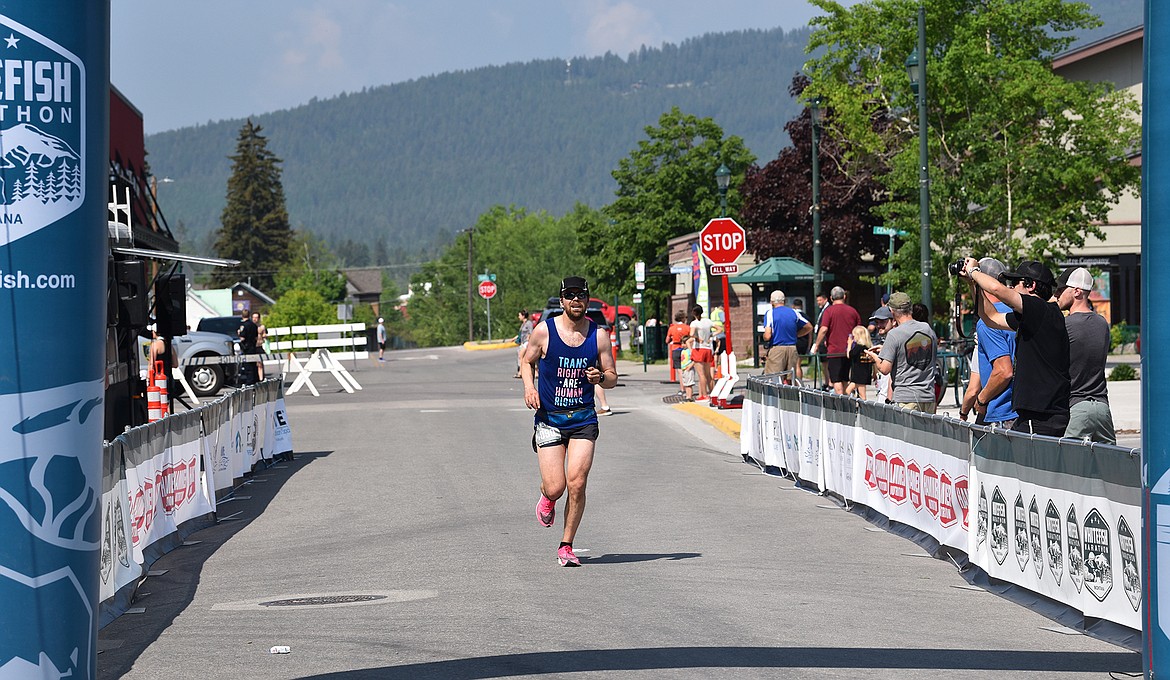 Ryan Wilbur of Kalispell crosses the finish line of the Whitefish Marathon in second place overall on Saturday. (Julie Engler/Whitefish Pilot)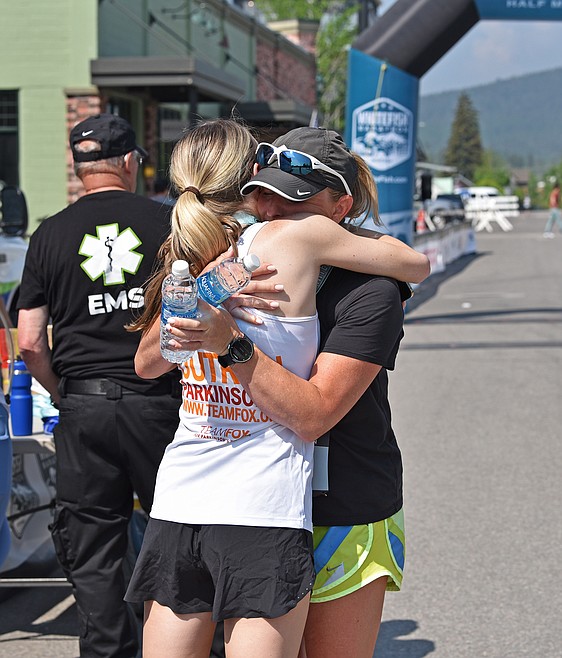 A postrace celebration hug at the finish line of the Whitefish Marathon. (Julie Engler/Whitefish Pilot)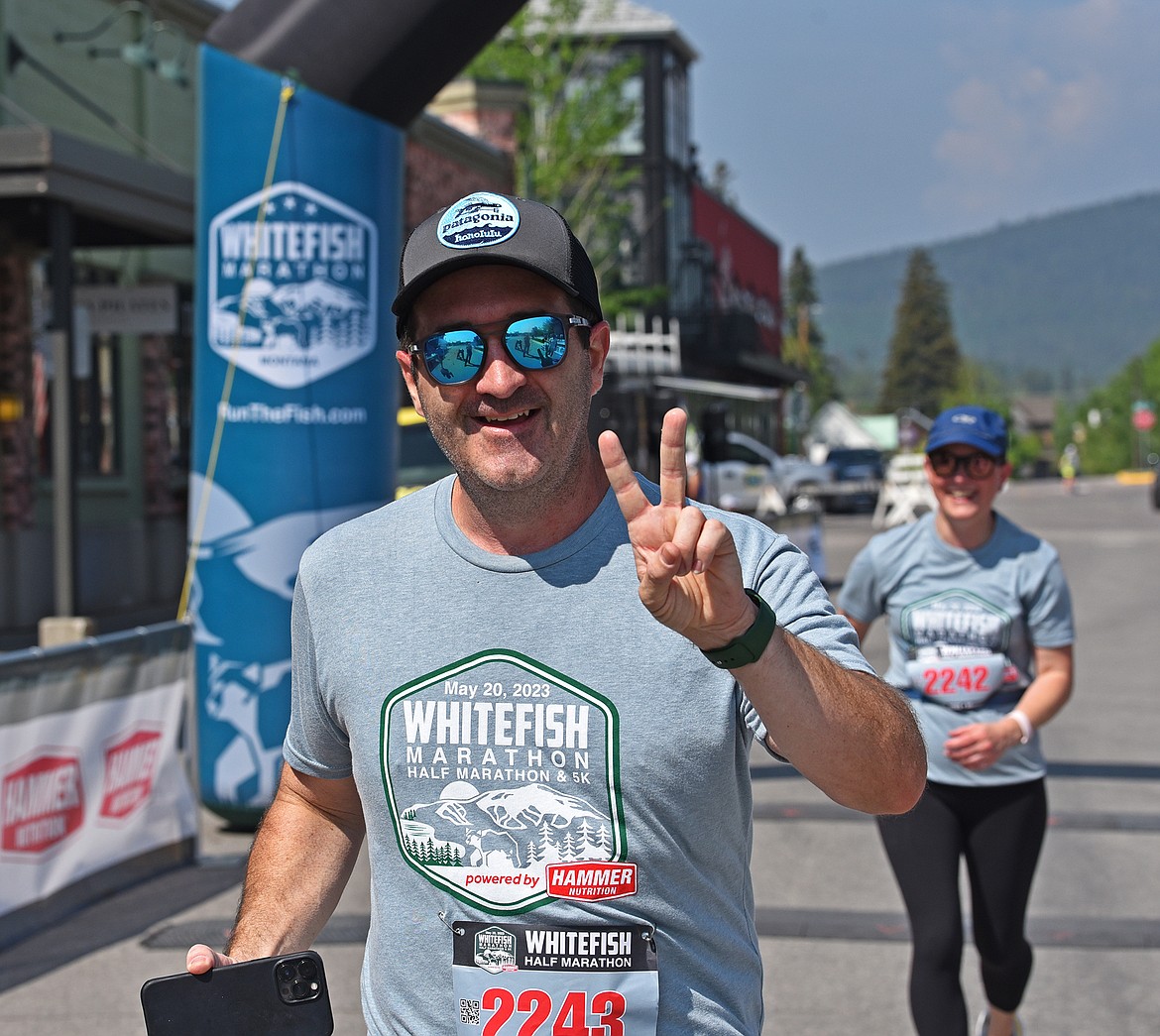 Shawn and Christina Isakson cross the finish line in good spirits at the Whitefish Marathon. (Julie Engler/Whitefish Pilot)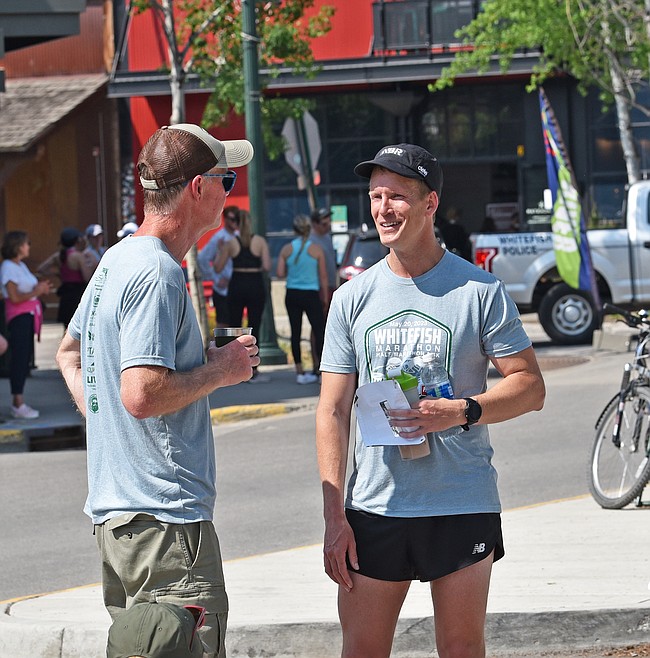 Michael Ortley, winner of the Whitefish Marathon, chats with a friend after the race. (Julie Engler/Whitefish Pilot)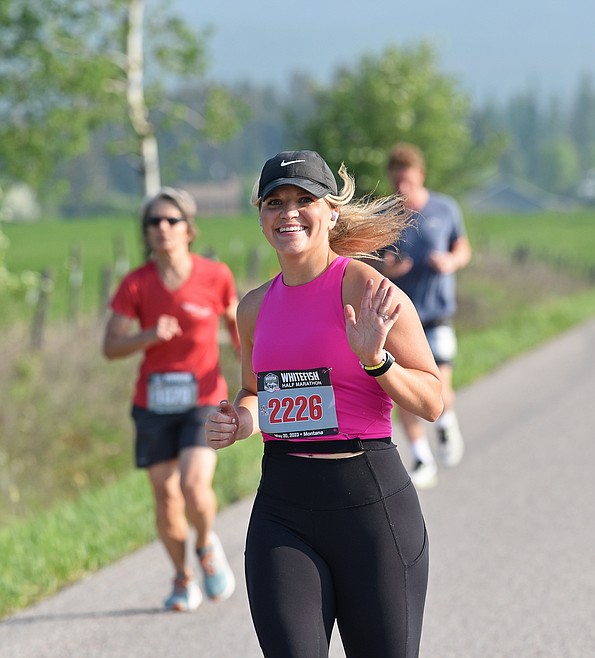 Brittni Mauro from Spokane competes in the half marathon race during the Whitefish Marathon on Saturday. (Julie Engler/Whitefish Pilot)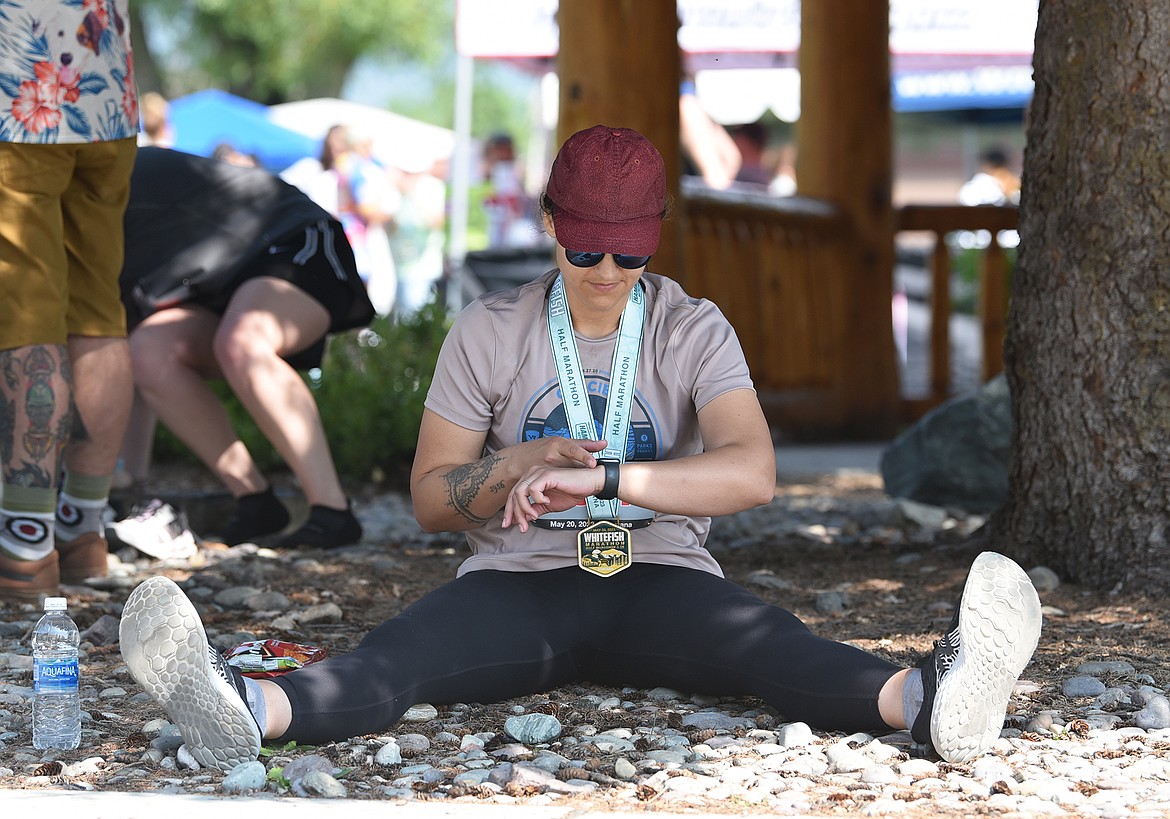 A racer checks her watch and rests in Depot Park after finishing a race at the Whitefish Marathon on May 20. (Julie Engler/Whitefish Pilot)
Previous
Next
by
Whitefish Pilot
|
May 24, 2023 1:00 AM
Smoke in the valley cleared only slightly for the Whitefish Marathon races last Saturday but it was the unseasonably warm temperatures in the mid-80s that posed a greater challenge to the over 800 runners who turned out for the event.
The event included a full marathon with 127 participants, a half marathon with 341 and a 5K run that saw 334 runners.
Kalispell's Michael Ortley was the winner of the marathon with a blistering time of 2:56:37. Ryan Wilbur of Kalispell was second, in 3:06:55 and Paul Paschal from Whitefish ran the 26.2 miles in 3:13:18.
The top marathoner in the women's division was Elizabeth Paddock of Missoula with a wildly fast time of 3:31:10. Whitefish runner Robin Bewley finished in 3:32:55, and in third place, Charlene Leroux of Lethbridge, Alberta, ran a 3:34:19. The top three women finished within 3 minutes and 9 seconds of each other.
Whitefish's Micah Drew won the half marathon with a time of 1:11:12. Peter Schommer from Helena took second with 1:15:16 and Jared Jimmerson from Sandy, Utah, finished third with a time of 1:21:00.
Elizabeth Wasserman from Columbia Falls won the women's division with 1:21:12. Flavie Dokken of Whitefish was second at 1:32:27 and Jeni Halowski from Lethbridge, AB, finished in third place with 1:36:25.
The winner of the 5K was Alyssa Foote from Aloha, Oregon, who ran it in 18:08. Second place belongs to Parker Barrile of Whitefish who ran 19:51 and third went to Kari Eberline of Kalispell with a time of 21:11.
To see complete results, visit www.competitivetiming.com/whitefish-marathon-results
Top 10 Finishers with clock times.
Marathon
Women
Elizabeth Paddock, Missoula, 3:31:10
Robin Bewley, Whitefish, 3:32:55
Charlene Leroux, Lethbridge, AB,3:34:19
Sheridan Wilkes, Kalispell, 3:46:00
Kay Evans, Chocowinity, NC, 3:51:09
Kathy Perrins, Kalispell, 3:55:22
Amy Hotchkiss, Gray Creek, BC, 4:02:56
Scarlet Kaplan, Whitefish, 4:04:52
Sara McAllister, Missoula, 4:05:39
Lesley Zellmer, Chinook, 4:06:37
Men
Michael Ortley, Kalispell, 2:56:37
Ryan Wilbur, Kalispell, 3:06:55
Paul Paschal, Whitefish, 3:13:18
Jacob Deitz, Kalispell, 3:14:04
John Kirby, Kalispell, 3:19:09
Nathan Peterson, Whitefish, 3:29:58
Joshua Johnson, Kalispell, 3:37:34
Seth Carbonari, Eureka, 3:38:41
Justin Kauffman, Whitefish, 3:40:11
Chris Louie, Valencia, CA, 3:39:35
Half Marathon
Women
Elizabeth Wasserman, Columbia Falls, 1:21:12
Flavie Dokken, Whitefish, 1:32:27
Jeni Halowski, Lethbridge, AB, 1:36:25
Sara Raz, Missoula, 1:42:08
Stella Sharbono, Whitefish, 1:43:12
Rhian Young, Missoula, 1:48:22
Shanea Trevino, Whitefish, 1:47:23
Aby Fitch, Whitefish, 1:47:41
Denise Singery, Spokane, 1:49:12
Carley Ellis, Oklahoma City, 1:49:10
Men
Micah Drew, Whitefish, 1:11:12
Peter Schommer, Helena, 1:15:16
Jared Jimmerson, Sandy, UT, 1:21:00
Tim Caramore, Missoula, 1:23:53
Josh Tack, Missoula, 1:27:13
Lonnie Matsuno, Invermere, BC, 1:27:52
Adam Sommers, Kalispell, 1:28:21
Brad Dolesh, Whitefish, 1:29:25
Tyler Gardner, Whitefish, 1:30:50
Branden Heaps, Colbert, WA, 1:31:05
5K
Women
Alyssa Foote, Aloha, OR, 18:09
Kari Eberline, Kalispell, 21:11
Alexis Kemp, Kalispell, 21:49
Jaelyn Wood, Calgary, AB, 22:46
Evelina Nakonechny, Columbia Falls, 23:32
Tatiana Raymond, Columbia Falls, 23:32
Elviera Nakonechny, Columbia Falls, 23:40
Sara Richardson, Kalispell, 24:17
Shady Erhorn, Billings, 25:31
Denise Foote, Beaverton, OR, 24:35
Men
Parker Barrile, Whitefish, 19:51
Robert Roberts Jr., Missoula, 22:37
Alex Stevens, Whitefish, 23:42
Ryan Fatheree, Whitefish, 22:30
Samuel Lockwod, Athol, ID, 23:20
Ethan Ronnegren, Kalispell, 23:00
David Losee, Whitefish, 24:08
Rhett Lindskoog, Columbia Falls, 23:51
Casey Ling, Whitefish, 25:25
Jack Eisenbarth, Whitefish, 25:48
Recent Headlines
---