Montana tourism officials say pandemic boom likely over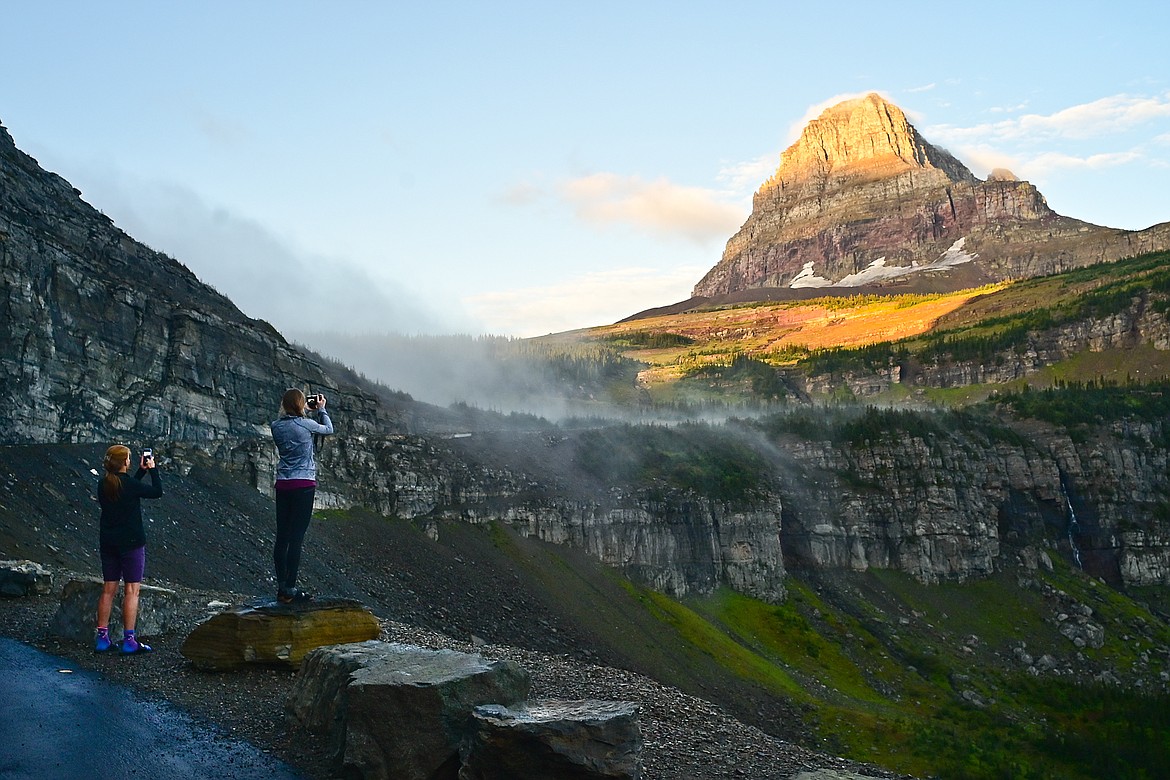 Tourists take photos along the Going-the-Sun Road in this file photo.
by
ADRIAN KNOWLER
Reporter
|
May 24, 2023 1:00 AM
Tourism levels in Flathead County are expected to remain roughly the same as last year, with high costs and changing traveler attitudes putting the brakes on the rapid growth seen during the pandemic, local tourism industry experts say.
"I think the pandemic created a bubble around the national parks and people wanted to get outside," said Julie Mullins, executive director of Explore Whitefish, the town's tourism bureau.
Mullins points to lower year-over-year bookings at local hotels and short-term rental properties as indications that the visitation boom has slowed. Whitefish hotel bookings are down between 10% and 15% from last year at this time, and units listed on platforms such as Airbnb and Vrbo are down about 20%.
Northwest Montana saw tremendous growth in air traffic and visitation to Glacier National Park during the pandemic, but with larger cities and international destinations open again, tourism industry officials say some travelers are no longer as attracted to the Flathead Valley's wide open spaces.
"People are going back to offices and not traveling as much, and they have more choices to go abroad," Mullins said.
Diane Medler, head of visitors bureau Discover Kalispell, agrees.
"We were an attractive destination when they were looking for wide-open spaces," she said. "Having a national park spurs interest in our area and will keep visitations at a solid level. Hotel occupancy continues to be above 2019 for the most part and we don't anticipate that changing."
Travelers also seem less inclined to take flights, Medler said.
"We attribute the declining travel experience sentiment to air travel around the delays and flight cancellations that have been happening since the holidays," said Medler. "The industry continues to struggle with a pilot shortage, but also a need to modernize equipment."
Glacier Park International Airport is expecting similar passenger numbers as were seen in 2022, when around 420,000 travelers came through the terminals. The airport was busier than ever, but summer numbers were down from their pandemic-era peaks with June 2022 marking the beginning of five straight months of fewer passengers than the year prior.
"I think it's going to look a lot like last year, the seat capacity that we use to forecast demands is very similar. Pretty strong, we're not anticipating a big change," said airport director Rob Ratkowski.
The airport recently submitted a grant application that would provide federal subsidies for a direct flight to and from Dallas, that would run at least twice weekly during the winter.
Hotelier Bryce Baker, who chairs the Kalispell Business Improvement District, expects that nonstop flights from the East Coast will soon become a fixture at the airport, based on the number of visitors he's seeing from that part of the country.
Baker cited statistics at a recent Kalispell Chamber of Commerce luncheon that show that the airport accounts for 16% of air traffic in the state, tied with Missoula and second only to Bozeman.
Medler says that tourists can be frustrated by the lack of transportation options in the county, adding that those who can't or don't want to rent a car expect ridesharing and public transit options.
TRANSPORTATION WAS the topic of the tourism panel discussion hosted by the Kalispell chamber. Speakers said that in the absence of a regularly scheduled and routed county bus, systems like those in the national park and operated in Whitefish are playing important roles for tourists and locals alike.
Kevin Gartland, executive director of the Whitefish Chamber of Commerce and a member of the Whitefish Transportation Committee, said that the S.N.O.W. bus, funded by the Big Mountain Commercial Association, and operating during Whitefish Mountain Resort's winter and summer seasons, acts as the area's "de facto public transit" for local workers, students and hotel guests.
"Every day, people try to get to and from Glacier and the airport [from Whitefish]," Gartland said.
Glacier National Park's bus system, funded by federal dollars and $10 from each park pass sold, served more than 160,000 visitors last year, according to park Superintendent Dave Roemer.
The park operates a fleet of 37 buses, including eight large buses that shuttle visitors from visitor centers to popular trails, but the network does not extend outside of the Glacier's boundaries, meaning riders must find their way to the park without any public transportation options.
For his part, Roemer expects visitation to Glacier to be strong once again, despite the vehicle reservation system and nationwide inflation pushing travel costs higher.
Roemer said his team is carefully monitoring reservation numbers and has heard from outfitters and concession partners that their outlook is strong for the summer. When the park released a block of permits for the less-visited North Fork entrance, they were all spoken for in around four minutes, he said.
He expects visitation numbers will be higher than last summer when headlines about flooding in and around Yellowstone National Park put off potential visitors to Montana.
"Last year Yellowstone flooding scared people away," Roemer said. "If that was true, maybe 2022 wasn't the crest of the wave."
Some visitors are waiting to confirm their access to the park before finalizing their travel plans, said Baker, who said he's seen a noticeable uptick in bookings when blocks of permits go live on the National Park Service website.
"Within about a day or two from when the [vehicle reservation permits] are released, we get flooded with reservations," he said.
"If they can't get a reservation, it makes the majority of people rethink their decision to travel to our area," noted Baker.
The park is making a portion of the vehicle reservation permits available 24 hours in advance allowing vehicles without a reservation to enter the park after 3 p.m., which Roemer says will help staff provide a safe and enjoyable experience for visitors.
Roemer is concerned that there may be bottlenecks at park entrances when the reservation system ends each afternoon and said staff may still have to restrict access if it's too busy.
"I would not recommend to my neighbors to show up right at 3 p.m.," he said.
Recent Headlines
---