Glacier Park plows progress to Logan Pass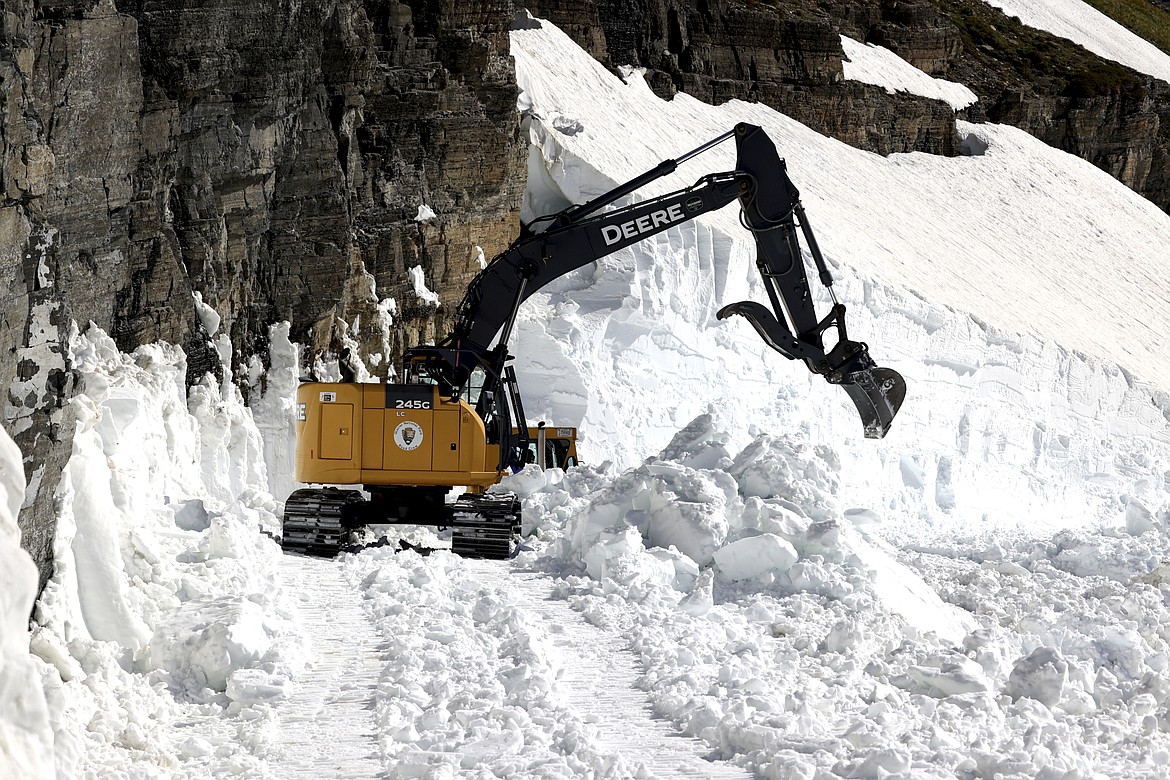 An excavator works at the Big Drift on May 23. (JP Edge photo)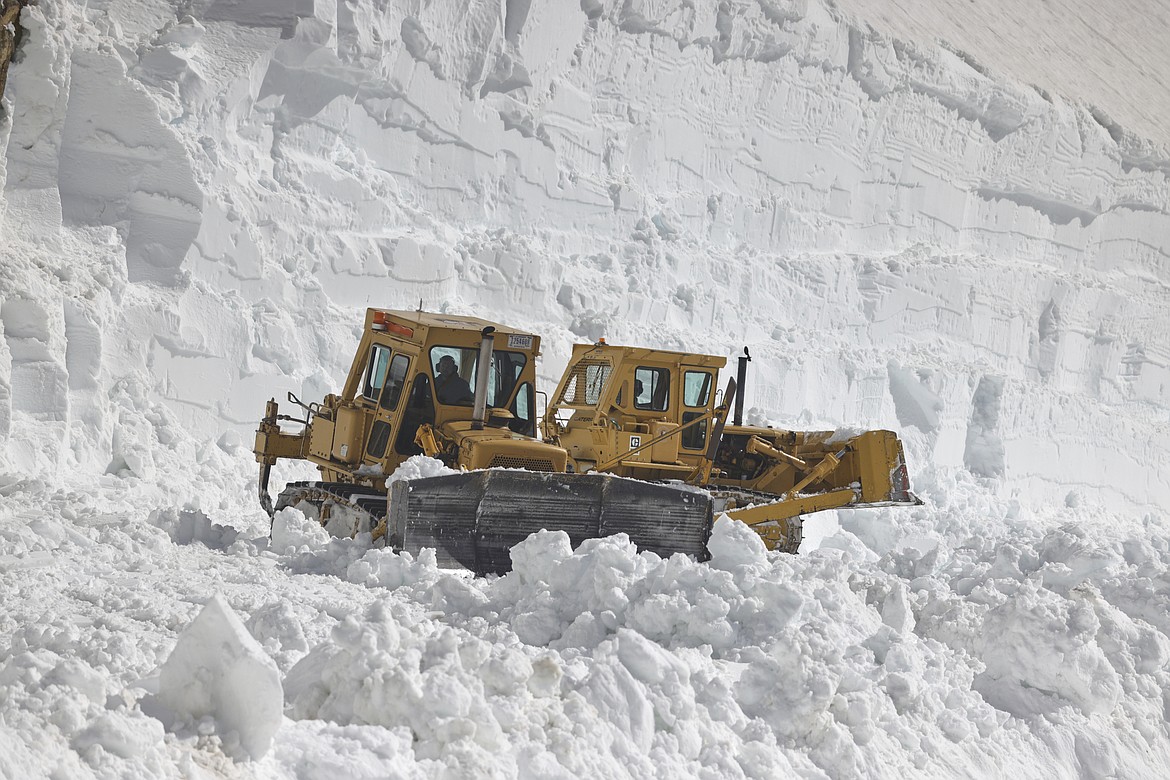 Tractors push snow off the Going-to-the-Sun Road at the Big Drift Tuesday. (JP Edge photo)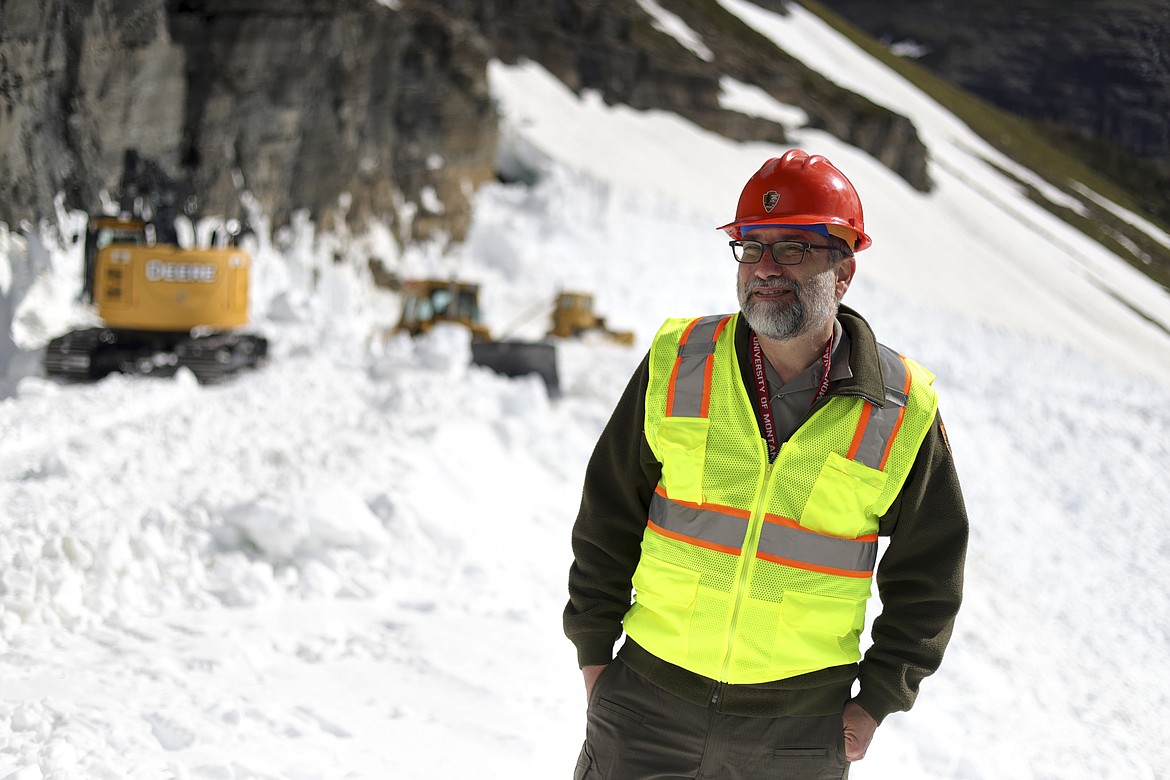 Park Superintendent David Roemer discusses the future opening of the Going-to-the-Sun Road, which should happen by the middle of June at the latest park officials said Tuesday. The Big Drift isn't nearly as large as it usually is this year. (JP Edge photo)
Previous
Next
by
CHRIS PETERSON
Hungry Horse News
|
May 24, 2023 1:00 AM
Glacier National Park plows are now at Logan Pass, going about 3 miles in the past week.
The weather has been favorable for plowing, with warm temperatures and relatively clear skies, save for the smoke from wildfires burning in Alberta, Canada, that fouled skies most of last week.
The last part of the plowing effort is breaking through the big drift, a massive drift of snow that accumulates just east of Logan Pass.
The hard closure for hikers and bikers has been changing, depending on what road crews have been doing. At press time it was at the Loop when they were working and at Rip Rap Point when they weren't.
The hiker-biker closure is Siyeh Bend on the east side.
The Glacier Reservation system starts Friday. Folks entering the west side of the park will need a reservation from 6 a.m. to 3 p.m. The reservation system at Two Medicine and Many Glacier has the same times, but begins July 1.
Advanced reservations sold out, but the park will begin releasing the remaining reservations 24 hours in advance beginning May 25.
Reservations are available at Recreation.gov, but they sell out quickly — most of the time in a few minutes.
They are required until Sept. 10. People with existing reservations inside the park, like a campground, lodge room, boat tour, etc. do not need an additional reservation.
After 3 p.m. and before 6 a.m. reservations are not required.
The park has a free shuttle on the west side to ferry hikers and bikers to either Lake McDonald Lodge or Avalanche Creek. The vehicle closure is at Avalanche Creek.
The free shuttle has racks for bicycles and makes numerous runs up and down the road.
All Park secondary roads are open save for roads up the North Fork. The Inside Road won't open north of Polebridge until May 25 because of bridge construction.
The Chief Mountain Border crossing into Canada is now open as well.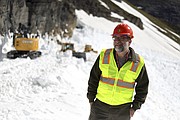 Recent Headlines
---