Whitefish relay times continue to speed up as divisionals near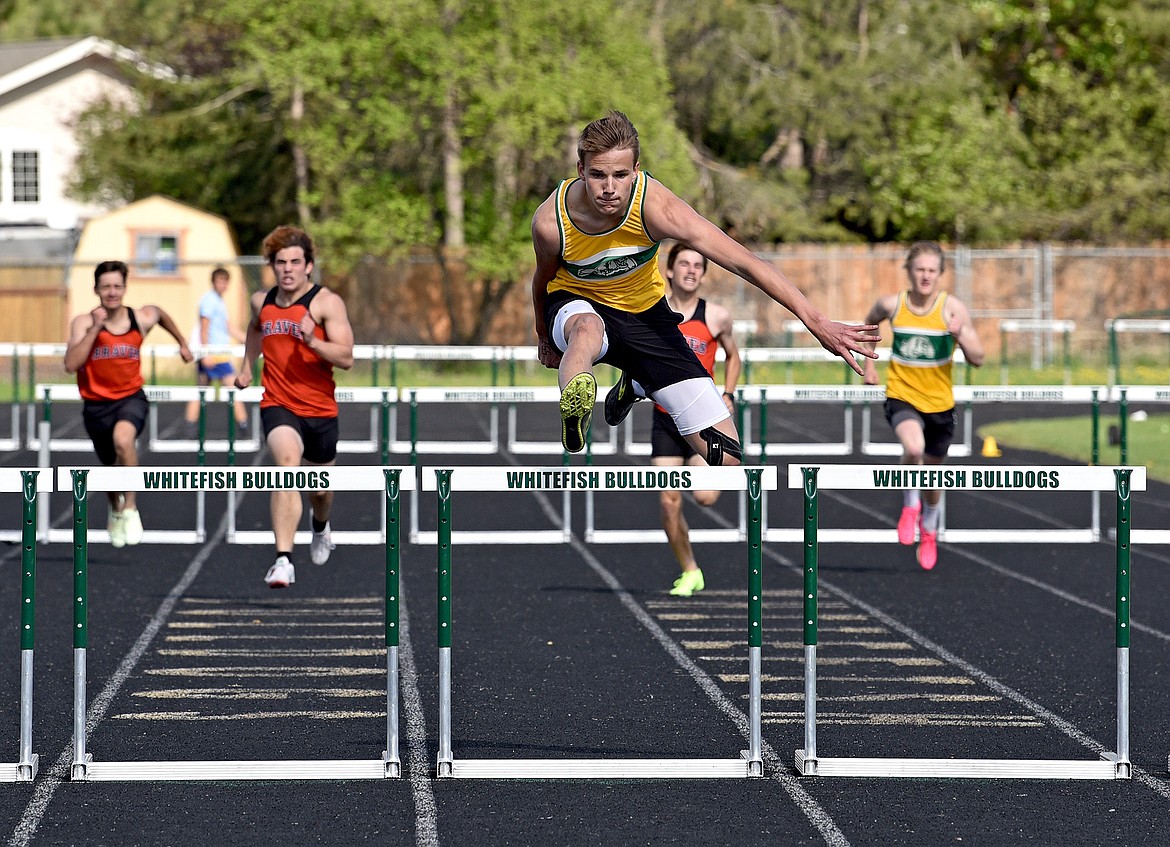 Whitefish junior Carson Krack leads a field of athletes in the 300 meter hurdles event at the Whitefish Triangular track meet on Thursday. (Whitney England/Whitefish Pilot)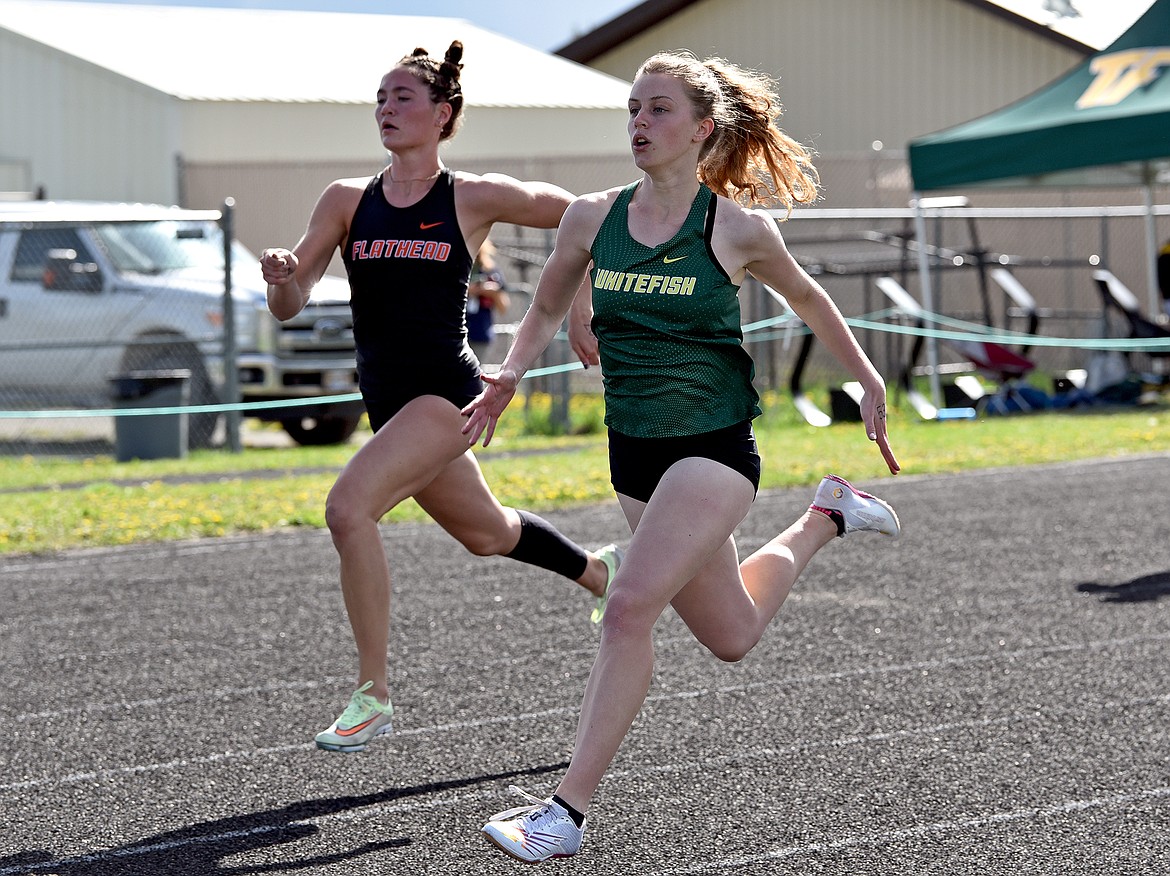 Bulldog sophomore Rachael Wilmot runs in the 400 meter race at the Whitefish Triangular track meet on Thursday. (Whitney England/Whitefish Pilot)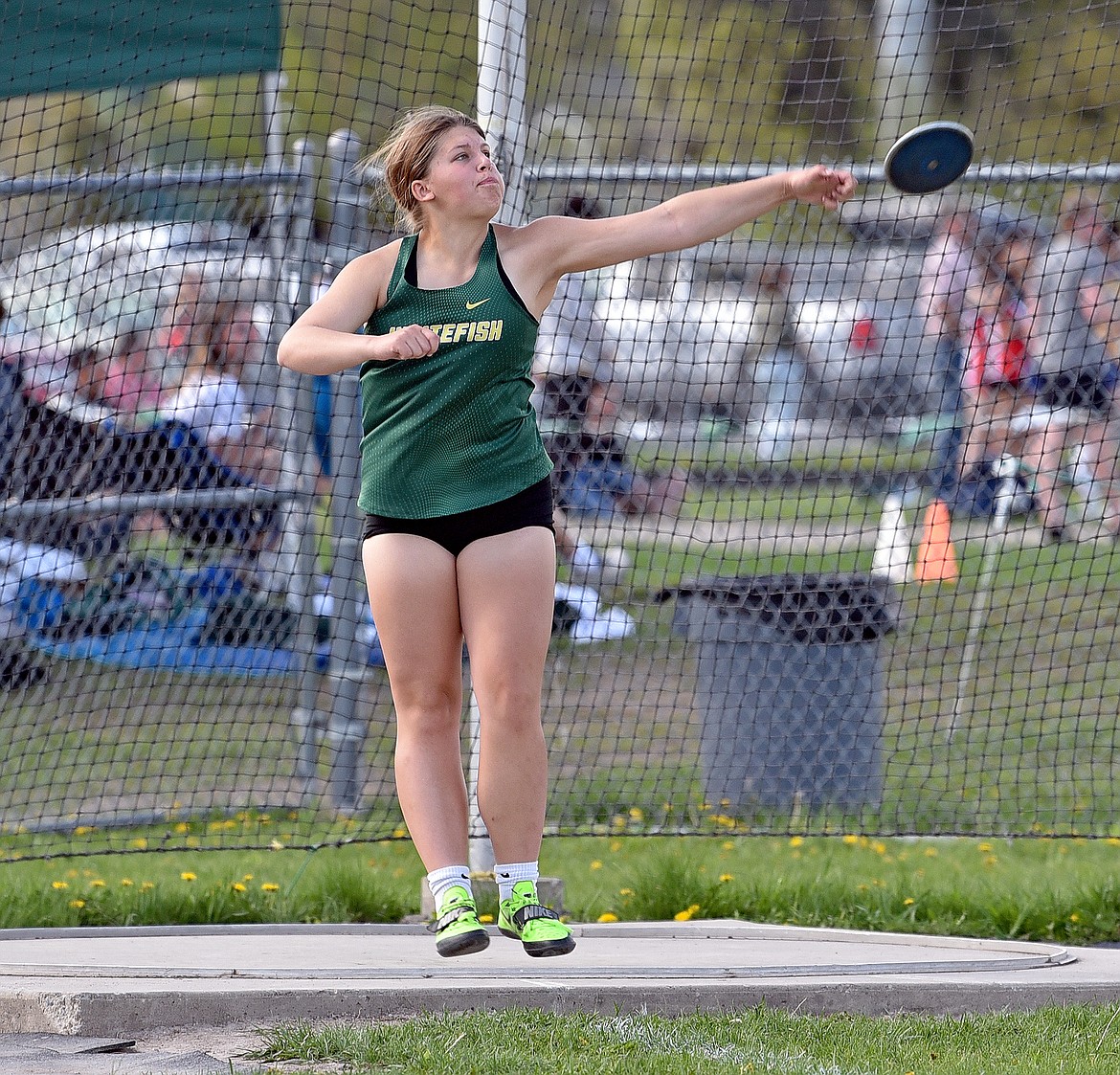 Whitefish's Drew Steele competes in discus at the Whitefish Triangular track meet on Thursday. (Whitney England/Whitefish Pilot)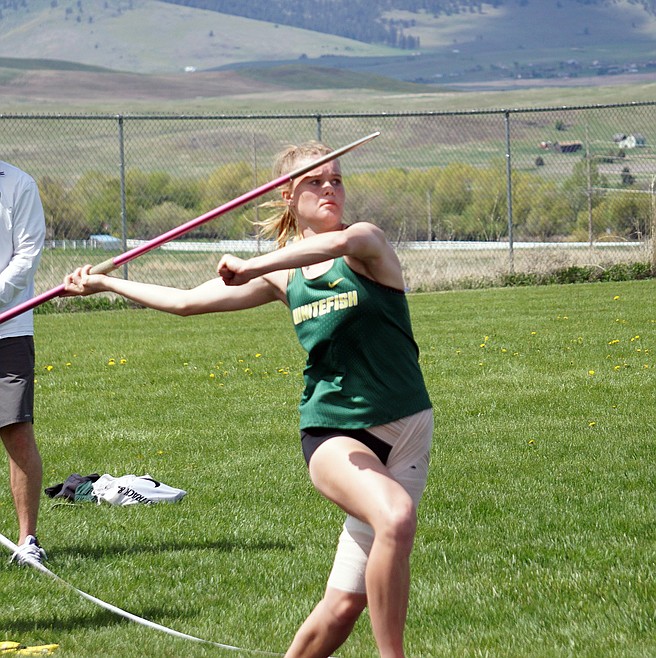 Whitefish junior Bailey Smith records a personal best (102'6") in javelin at the Polson ABC Meet on Saturday. (Matt Weller photo)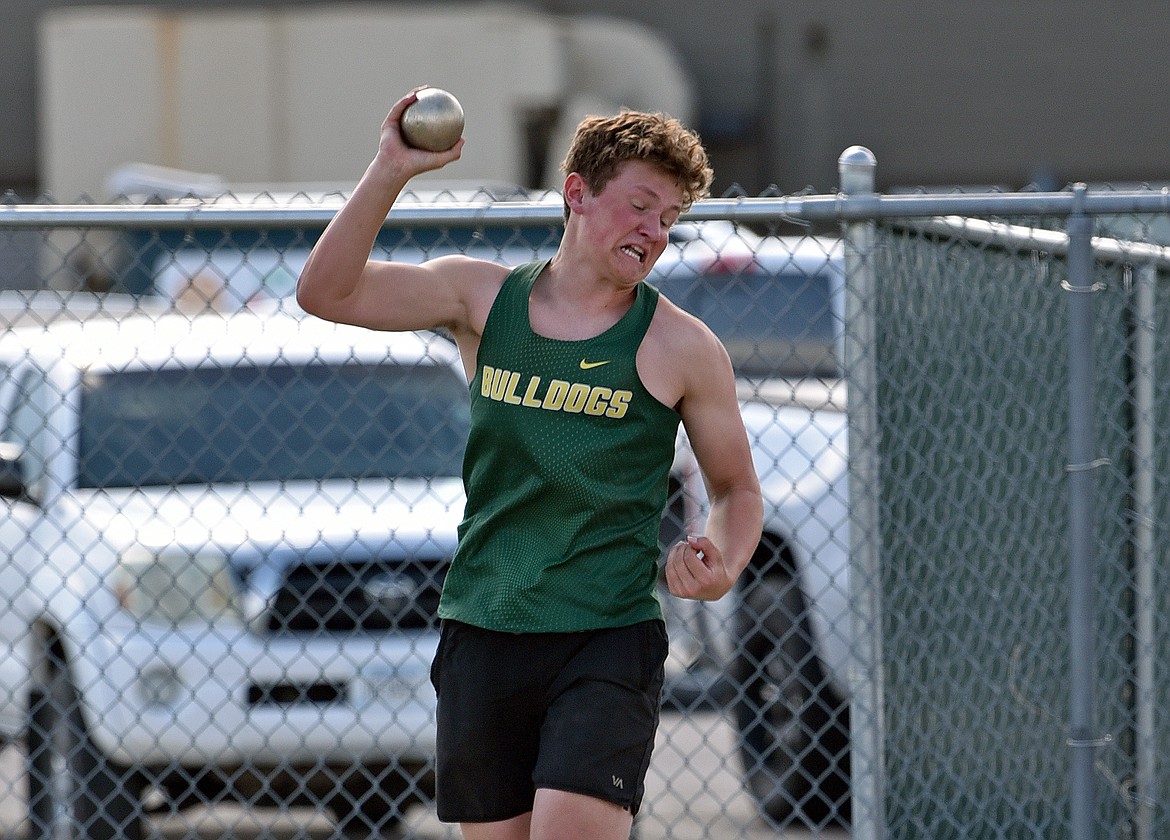 Bulldog Creed Scott competes in shot put at the Whitefish Triangular track meet on Thursday. (Whitney England/Whitefish Pilot)
Previous
Next
Both the Whitefish girls and boys track and field teams remained competitive through the last week of the regular season, especially in two of the relays.
The girls 4X400 meter relay — including Rachael Wilmot, Hailey Ells, Maeve Ingelfinger and Brooke Zetooney — ran a school record-breaking time at the Nelson-Thomas ABC track meet in Polson on Saturday. With a sub-four-minute time of 3:58.62, the girls team shaved about five seconds off the previous school record. The finish also boosted them up to the second-best in Montana Class A girls history.
"Our 4X400 relay ran a pretty incredible race, breaking a school record by five whole seconds," Whitefish girls coach Matt Beckwith said. "They're under four minutes and that's a pretty impressive thing that doesn't happen very often."
The boys ran a super fast 4X100 relay at their own Last Chance Triangular meet in Whitefish on Thursday. They had a goal of qualifying for state in that race prior to divisionals and got it done last week. Boys coach Willie Roche said the relay team — which includes Azure Stolte, Carson Krack, Scott Dalen and Riley Zetooney — practiced a lot leading up to the meet and were thrilled to qualify.
"It takes a little bit of weight off our shoulders," Roche said. "The kids couldn't have been happier, that was their goal all season was to qualify that 4X100 so that was a big moment for us."
The boys had a great performance from sophomore Simon Douglas in the 1600 meter event in Whitefish, as he ran a personal best of 4:32.10 to take first place. The finish also bumped him up to having the fourth-best time in the mile in Class A. Bulldog junior Carson Krack saw a PR as well in the 300 meter hurdles (41.09) for first; he also had a personal best in the 110 hurdles which was good for second.
Bulldog senior thrower Kitar Olsen won first in discus and third in shot put at home while senior Bowdrie Krack placed third in pole vault, clearing 12-06. Impressively, Krack actually outdid that mark just a few days later in Polson where he PR'd to clear 13 feet, 3 inches. He now is third in the state in pole vault.
Also in Polson, the boys distance crew all ran new best times in the 3200, led by Nate Ingelfinger in first place with a time of 10:17.88. Teammate Ethan Amick came across the finish about six seconds later for second and Rudei Steiner took fourth.
For the girls team, in addition to the record-breaking relay, sprinter Brooke Zetooney bested a talented field in the 100 meter dash in Polson. Sophomore Rachael Wilmot sprinted to a new best of 26.49 in the 200, finishing second to Columbia Falls' top sprinter Ally Sempf. Maeve Ingelfinger held on for first in the 800, beating out Wildkat Siri Erickson.
In the field events in Polson, Whitefish junior Drew Steele threw her top mark of the season in shot put, 31 feet, 8 inches and junior Bailey Smith took fifth in javelin with a mark of 102-6, a PR. Bulldog senior Margaret Pulsifer also hit a PR at the Polson ABC meet in the long jump (15-4.25) for seventh.
At the Whitefish home meet, Kellie Klepper hit a PR in the 200 (28.89) for fifth, Wilmot had a PR in the 400 (59.09) for first and Ingelfinger managed a personal best in the 3200 for second (11:48.04).
In the home field events, Zetooney threw a PR in shot put ( 35-11) to place first at the meet and qualify for state and Norah Schmidt had a PR in the triple jump (34-07.5) and placed second in pole vault, clearing 8-06.
"We're feeling confident, if everybody competes the way we expect them to I think we're going to be pretty successful (at divisionals)," Beckwith said.
The Bulldogs head to the Western A Divisional track and field meet this weekend in Corvallis. The state meet will be the following weekend in Laurel.
"We're taking a lot of kids to divisionals, which is fun…" Roche said. "We're taking close to 40 kids both boys and girls combined which is a lot. That's exciting because sometimes divisional trophies are won with depth alone."
Recent Headlines
---