Local teen artist's mural draws attention to dangers of drug use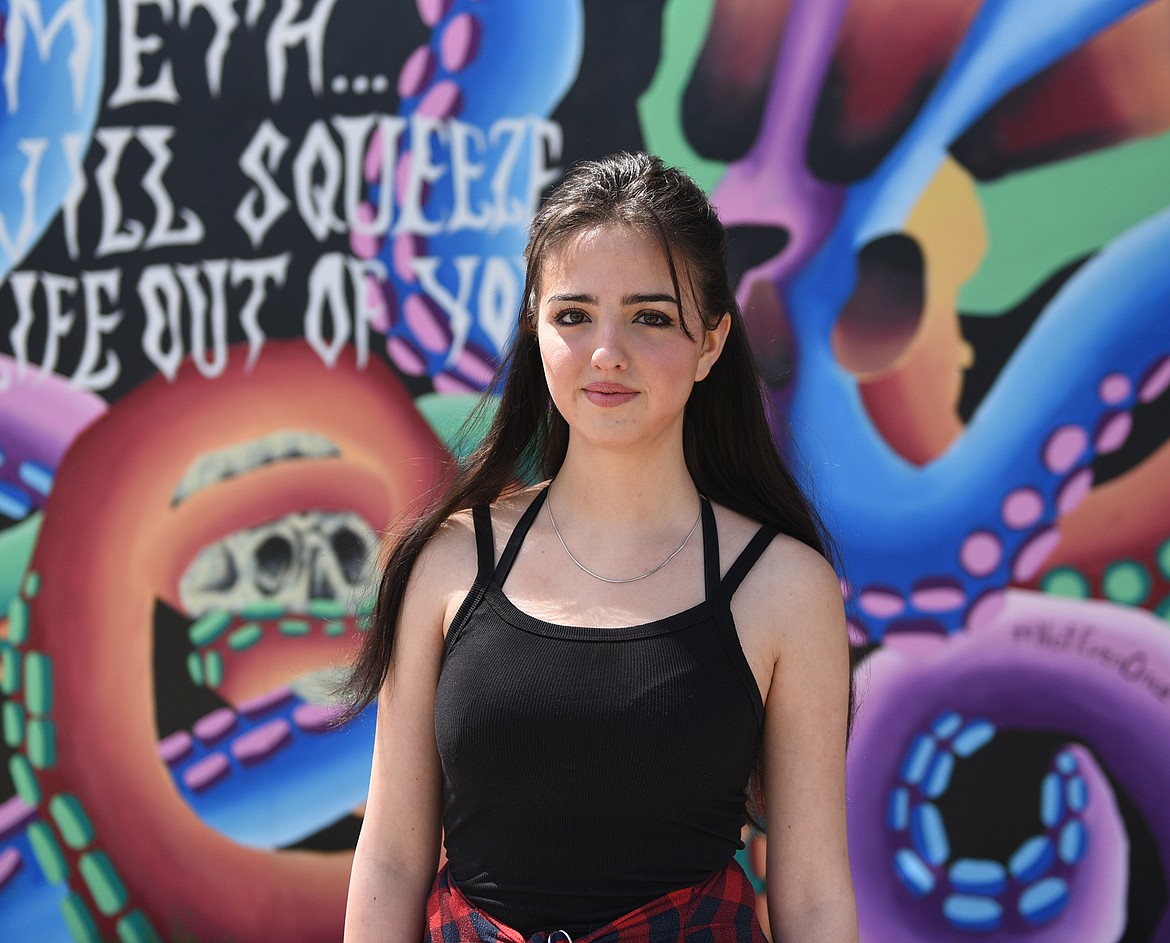 Whitefish artist Eliya Olstad with the painting she created for the Paint the State competition. It is on display at 6060 Highway 93 South. (Julie Engler/Whitefish Pilot)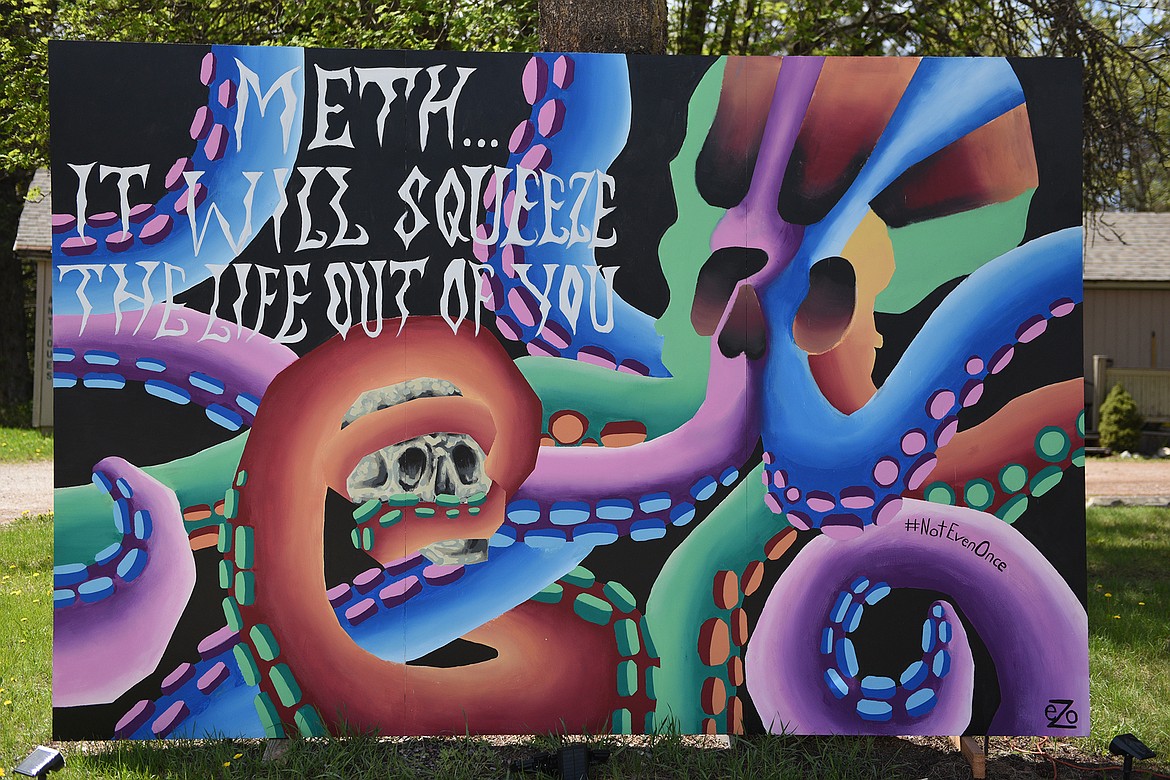 Eliya Olstad's artwork for the Montana Meth Project's Paint the State competition. The large mural is on display at 6060 Highway 93 South in Whitefish. (Julie Engler/Whitefish Pilot)
Previous
Next
Whitefish is now home to an octopus, a monster of the deep. In a bright new artwork by Eliya Olstad, a large, colorful octopus represents the overwhelming power methamphetamine can have over people who get caught in its grasp.
Olstad, created the moving work as part of the Montana Meth Project's Paint the State 2023 initiative, a program that engages teens and adults to help prevent drug use.
Paint the State is an art contest that invites Montanans to make large-scale public artworks that inspire viewers to live drug-free lives. Artists are asked to incorporate the Meth Project's "Not Even Once" message into their work.
The 15-year-old Whitefish resident said she heard of the competition on the radio and decided to enter because she is passionate about art. In addition to painting, she works with colored pencils and enjoys music and art of every kind.
"Art has always been a big part of my life," Olstad said. "I saw this as a really good opportunity to hopefully touch some people and spread awareness about the dangers of meth."
Her painting is 8 feet by 12 feet and is on display at her mother and grandfather's shop, the Pine Cone Hill Trading Company at 6060 Highway 93 South in Whitefish. It is the largest painting she has ever made.
"I usually stick with really small, little cute paintings," Olstad said. "So this was definitely a new thing for me."
Local businesses Nelson's Ace Hardware and Sherwin Williams Paint Store donated supplies for Olstad's painting. Western Building Center gave her the three pieces of plywood that serve as the support for the work. She is grateful for each of the businesses and said they were "super generous."
This year marks the third time the Paint the State competition has generated large-scale murals. The competition was last held over 10 years ago and hundreds of those paintings still stand. Olstad reviewed the paintings from past Paint the State competitions and spent time thinking of how to make her work unique.
"I really wanted to find something that was going to stand out and be different and I wanted to incorporate something new," she said. "The octopus in my illustration symbolizes meth and the tentacles represent the hold and grip meth has on its users.
"I was just trying to find something that would portray the idea I was trying to get across and be bright and catchy enough to reach as many people as possible," she added. "And be creative enough to activate people's thought process and just really make them think."
AMY RUE, EXECUTIVE Director of the Montana Meth Project says the teen engagement this competition fosters is one part of the project's multi-prong approach to reducing meth use in the state. The Paint the State competition, in particular, is highly effective.
"This is more impactful than any highly produced commercial content we could put out there," Rue said. "This is an authentic peer-to-peer conversation that really communicates in a way we cannot emulate with anything we could produce."
The Montana Meth Project lists among its accomplishments a 77% reduction in first-time teen meth use since it was founded in 2005. It is the only organization in the state charged with reducing meth use, it has been cited by the White House as one of the most effective prevention programs in the nation and it is supported solely by private donations.
Recently, the Dennis and Phyllis Washington Foundation presented a $508,000 grant to the Montana Meth Project that will be used to support Paint the State prize money and the program's educational outreach that stirs peer-to-peer conversation about the risks of meth use.
"We're grateful for all the families, the foundations, the private companies and individuals who continue to support the Meth Project and we're thrilled to see the students step forward with these incredible installations," Rue said.
The contest is open to groups as well as individuals and this year, for the first time, participants over the age of 18 are permitted. The new rule allows more people to play a part in the creation of the artwork.
"We're seeing a lot of teen-serving organizations participating, including youth groups, families, church groups, drug courts and recovery centers," Rue said. "So what's really fun is it's not just the artist who has the chance to participate, but whole classes are participating."
Rue noted that a unique part of the Paint the State competition this year is that young participants will share their artworks via social media, thus broadening the reach and appeal of their work. That was not possible 10 years ago.
Judging will occur in July and the awards for winning entries will be announced in August. More than $100,000 will be awarded to winning participants in the adult and teen divisions at regional and state levels, including three $10,000 grand prizes.
The public is encouraged to vote for their favorite entry when online voting opens this summer, to determine three People's Choice award winners, including a People's Choice Grand Prize worth $10,000.
"I'm not super competitive," Olstad said. "Winning would be so awesome, but this project is so cool and just spreading awareness and stuff, that's what it's all about. So, I'm happy with whatever the outcome is."
To see a leaderboard for the Paint the State competition anytime and to vote in July, visit www.paintthestate.org
Recent Headlines
---