Sharon Ann Briggs, 77
Sharon Ann Briggs (Stolte), 77, joined the chorus of angels on March 7, 2023, in Sequim, Washington.
Sharon was born on May 11, 1945, in Whitefish, Montana, to parents William (Bill) and Georgia Stolte. She graduated from Whitefish High School in Montana in 1963.
Sharon studied at Deaconess School of Nursing in Spokane, Washington along with her lifelong friends Suzy, Dianna and Bev. For Sharon, nursing was her calling that she dedicated her career in the care of others. Sharon spent the last years of her profession as a hospice nurse, providing comfort and care to the ailing in the waning chapters of their lives.
Sharon met the love of her life, Roger, in 1966 and raised three beautiful children. Sharon led a full and happy life with a love of travel to Europe and back home to Whitefish, Montana with her husband, as well as her closest friends. When not working, Sharon enjoyed time with her children, grandchildren and close girlfriends. She loved her neighbors and enjoyed her community. Sharon made friends wherever she was and will always be remembered for bringing joy and love into the lives of many with laughter, singing and unconditional love.
Sharon is survived by her husband Roger; son Patrick (Maddie); son Andrew (Raene); daughter Bridey Miller (Jeffery); and two wonderful grandchildren, Zackary and Juwan, whom she adored. Sharon was blessed with three loving brothers Larry (Tracy), Donald (Linda), and David (Cindy). The countless memories with her brothers from growing up in Whitefish and onward were eternally cherished.
After a journey of many years, Sharon has finally come home to her beloved Montana. A graveside service will be held at Glacier Memorial Gardens on Friday, May 12, 2023, at 11 a.m.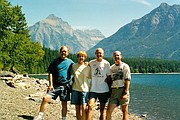 Recent Headlines
---