Bulldogs mount comeback win over Eureka at home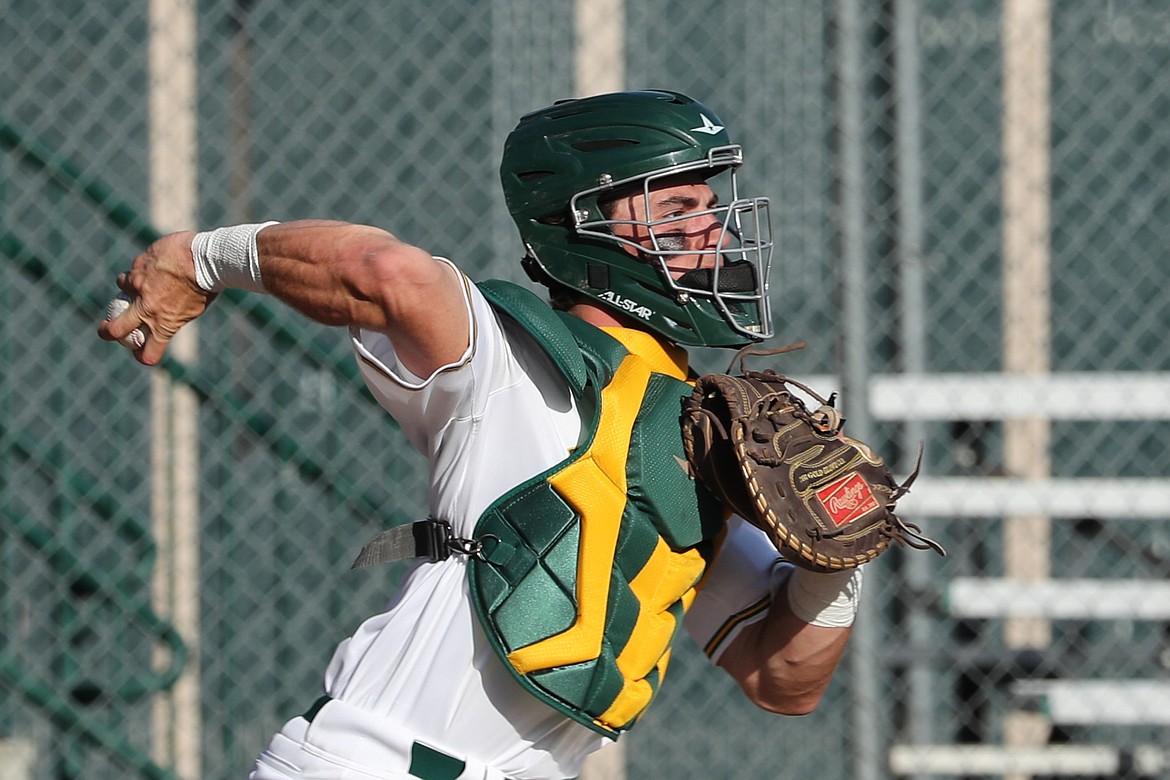 Bulldog senior catcher Fynn Ridgeway winds up a throw during a game against Eureka on Tuesday, May 2 at Memorial Field. (Greg Nelson photo/Artwestimage.net)
Whitefish senior Ty Schwaiger makes a throw to first base in a game against Eureka on Tuesday, May 2 at Memorial Field. (Greg Nelson photo/Artwestimage.net)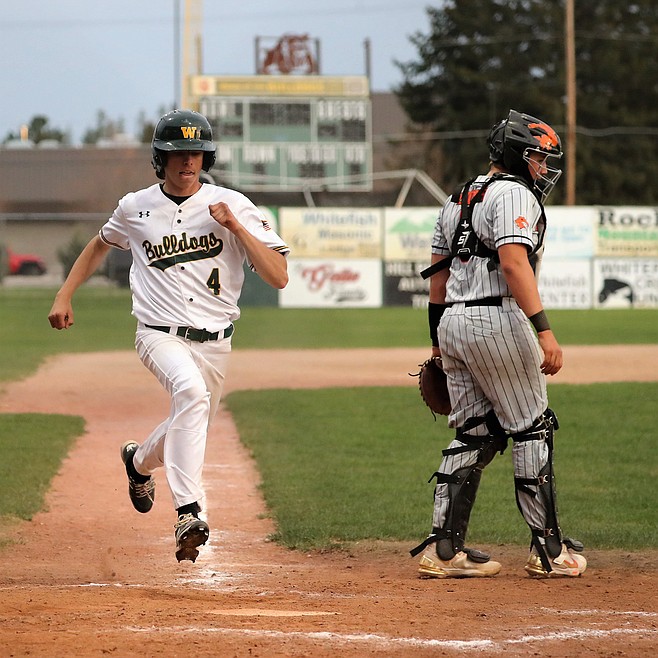 Whitefish's Maddox Muller scores a run in a game against Eureka on Tuesday, May 2 at Memorial Field. (Greg Nelson photo/Artwestimage.net)
Previous
Next
Although two other games were canceled last week due to the rainy weather, Whitefish came away with another win to advance their overall record to 9-2 on the season.
The Bulldogs played Eureka at home on Tuesday, May 2, and won the high-action game 13-11. This came after a couple weeks prior when Whitefish had its first no-hitter against Eureka and won narrowly, 3-0.
In this one, the Bulldogs found themselves down early, 7-4, going into the bottom of the fourth inning. The Bulldogs put up seven runs in the inning to take the lead and would hold on for the rest of the game.
Leading off in the bottom of the fourth was a solo home run by catcher Fynn Ridgeway who hit a fly ball to left field. Jacob Polumbus singled on the first pitch of the at-bat for a score, Mack McLaughlin singled, Jake McIntyre drew a walk, and Ty Schwaiger had a single hit, all scoring a run. Logan Kunz's single then scored two runs to finish up a seven-run inning for Whitefish.
"It was a big game for us. We had to win that to put ourselves in the driver's seat to take the conference and make it to state," Whitefish head coach Kyler Blades said. "That was a big positive. Eureka came out not afraid of anything and they jumped out to an early lead, we ended up battling back, jump-started with Fynn Ridgeway hitting a solo home run to start our big rally."
The Bulldogs added two runs in the fifth to go up 13-7. Eureka responded in the top of the seventh with four runs, but pitcher McIntyre closed it out on the mound for the Bulldogs.
Whitefish had 10 hits in the game and two errors. The Lions had six hits with four errors. Bulldogs McLaughlin, McIntyre and Schwaiger all had two hits each with Schwaiger leading in RBIs with three.
Starting pitcher was Jacob Polumbus. Clayton Godsey came in as relief for three innings and McIntyre ended the game pitching the last of the seventh inning.
"We went through a few different pitchers. We just have confidence in really our entire staff on the mound," Blades said. "Clayton Godsey came in and pitched really well for us and Jake McIntyre closed the door. He (McIntyre) also made a great catch in center field that saved some runs."
Whitefish closes out its regular season of play this week with games against Columbia Falls, Troy, Frenchtown and Hamilton.
"Honestly it feels too quick, too soon," Blades said of the regular season coming to a close. "I think the kids are just starting to find their groove… We have one big final push."
The Bulldogs are hoping to nab the No. 1 seed in their conference but will need at least one win over Columbia Falls or Troy to do so. The top two seeds of each conference qualify for the state tournament which will be on May 18-20 in Butte.
Whitefish plays in Columbia Falls at 6 p.m. on Thursday. Then faces Troy at 1 p.m. and Frenchtown at 6 p.m. on Friday at home. Whitefish wraps up regular season play on Saturday against Hamilton at 4 p.m. at home on Memorial Field.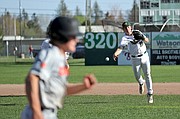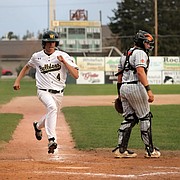 Recent Headlines
---