Viaduct improvements hit snag with MDT approval process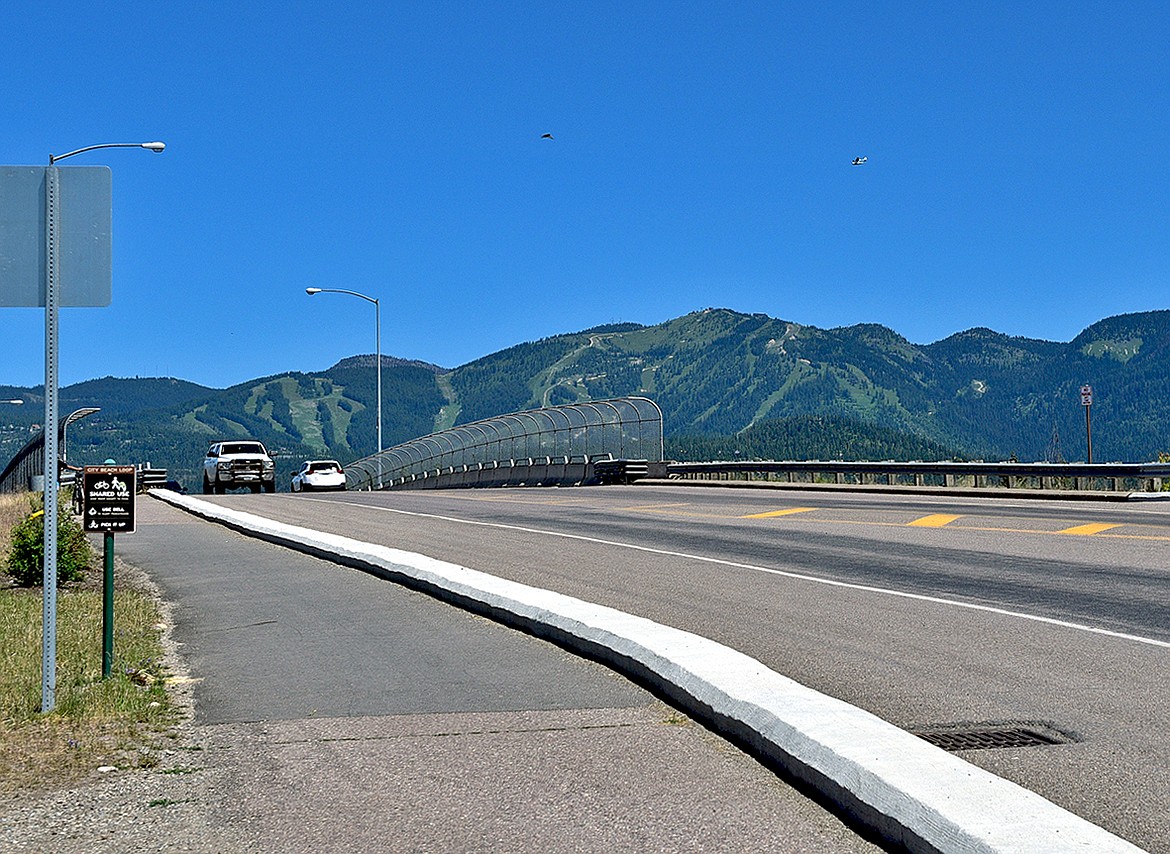 The Whitefish viaduct in summer 2022. (Julie Engler/Whitefish Pilot)
by
JULIE ENGLER
Whitefish Pilot
|
March 22, 2023 1:05 AM
The Whitefish City Council held a work session last week to discuss the status of the Viaduct Improvement Project.
Recent discussions between city staff and the Montana Department of Transportation have revealed issues with the current plans to improve the look and functionality of the viaduct.
The original scope was to accomplish the basic bike and pedestrian safety aspects of the project, which would narrow the vehicular travel lanes on the viaduct to create a 12-foot wide multi‐use trail on both sides of the roadway.
At a council work session in May 2022, staff was directed to expand the scope of the project to include some of the additional items outlined in Whitefish's Downtown Master Plan, including lighting.
Last October, staff was directed to proceed with a steel railing to replace the existing concrete jersey barriers. Additional work included ornamental lighting, hanging flower baskets and all the preparatory work required for their installation.
Since then, staff has not been able to come up with a steel railing design or a decorative lighting approach that the Montana Department of Transportation (MDT) will approve.
"We've been working with the Department of Transportation since October and just recently, we've been told we are not permitted to attach anything to the deck itself," said Whitefish Public Works Director Craig Workman. "The railing design would require fasteners that go through the bridge deck to secure it."
He said the reason MDT does not want any attachments to the bridge deck is that if the attachments were hit by a vehicle, it could result in damage to the bridge deck which would require closure to repair.
"Essentially, the option we're left with is some type of a barrier, most likely precast concrete, that would fit on top of the bridge deck as the current ones do," Workman added.
Staff has been working with WGM Group for the last year on the Viaduct Improvement Project and Steven McDaniel, an engineer with the firm, joined in the conversation about precast concrete barriers.
"The options are pretty limited… because the shape of it is important and what happens when a vehicle hits it is important," McDaniel said. "So we don't have a lot of options other than coloring and some minor facade treatments.
The inability to attach additions to the bridge deck means that the options for lighting are also limited, since the lighting that was being considered would also be required to be fastened to the bridge deck.
Workman said he would investigate whether or not the existing barriers can be reused and report back at a future council meeting.
The Viaduct Improvement Project is highlighted in the 2015 Downtown Business District Master Plan and the 2017 Connect Whitefish Bike and Pedestrian Master Plan. These plans view the project as an opportunity to increase the vitality of downtown Whitefish and create a connected and continuous network of well‐maintained bicycle and pedestrian facilities linking key destinations.
Recent Headlines
---