Former WHS student, golfer takes up NCAA Division I rowing
Macy Whisenand, pictured far left, in the four seat, rowing with the University of Louisville Cardinals at a race in Virginia. (Photo provided)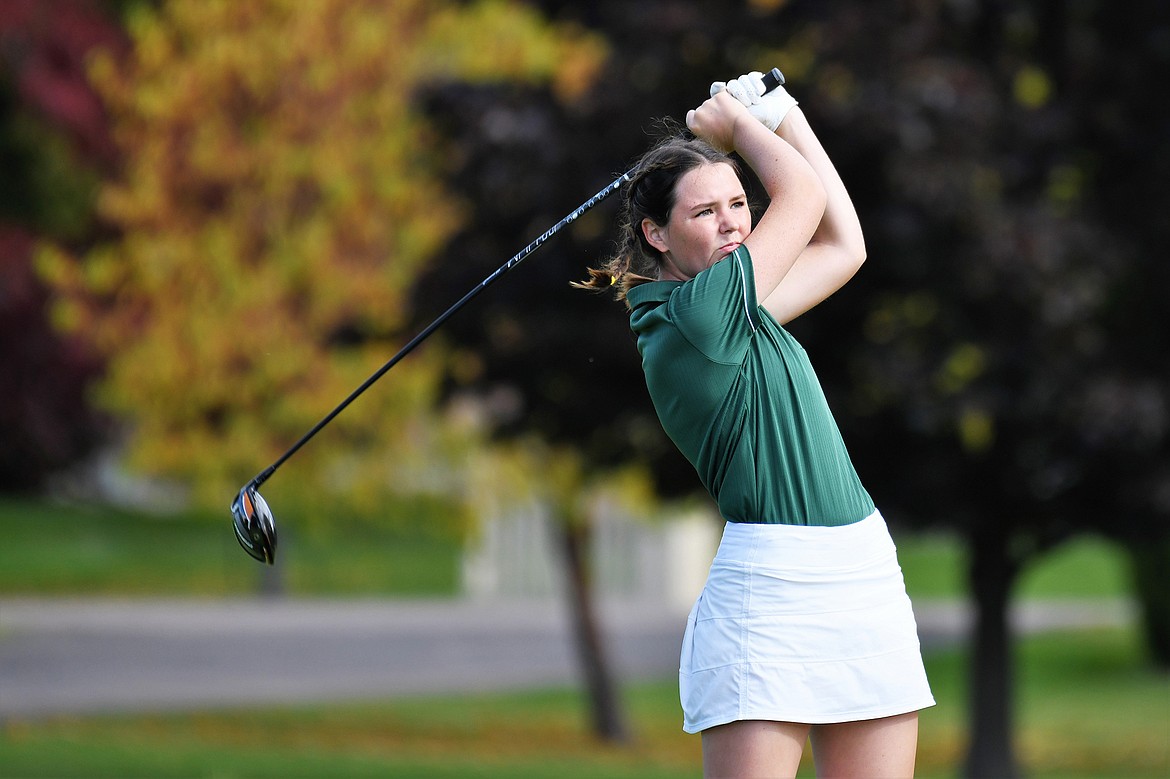 Bulldog Macy Whisenand takes a shot at the State A golf tournament in Polson. (Jeff Doorn photo)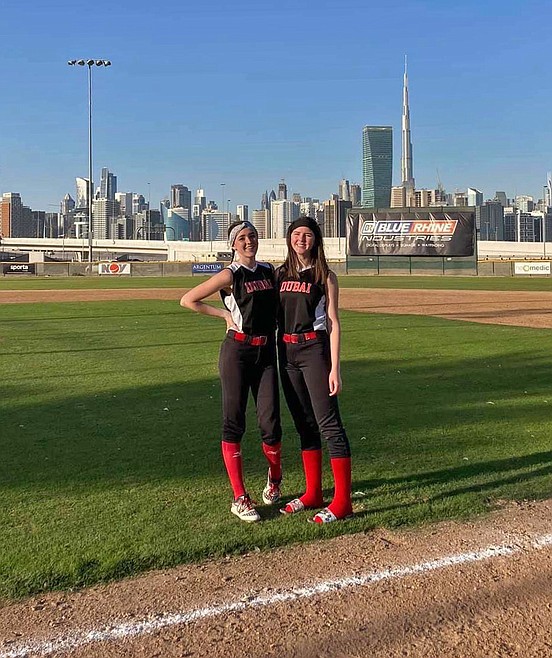 Macy Whisenand and her sister, Alyssa, at their home softball field with the skyline of Dubai in the background. (Photo provided)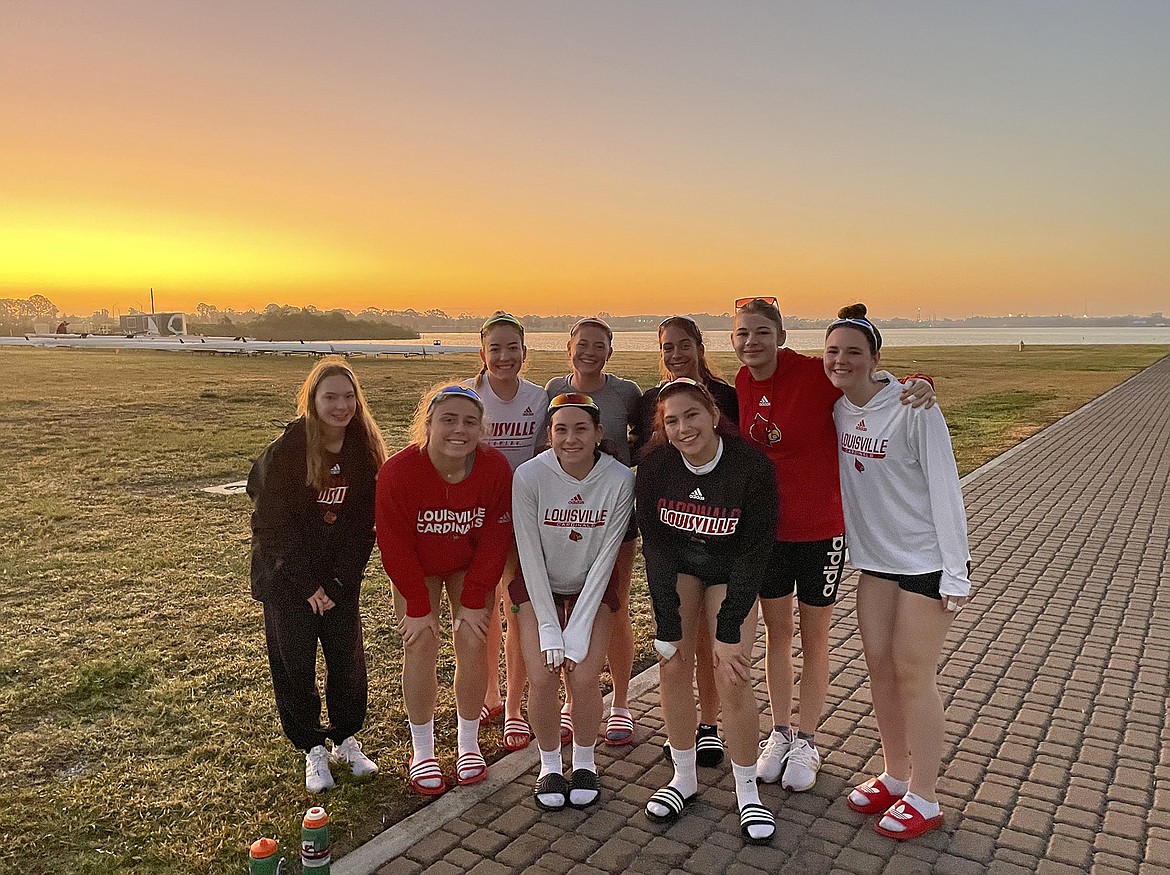 The University of Louisville rowing team on a winter training trip to Florida. Whisenand is on the far right in photo. (Photo provided)
Previous
Next
by
JULIE ENGLER
Whitefish Pilot
|
March 22, 2023 1:00 AM
The first year of college can be intimidating and even overwhelming for some students, with new classes, teachers, friends and for some, a new town. On the other hand, Whitefish alum Macy Whisenand, now a college freshman majoring in dental hygiene, decided it was a good time to dive into something else new.
Whisenand became an NCAA Division I athlete on the rowing team at the University of Louisville. The team practices 20 hours a week — twice a day, six days a week.
"I wake up early, go to practice, have classes and finish off with practice," she said and added that she is inspired by her teammates. "Seniors that are in nursing school come to practice at four in the morning and leave before we're done so they can make their clinicals. It's an amazing environment."
Whisenand chose to attend the University of Louisville for their pre-med program. During new student orientation, one of the girls in her group said she was interested in joining the rowing team and Whisenand, who admits to knowing nothing about the sport of rowing, thought it sounded awesome and decided to give it a try.
She said the entire first semester was a tryout period for novice rowers.
"They take on novices that have never done the sport before and if you're good enough, if they see potential and believe that you can do it, you get to stick around," she said. "We started with about 24… currently, there are five of us left (from that) group."
Bridgette Whisenand, Macy's mother, is proud of her daughter's willpower and courage.
"She's very brave. She's not afraid to try anything… she stuck it out and is one of the very few left," Bridgette said. "Especially being her freshman year, being in a new city and also just being far from home... the determination that she has is off the charts. She's a go-getter for sure."
There are different types of boats in rowing including singles and doubles, but Whisenand and her team race in boats called fours and eights. The seats in each boat are numbered from back to front and each position serves a specific purpose.
"What we race in, typically, is an eight, so that's eight rowers and one coxswain, who is the small person in the boat that, basically, is the brain of the boat. They direct where we're going, tell us what to do, tell us the stroke rate, how fast we're going, stuff like that."
The first seat from the coxswain is one seat, or the bow seat. The rower in the bow seat must have good form and technique. The eight seat is called the stroke seat and they set the pace. The middle seats are considered power seats and that's Whisenand's position.
It seems obvious to an observer that rowing takes upper body strength and powerful legs, but the rowers' hands are often overlooked. Constant friction between the rowers' hands and the oar handles often causes blisters.
"It's one of the many joys of the sport," Whisenand jokes. "It definitely shreds up your hands from the oars. In races you're not allowed to wear gloves or tape."
Her mother illustrated the situation when she said Macy "sometimes has to wear rubber gloves just to wash her hair because the blisters on her hands are so bad."
Right now, her team is in spring training, preparing for a race in Florida at the end of the month, then the Atlantic Coast Conference (ACC) and NCAA Championships in May.
Whether Whisenand will continue studying to become a dentist or decide to become an airline pilot is still uncertain, but she does plan on rowing again next year.
"I plan on sticking with it. I'm not going to lie, it is definitely the hardest thing I've ever done in my entire life," she said. "It's new and I'm still learning. I'm growing a lot with the sport. It's tough because of the practice schedule and classes but if there's anything I've learned, it's I can do it."
HER LOVE of team sports is deep-seated, having played sports throughout her life. Softball and basketball were her sports in high school, though some may remember her for a stellar senior year as a golfer for the Whitefish High School Bulldogs.
Whisenand left Whitefish as a kindergartener and returned in the middle of 11th grade. Her father, Shawn, is a commercial pilot and his job allowed her family to move to Dubai where Whisenand and her sister, Alyssa, went to the American Community School of Abu Dhabi.
The family returned to Whitefish each summer to escape the heat of the desert and for several years, Whisenand worked at the Whitefish Lake Golf Course restaurant bussing tables.
When playing school sports in Dubai, traveling for games meant that Whisenand and her teams flew to play in Qatar, India and Oman. She also played league ball which took her to the Philippines and to Singapore for tournaments.
"Our softball field had the entire Dubai skyline right behind (it), so that was pretty sweet," she said, recalling her years of travel for sports. "Looking back on it, it was incredible, it was amazing. But it was like, 'Oh, just going to New Delhi for basketball.' It was pretty casual then but saying something like that now is just absolutely crazy."
Even with all the exotic travel, Whisenand said the highlight of playing sports in school was being with the team.
"Something I really enjoyed… was traveling with the team and being with my teammates. It really brings you closer together and by the time you get to play, I don't know how to describe it, but it works like magic," she said. "I really enjoyed team sports growing up — it's just having that bond. It's something you can't find anywhere else."
Whisenand's "go-getter" personality was evident when she played golf in her senior year for Whitefish. Her high school golf coach and science teacher, Tait Rocksund, said Whisenand was an exemplary student in his Biomedical Science course and a talented athlete on the golf course.
"In her first (and only) competitive season with high school golf, she earned all-state honors and was our most improved player," Rocksund said. "Her dedication to learning and gaining skills also was apparent in the classroom. I think her strong growth mindset will open up many doors for her in the future, whether that's pursuing medical school or competitive college athletics."
Macy Whisenand is currently pursuing both and she encourages others to try new things, especially if they have teammates to lean on.
"If you want to try something new, you can absolutely do it and don't let anything hold you back," she said. "I know that sounds corny but I had absolutely no idea what rowing even was before trying. I had no idea it was hard, arguably one of the hardest sports. But it's taught me that I can do hard things."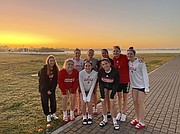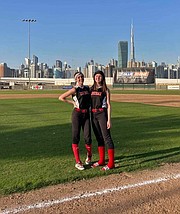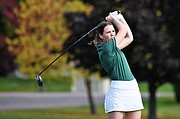 Recent Headlines
---