Board orders California couple to remove home in Glacier
by
CHRIS PETERSON
Hungry Horse News
|
March 22, 2023 1:05 AM
The Flathead Soil and Water Conservation District Board Monday night decided that a home under construction along the banks of McDonald Creek is in violation of state law and ordered it be removed by Nov. 1.
The home inside Glacier National Park is owned by John and Stacy Ambler of San Diego, California.
About 17 people filed complaints against the home, claiming it violated the Montana Natural Streambed and Land Preservation Act, also known as the 310 law.
On Feb. 27, representatives of the conservation board, along with the owners and a Montana Fish, Wildlife and Parks biologist examined the home, which is about 20 feet from the creek.
They determined the stream bank been excavated in violation of the law.
In addition to ordering the removal of the home, the board also required the Amblers to obtain a 310 permit — the permit that's necessary to do any sort of work near a stream in Montana — to tear the home down.
The Amblers never applied, or received, a free 310 permit when they began construction.
The Ambler's attorney, Trent Baker, asked the board to table the ruling, claiming the Amblers had retained an expert engineer who could testify on behalf of his clients concerning the hydraulics of the stream and any future impacts.
But the board declined to table the matter, noting there was already a violation in place — tabling it to listen to an engineer after the fact wouldn't change that.
The home is located on a slight bend in McDonald Creek in Apgar. It is one of the few private parcels left in Glacier National Park. Private land in Glacier is governed by Flathead County, not the Park Service.
Glacier's jurisdiction begins at the high water mark, Glacier Park Superintendent David Roemer previously told the Hungry Horse News.
The matter isn't likely over yet, however. Under the law, a declaratory ruling is subject to judicial review — a district court judge. Judicial review must be conducted by a court without a jury and is limited to the data, information, and arguments made before the supervisors.
The matter could also go to arbitration.
The Amblers have ceased work on the home, representatives told the board.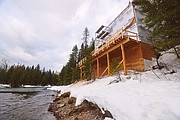 Recent Headlines
---