FVSEF alpine ski racing team earns second in season-long standings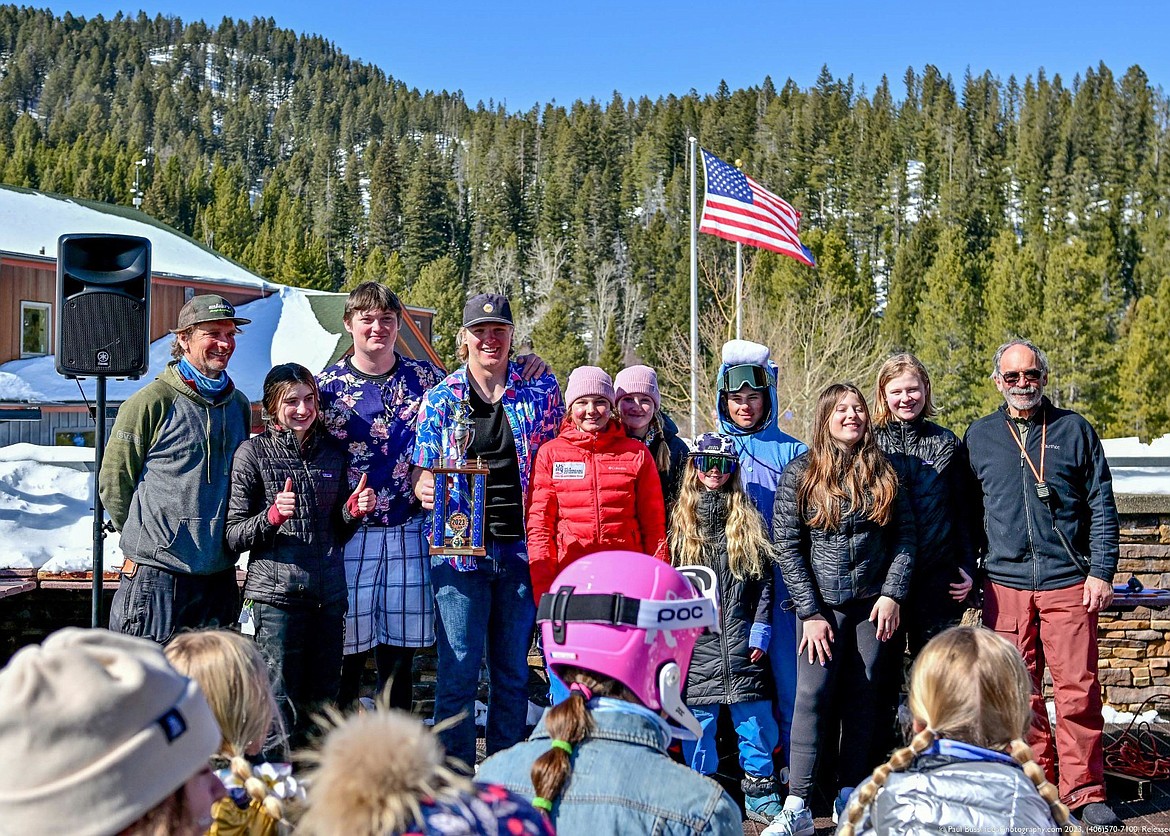 The FVSEF club placed second in the division for the season-long Little Hollow Cup, which totals all the results for the season for ages U14 and older by team. (Photo courtesy of Paul Bussi – idealphotography.com)
Flathead Valley Ski Education Foundation (FVSEF) ski racers competed in Bridger Bowl over the weekend in the Over the Hill Gang (OHG) race series. The race series included one giant slalom (GS) and two slaloms (SL) for U14 and older athletes, including college racers from Rocky Mountain College and Montana State University. The races are traditionally the final event on the Northern Division calendar when athletes have the opportunity to dress up in fun costumes, and also end-of-season division awards are announced.
FVSEF athletes found the podium multiple times at Bridger, and the FVSEF club placed second in the division among all other teams for the season-long Little Hollow Cup, which totals up all the results for the season for U14 and older ages by team.
In the season-long Gold Cup standings, Otto Lund of Polson led the U18 age group and was second overall. Parker Retz of Whitefish was third among the U16 boys. Despite not competing at the OHG races, Melody McNalley of Columbia Falls was third overall for the girls.
Individual results at the OHG races included Greta Lund (Polson) in second for U16s in the GS race on Friday and older brother, Otto Lund, taking the win in both SLs for the U18 boys on the weekend. Kellie Klepper (Whitefish) finished with a third and a second for U16s in the two SL races, and Parker Retz (Whitefish) came away with a third-place SL race for U16s on Sunday. Jordon Jurasek (Polson) came in second in the U21 age class on Sunday, as well. Other FVSEF racers had some of their season-best performances, with the complete results below.
FVSEF athletes have one more week of training at Whitefish Mountain Resort before heading to their respective championship races. Two FVSEF U18/U21 athletes have been invited to Alyeska Resort, Alaska for the Western Region Junior Championships March 21-24, five FVSEF U16 athletes will be competing in Sun Valley, Idaho at the Western Regional Championship March 20-24, and two U16 and six U14 athletes will be competing in Grand Targhee, Idaho at the Tri-Divisional Championships March 23-26. Additionally, FVSEF Development Team athletes (U12 and younger) will be competing this weekend in Big Sky at the Youth Ski League (YSL) Northern Division Championships.
Complete OHG Race Results:
Giant Slalom
U16 Girls
Greta Lund 2nd
Guinevere Tomblin 14th
U14 Girls
Lola Zinser 5th
Dynalea Tomblin 13th
Avery Retz 15th
U16 Boys
Parker Retz 5th
Slalom 1
U16 Girls
Kellie Klepper 3rd
Greta Lund 4th
Guinevere Tomblin 14th
U14 Girls
Lola Zinser 6th
Avery Retz 12th
Dynalea Tomblin 17th
U18 Boys
Otto Lund 1st

U16 Boys
Parker Retz 4th
Slalom 2
U16 Girls
Kellie Klepper 2nd
Guinevere Tomblin 11th
U14 Girls
Lola Zinser 4th
Avery Retz 10th
Dynalea Tomblin 14th
U21 Boys
Jordon Jurasek 2nd
U18 Boys
Otto Lund 1st

U16 Boys
Parker Retz 3rd
Recent Headlines
---