PAWS Boutique, Pantry assists high schoolers in need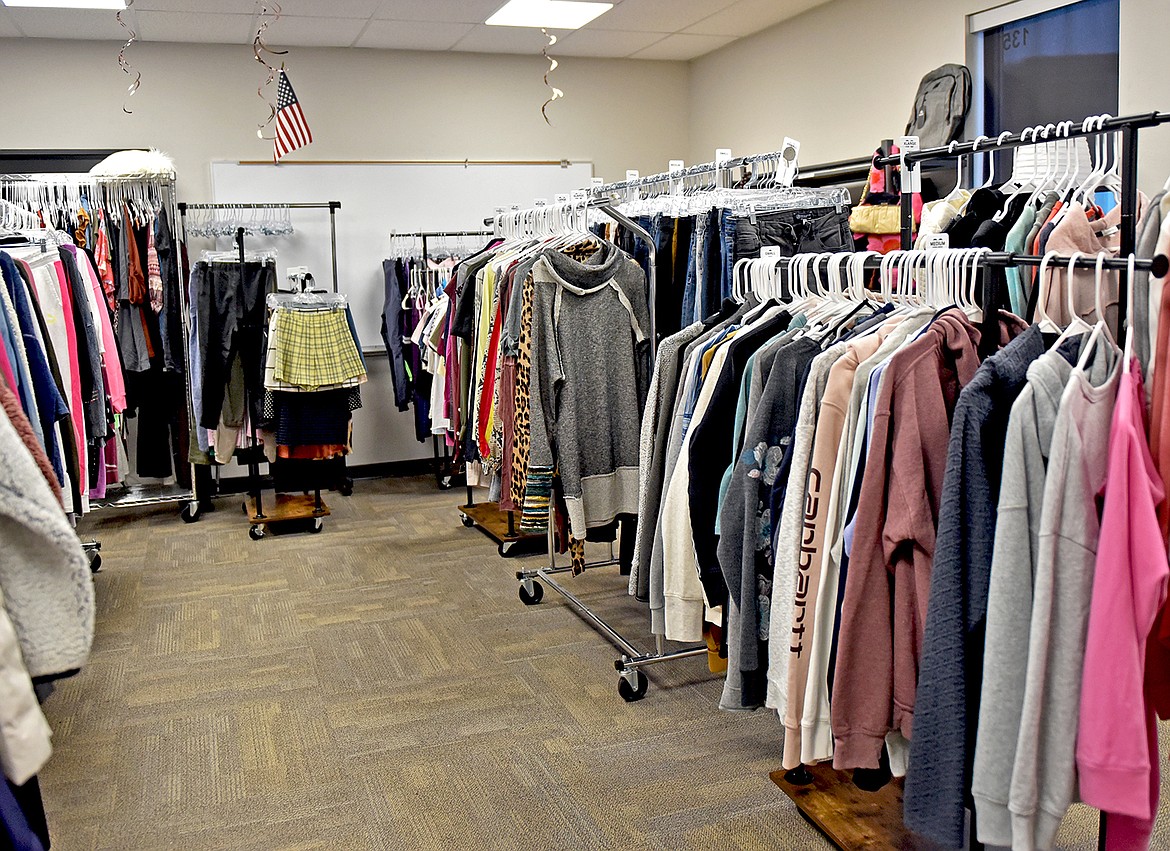 Clothes hang in the PAWS Boutique in the Whitefish School District Annex building. The boutique is for high school students in need of clothing, hygiene products and other items. (Whitney England/Whitefish Pilot)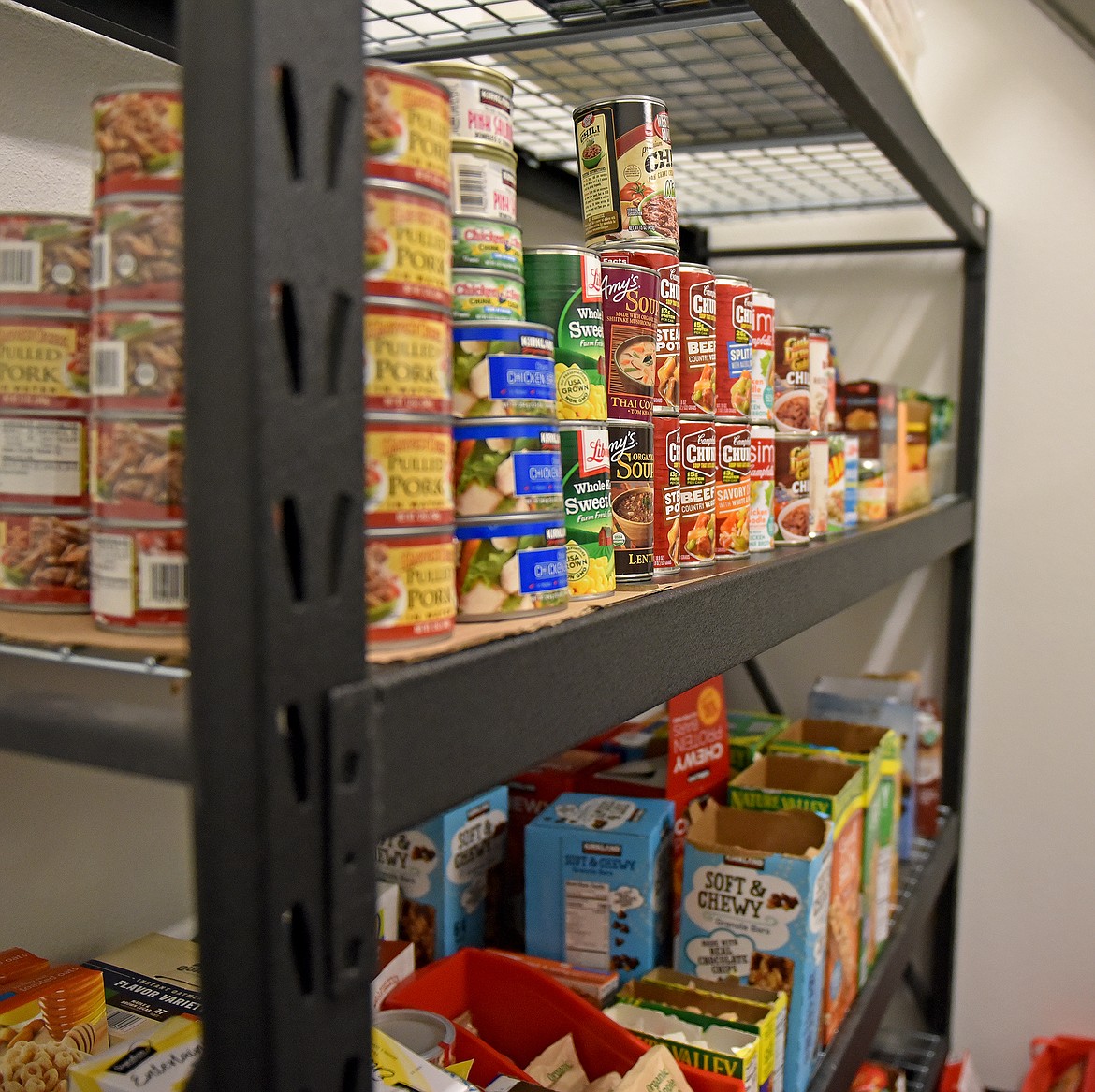 A shelf at the PAWS Pantry lined with canned goods and snacks. (Whitney England/Whitefish Pilot)
Previous
Next
by
WHITNEY ENGLAND
Whitefish Pilot
|
March 1, 2023 1:00 AM
Through an initiative started by an anonymous group of Whitefish High School staff, parents and community members, students in need now have access to clothing, food and other necessities.
The high school recently opened a store called the PAWS Boutique, located in the Whitefish School District Annex building, that helps provide clothing, accessories and personal care items for free. Additionally, on campus, there is now a PAWS Pantry that provides snacks and meals for any student who requests it with no questions asked — from students who are in financial need to students who forgot their lunch that day. PAWS stands for Pride, Awareness, Wellness and Support.
The initiative to start the store and pantry came from an anonymous group that says they are, "people that care about these kids who want them to have necessities to feel valued and safe."
The group says that Whitefish has a variety of people from different backgrounds that face varying challenges. With the current affordable housing crisis and inflation on everyday products and food, more students are increasingly in need of assistance.
The students utilizing the PAWS Boutique are recommended anonymously by teachers, staff or friends. Then school counselors set up a discrete time to visit the store and have guidelines for the number of items students can take. The organizers say they hoped to take one worry off the shoulders of these students and instill a sense of pride in utilizing the boutique and pantry, which they have witnessed.
The boutique is located in the Annex in an empty flex space sometimes utilized as a meeting room. As space in the high school is already at a premium, they made sure to keep everything on wheels so it could easily be moved if needed. To set up the store, the group applied for a grant to obtain things like racks and shelving.
They have a men's and women's section for clothing and shoes, plus accessories, personal care items, toiletries and more available. All the clothes are either new or gently used and they try to mainly accept donations of clothing that high schoolers would actually wear. With cash donations, they can go out and purchase new items for the store.

The Whitefish Education Foundation Family Involvement Team, or FIT, has been an essential component of creating the PAWS Boutique and Pantry. Members from FIT reached out to the school community for donations and said they received a response right away.
FIT also has access to a "no-questions-asked" Kids Fund from the Whitefish Education Foundation so if something specific, like a new pair of snow boots, is needed immediately they can provide that to a student in need.
"My takeaway from everything is how amazing the community has been. All you have to do is put the ask out there and people want to help. They're dying to help they just don't know how," said a lead volunteer with FIT.
The PAWS Pantry also simultaneously started around the same time as the clothing store. The WHS Leo Club actually held a food drive in December and they divided the donations between the North Valley Food Bank and the PAWS Pantry. This gave a great start to the pantry on campus. Students have been utilizing the pantry for a couple of months now and there are now fridge and freezer items as well as nonperishable snacks.
The organizers say they've seen students take a lot of pride in the pantry and know it is a benefit to the school. Also, they know there are other great organizations like the North Valley Food Bank or the Backpack Program, but they found the PAWS Boutique and Pantry addresses a localized need right here in the high school.
To support the project, organizers hope the community will consider donating. They can accept tax-deductible cash donations as well as some physical donations. Donations are addressed to Whitefish High School PAWS Boutique or Pantry. For more information or questions reach out to Meg Judd at 406-862-8600 ext. 455 or Coral Schulz at 406-862-8600 ext. 452.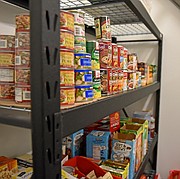 Recent Headlines
---