Flathead Valley alpine skiers see success at home races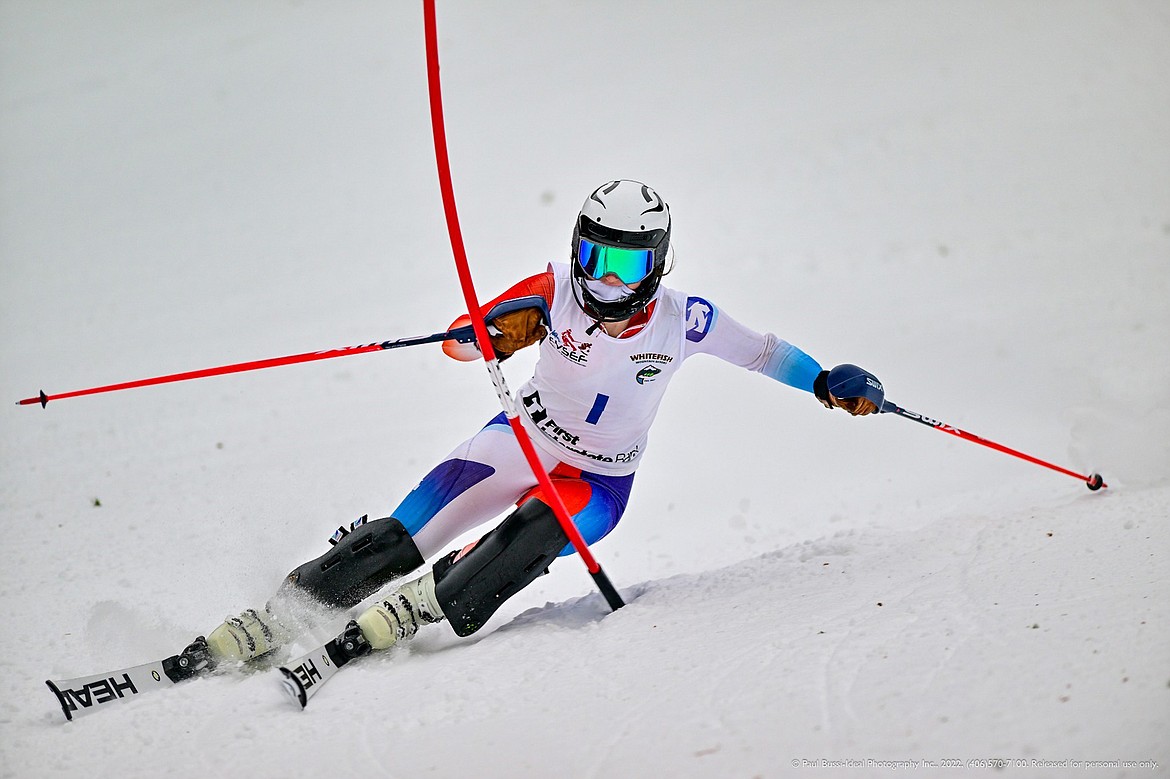 FVSEF skier Kellie Klepper of Whitefish races in a slalom race at Whitefish Mountain Resort on Sunday. (Photo courtesy of Paul Bussi-idealphotography.com)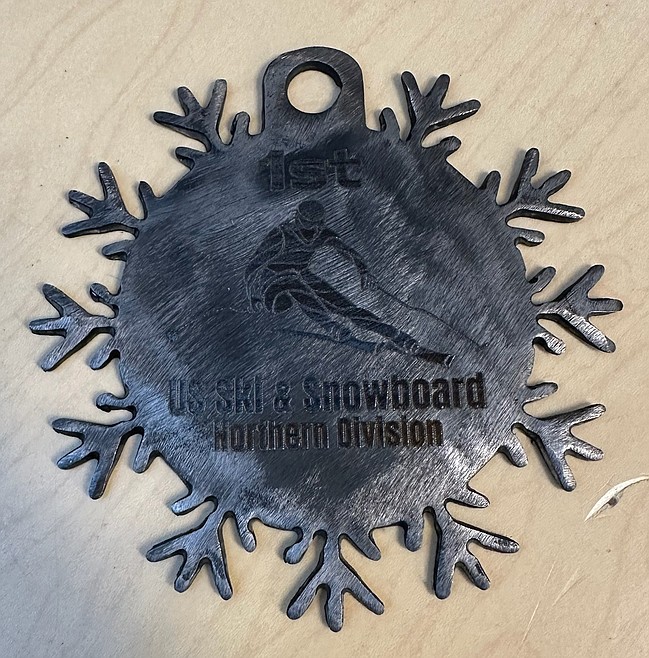 Medals for the races made by Ryan Boyle's welding students at Whitefish High School. (Provided photo)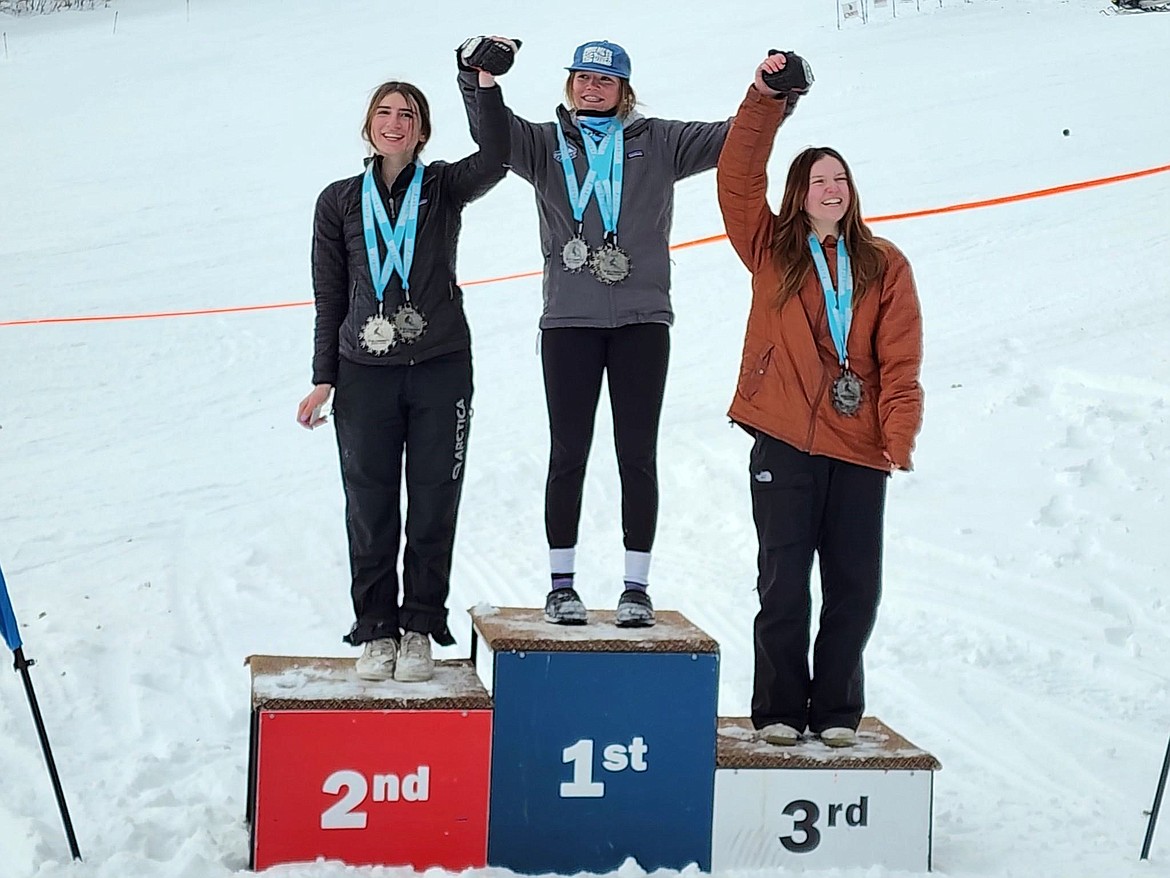 The Slalom podium with FVSEF athletes Kellie Klepper (Whitefish) in second and Melody McNalley (Columbia Falls) in third at the U.S. Ski and Snowboard Association alpine races at WMR on Sunday. (Provided photo)
Previous
Next
by
Whitefish Pilot
|
March 1, 2023 1:00 AM
The Flathead Valley Ski Education Foundation (FVSEF) hosted a series of U.S. Ski and Snowboard Association ski races at Whitefish Mountain Resort over the weekend. Several local skiers from the Flathead Valley placed well in the races.
As FVSEF had the opportunity to host the races, Whitefish High School welding students were tasked with creating the medals. The podium winners received unique snowflake medals crafted by intermediate and advanced welding students at Whitefish High School in teacher Ryan Boyle's class. The students cut the medals on a Plasma CAM machine and laser engraved the graphic.
The original plan was for Northern Division racers from across the state to ski in three slaloms (SL) at Blacktail Ski Resort on Feb. 23-24 and two giant slaloms (GS) at Whitefish Mountain Resort on Feb. 25-26. Unfortunately, the extreme weather last week caused the cancellation of the Blacktail races, and the program in Whitefish changed to a GS on Saturday and two SLs on Sunday. Thanks to all of the local and visiting volunteers who helped make these races a reality.
The race series for U16 and older age classes was a qualifier for the U16 age group end-of-the-year Western Region and Tri-Divisional championships in March, to which FVSEF hopes to qualify many athletes.
FVSEF U16 racers Melody McNalley (Columbia Falls) and Kellie Klepper (Whitefish) both found the podium this weekend with Greta Lund (Polson) and Parker Retz (Whitefish) finishing in the top five. McNalley was second in the GS and claimed third and fifth place in the two SLs. Klepper couldn't quite hang on in the GS and did not finish, but came back strong in the SLs with second and third place in the two Sunday races. Lund also did not finish the GS but had two solid SL races earning fourth and fifth place finishes. Parker Retz was super consistent with fourth-place finishes in each of the three races held over the weekend.
In the U18 age group, former FVSEF athlete Tess Lewison (Whitefish), currently enrolled at Stratton Mountain School in Vermont, was third in the GS race and won both U18 SLs. Isla Bougard-Duncan of the Montana Alpine Race School at Blacktail won the U18 GS race and was third in both of the SLs. Former FVSEF racer Jordon Jurasek (Polson) also won one of the SLs in the U21 age class.
Race Results:
GS
U16 Girls
Melody McNalley 2nd
Valerie Cross 5th
GuineviereTomblin 15th
U18 Girls
Isla Bougard-Duncan 1st
Tess Lewison 3rd
U16 Boys
Parker Retz 4th
Brayden Hoover 7th
SL 1
U16 Girls
Kellie Klepper 3rd
Greta Lund 4th
Melody McNalley 5th
GuineviereTomblin 16th
Valerie Cross 19th
U18 Girls
Tess Lewison 1st
Isla Bougard-Duncan 3rd
U16 Boys
Parker Retz 4th
Brayden Hoover 8th
Slalom 2
U16 Girls
Kellie Klepper 2nd
Melody McNalley 3rd
Greta Lund 5th

GuineviereTomblin 20th
U18 Girls
Tess Lewison 1st
Isla Bougard-Duncan 3rd
U16 Boys
Parker Retz 4th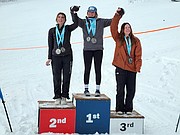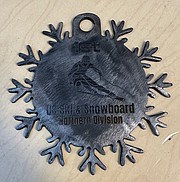 Recent Headlines
---