Community Foundation awards $50K to Boys and Girls Club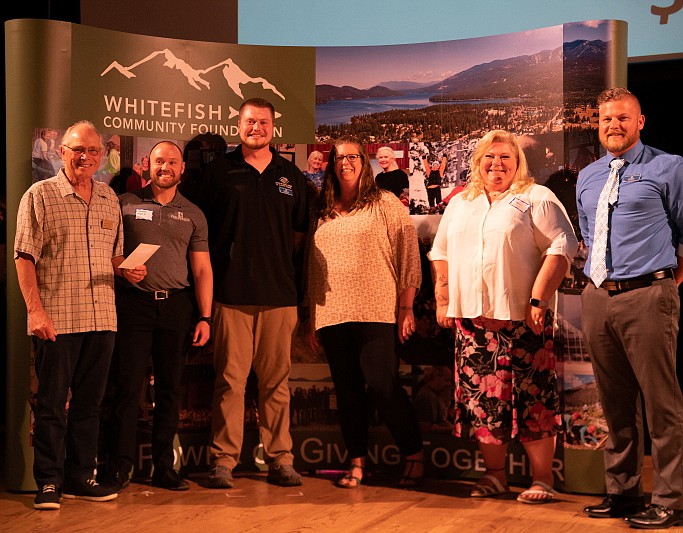 Whitefish Community Foundation has awarded $130,000 to Boys & Girls Club of Glacier Country since 2021 to support after-school programming in the Evergreen School District. Pictured left to right are Gordon Cross, Cormac Moore, Shane Parks, Tracy Day, Pamela Koller and Justin Lee. (Provided photo)
by
Whitefish Pilot
|
June 7, 2023 1:00 AM
Whitefish Community Foundation recently presented Boys and Girls Club of Glacier Country with a $50,000 Kids Fund Grant to support the organization's after-school program for K-8 students in the Evergreen School District.
In 2021, the foundation announced that it had committed $100,000 to Boys & Girls Club over a three-year period to launch the Evergreen program. Over the past two years, demand for the Boys and Girls Club's services in Evergreen has dramatically increased, from 45 youth served during the 2021-2022 school year to 110 youth served this school year. To meet this growing need, Whitefish Community Foundation's Kids Fund Committee decided to award an additional $30,000 to Boys & Girls Club for the Evergreen program, bringing the total grant to $130,000.
"Boys & Girls Club is filling a critical need for after-school programs in Evergreen, and we are excited to provide additional funding to help with their rapid growth," Whitefish Community Foundation President/CEO Alan Davis said. "Thanks to our generous donors, we can react quickly to support the dynamic needs of local nonprofits - especially to organizations that create such a big community impact."
The Kids Fund was created in 2019 to support programs in the areas of health, safety and education that mitigate challenges and prevent local youth from becoming homeless. To date, Whitefish Community Foundation has awarded more than $465,000 in Kids Fund grants to Flathead Valley nonprofit organizations, including Flathead Youth Home, CASA for Kids, Child Bridge and Center for Restorative Youth Justice.
To learn more about the Kids Fund, including requirements for applying for a grant, visit whitefishcommunityfoundation.org/the-kids-fund/.
Whitefish Community Foundation is dedicated to fostering philanthropy, building endowments and helping donors and nonprofits benefit our communities. Since 2000, Whitefish Community Foundation has awarded more than $69 million in cumulative grants to nonprofit organizations. For more information, visit whitefishcommunityfoundation.org.
Recent Headlines
---