Longtime friends, WHS grads head solar business in Whitefish
by
JULIE ENGLER
Whitefish Pilot
|
July 12, 2023 1:00 AM
Two friends and former soccer teammates with a mutual interest in sustainability and renewable energy have joined forces once again, this time to help the valley turn on to solar power.
Northstone Solar's CEO, Curran Edland and CCO, Thomas Clark have experience working together, as they were co-captains of Whitefish High School's 2013 state championship soccer team during their senior year.
Now their goal is to educate people about renewable energy while installing solar panels at residences and businesses across the valley.
In 2019, Edland worked at Northstone Solar with the company's founder, Lee Calhoun. After about two years of learning the business, Edland purchased the company. One of his first big jobs was the solar energy system that graces the roof of Nelson's Ace Hardware in Whitefish.
At that time, Clark, the head soccer coach for the varsity girls team at Columbia Falls High School was also working as a journalist.
"When Curran started the solar thing, I had the flexibility to help him out, here and there, with installations," Clark said. "I'm pretty good with the communication side of things… so I could jump on."
The two partnered up about a year ago and have enjoyed being able to work together.
"It's pretty cool for both of us to be bringing more sustainability to the Flathead," Edland said. "It's kinda a dream come true for us."
THE BEST friends remained close, even when they headed to college in opposite directions, with academic and athletic scholarships in hand. Edland went to Robert Morris University near Pittsburgh, Pennsylvania and Clark attended The Evergreen State College in Olympia, Washington. Each played soccer for his school.
Their paths to working with solar energy are similar, too. In high school, Edland was a member of FREEFLOW, an advanced field science program, and was the treasurer of the Environmental Club. In college, he was a mechanical engineering major.
"Honestly I was hoping to do an environmental engineering route, but they didn't have that option, so I ended up taking a couple courses in environmental sustainability," Edland said.
Clark was the editor of the newspaper during his days as a Whitefish Bulldog before heading to college where he majored in Sustainability Studies and Climate Justice.
"I got into sustainability… and immediately got immersed into sustainability studies and climate justice from a humanities perspective at Evergreen," said Clark. "I got to study abroad and lived in an ecovillage in Iceland for six months when I was a sophomore in college."
During their college years, they each had experiences abroad that strengthened their interest in renewable energy. Edland spent two weeks in Germany.
"We visited a wind turbine, a carbon sequestration plant, some of the newer technologies at that time, in 2015," Edland said. "Germany was in the middle of their energy transformation, really heavily pushing renewables."
Both men returned to Whitefish after graduation. Edland volunteered as an assistant coach for the Whitefish High School boys soccer team and utilized his education by working with Climate Smart Glacier Country and the City of Whitefish to spread awareness of the city's new Climate Action Plan. He also worked on the sustainability plan for the school district.
Clark became the head soccer coach in Columbia Falls, worked as a writer and for the last three years, has been working side-by-side with Edland at Northstone Solar. Two part-time employees have joined the Northstone Solar team: Niath Edland, Curran's younger brother and Gabe Menicke, a recent graduate from Whitefish High School.
"So we have a joke — every single paid employee on our staff won a state championship at Whitefish High School," Clark said with a laugh.
NORTHSTONE SOLAR has helped a variety of clients who desire energy independence to delve into solar power. While some want to lessen their dependence on the grid, others seek to have all their power supplied by the panels.
Two opportunities to make solar power and other forms of renewable energy technology more affordable are currently available.
The Federal Tax Credit for renewable energy technology and energy efficiency projects has been extended through 2034 and currently covers 30% of total project cost for commercial, nonprofit and residential projects.
The REAP (Rural Energy for America) program, offered through the USDA, is offering grants that cover 50% of total project cost for rural small businesses. The grant covers renewable energy systems and other energy efficiency improvements.
"Right now, for small business owners… if your taxes are substantial enough, we can get you 80% off of this project if we can secure the REAP grant for you," Clark said. "We can get you a free consultation. If it's a $100,000 energy project, we can get it to you, probably, for $20,000."
These two incentives are making solar power more attainable for some and they make the return on investment more appealing. Clark said they have secured REAP grants for multiple jobs up the North Fork.
"That's pretty cool when you can be completely energy independent and get potentially 80% off of your system," he said.
Northstone Solar designs systems, installs them and will help monitor the system, too. Their labor and every piece of equipment they install come with a warranty. They also help clients with several financing options.
ONE OF THE most common misnomers about solar power that the company faces is that it isn't viable in Montana. Clark said the valley gets a huge surplus of energy in the summer and with Flathead Electric's net metering program, owners of solar energy systems use that 'extra' energy in the winter months.
"The energy we generate is more than enough. The hard part about selling solar in the valley is that we're on a co-op and we pay a relatively low electric rate," Edland said. "Historically, it's been very heavily emphasized that the payback is what you want to look at. It's hard to compete against seven cents a kilowatt hour."
Perhaps a better way of looking at installing a solar power system would be as an initial investment for a long-term payout. He said when seeing it that way, utilizing renewable energy makes sense pretty much anywhere, in residential as well as commercial applications.
"What we usually try to do, if a customer has enough space, is we'll size their system to meet their yearly energy demand," Edland said. "So they can be net zero on a yearly basis with the idea that they are generating more in the summer and then using that excess… in the winter."
For Clark, one of the best parts of his work in sustainability is the opportunity to be a role model for young people in the valley who want to get into sustainable sectors.
"For us, to be able to show the younger generation that you can make it in sustainability, doing something righteous, and you can still find a way to come back and live in the valley," he said.
Edland is keen to work towards being more involved with energy efficiency and full building processes. His fondness of the outdoor recreational opportunities near Whitefish mean his education, experience and expertise will benefit the Flathead Valley for years to come.
"I'm really excited about continuing to learn and grow and be a part of the community," he said. "My roots are deep here."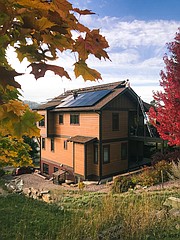 Recent Headlines
---